If there's one thing I love the most about being a home-owner, it's getting to make a space personal; somewhere that feels like home, instead of a temporary living situation. As new home owners, we have loved putting our own personal touches into our home. We have painted walls, added sliding barn doors, and made custom pieces that really fit our taste and add character to the space. I take pride in finding the best deals on new items, or painting an outdated piece to give it new life, or just simply designing and creating something brand new. We've upgraded our furniture from college dorm room and hand-me-down pieces, to "grown-up" pieces that actually fit together.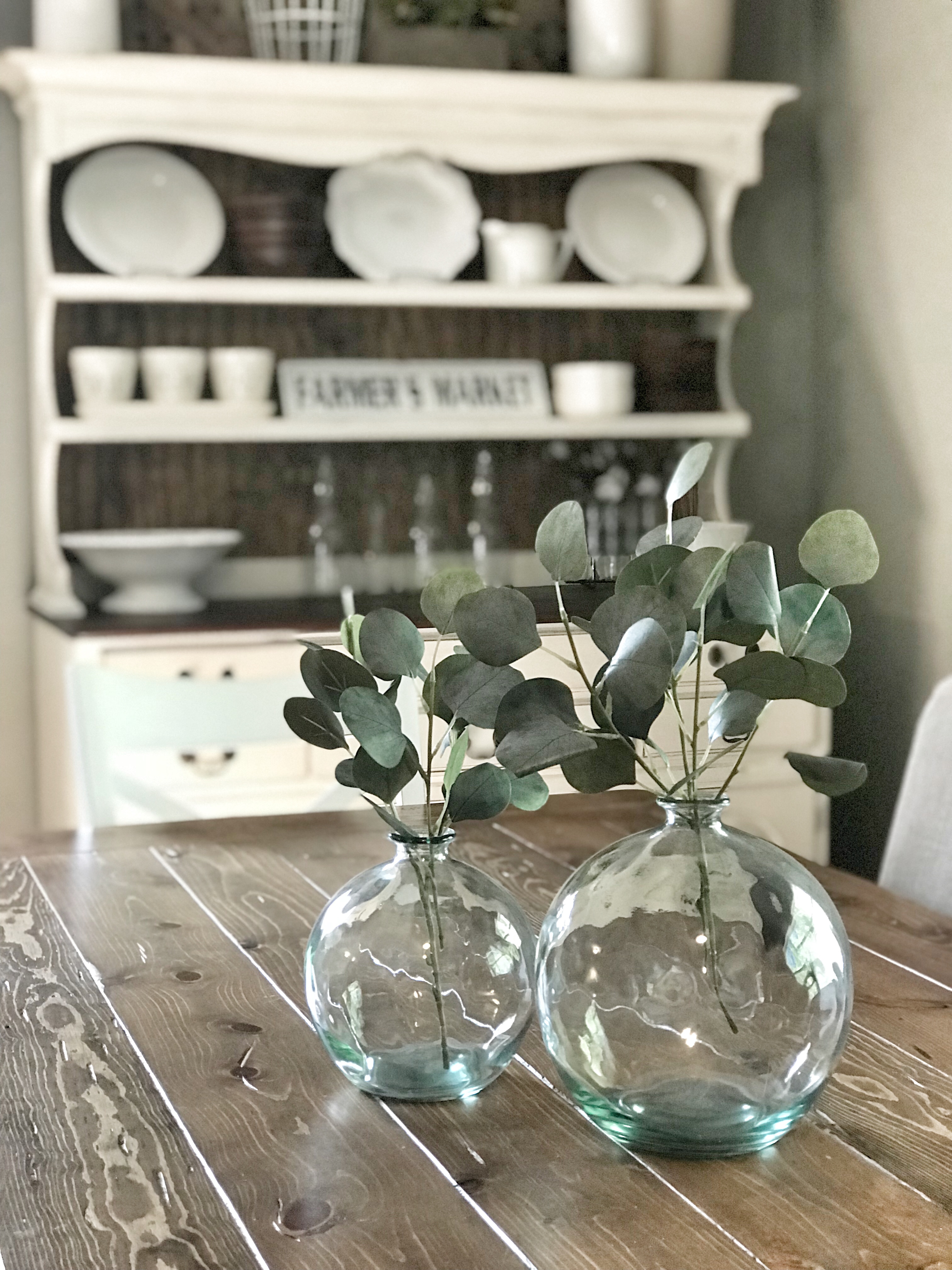 Don't get me wrong, my college dorm room was super cute, and I'm thankful for my hand-me-downs that got us by when we needed something, but as we grow and change, so does our taste in quality furniture. Although I've moved on from used mis-matched items, not all hand-me-downs are cheap and second-hand.
There's a special place in my heart for antique and vintage pieces, especially when they are part of our family history. They have a story; a background that tells where they started and how they ended up here. A story of the part they played in people's life and the many special occasions for which they were used. I would take a well-cared-for antique over a new piece of furniture any day, especially something multi-generational that has been passed on through decades.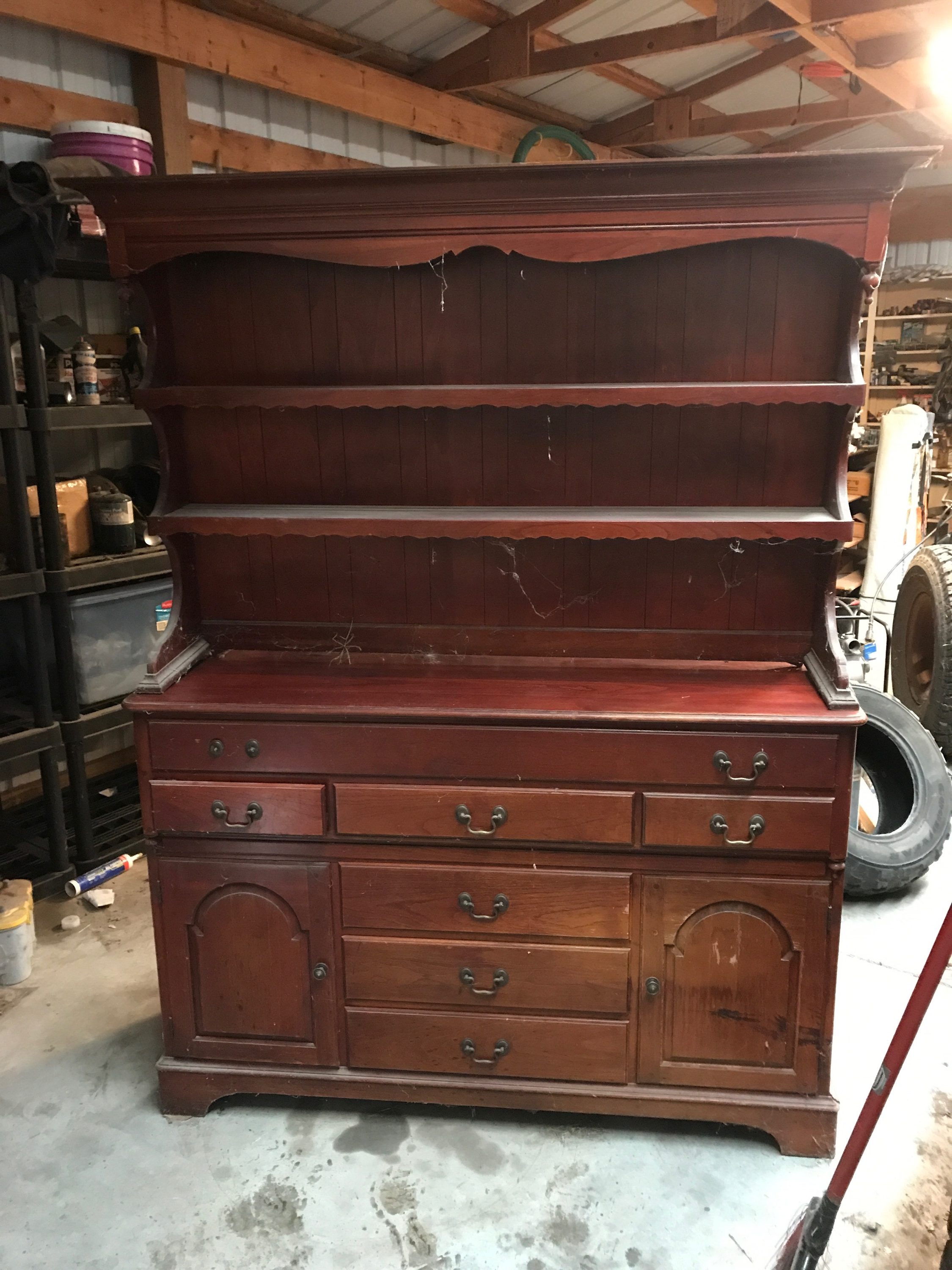 I feel so grateful to be the current care-taker of a china hutch that belonged to my husband Logan's great grandparents, Harold (Pete) and Mildred (Mid) Warner. They were married in 1930 and bought the hutch and dining set for their 25th wedding anniversary from the Pennsylvania House furniture manufacturing company in 1955. Logan's grandma says she remembers them having it in her childhood home growing up, and using it for the food spread at dinner time and special occasions. I can picture all the memories made at that dinner table and that hutch being used to serve food to family and friends at parties.
They were married for sixty-six years, and the hutch and dining set were passed onto Logan's grandparents, Keith and Carmen Anderson, who had it for several years before passing it onto their daughter and son-in-law (Logan's parents), Susan and Byron Schrag. The dining table and chairs were given to someone else in the family, so when my mother-in-law, Susan, told me about the hutch, and that it would need some work as it had been sitting in storage for a few years, I could not have been more happy to have this piece of family history! Logan and I had planned on building a white farmhouse table once we bought our house, and I knew with a little paint and a lot of love, this hutch could feel at home and have a new dining set to match!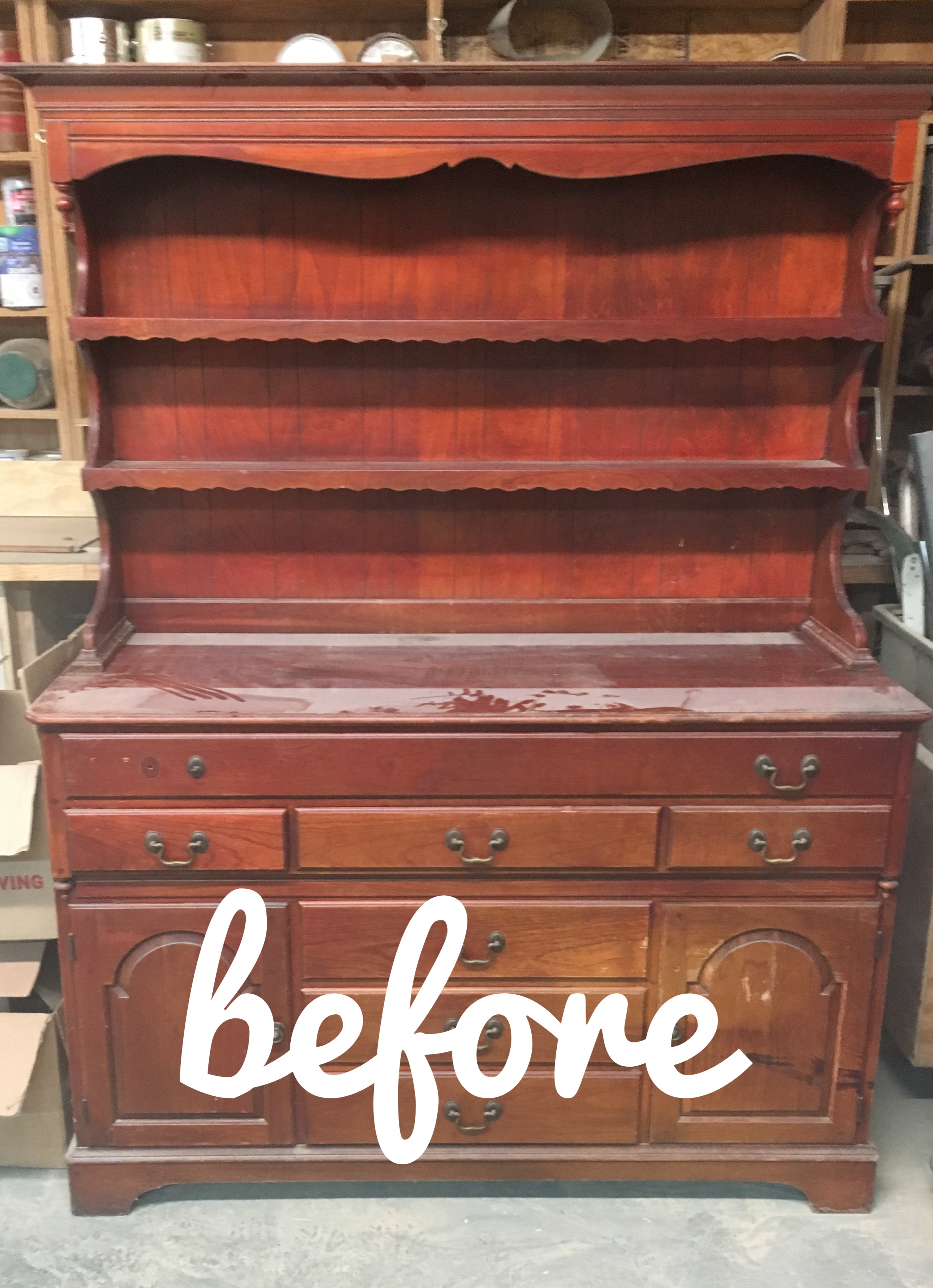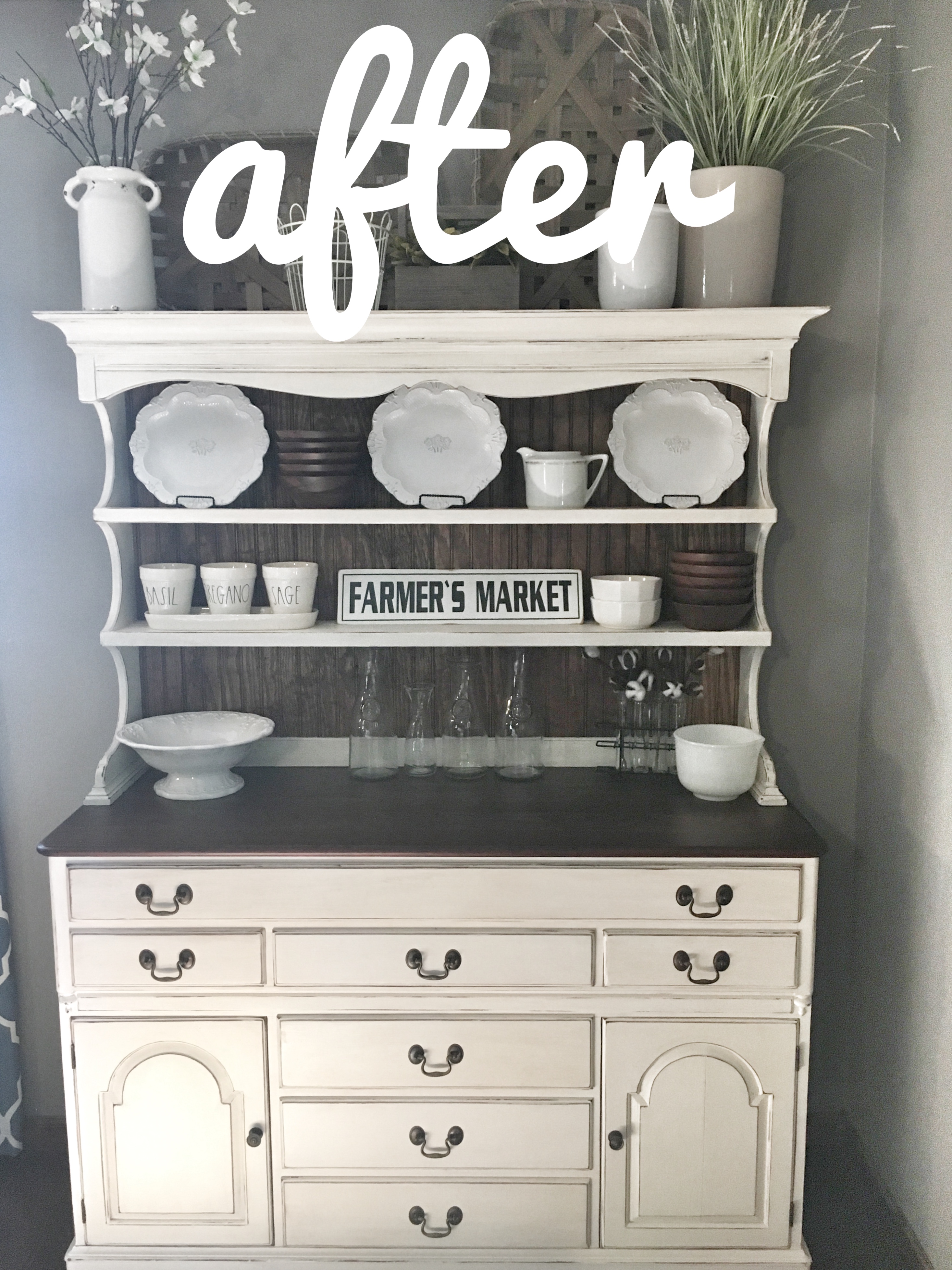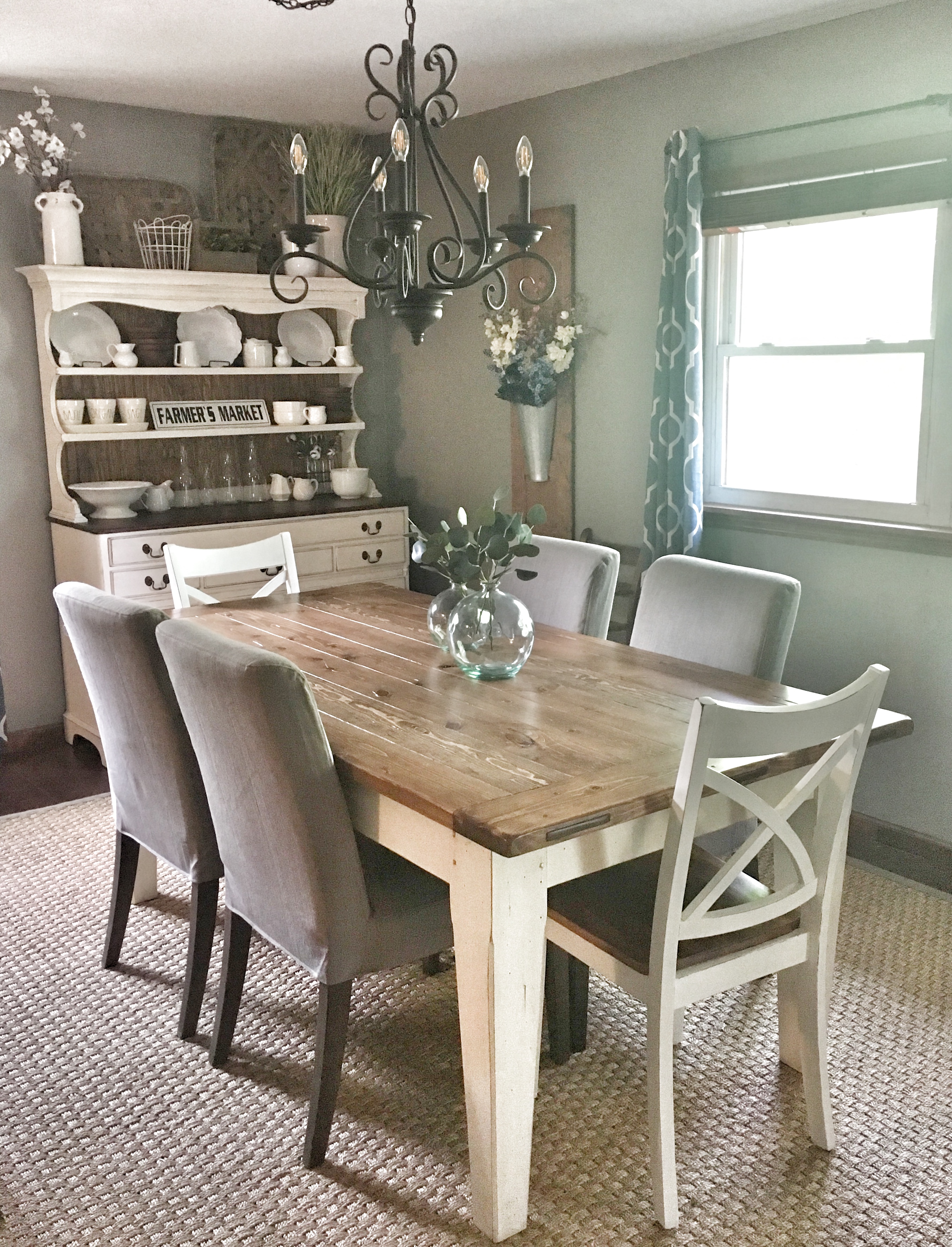 I used the same paint and "aging" process that we did on the table and farmhouse bench but I left the top stained and changed out the back for something more substantial that could be left stained as well. I prefer clean, straight lines, so I made some tweaks to the trim on the front of the shelves and removed the finials at the top. I kept the original hardware and added my mixture of old and new decor items to keep with the vintage farmhouse theme in our house.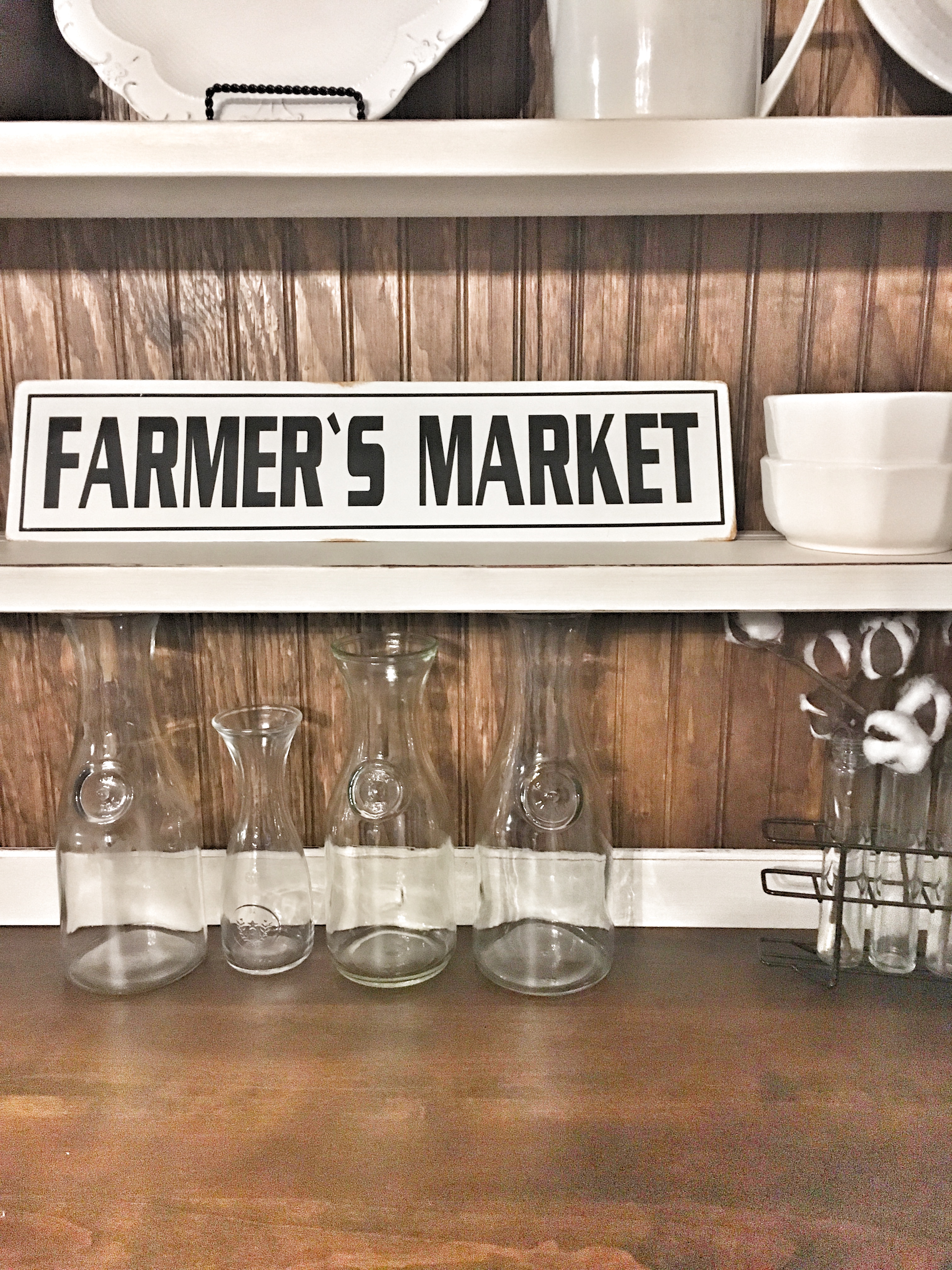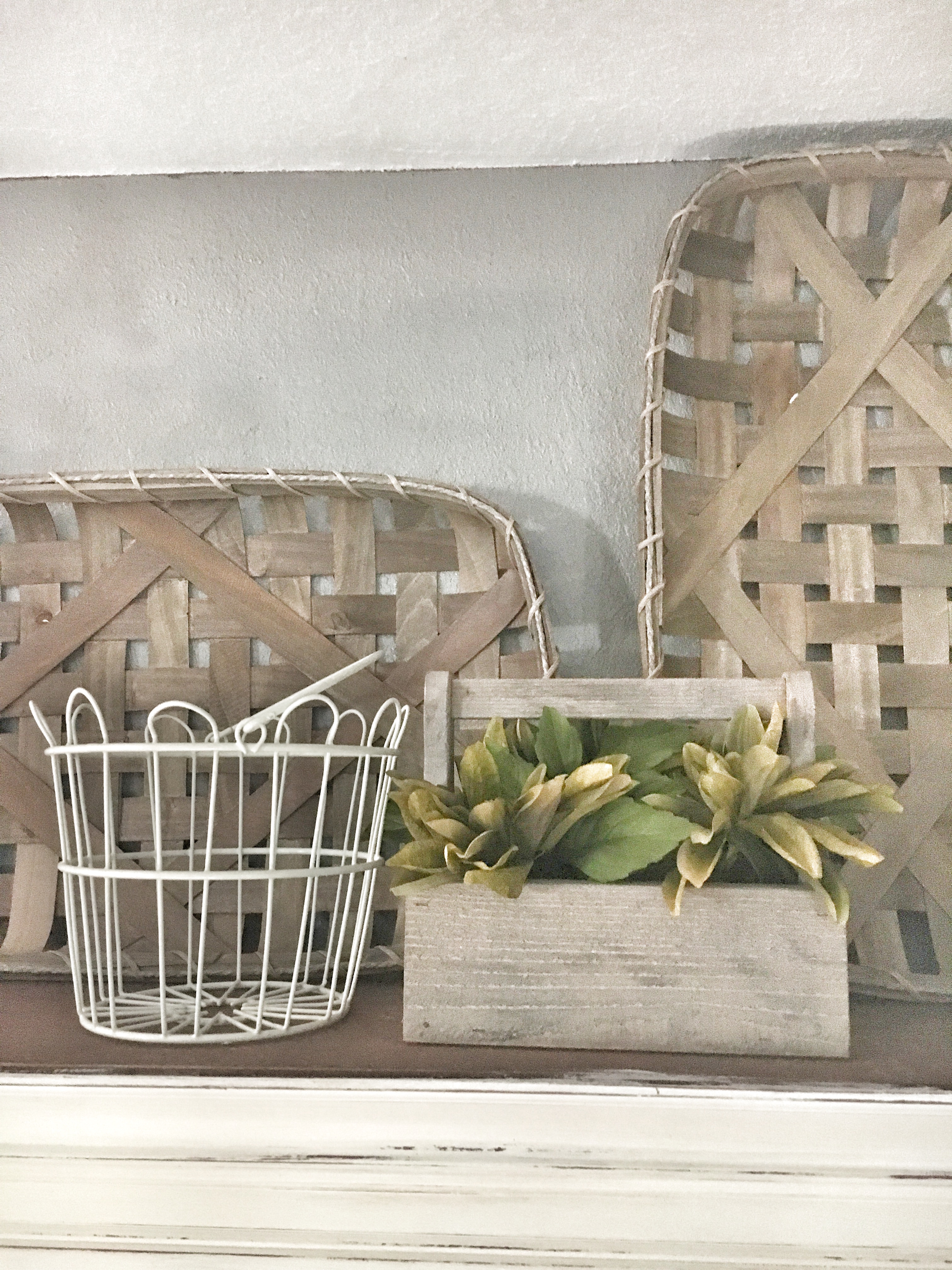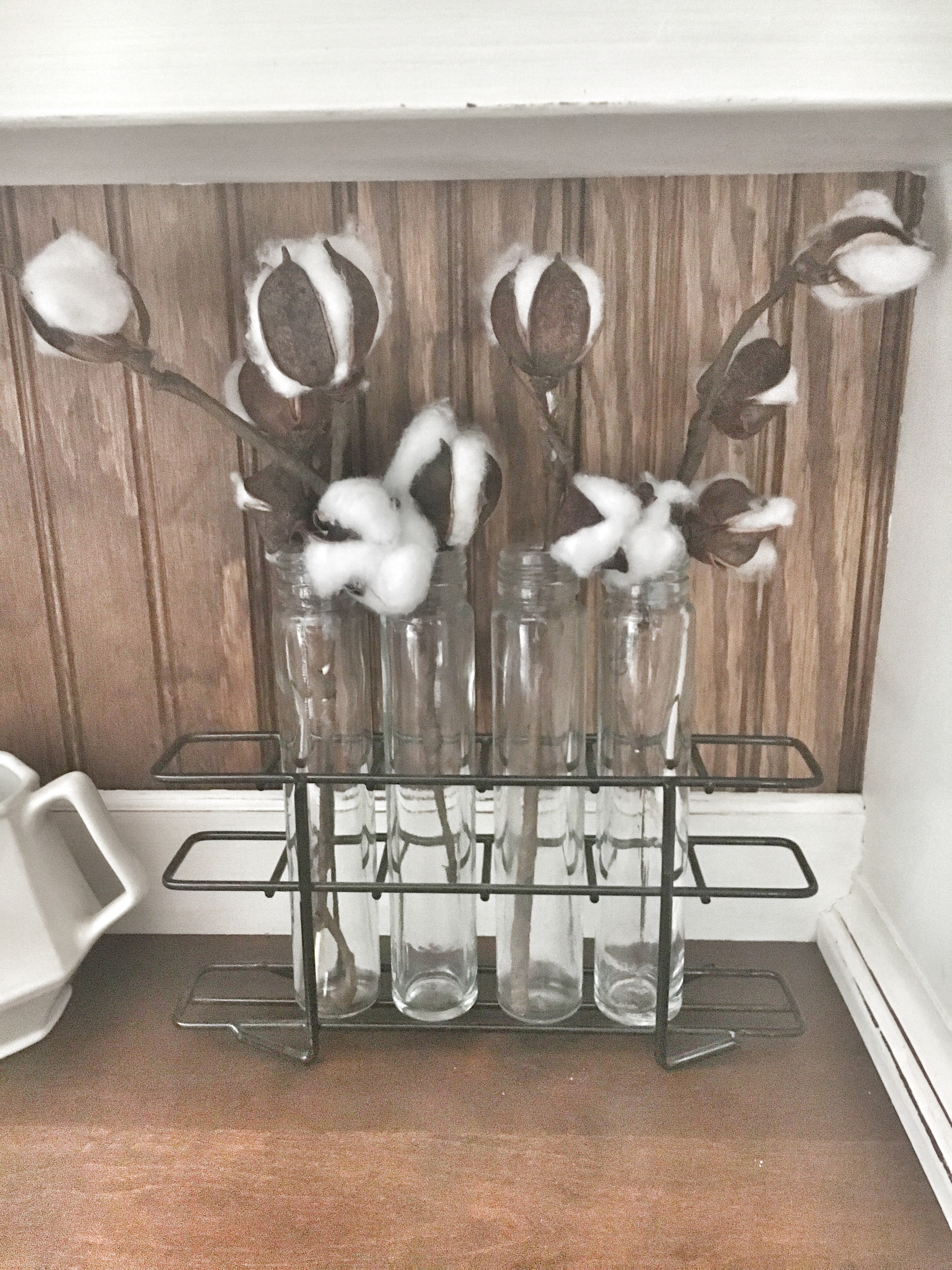 I absolutely love how painting and making a few tweaks adds farmhouse charm, but more importantly I love that this family heirloom will be cherished for many more years!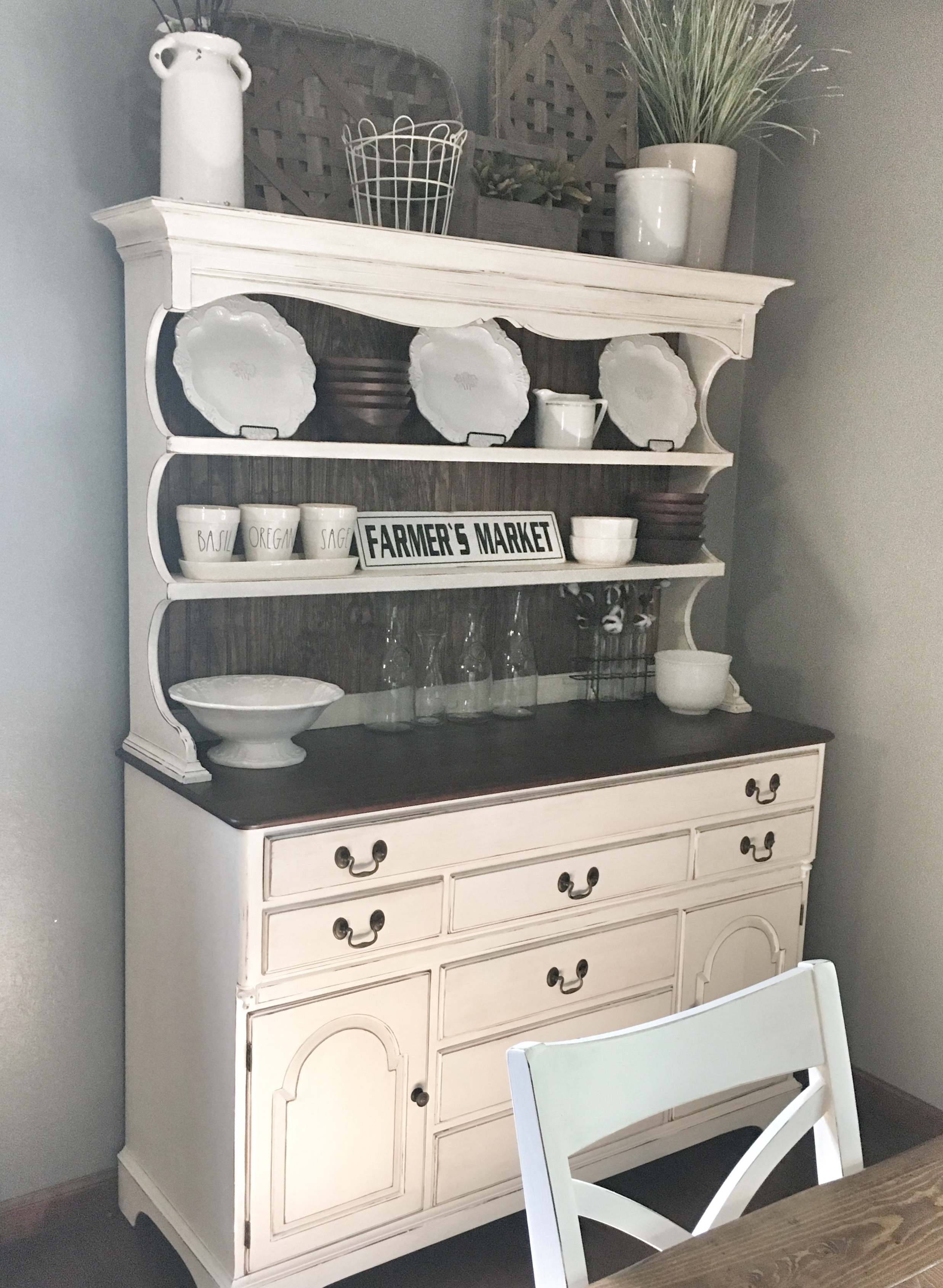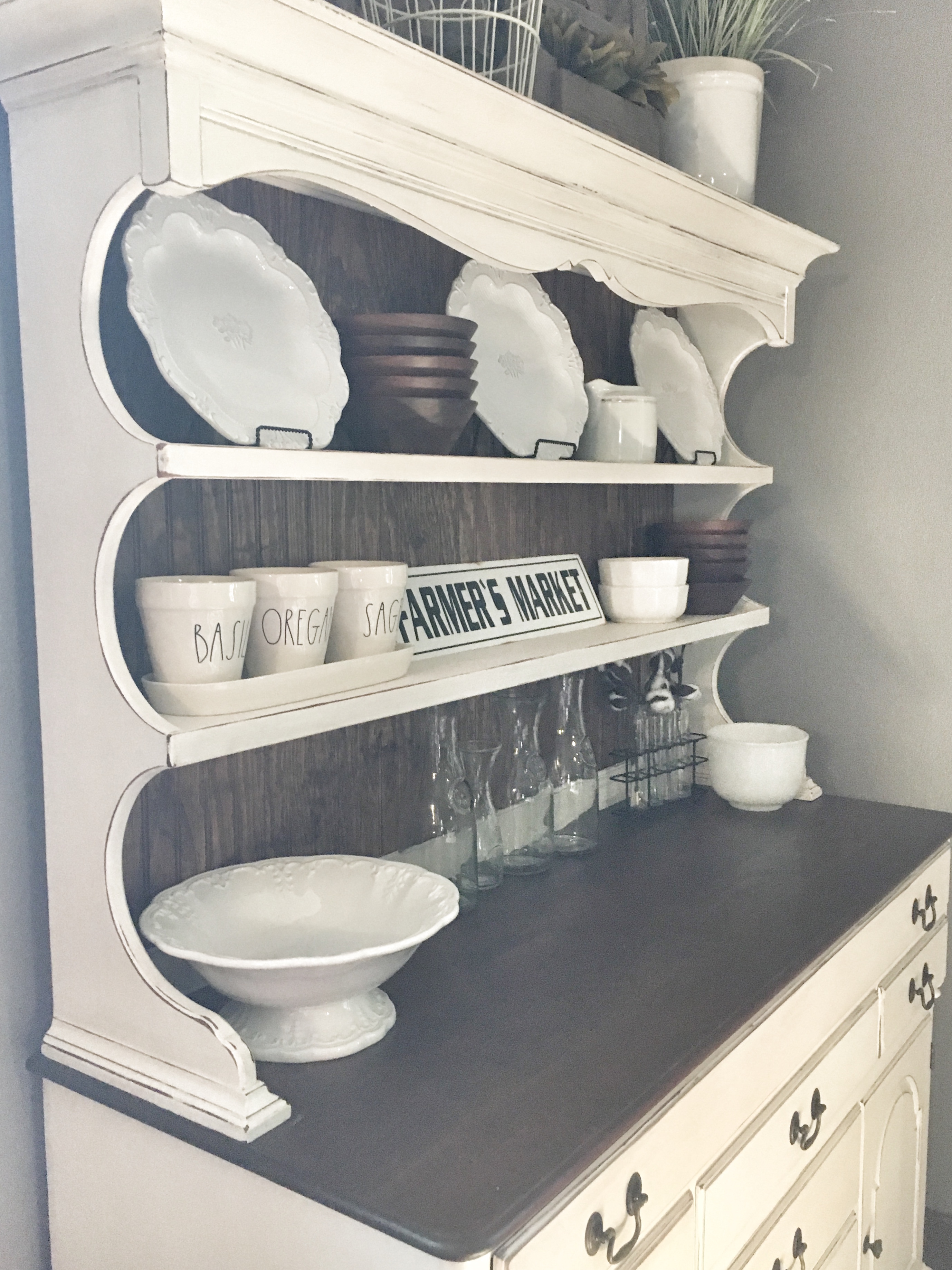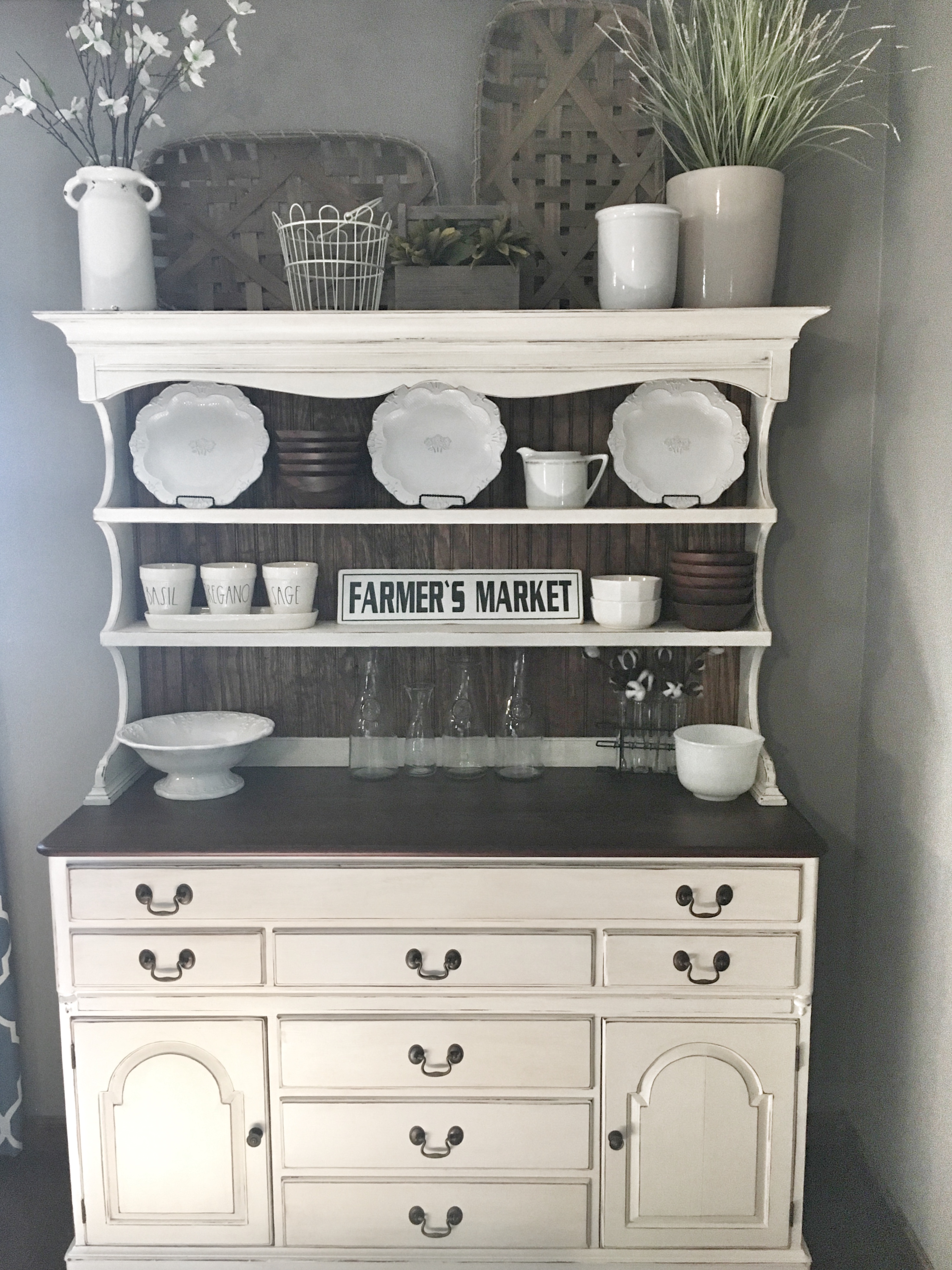 I hope you enjoyed seeing this vintage hutch brought back to life, and I hope this inspires you to find a piece of family history to refurbish and cherish for a long time. Thanks so much for reading, God bless!
XOXO
ASHLEY DIANN