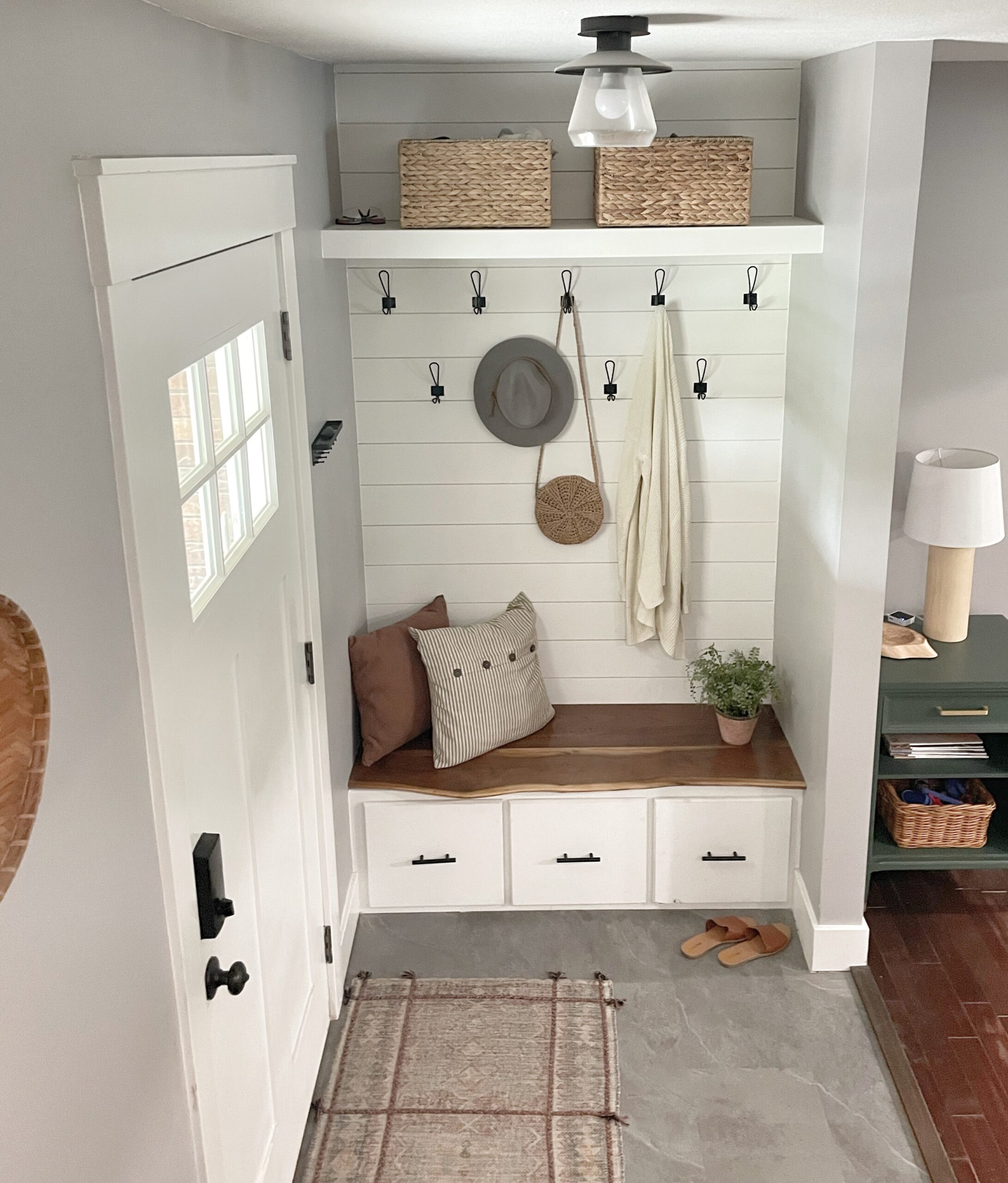 We bought our house in October 2020, and spent six weeks completely remodeling the main floor before we even moved our furniture inside! We had to scrape popcorn ceilings, strip wallpaper, repair and paint every wall, and put up all new trim. During this messy process, we wanted to do a couple projects that required demo, just to add to the mess lol. One of them was this closed-off entryway!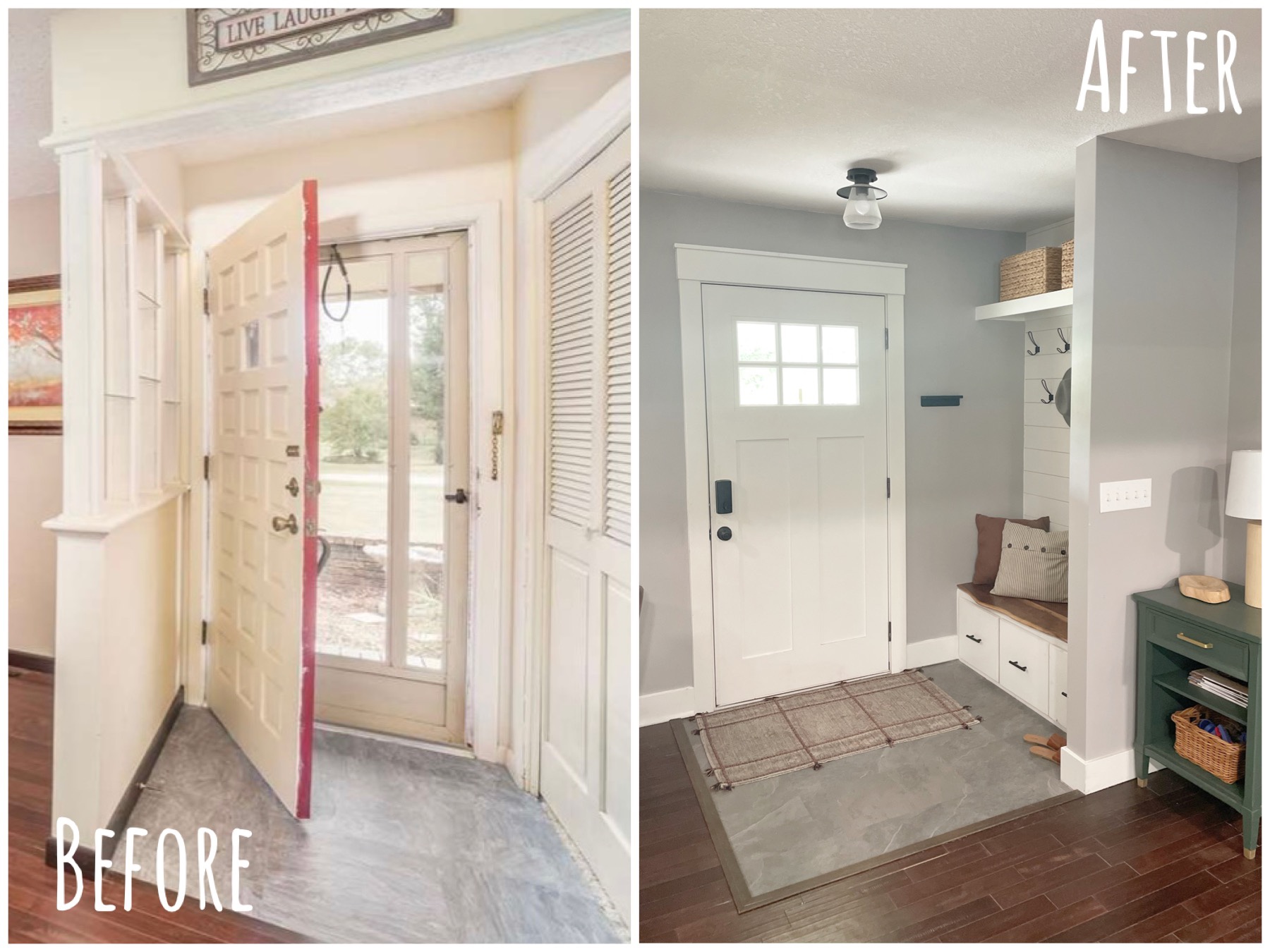 We tore down the half-pillar wall, and also took down the header and the oversized coat closet. We put in a new front door with a bigger window, and added a new light fixture.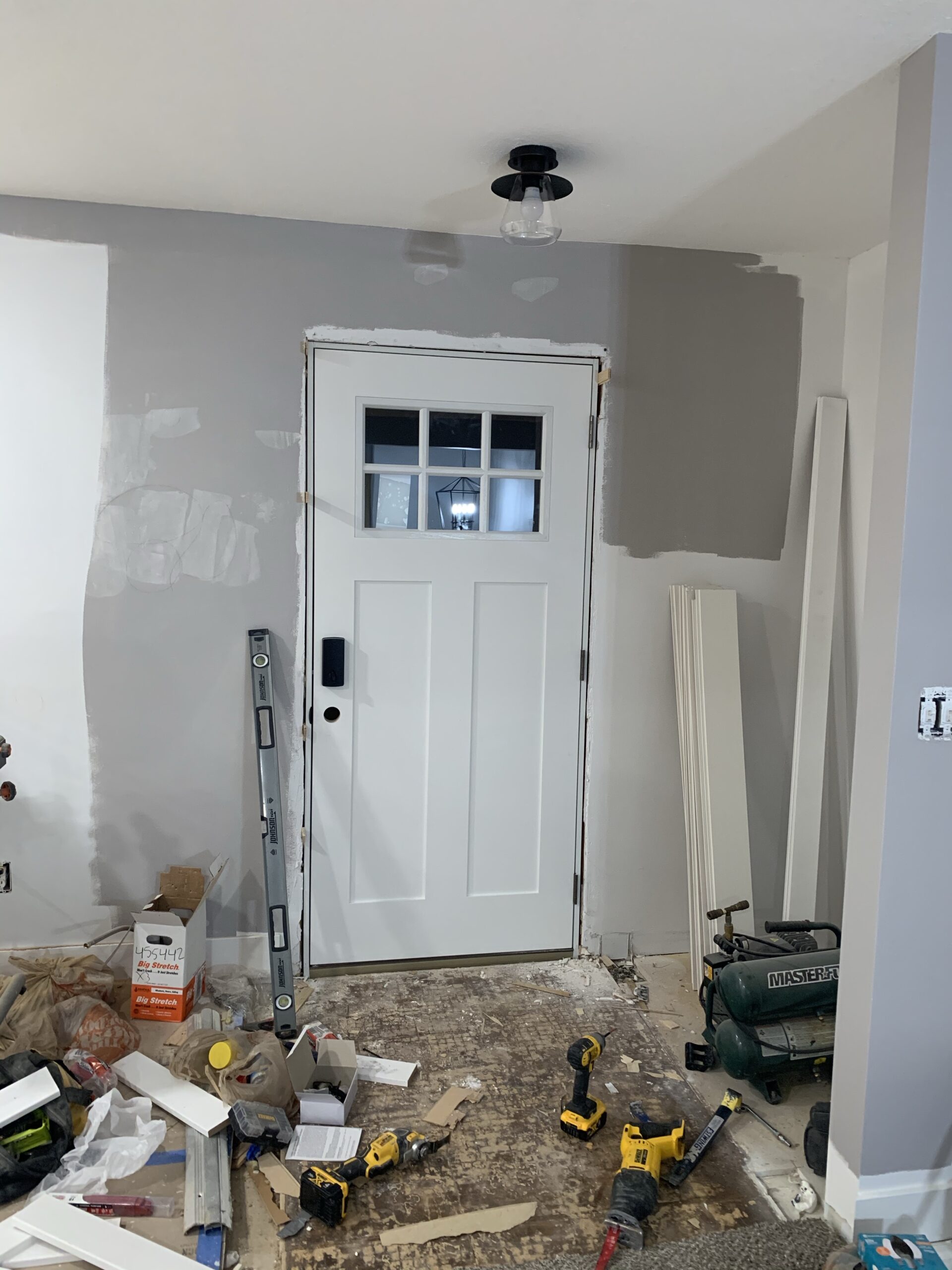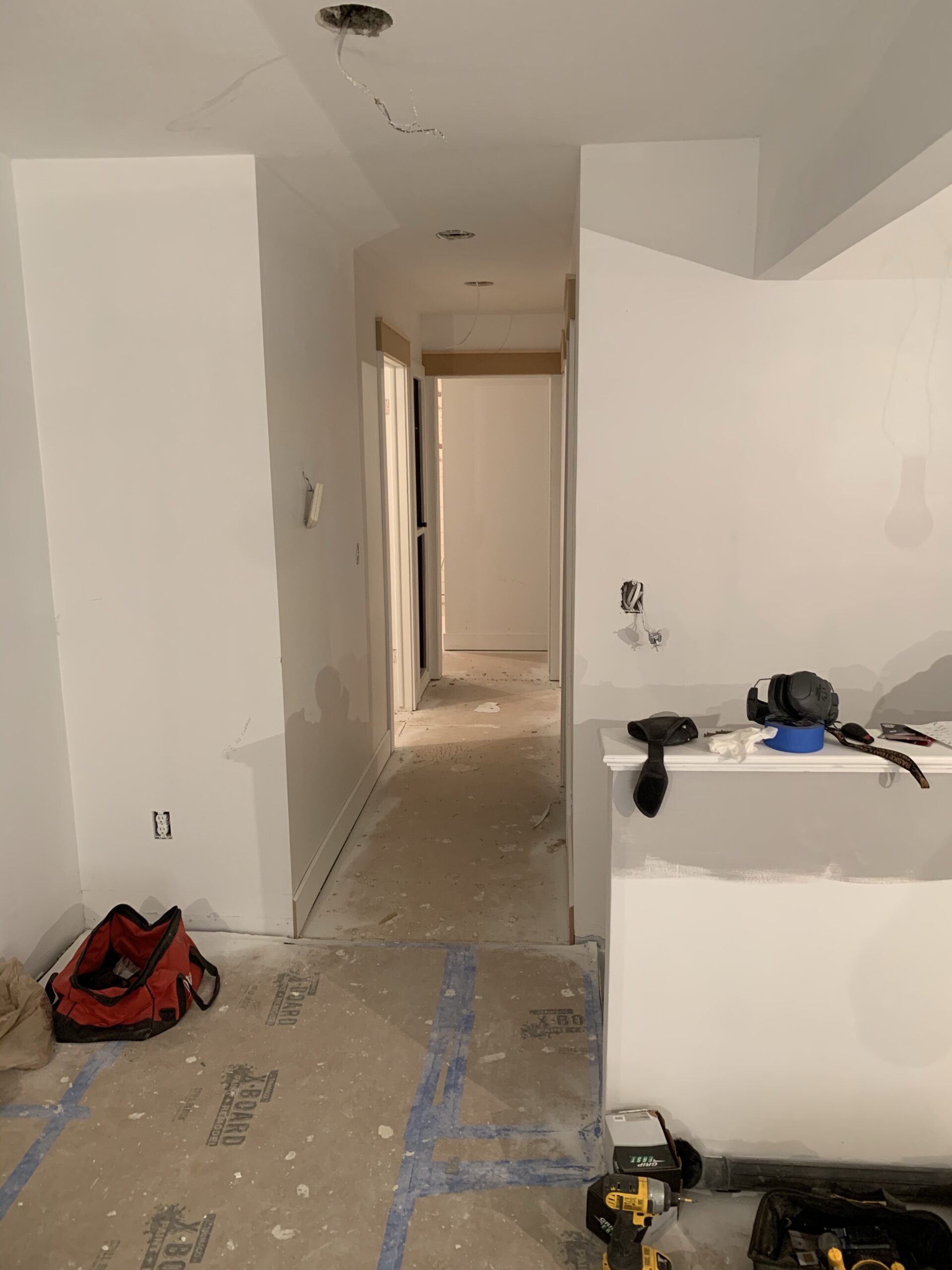 Like the rest of the house, we did this project in phases, and we just recently finished it at the beginning of 2022! Of course, with the new baby, I'm late sharing a post about it lol.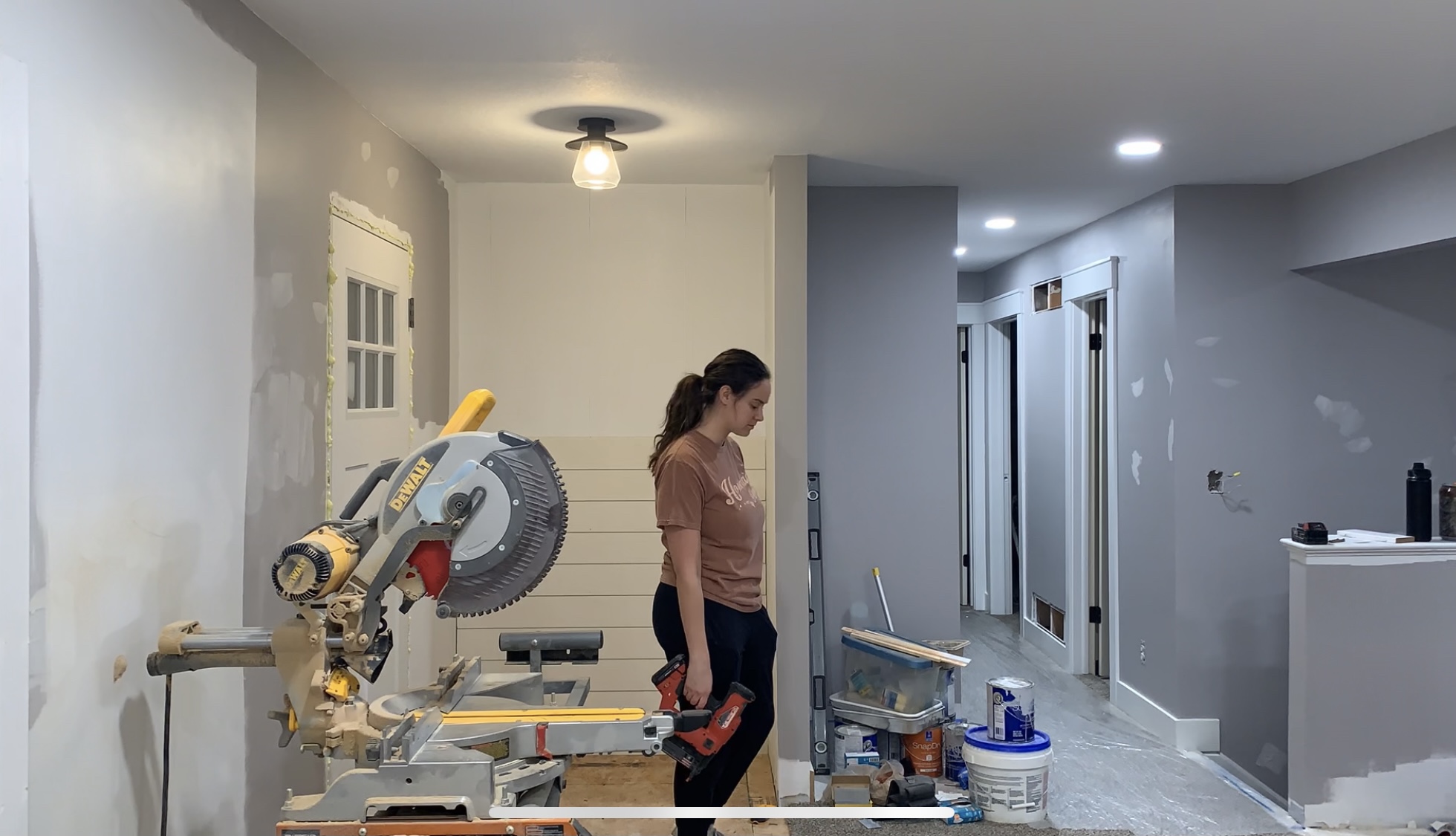 After the demo, and reconstruction of the drywall, we put up a shiplap accent wall. I absolutely love how it distinguishes the space and gives it some character. It sat like this for awhile… unfinished with OSB on the floor. We had other projects that took priority, but I was really ready to get our entryway looking as nice as the rest of the house.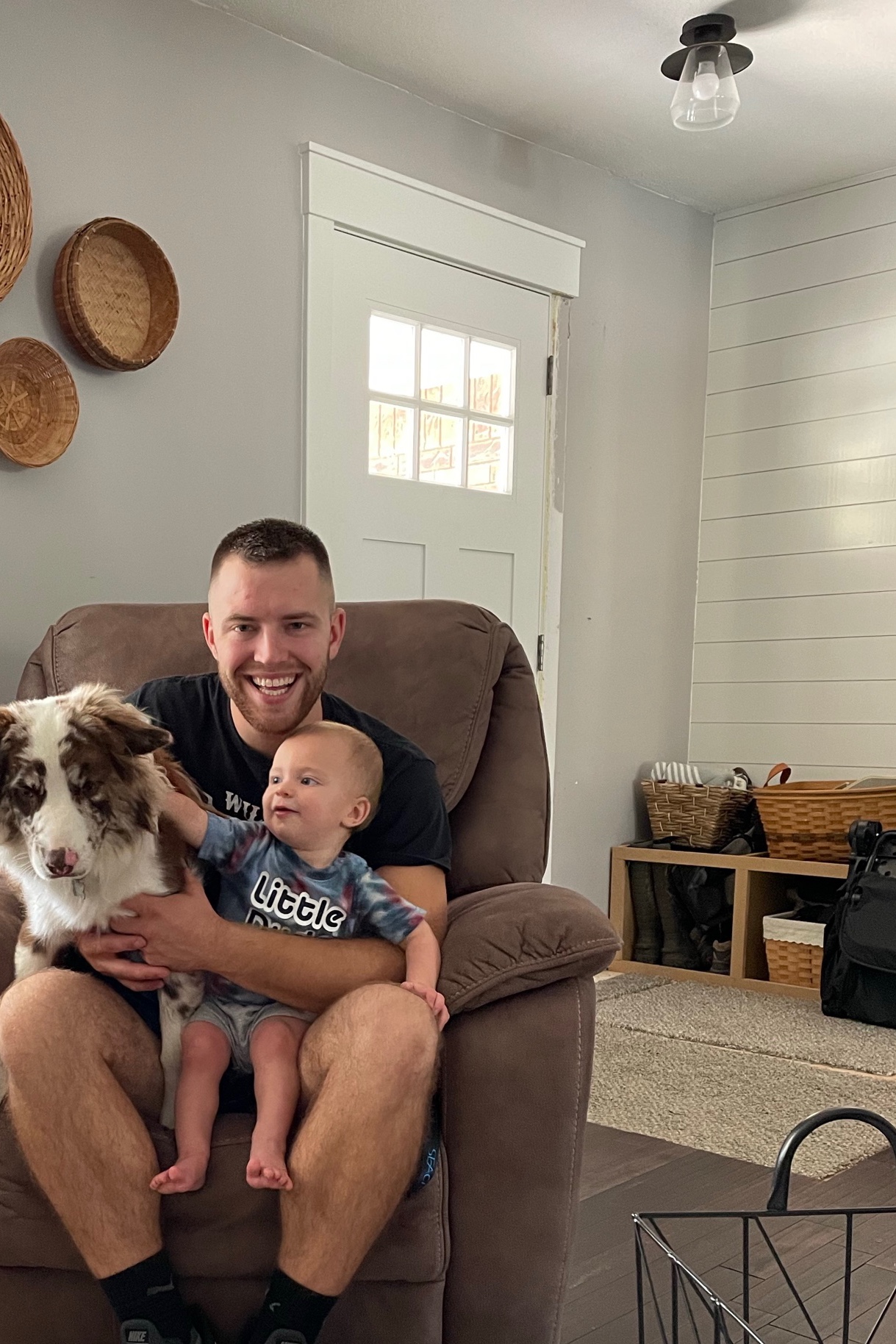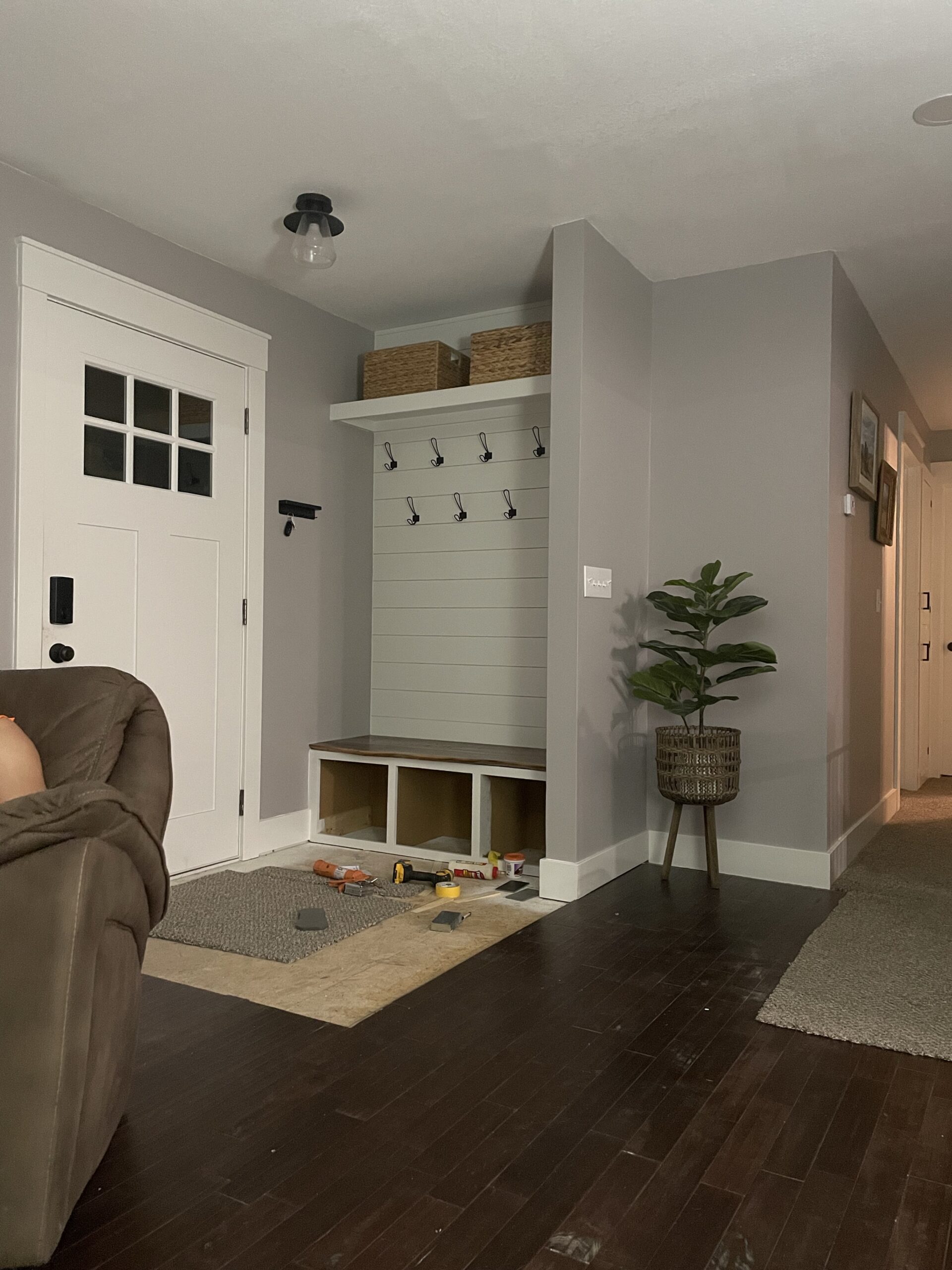 The next thing was the built-ins. I was very intentional about what kind of storage I wanted here, since we took out the only coat closet. I wanted some closed storage with the bench and drawers, but also hooks and a single shelf on the top. It needed to be functional, but also beautiful and blend with the rest of the house. My step-dad was very kind to help us with the built-ins!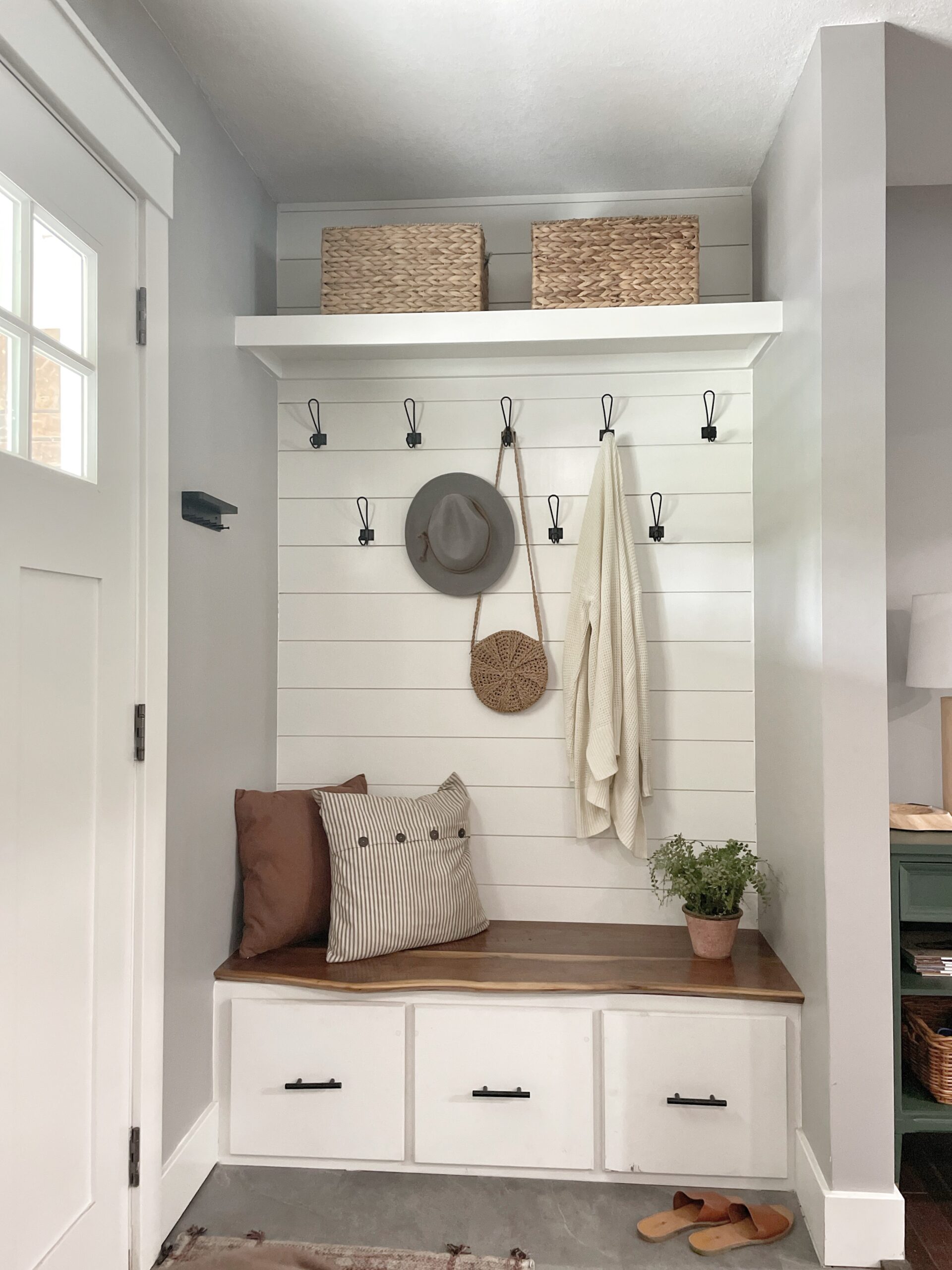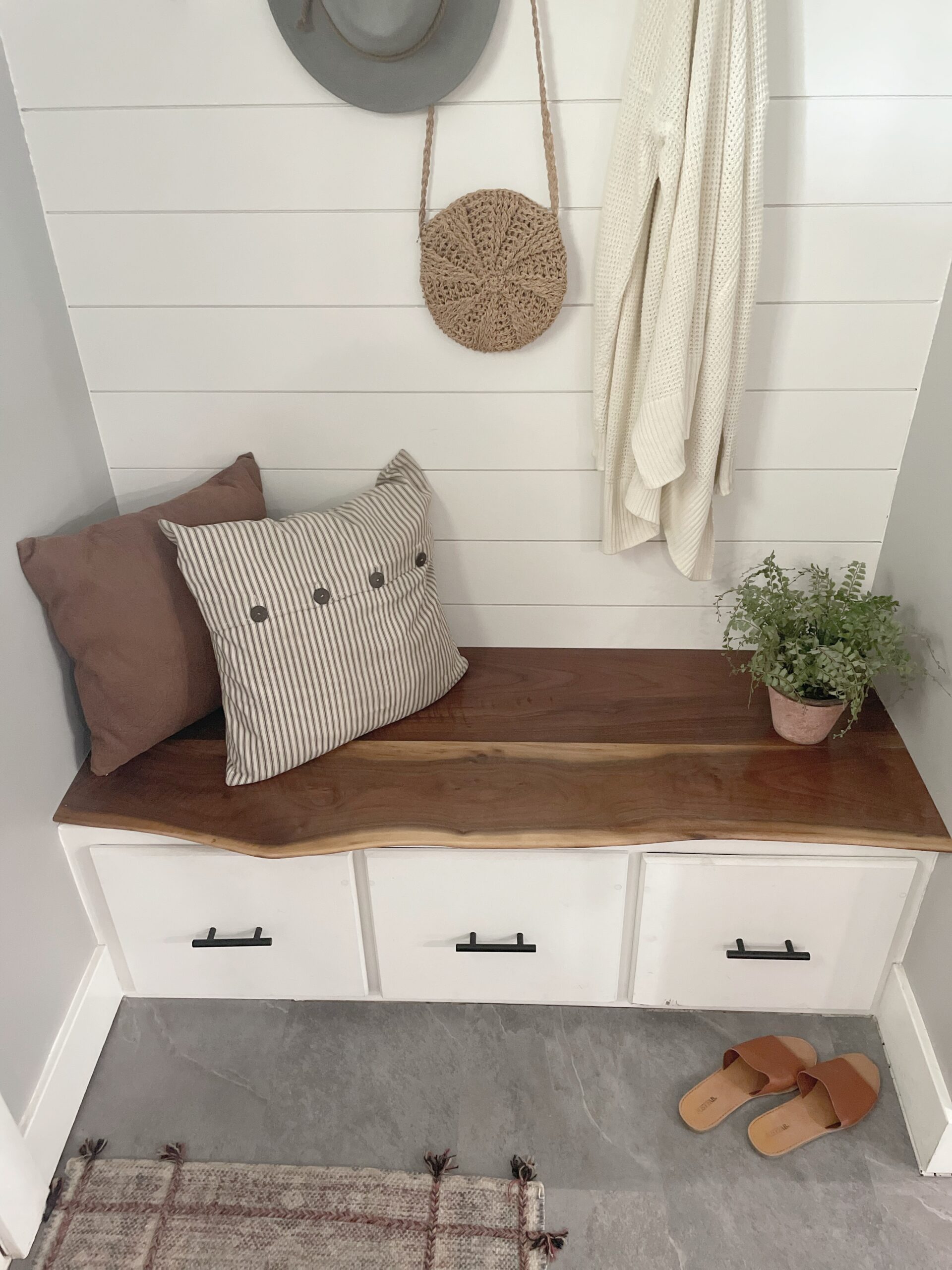 I love the drawers, but I've got to say my very favorite part is the live-edge walnut bench top! This coordinates with our fireplace mantle and island countertop, and I just love the contrast it brings against the white woodwork and shiplap!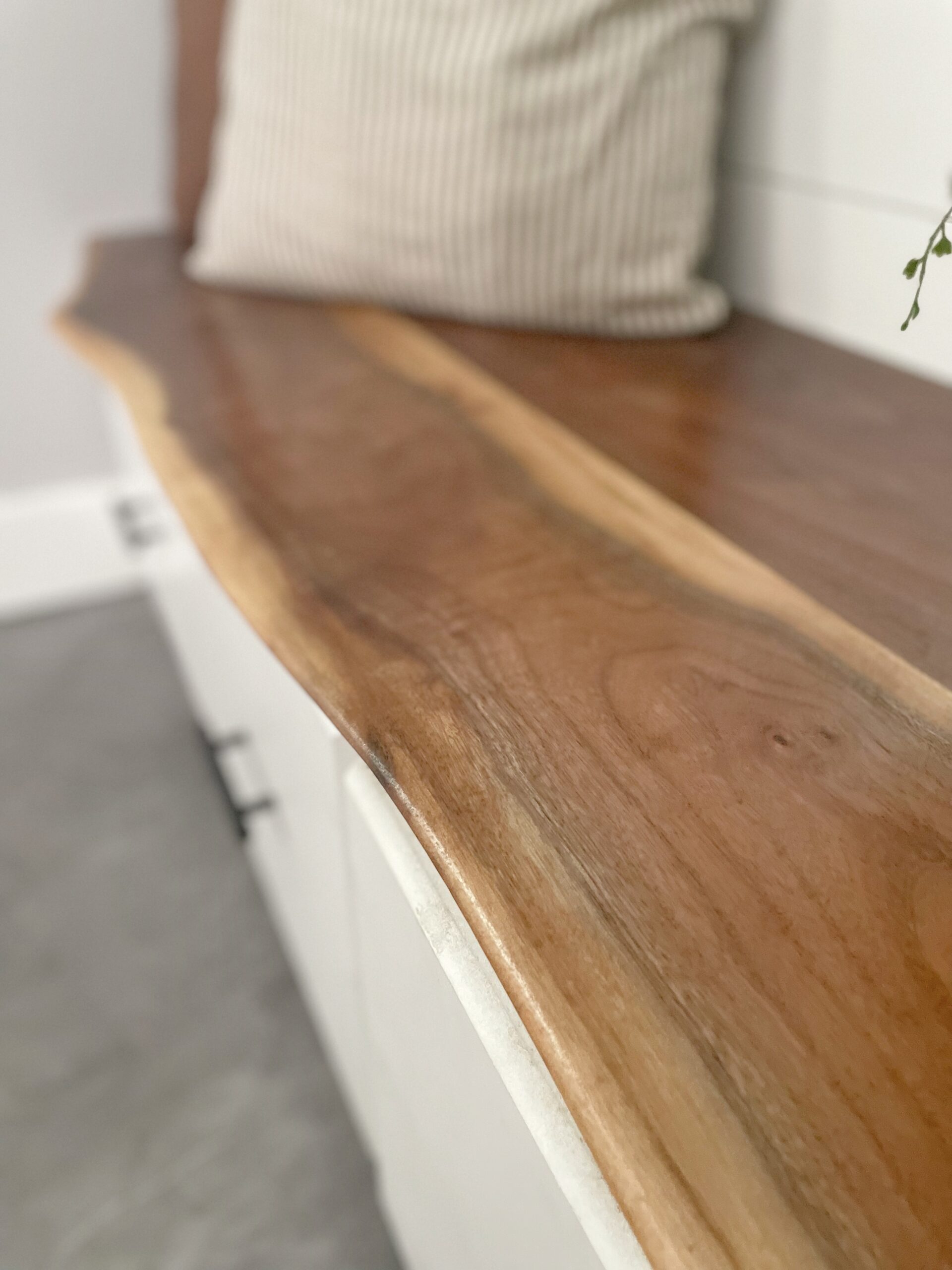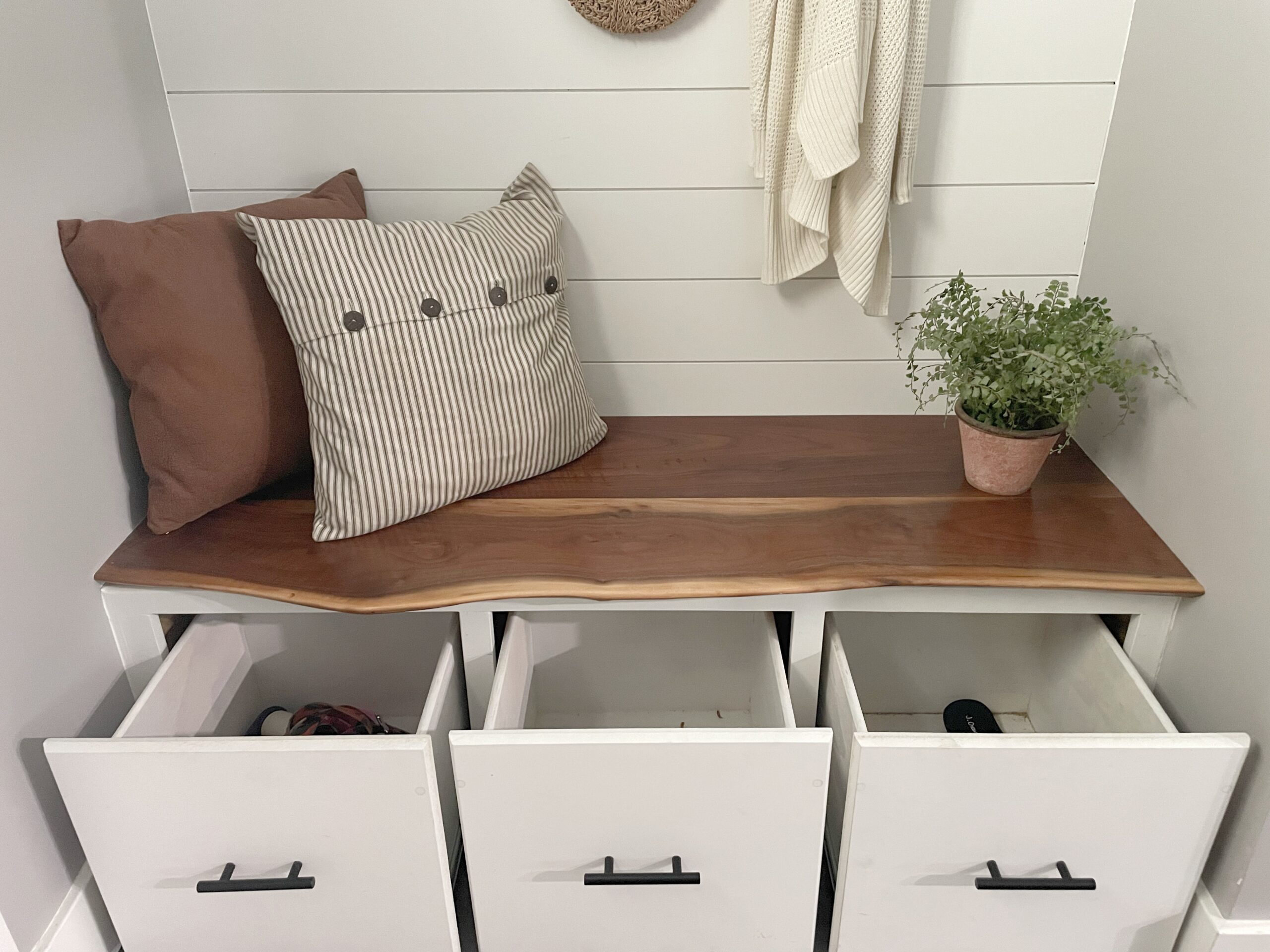 The final step was the flooring! We picked out a gray vinyl tile to go in this space, which will coordinate with the flooring that will eventually go in the laundry room. We wanted something that wasn't too expensive, but was also durable since this area gets a lot of traffic. We still need to add shoe molding around the baseboards, but having this done totally finishes off the space!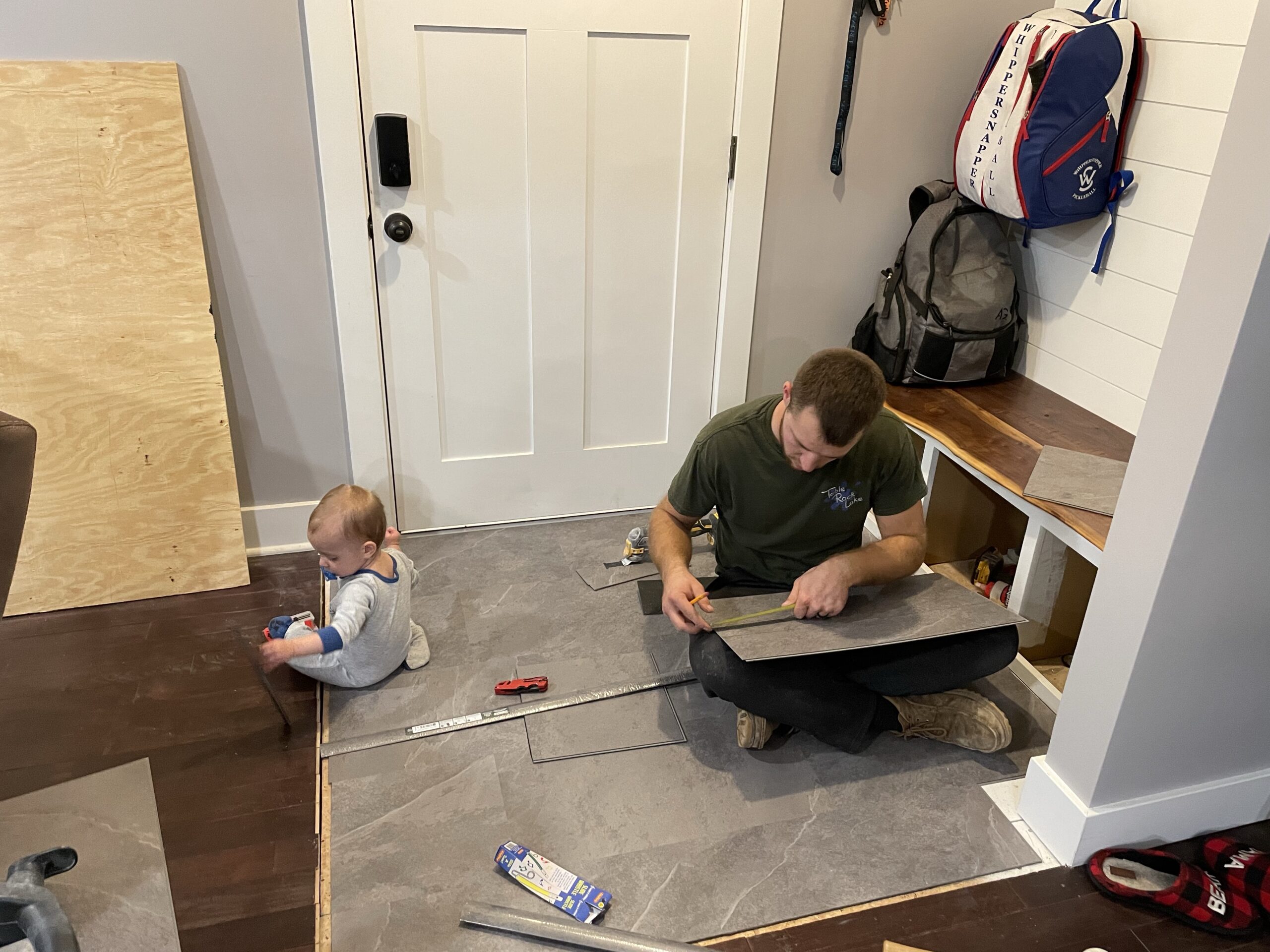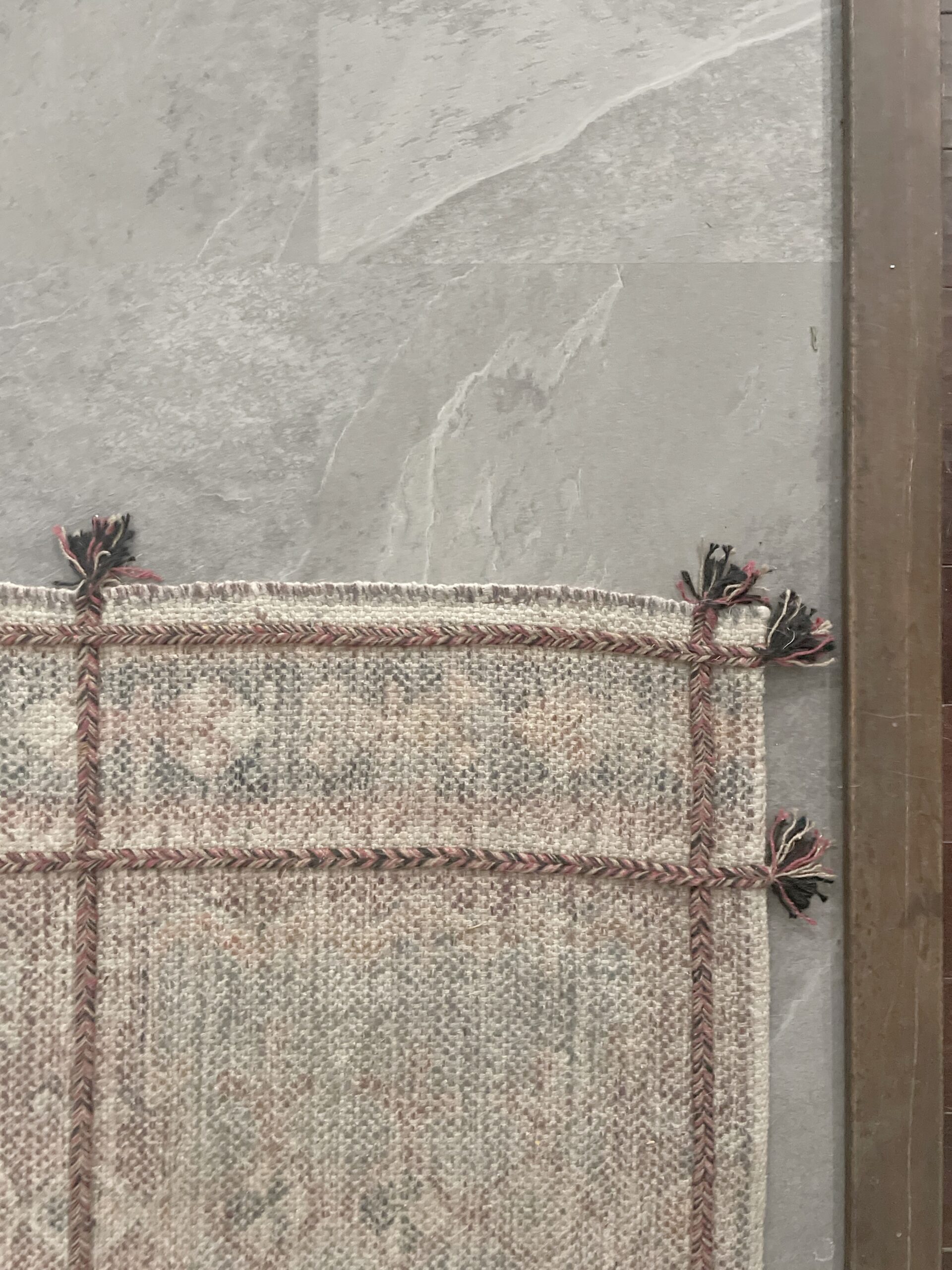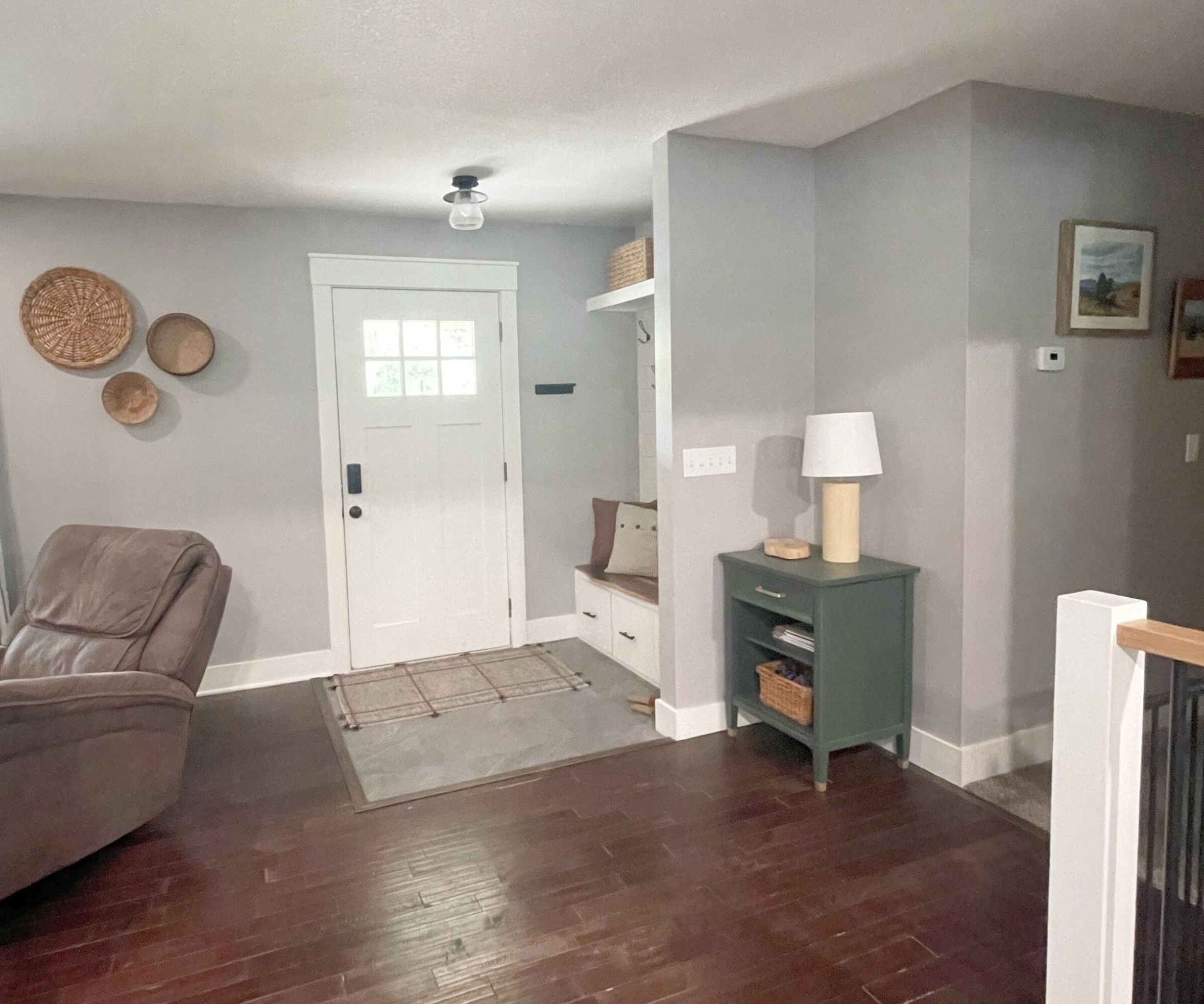 I styled the area with a few accessories, some cute baskets, and a beautiful area rug. In the drawers is where we keep dog stuff, seasonal items, and shoes.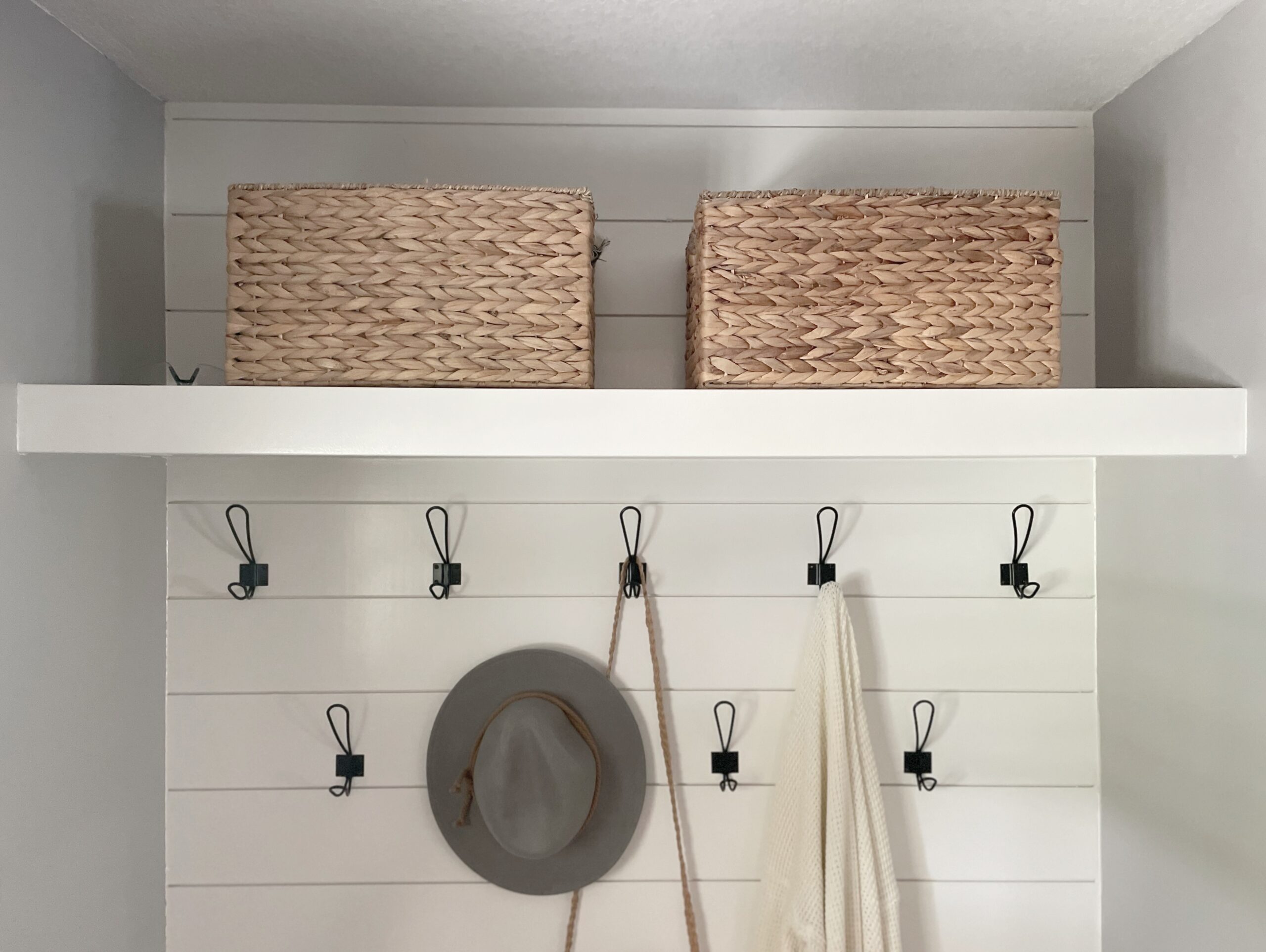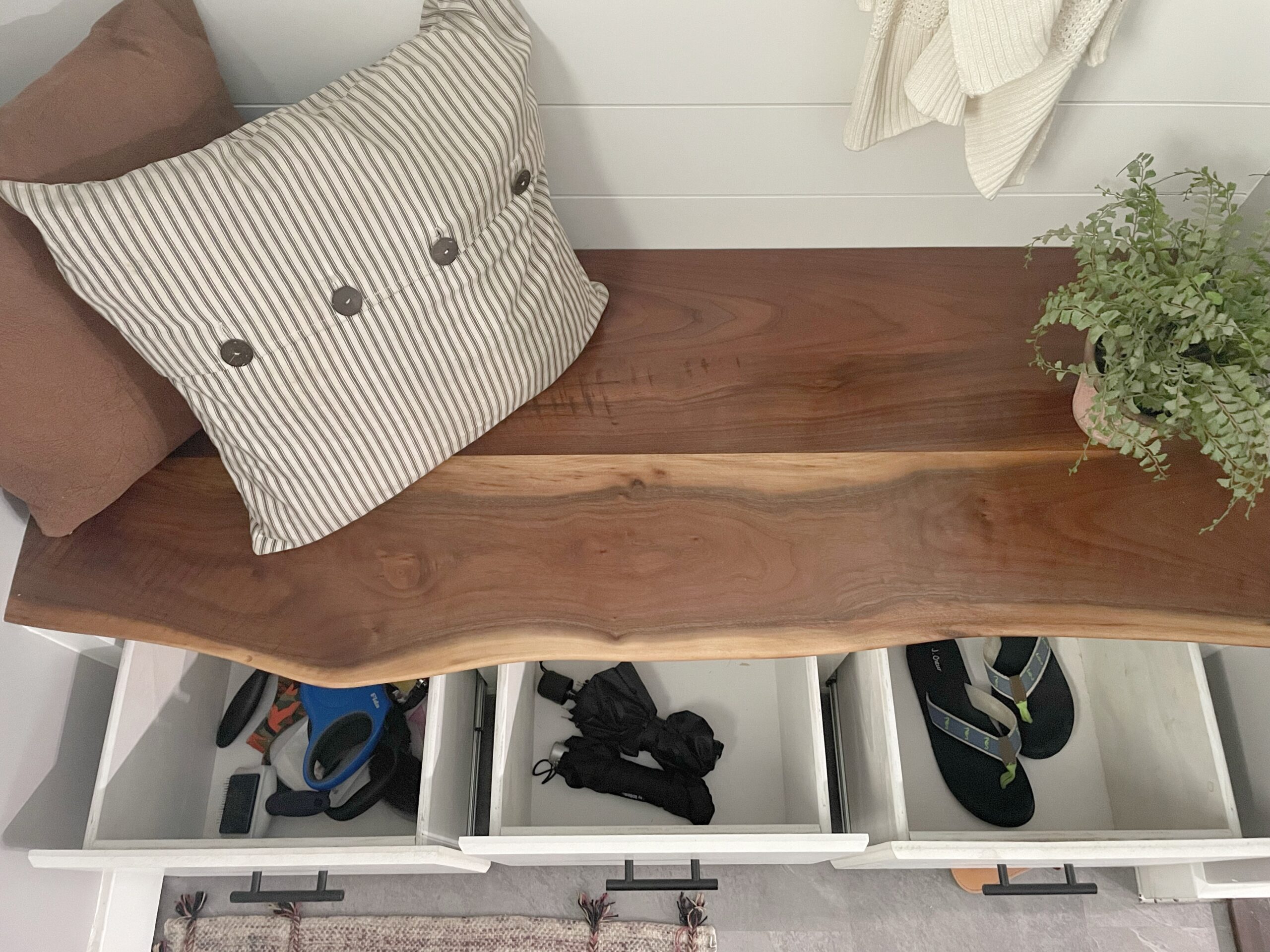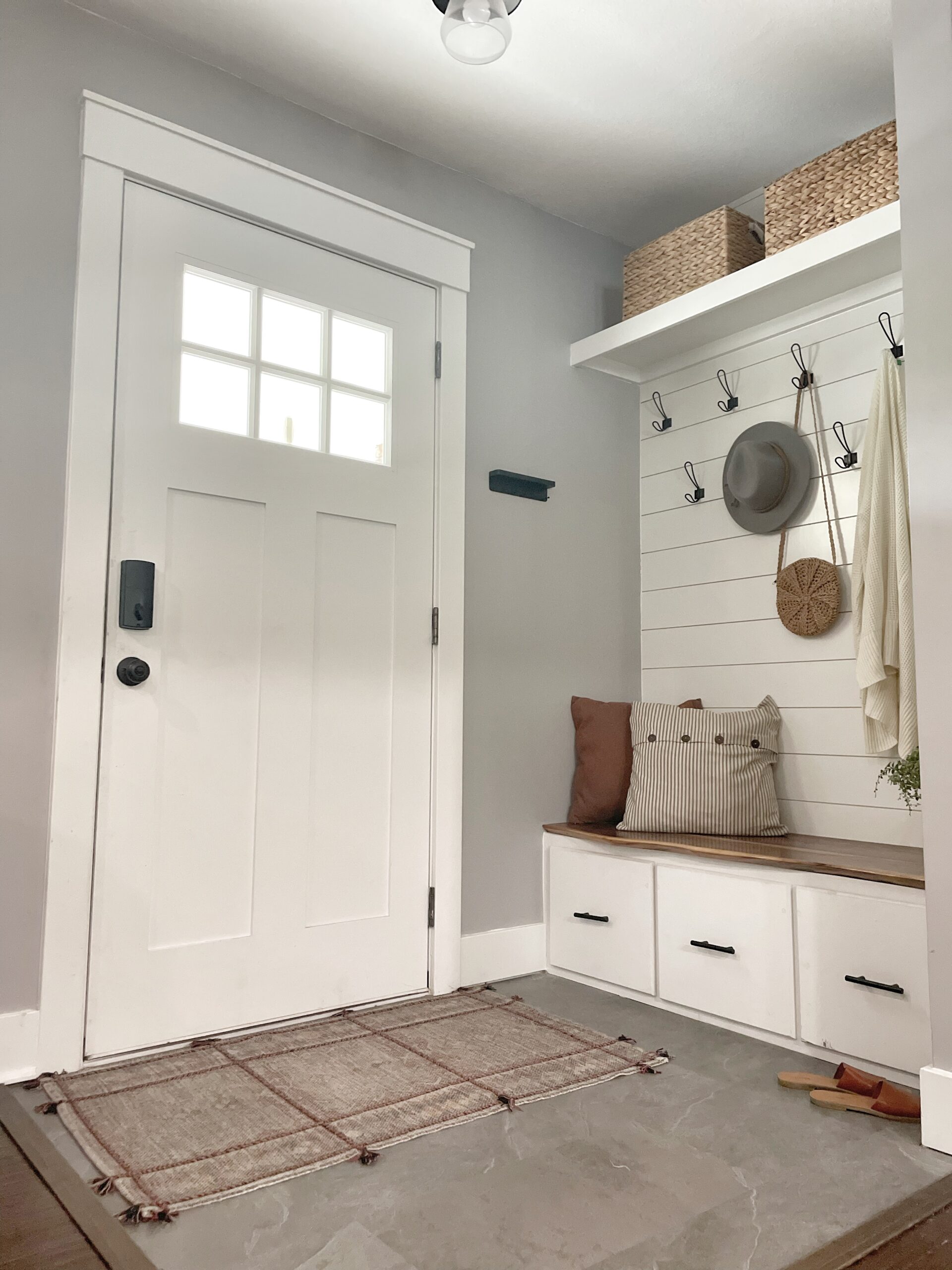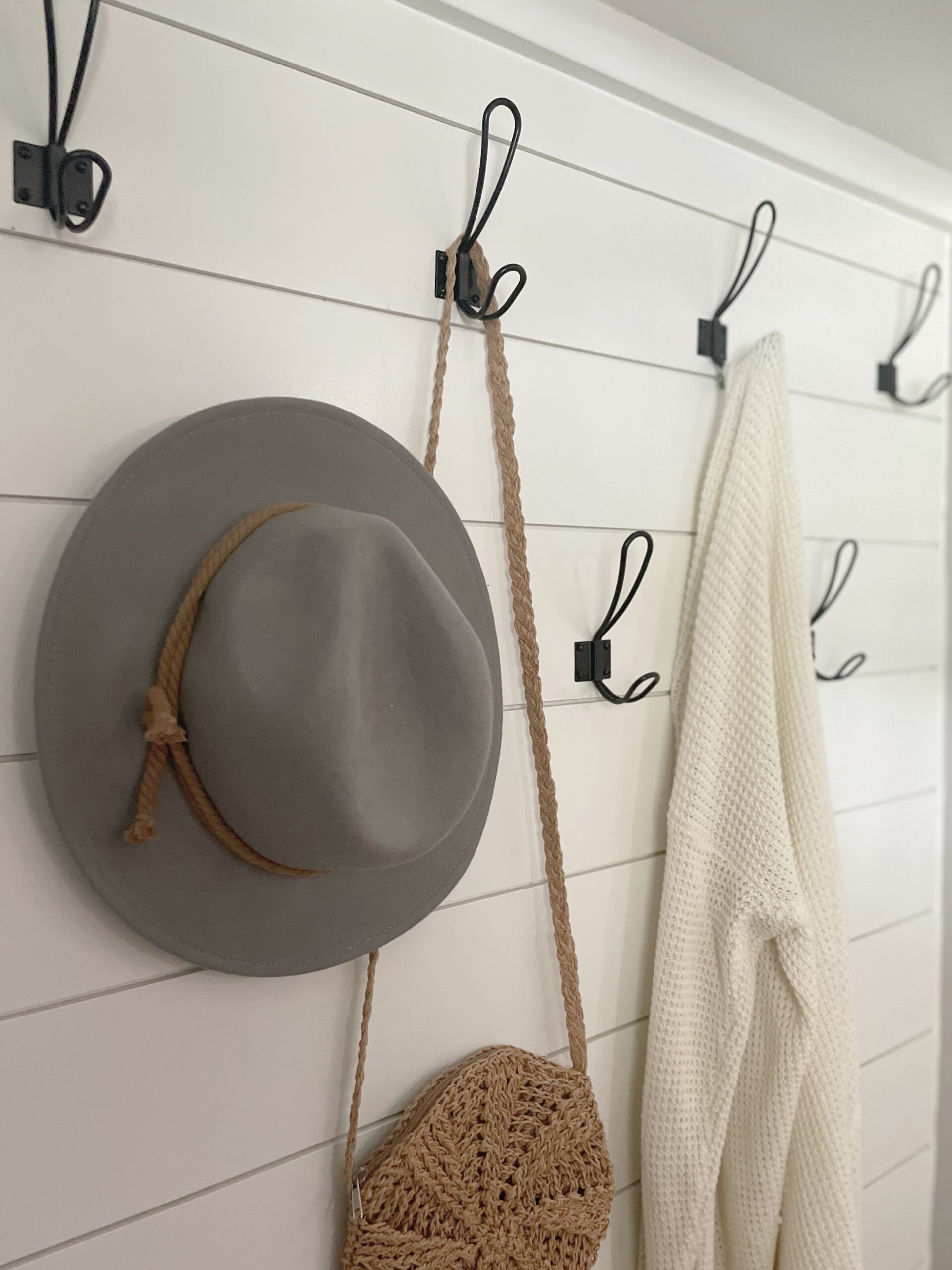 We had a small corner that was empty, so I refinished this little green cabinet as a drop zone for keys and wallets. I'm not certain this will stay here forever, but it functions for us right now, and looks super cute! I took the cabinet door off, added a shelf, and painted the whole thing dark green. Lastly, I used gold accents to finish it off. I love that it's a statement piece with the bold color and mixed metal choice.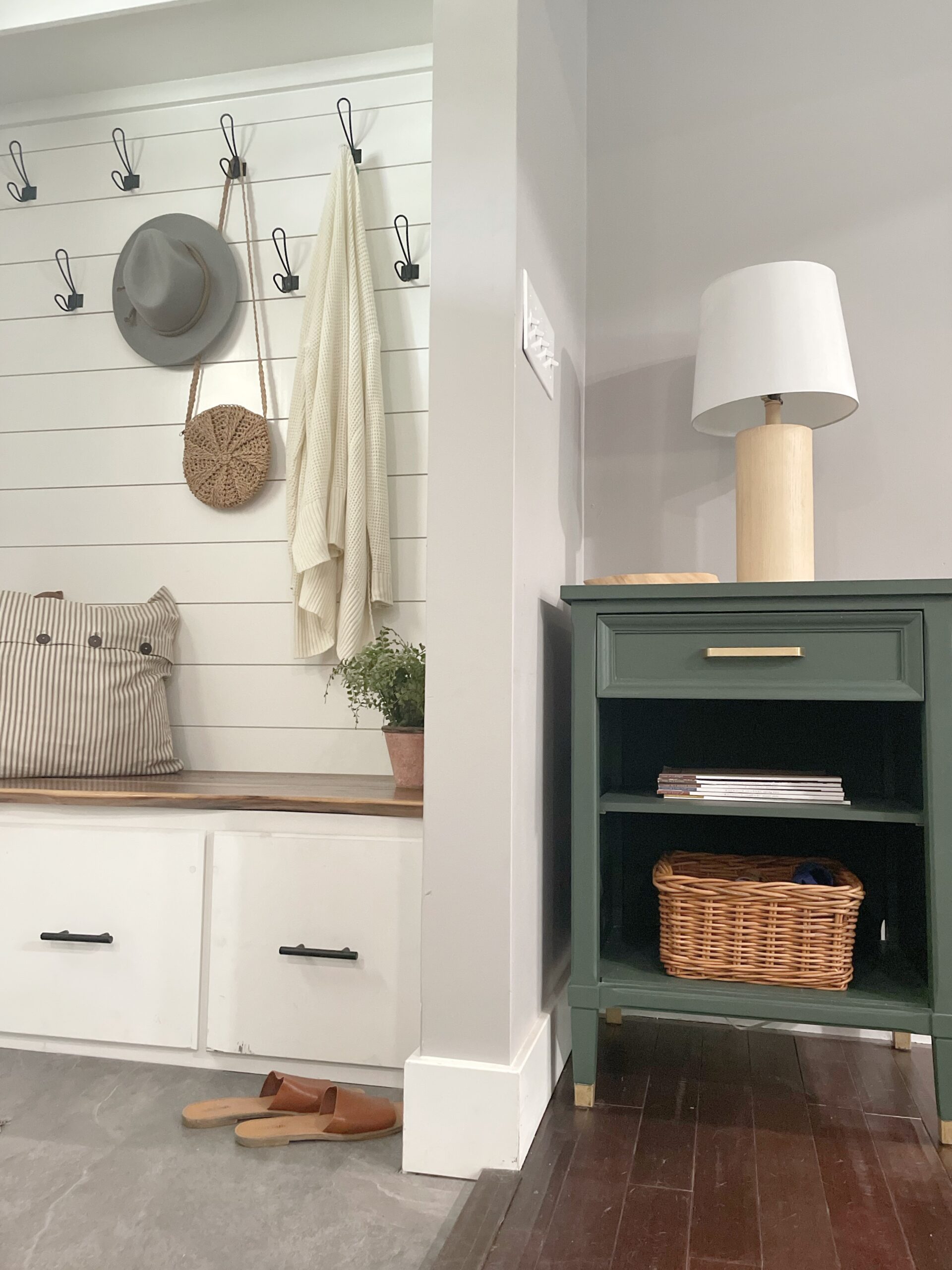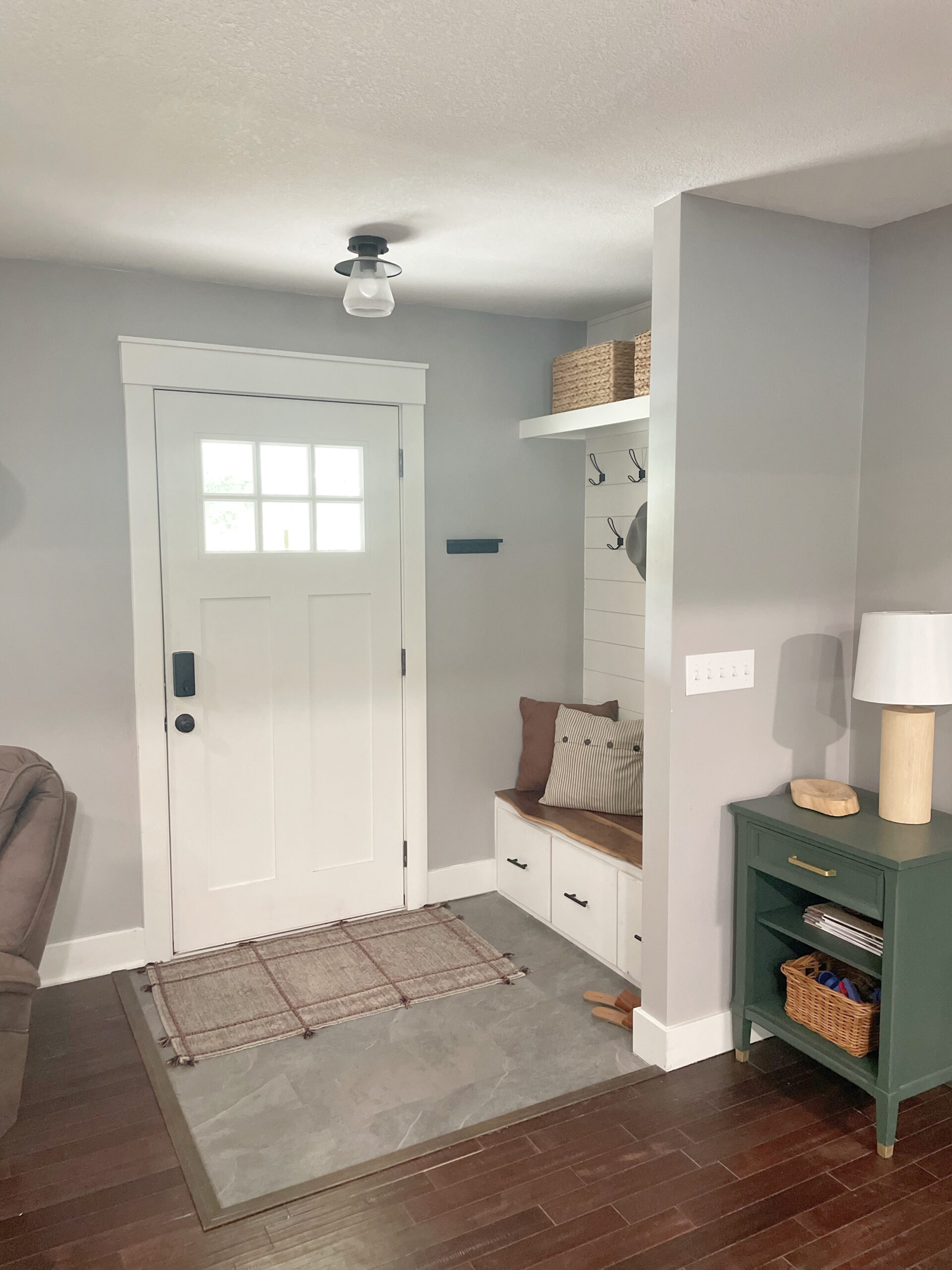 For the record, it does NOT normally look like this lol. We do live here and use the space to stack things up, as much as I'd like to deny it. But we very much love having a beautiful space that functions so well!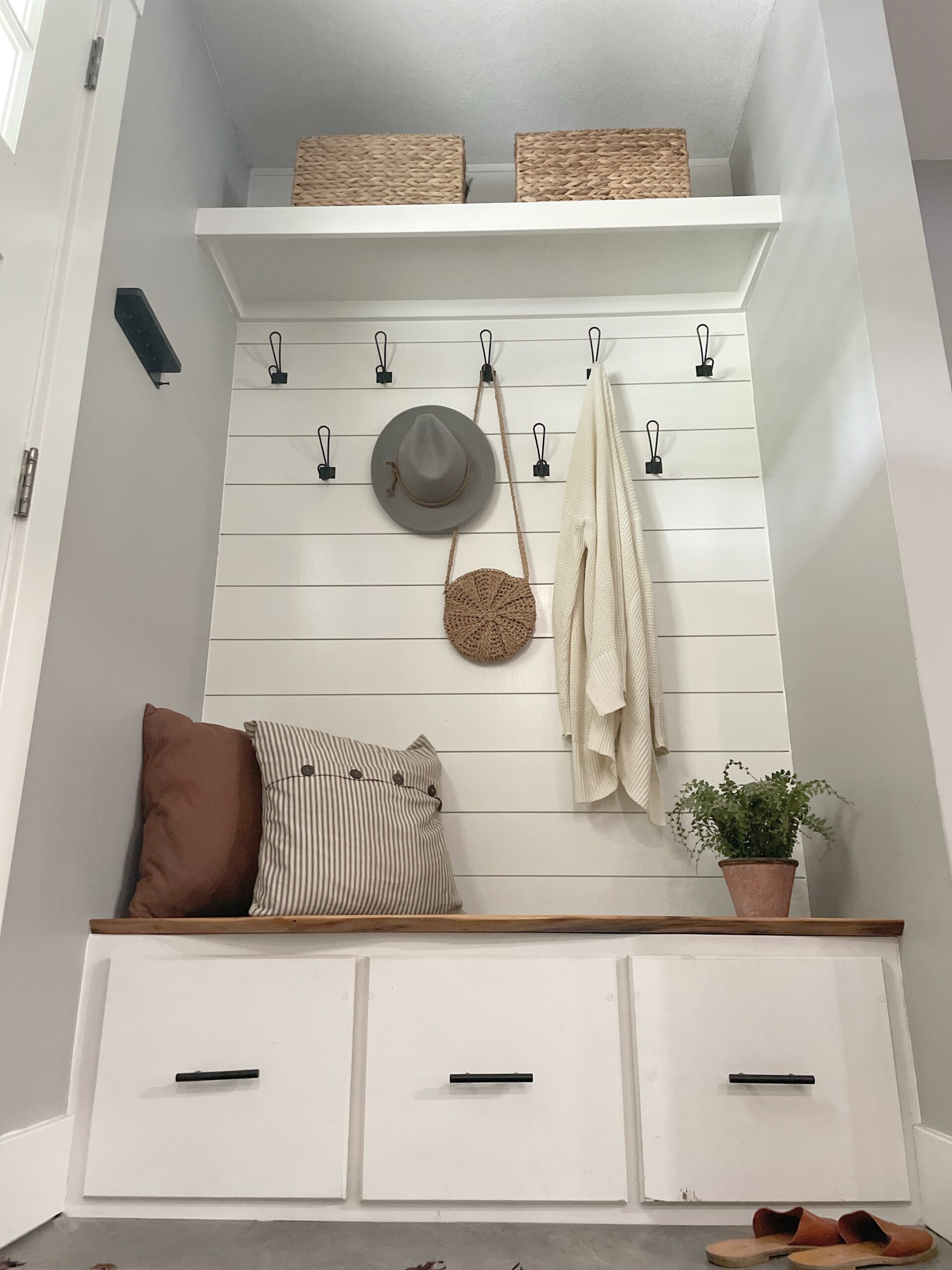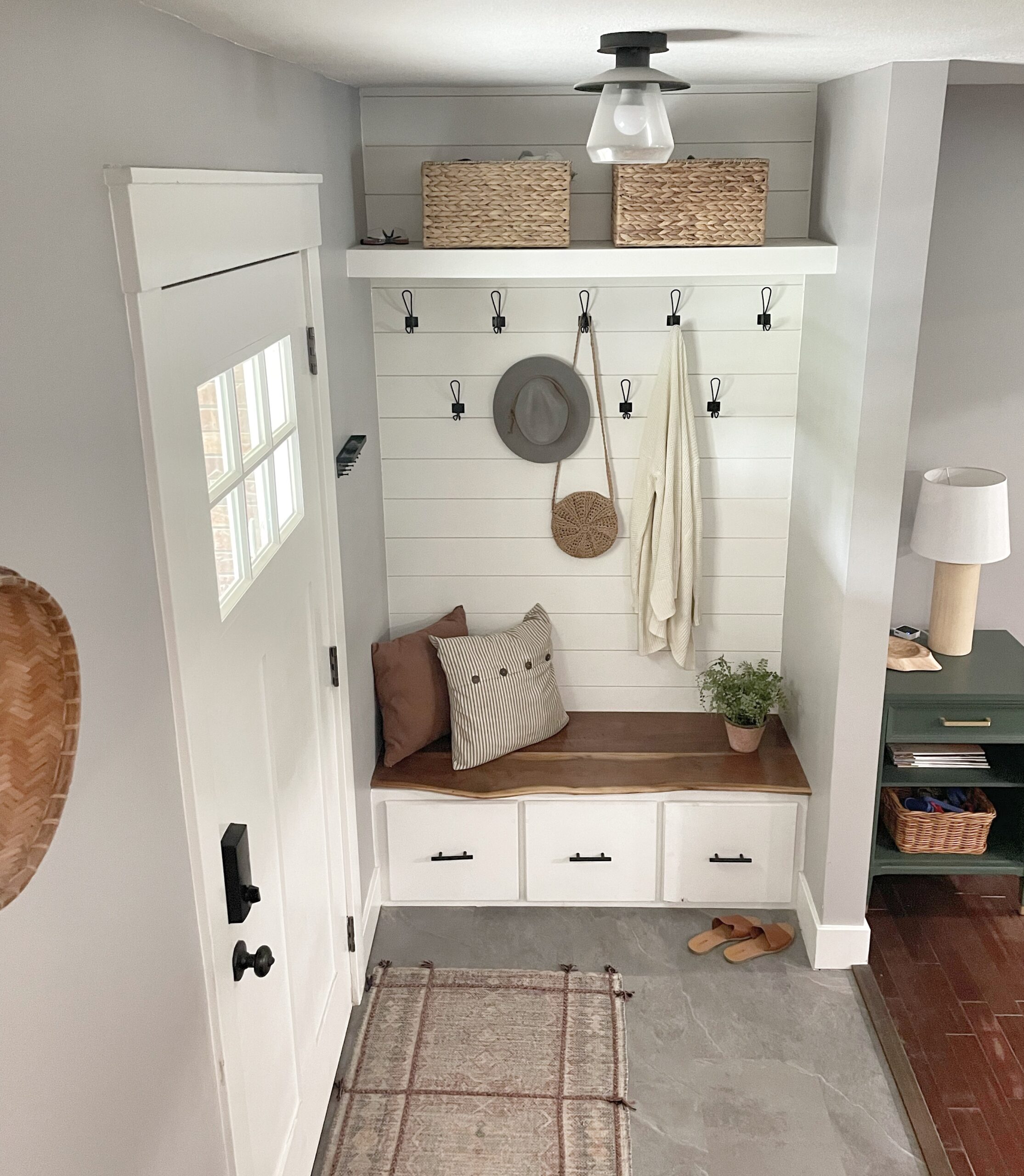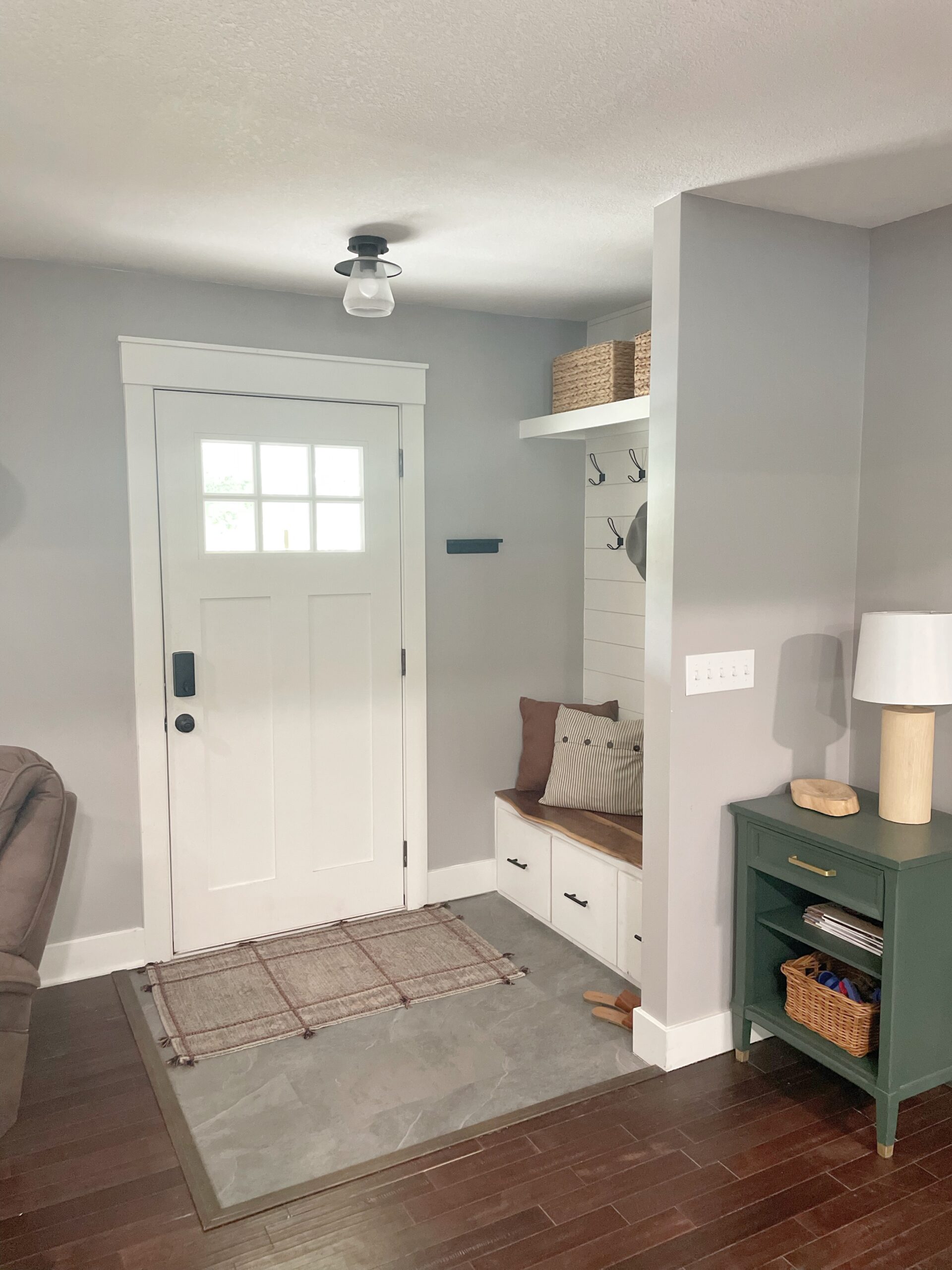 Sometimes I forget what it looked like before, and I'm always so amazed at how much bigger the whole house feels with that wall opened up! Thanks so much for reading, see you on the next project! God bless!
XOXO
ASHLEY DIANN