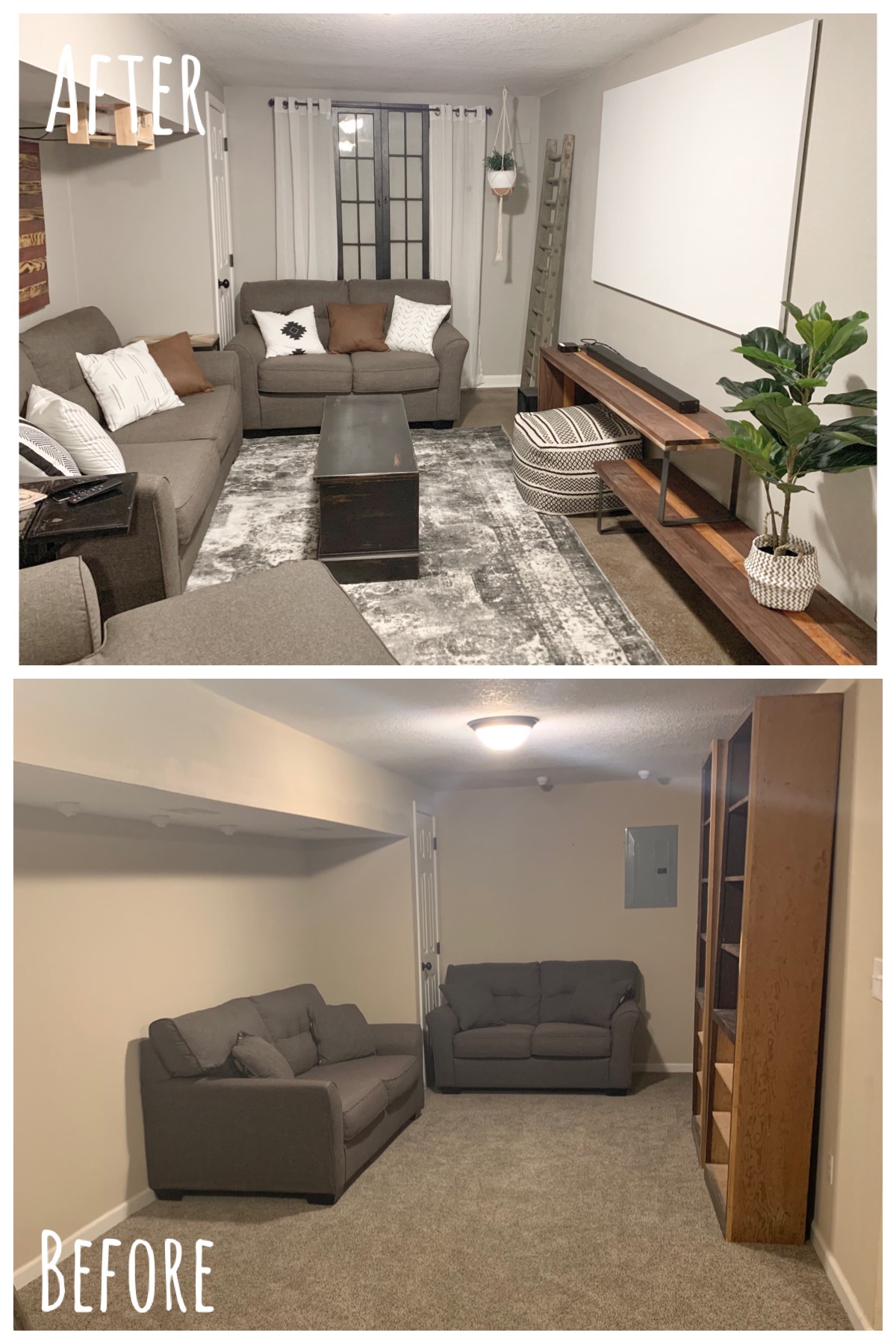 One thing I love about living in Kansas is that most houses have basements, which just about doubles your square footage! One thing I hate about basements, however, is that they sometimes leak… especially in an older home like ours.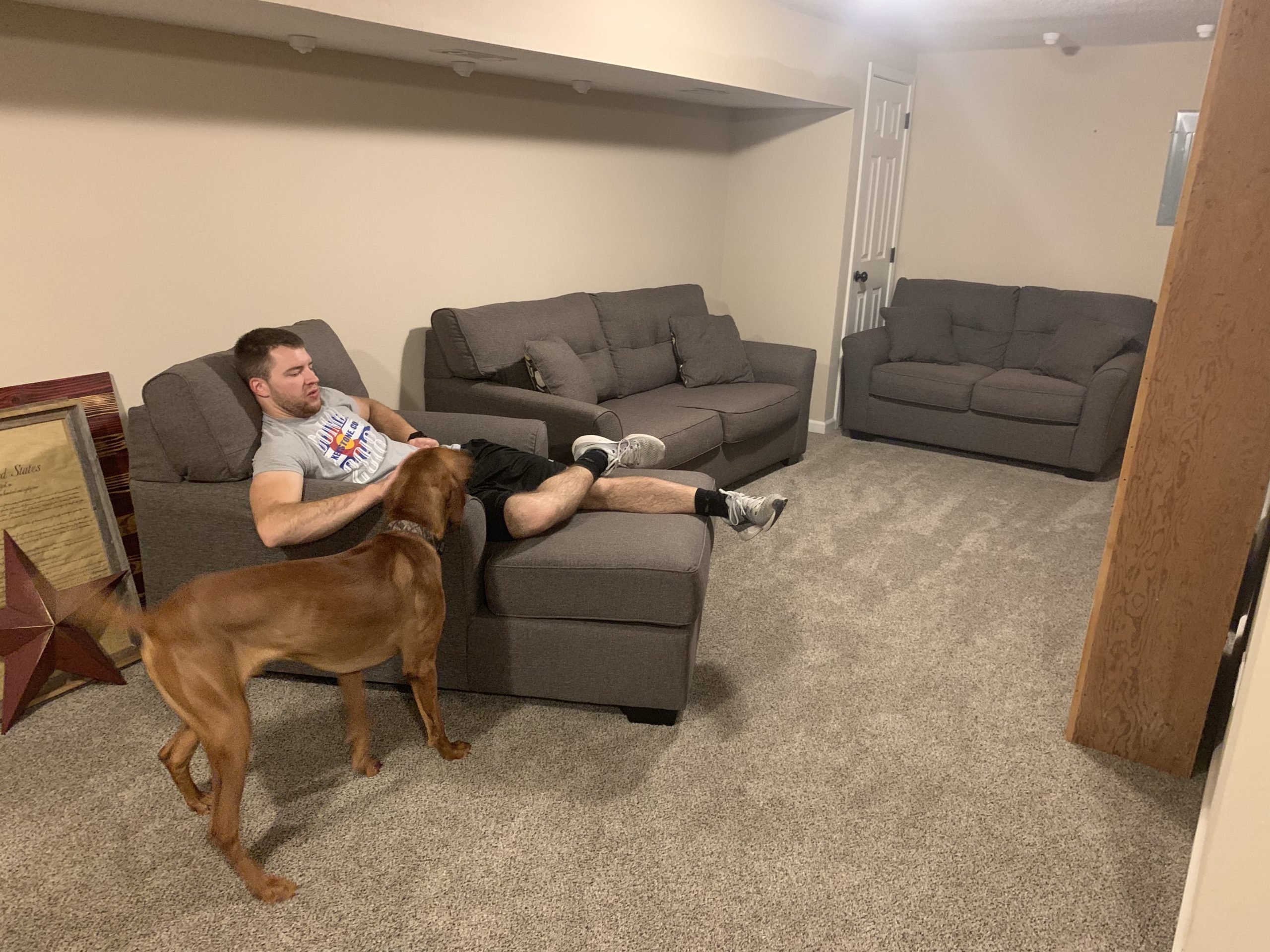 Last spring our finished basement flooded with days of non stop rain. (I've never seen so much rain in fact)… With the brand new carpet sopping wet, we were faced with the decision to tear out the carpet and replace it with a hard surface so we wouldn't have to deal with that mess again! The carpet wasn't actually ruined, in fact we were able to reuse it and replace the worn out carpet in the bedrooms upstairs.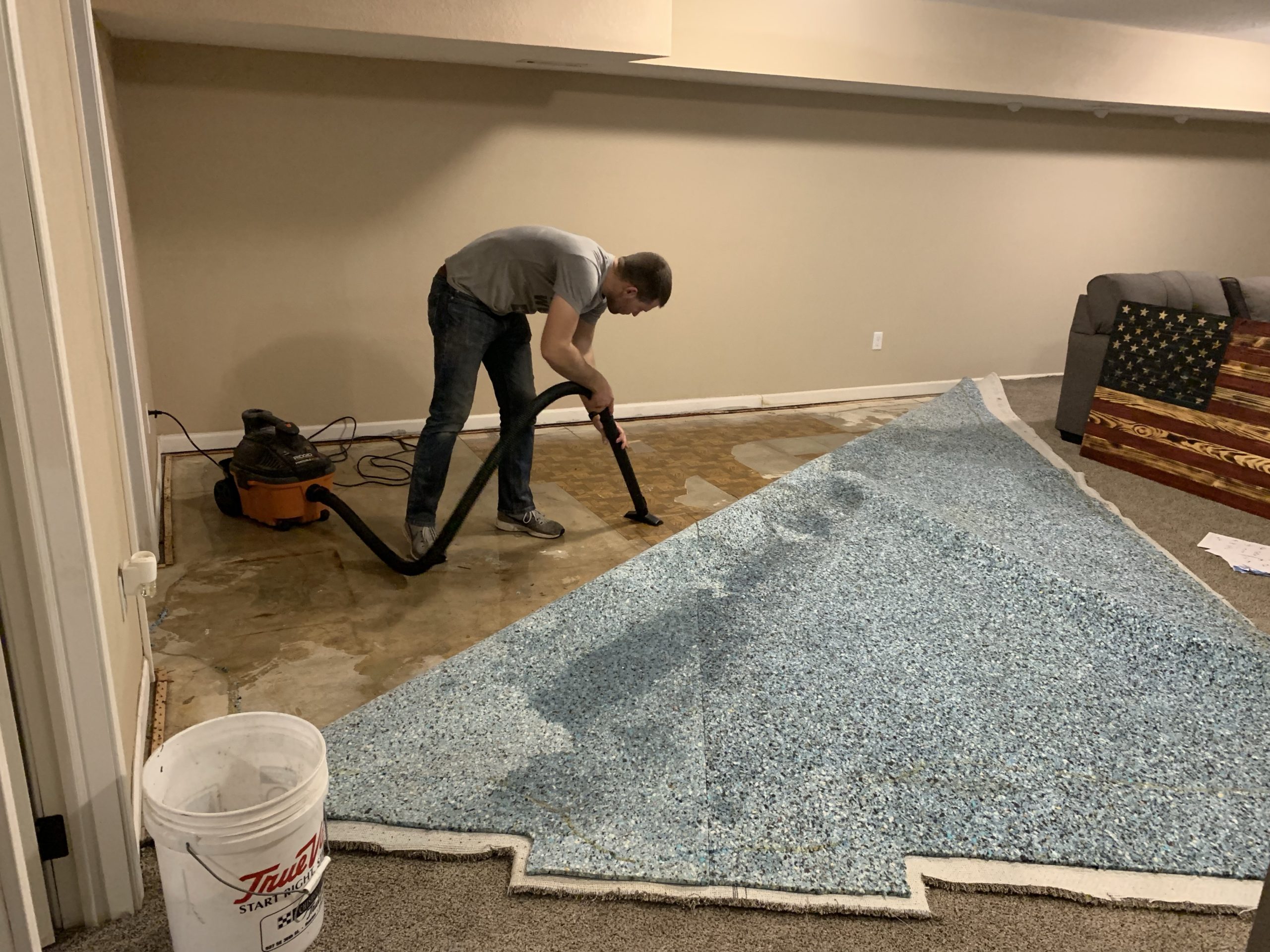 We decided to go with stained concrete, knowing that if our basement leaked again, the water would be much easier to contain. (Edit: We replaced the sump pump and fixed the spot that leaked and haven't seen any water since! Yay!). Logan and a couple friends stained the concrete themselves, and we are super happy with the results! It makes the basement feel more rustic, which is the aesthetic that we were going for!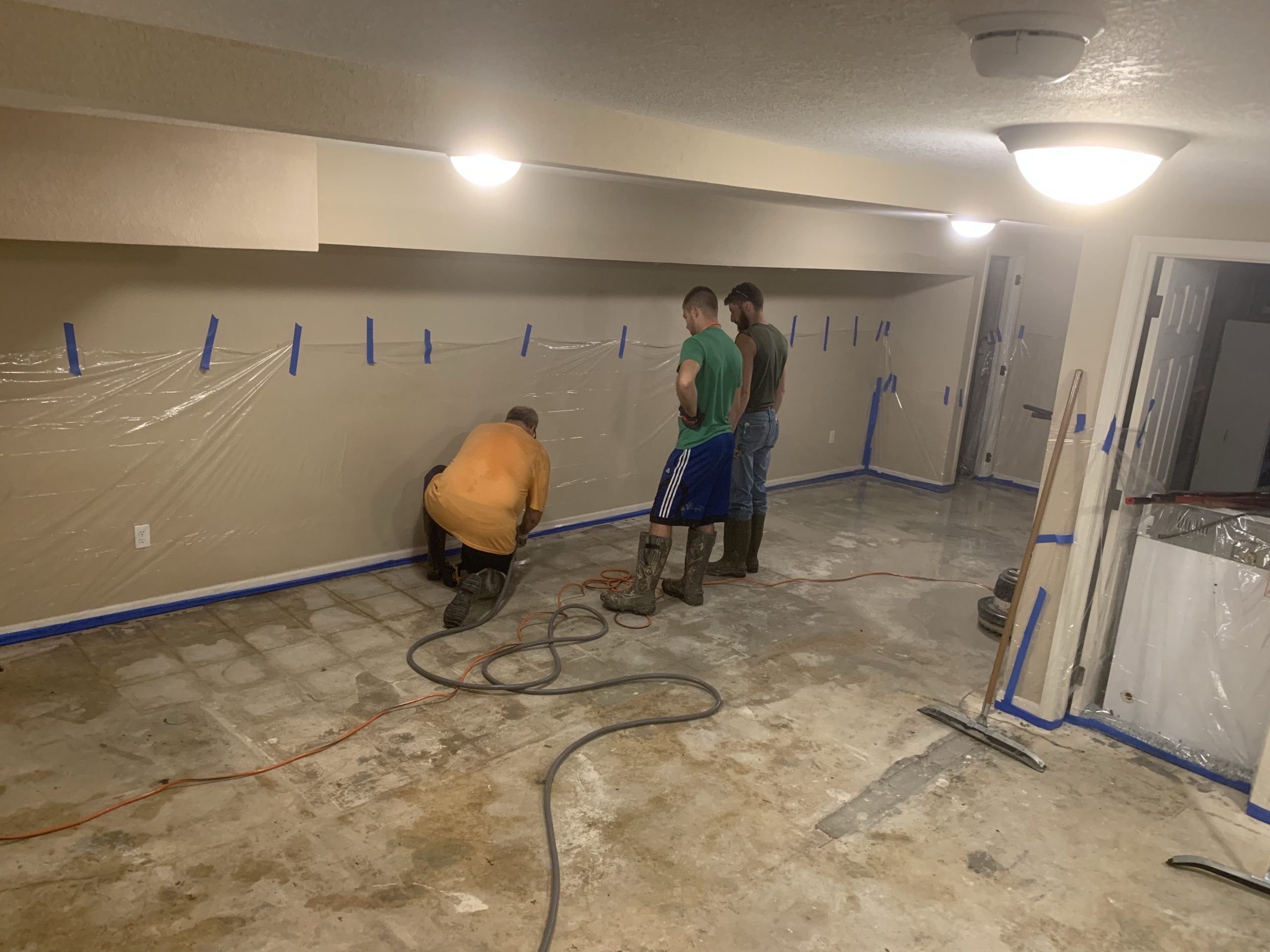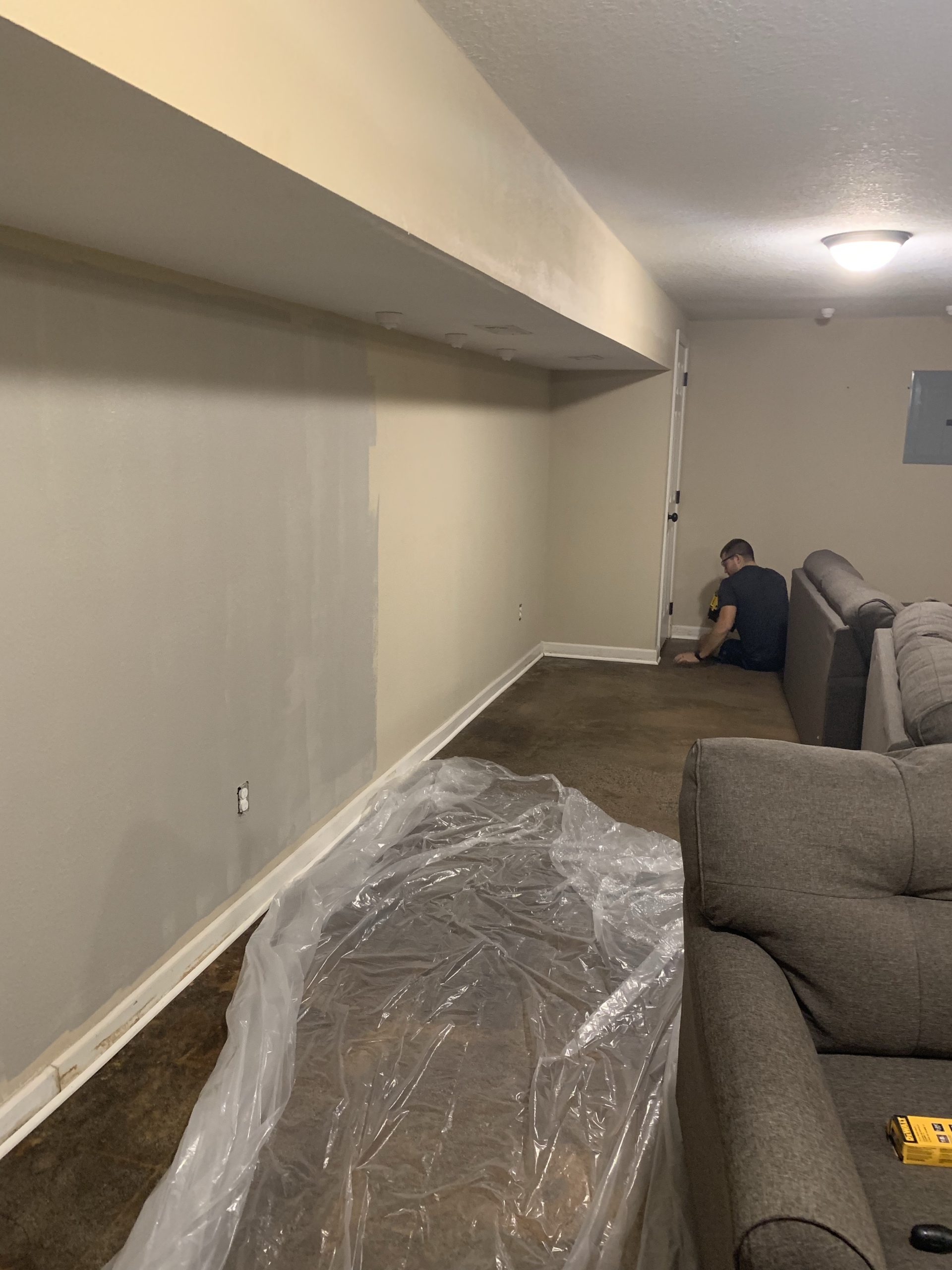 Since we basically had to start over downstairs, I took the opportunity to make it more our style! I wanted to go with kind of a rustic/boho style with some industrial modern mixed in… Starting with the wall color, I changed it to a light gray to give the space a bright updated feel. With the carpet now gone, I knew I needed to add some soft/cozy touches.
Rugs
I found some neutral colored rugs on Amazon, and used those as a base to build from. We have two open spaces, so the rugs really helped soften the hard surface and distinguish the living area from the bar/game area.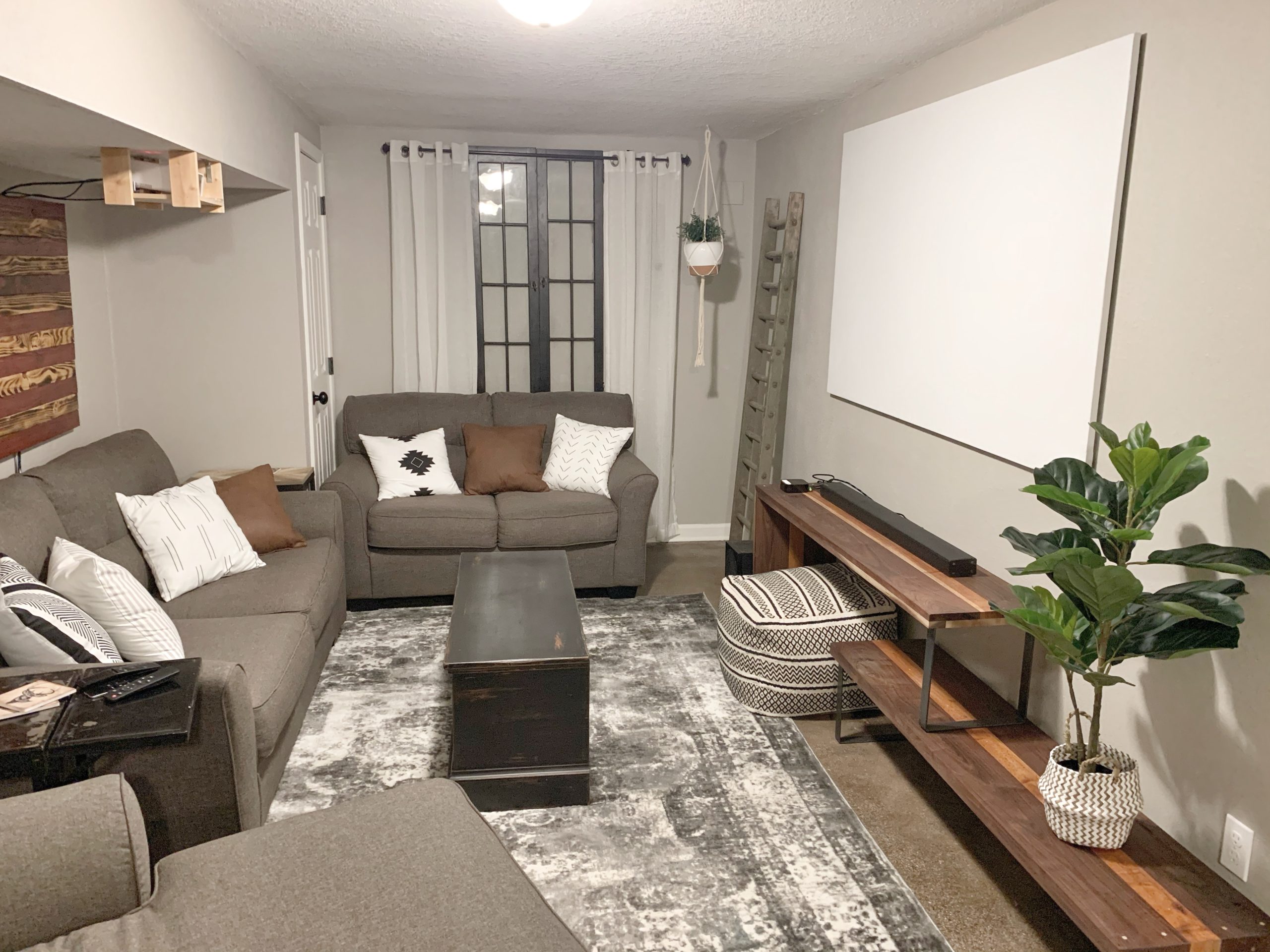 Seating
We had already purchased the couches before the basement flooded, because we planned to turn the living area into a "theater." The space is too long/narrow for a sectional/reclining seats, and we also have an awkward closet in the corner where the sump pump is… so figuring out how to set up the room and with what kind of furniture was a challenge.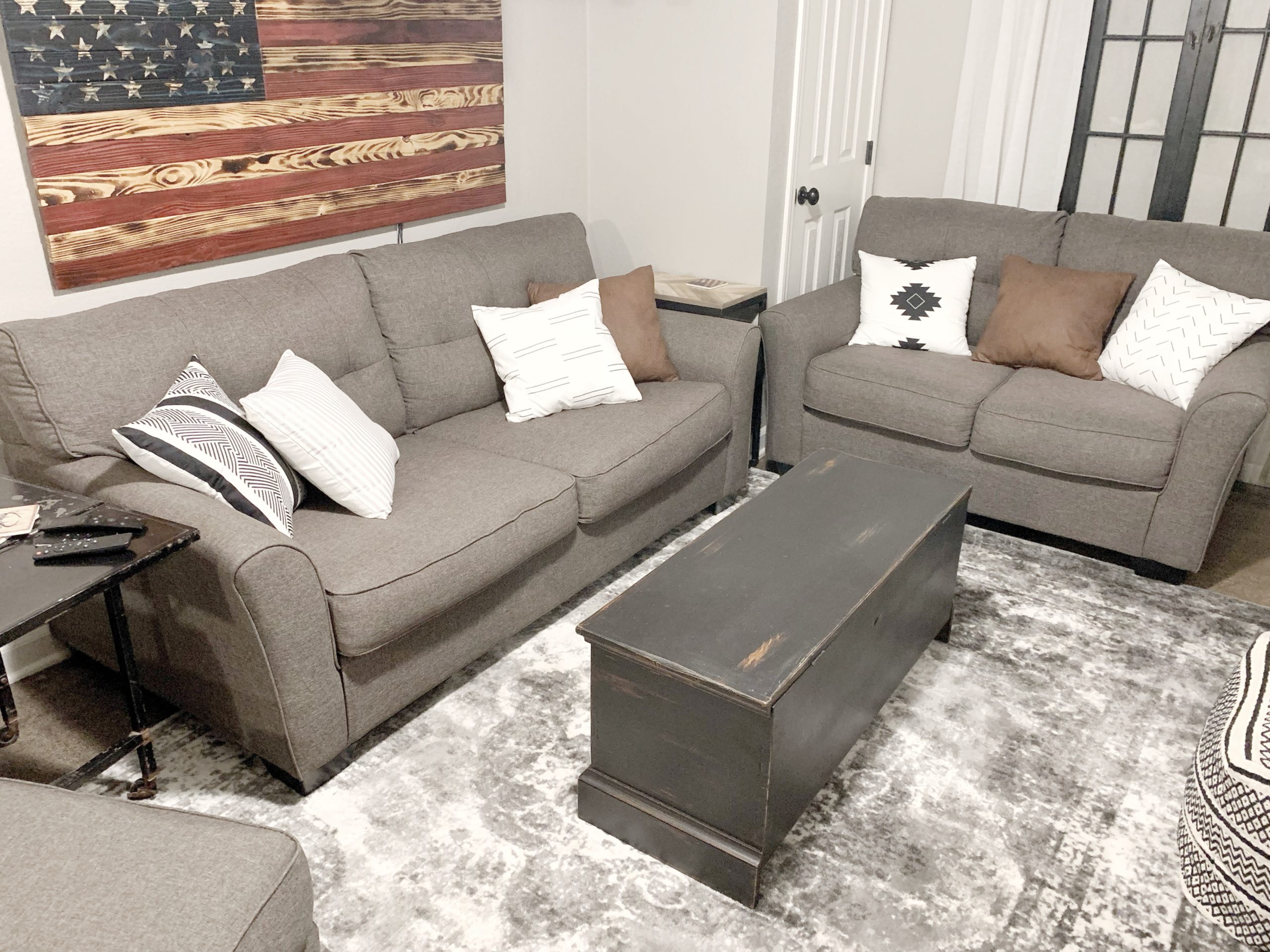 After lots of measuring, shopping, sorting ideas, and rearranging, I finally scored this couch set on Facebook marketplace (brand new)! They provide the same amount of seating as a sectional, but they are modular and don't crowd the space. And the best part… we spent less than $500 for the 3-piece set!!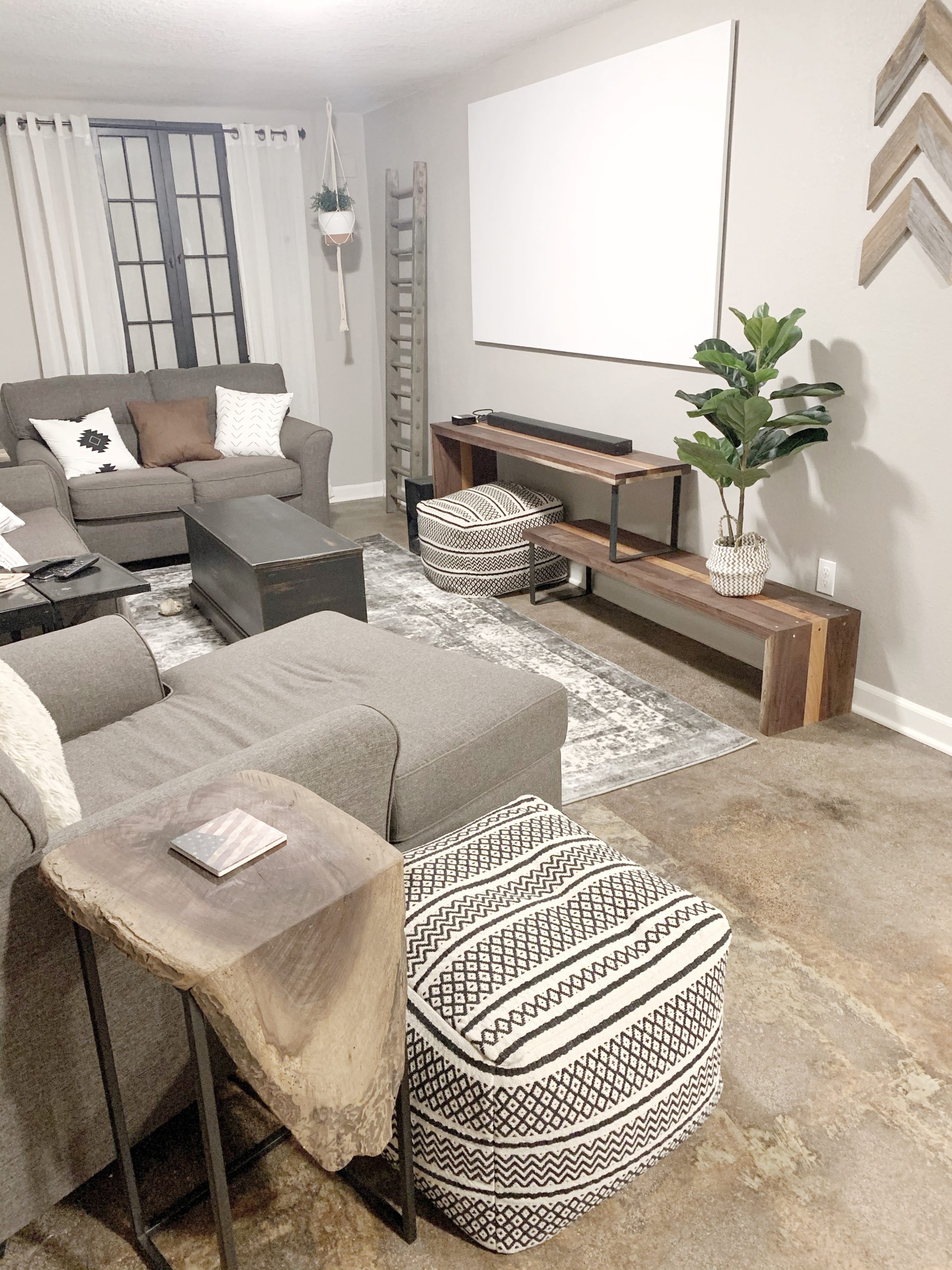 TIP: A great way to make a space look more styled is to change the pillows. I found these pillow covers on Amazon for really inexpensive!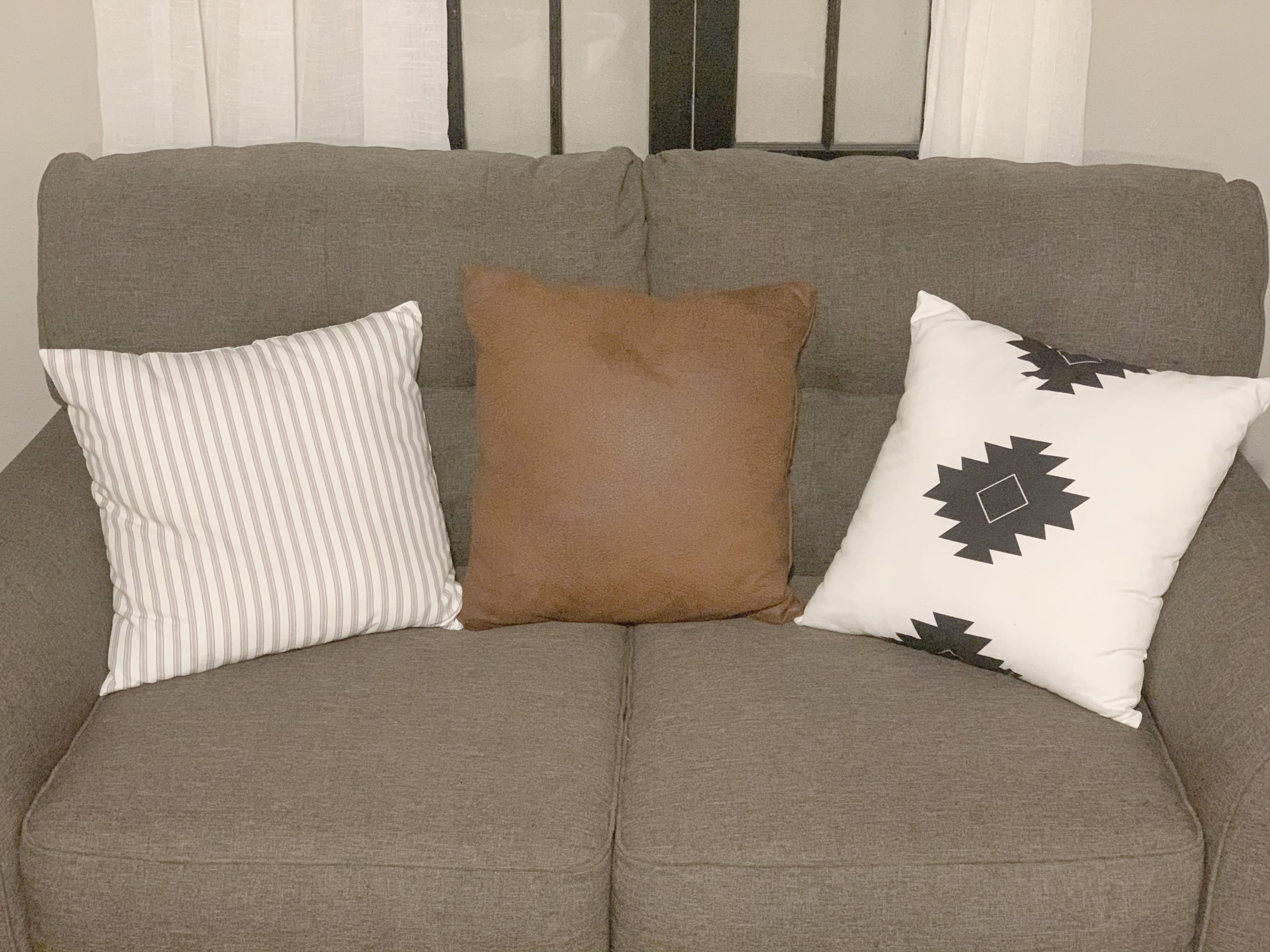 Furniture
You guys know by now that I'm usually one for thrifting, refurbishing, or DIYing something before I would go out and buy brand new. That definitely goes for the other furniture we have down here!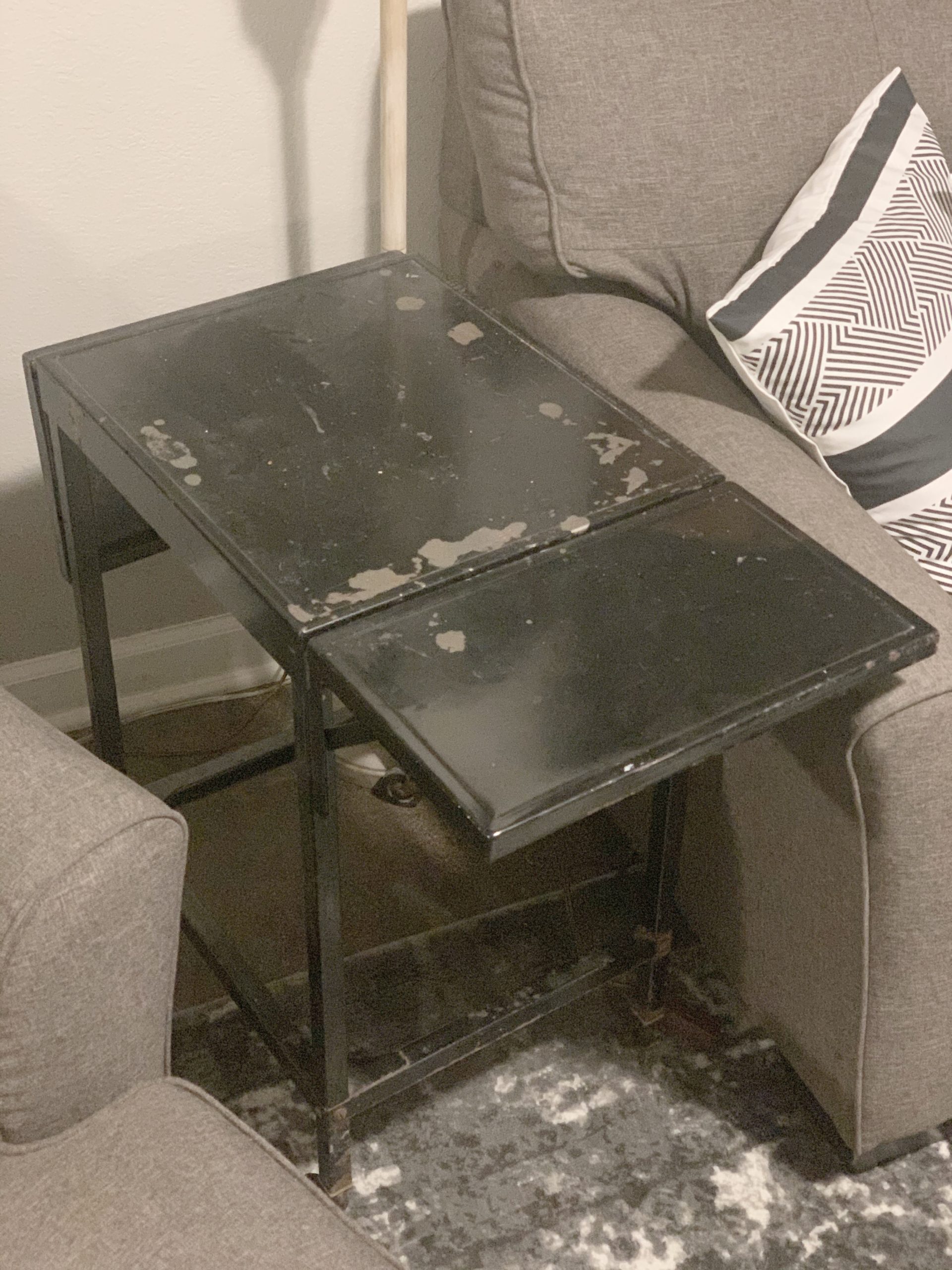 The end tables are kind of an eclectic mix, but I like how they go together. I found this black metal cart at an antique mall and I just loved it. It has wings that fold up or down depending on what you're using it for. The other end table is a DIY project that I'm calling our "waterfall table." We bought a cheap end table with a metal base, and Logan created this waterfall live-edge top out of walnut.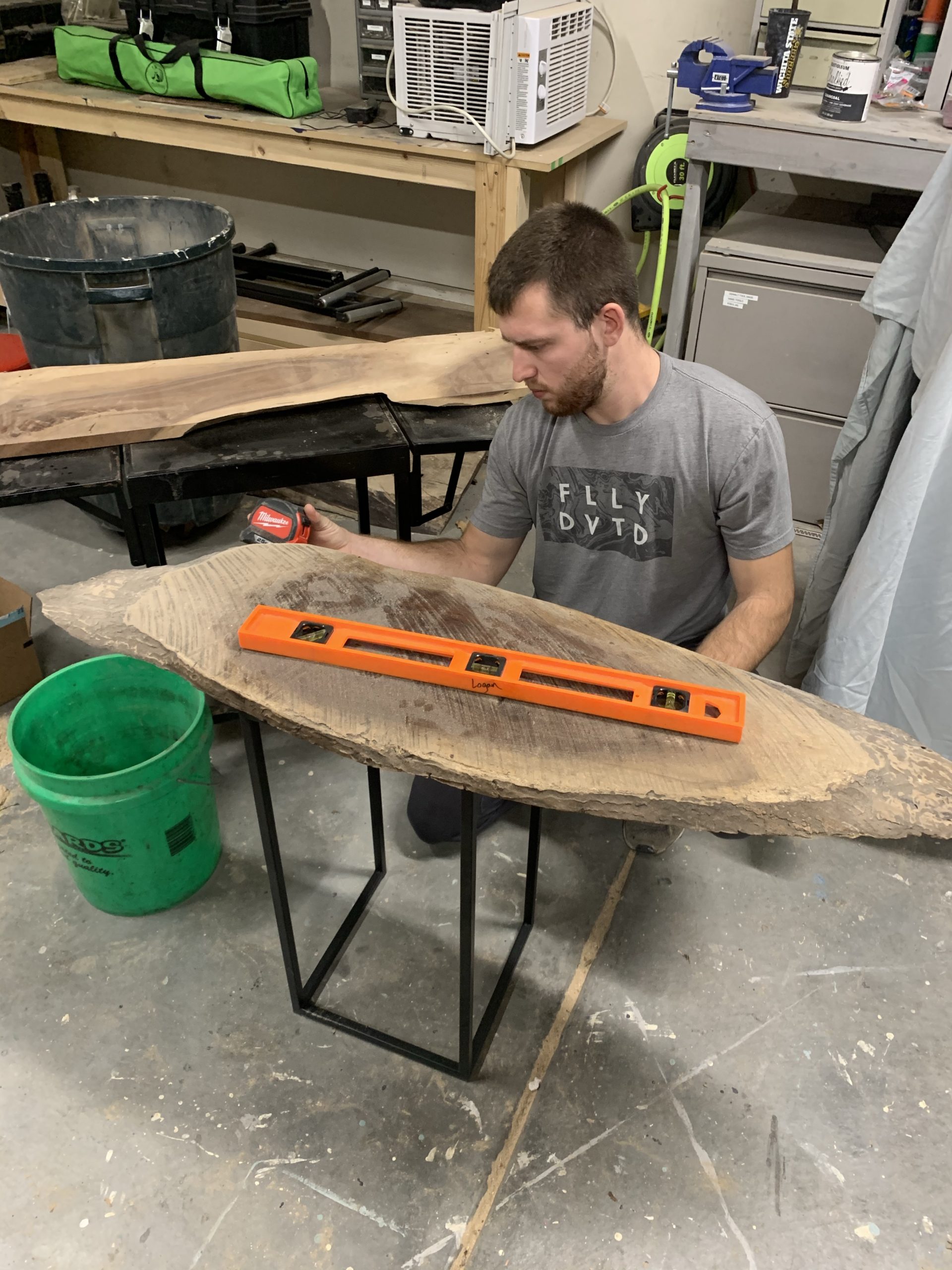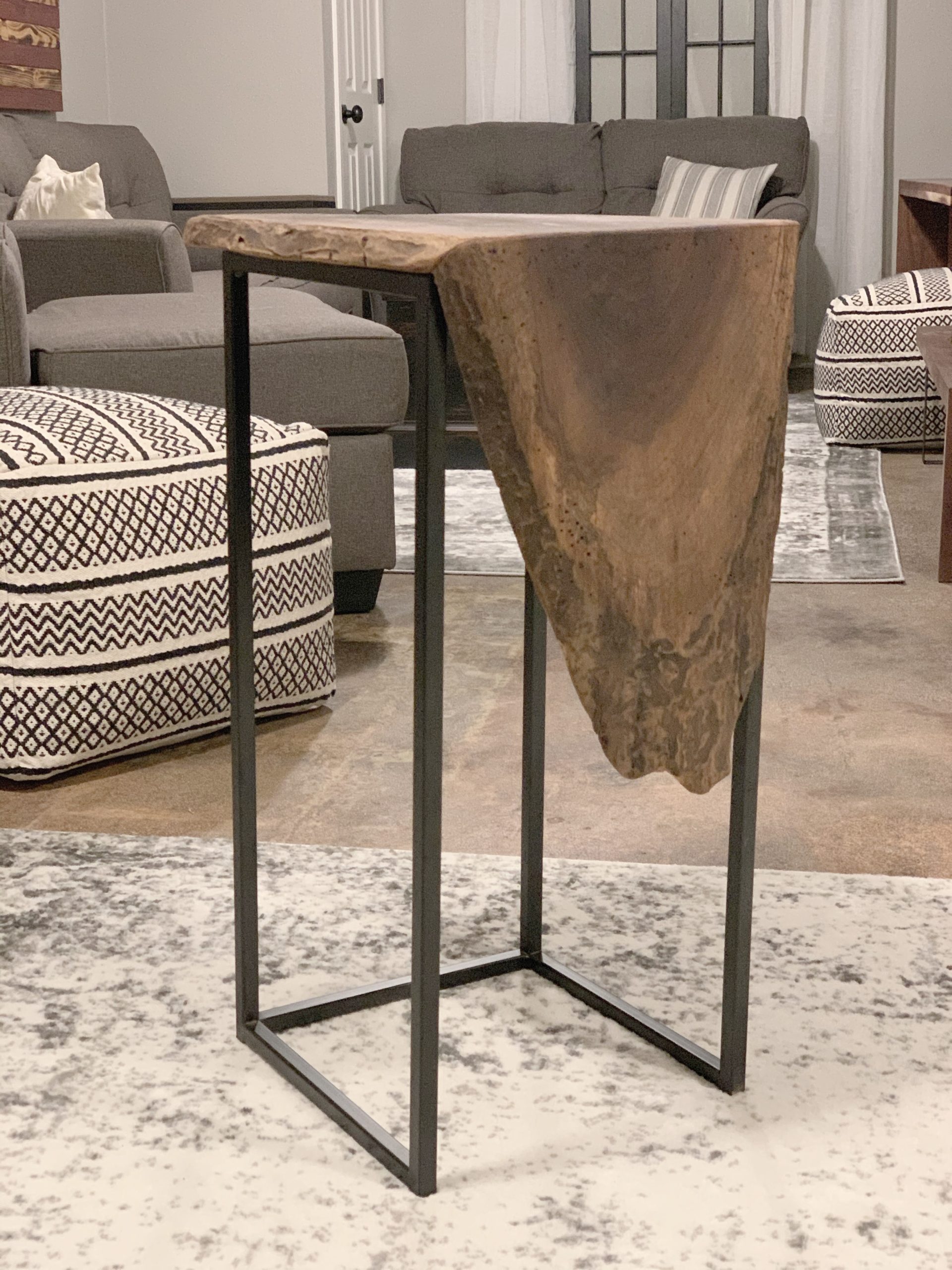 I'm doing a separate blog post with more details on this end table, as well as our modern tv stand also built with walnut. These are definitely my favorite furniture pieces we have built and I could not be more happy with how they look in this space!!!! Stay tuned for that!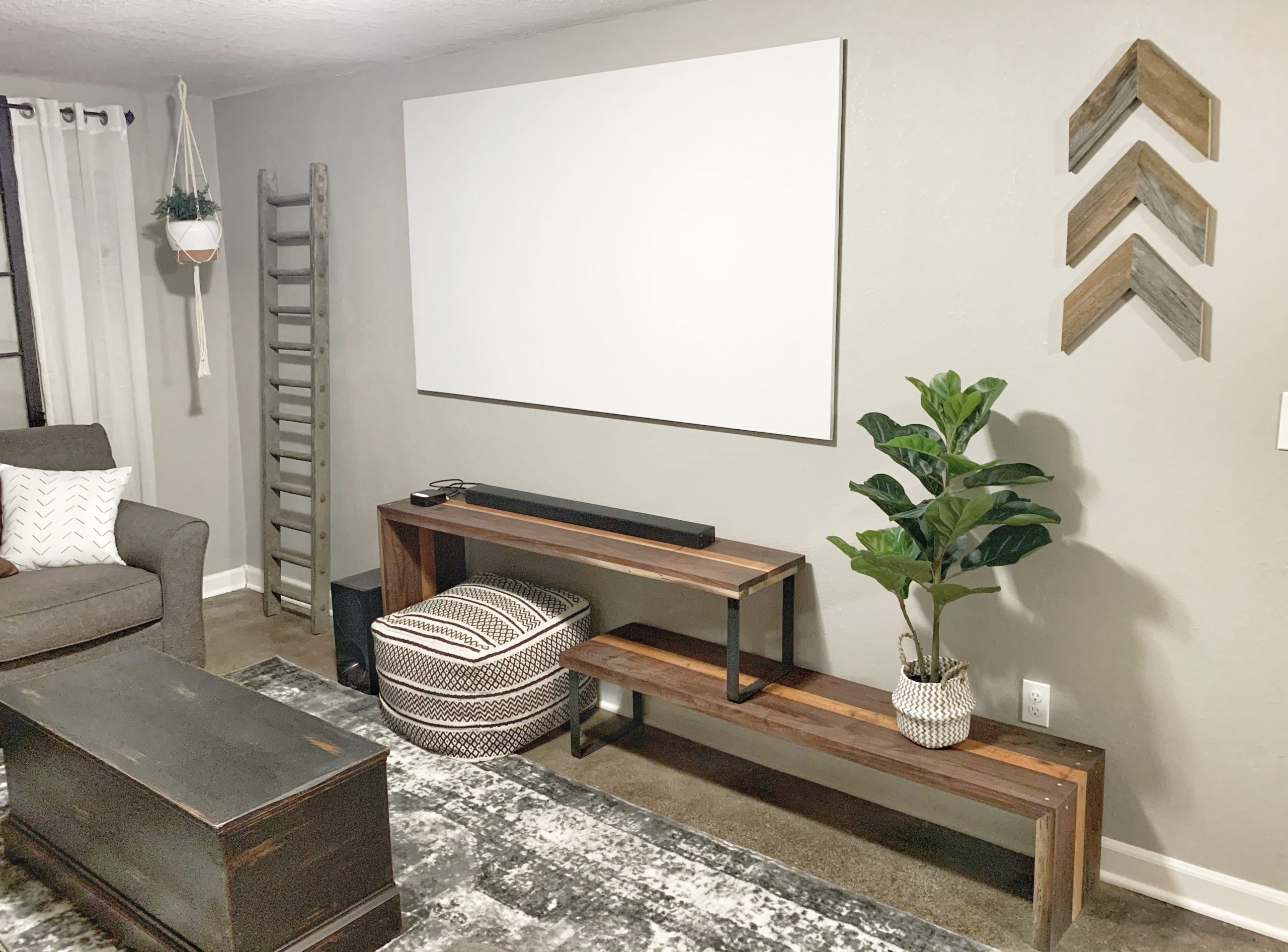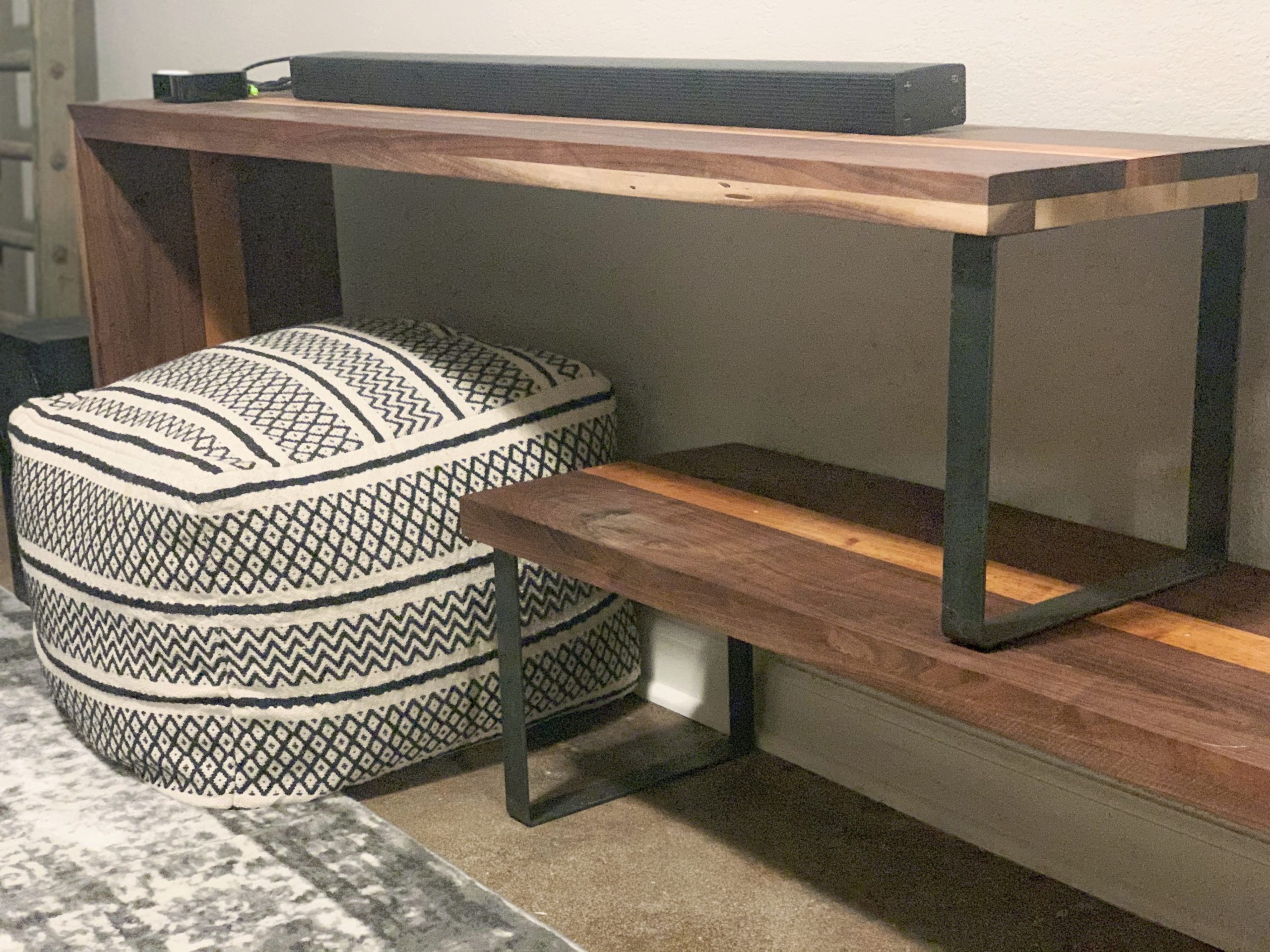 The coffee table has some sentimental value to me. My dad built this when he was a teenager and it's one of my favorite heirloom pieces that he's built. It has hand cut dovetails and is just beautifully crafted. I had it as a toy box in my room as a child and I asked him if I could update the finish to use in my house.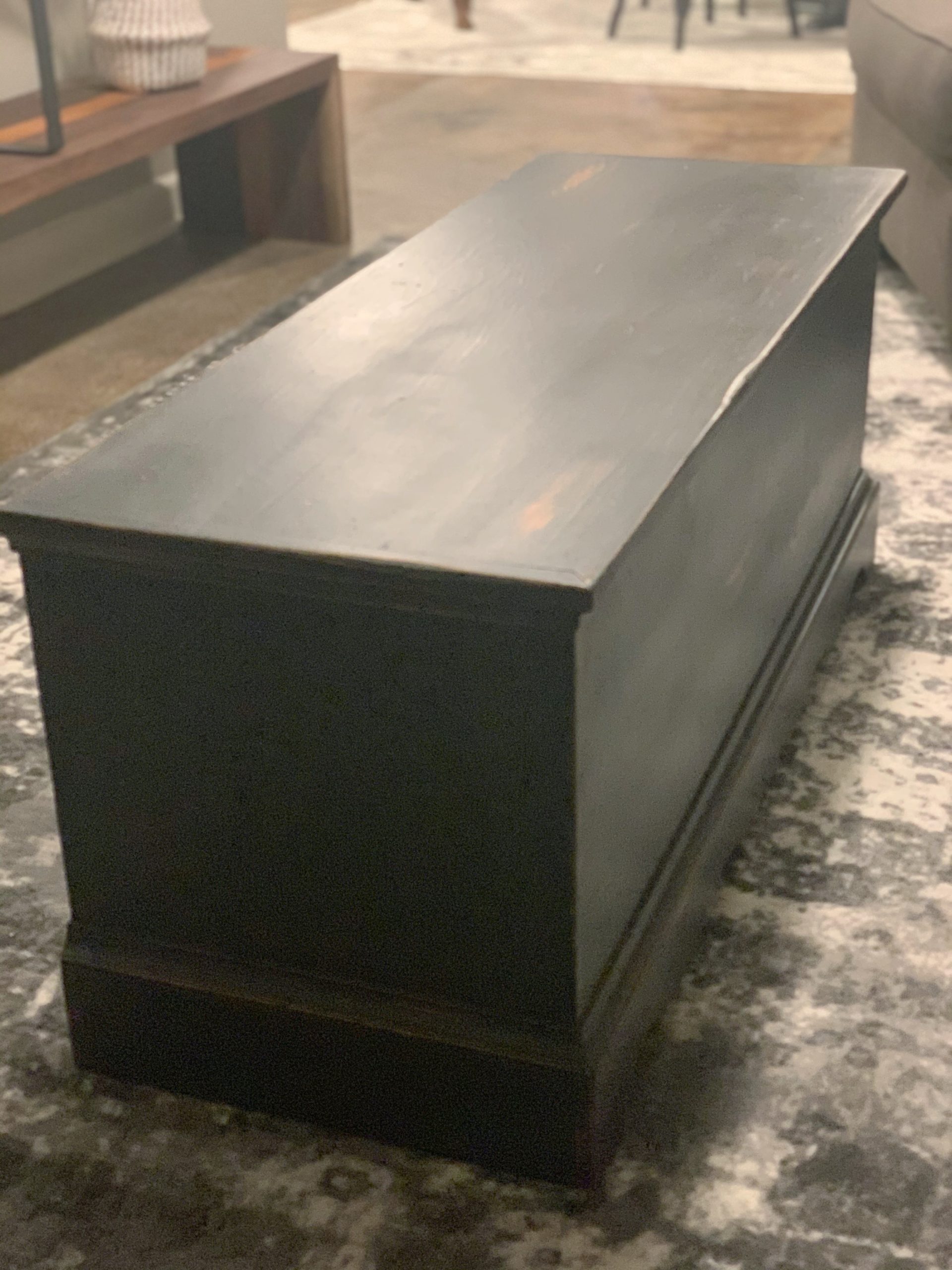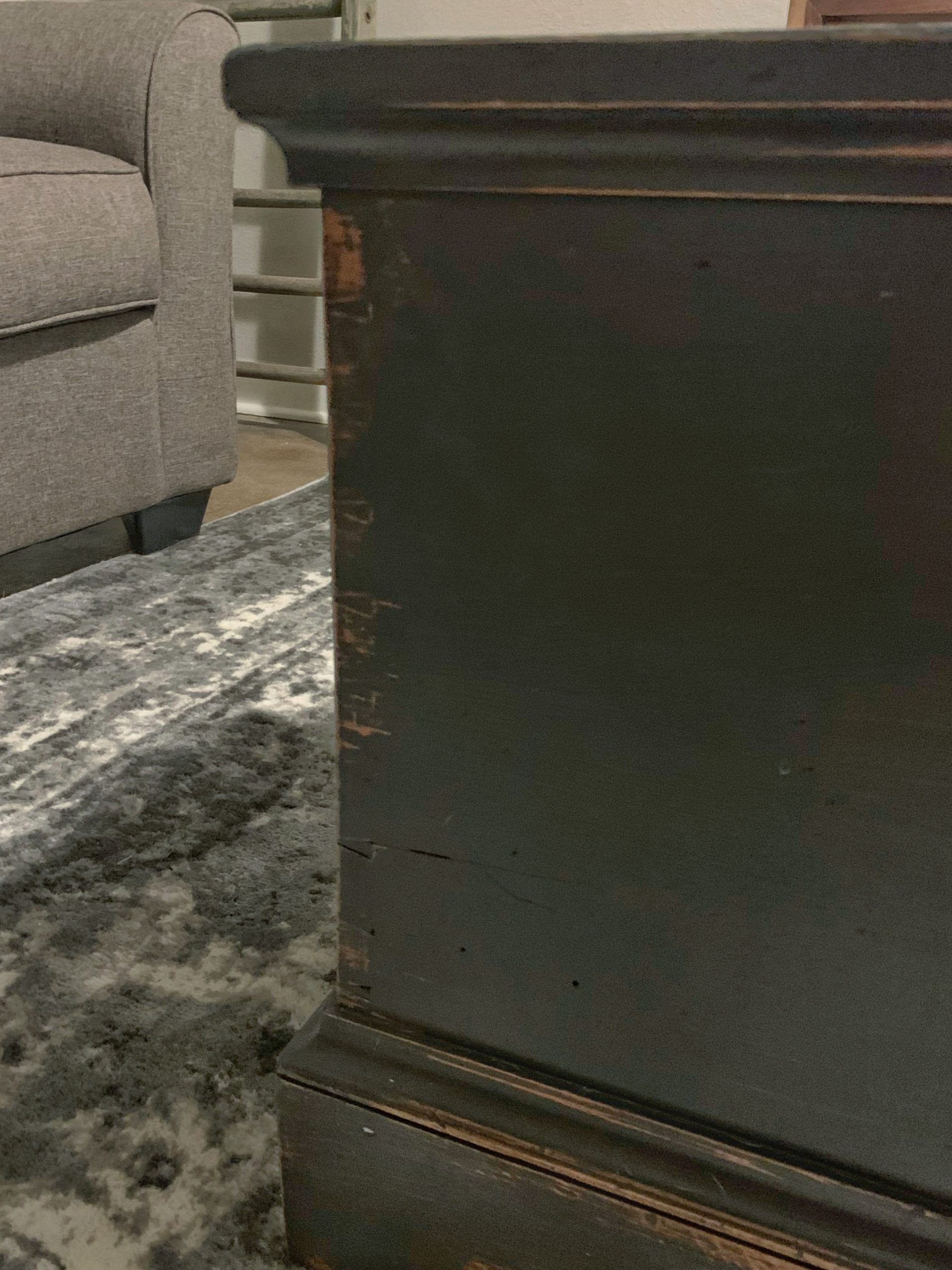 I ended up doing a black distressed finish, making sure to still showcase the detail and character he put into it. This holds blankets and adds a finished look to the room!
Media
We were gifted a projector for Christmas and really got excited to turn this space into a theater! Logan built a projector box that attaches to the ceiling, and we DIYed the screen! (I might do a separate post on that, because it took a couple of tries to get it just right. Let me know in the comments if you'd like to see how we did it). Our sound bar system hooks up to the projector and really makes it feel like a movie theater! Logan also loves to play X-box down here now lol.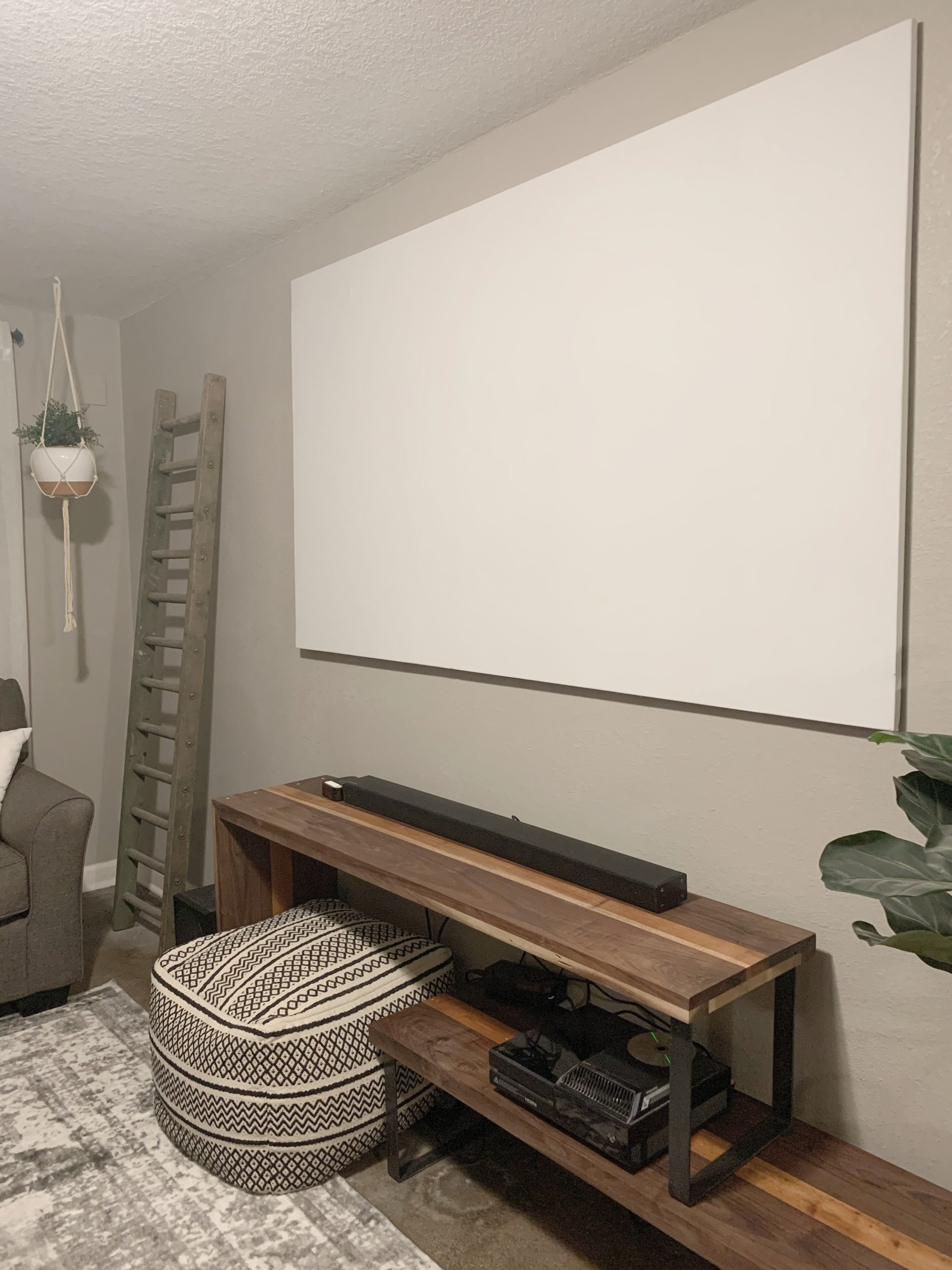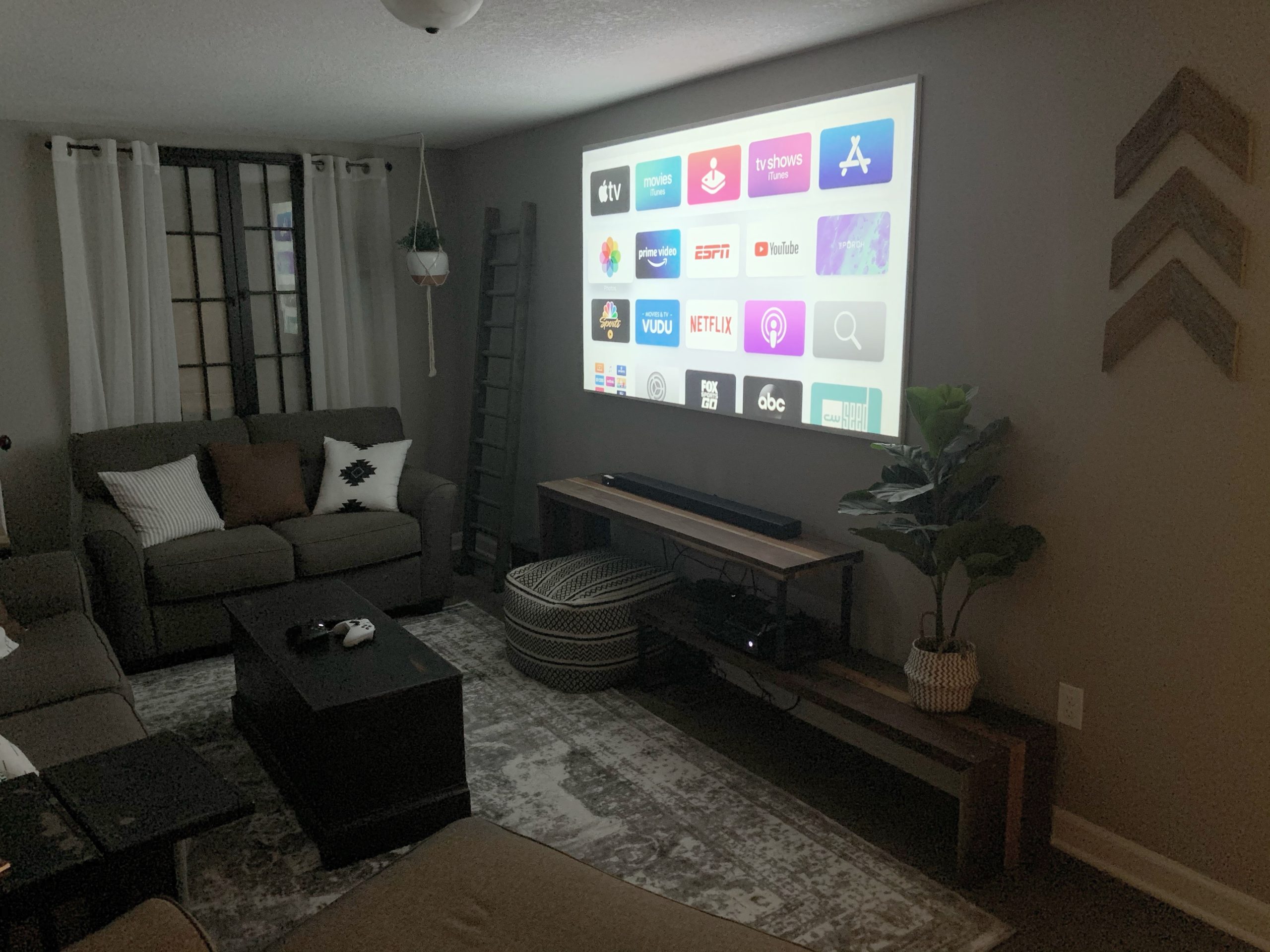 Accessories
The decor and wall hangings are the last things the space needed. Since our basement has no natural light, I thought it would be cute to hang some faux windows and even put up curtains to add another cozy touch. This really does soften the space and give the illusion that there's actually a window there. (The curtains also hide the ugly electrical box on this wall)!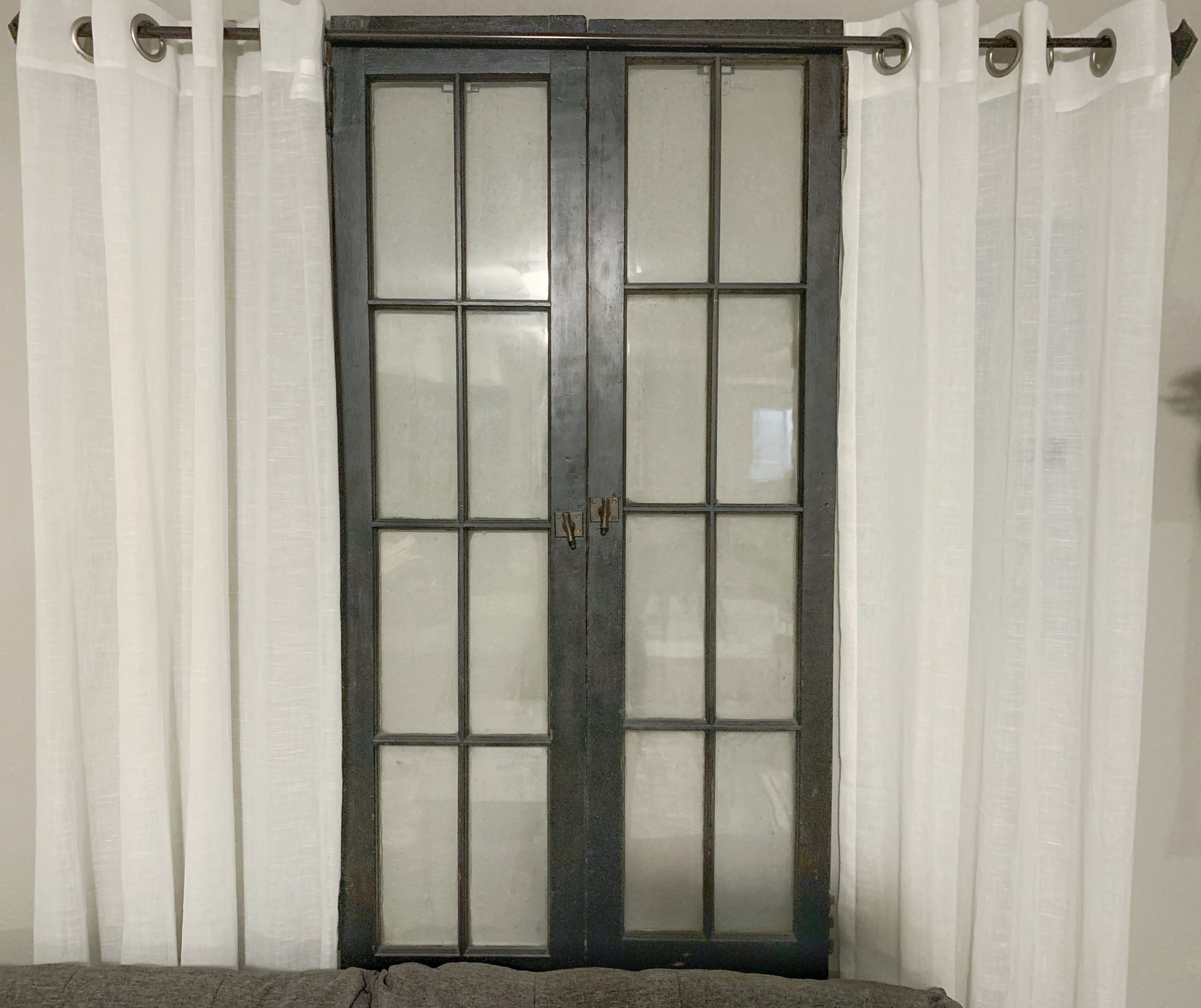 The huge rustic flag was something Logan built a few years ago, and is still one of my favorite things.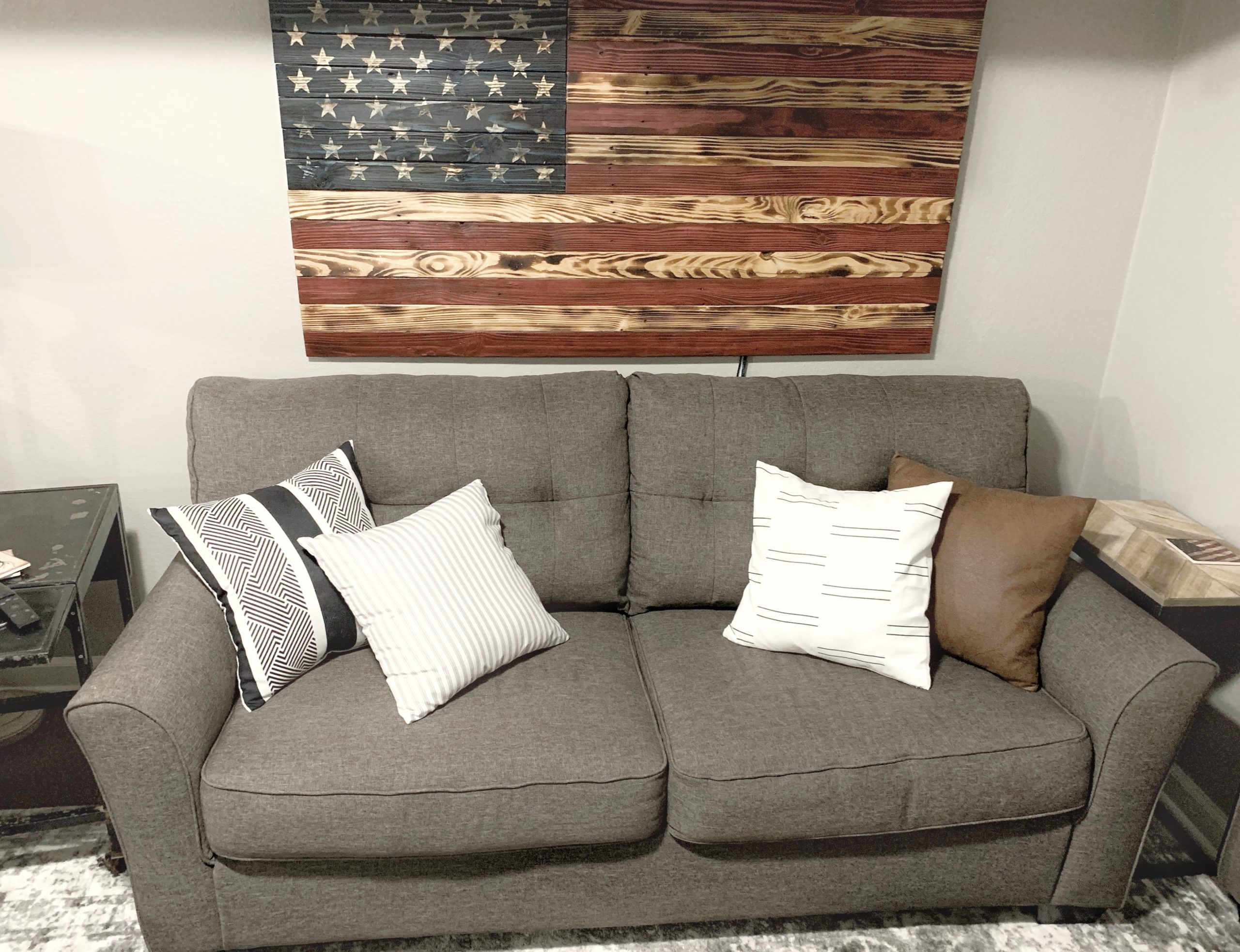 I added some faux plants, found a couple pouf ottomans on Facebook marketplace, and added just a couple more decor items to really pull it all together.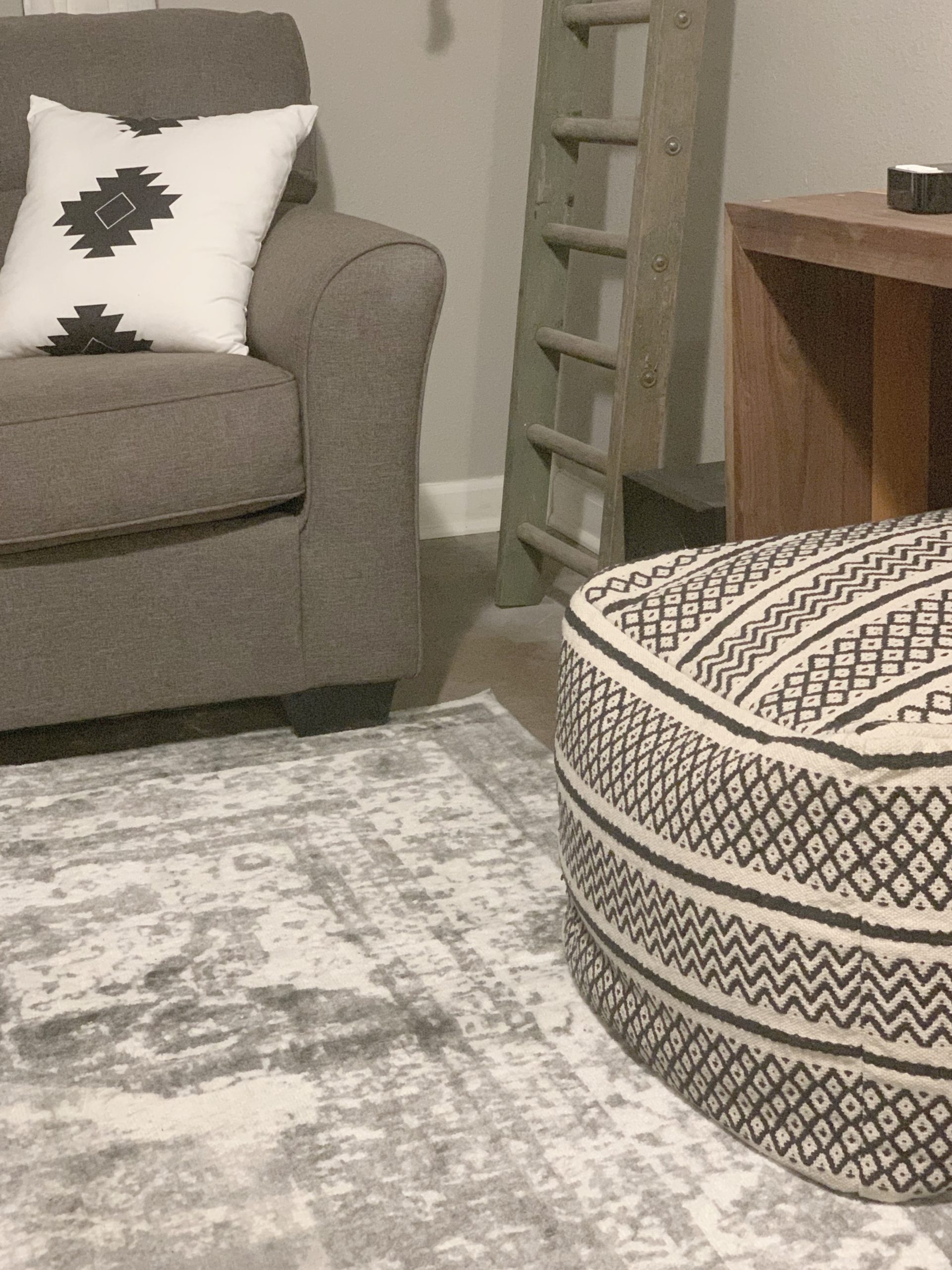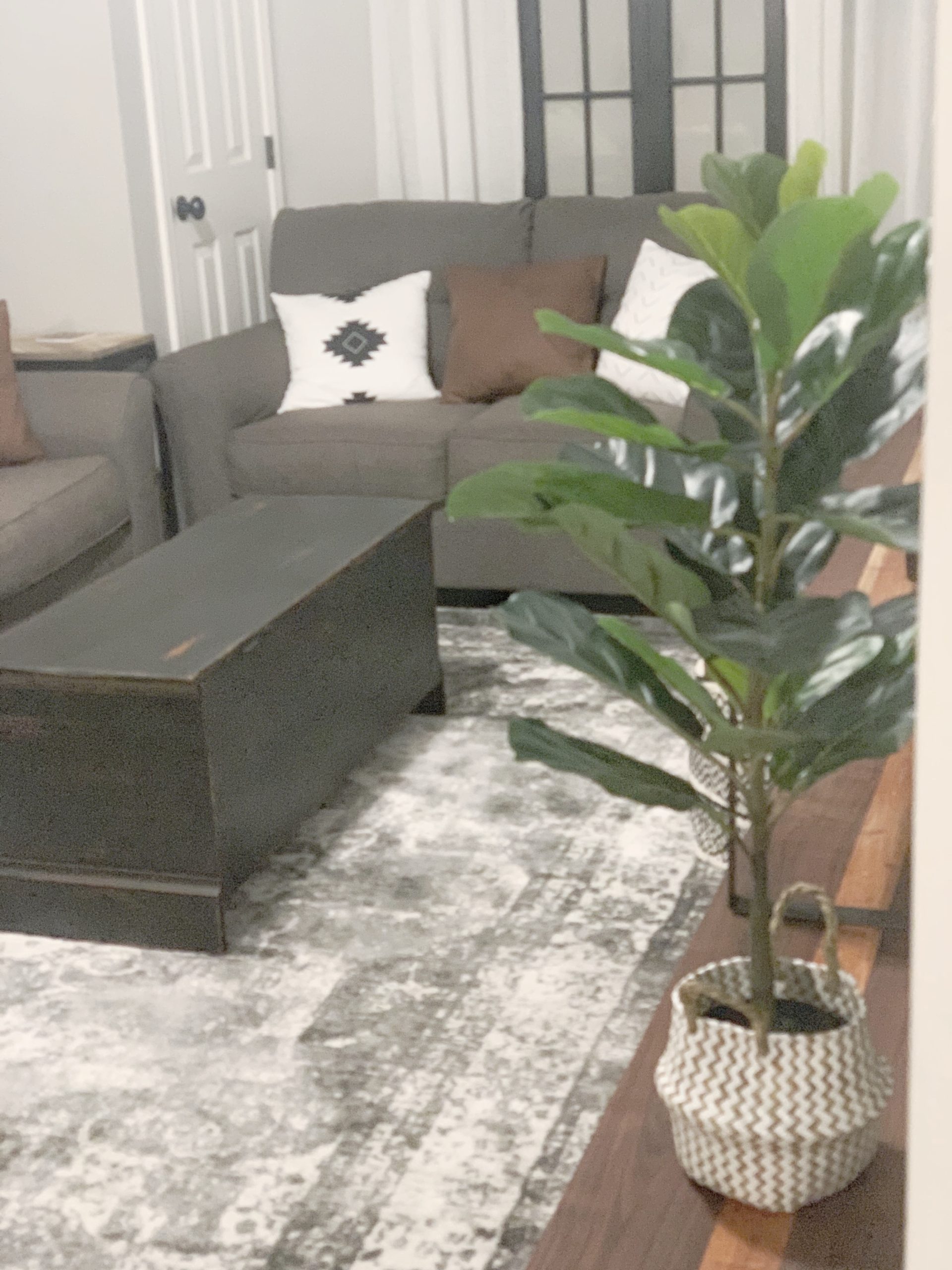 I could not be more in love with our basement now! I was really hesitant about getting rid of the carpet because I didn't want it to feel cold and uncomfortable. However, adding different layers and textiles like rugs, pillows, poufs, plants, and curtains, makes this room feels more cozy than it was before! We finally have a space we can enjoy spending time in!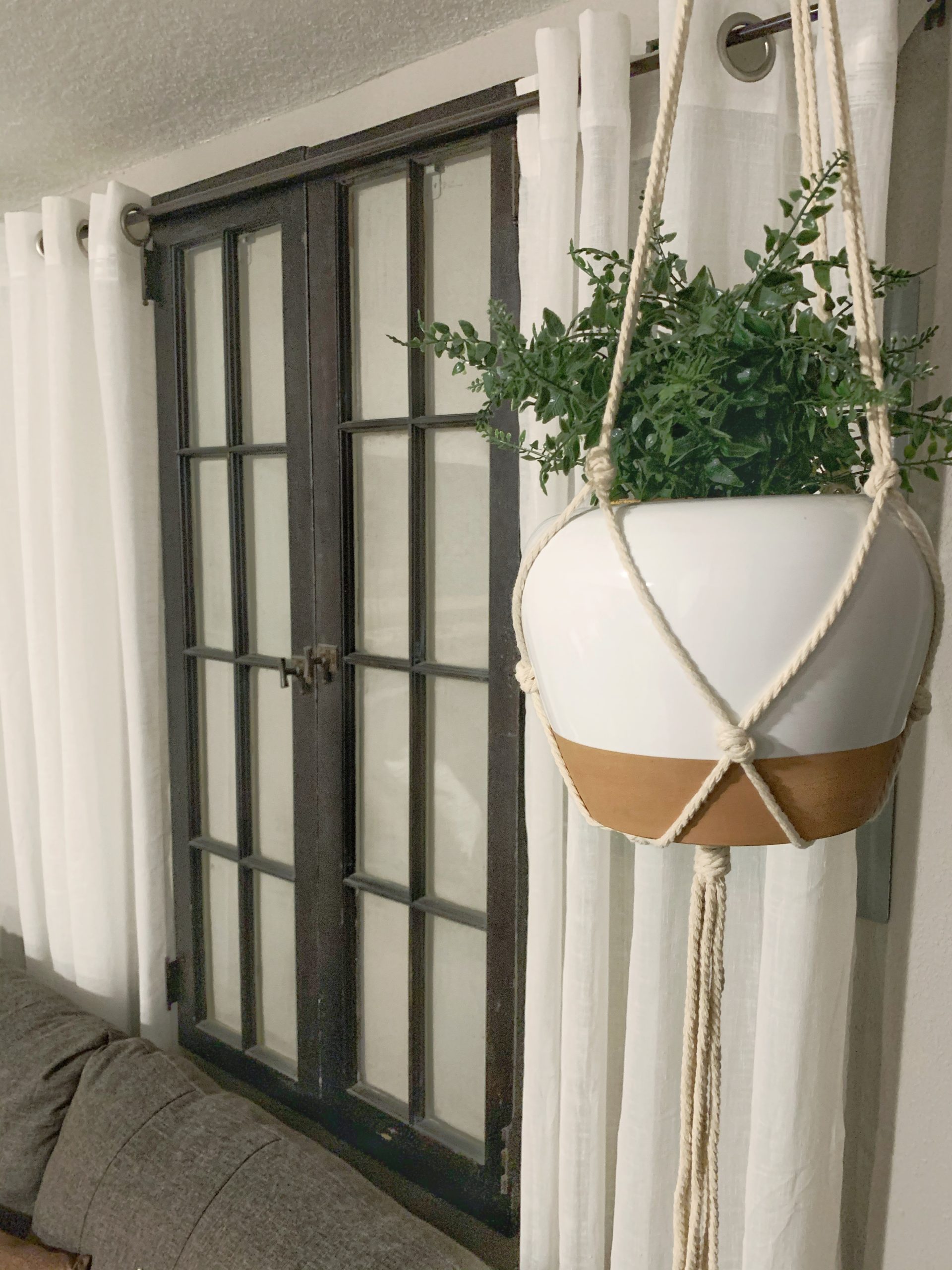 I hope this gives you some inspiration for style, DIY, and adding cozy touches to your home!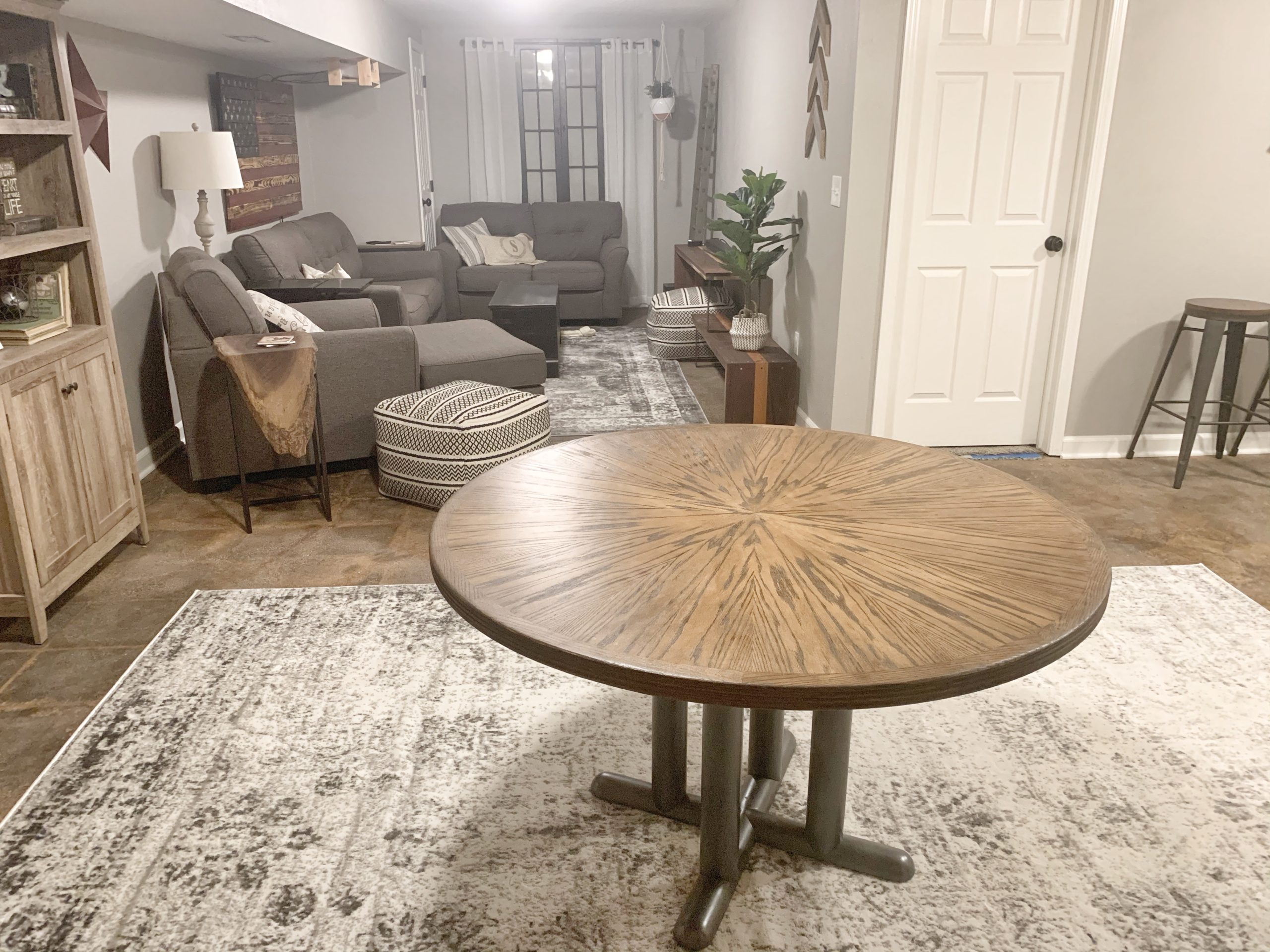 The next space I'll be sharing will be the rustic dry bar we put in. Here's a sneak peak of the round game table that I refurbished for this area! Thanks for reading, we'll see you on the next project! God bless!
XOXO
ASHLEY DIANN