I love to plan things; dinners, parties, get-togethers. Planning is a huge part of who I am. When it comes to planning ANYTHING, my first stop is always Pinterest, and there's nothing like putting together a Pinterst-worthy celebration! (See my inspiration boards on Pinterest).
This week we celebrated our two year wedding anniversary and I wanted to do something memorable. I found several different ideas that I combined and added my personal touches to create a picturesque anniversary picnic surprise. A lot of planning went into this, and the surprise was especially hard to pull off considering we both kind of work from home. At one point, I just had to ask Logan to leave the house for awhile so I could prepare the food, ha!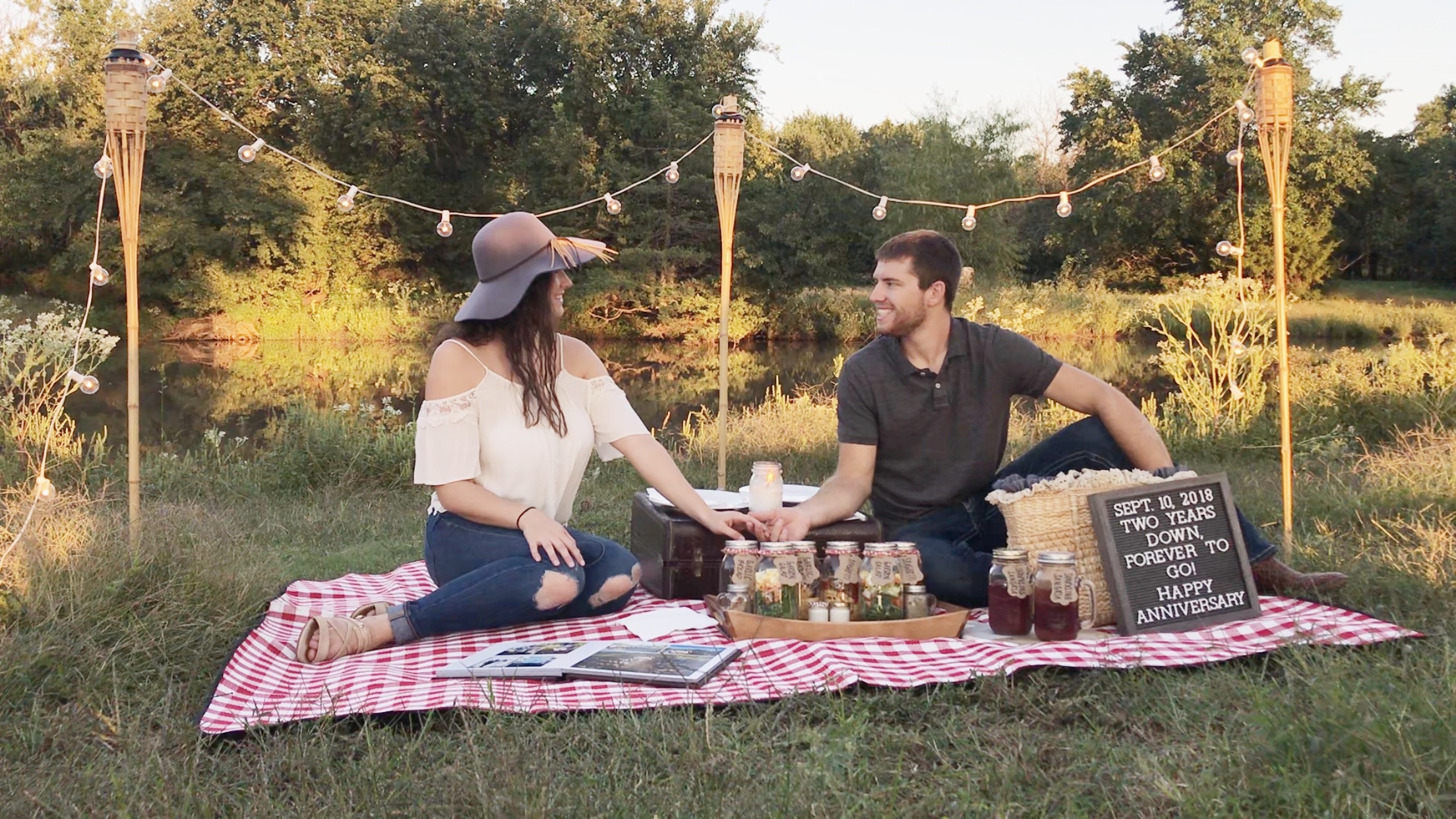 Even though this took a lot of time to plan, it didn't take a lot of money! I have 7 simple tips to help you plan the perfect picnic for any occasion, but the surprise part is up to you!
---
1. Special Occasion
Not every picnic has to be a special occasion, but it certainly makes it easier to plan. If you have an occasion, that will determine how many people will be there, how much food you need, where it will be, and what the theme is. Birthdays, graduations, anniversaries, and holidays are all good occasions for a picnic, but so are those "just-because," celebrations. Whatever the occasion is, use that as a starting point to plan the whole thing!
---
2. Location
Like I said, once you have determined the occasion, you can chose where you want your picnic to happen. If it is a birthday or graduation party where a lot of people will be attending, a public park with a pavilion and picnic tables might be a good option. For a more intimate celebration, like an anniversary, you might want to think about a nature center, or a quiet park with less traffic.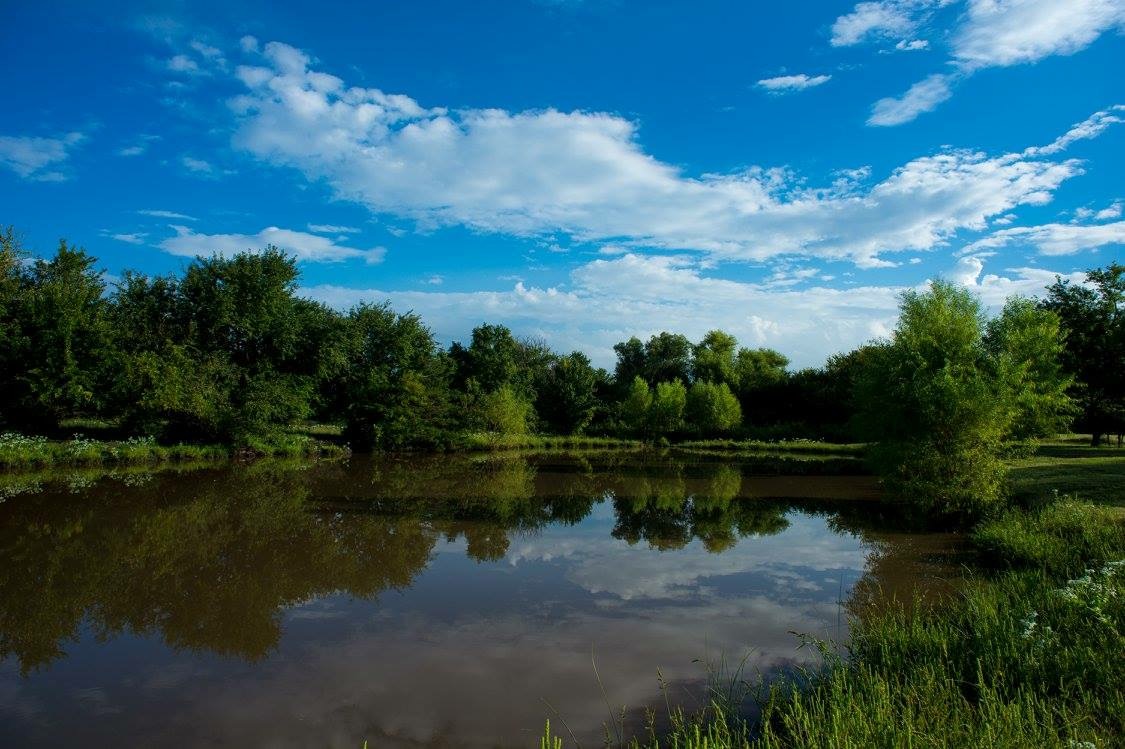 In my case, I was planning an anniversary surprise for my husband, so I didn't want to go to a public place or a park. We got married at my in-law's 40 acre farm in a quiet woodsy area by the pond. Considering we said our vows in this location two years ago, I thought it would be fitting to celebrate our anniversary by having a quiet picnic in the same spot.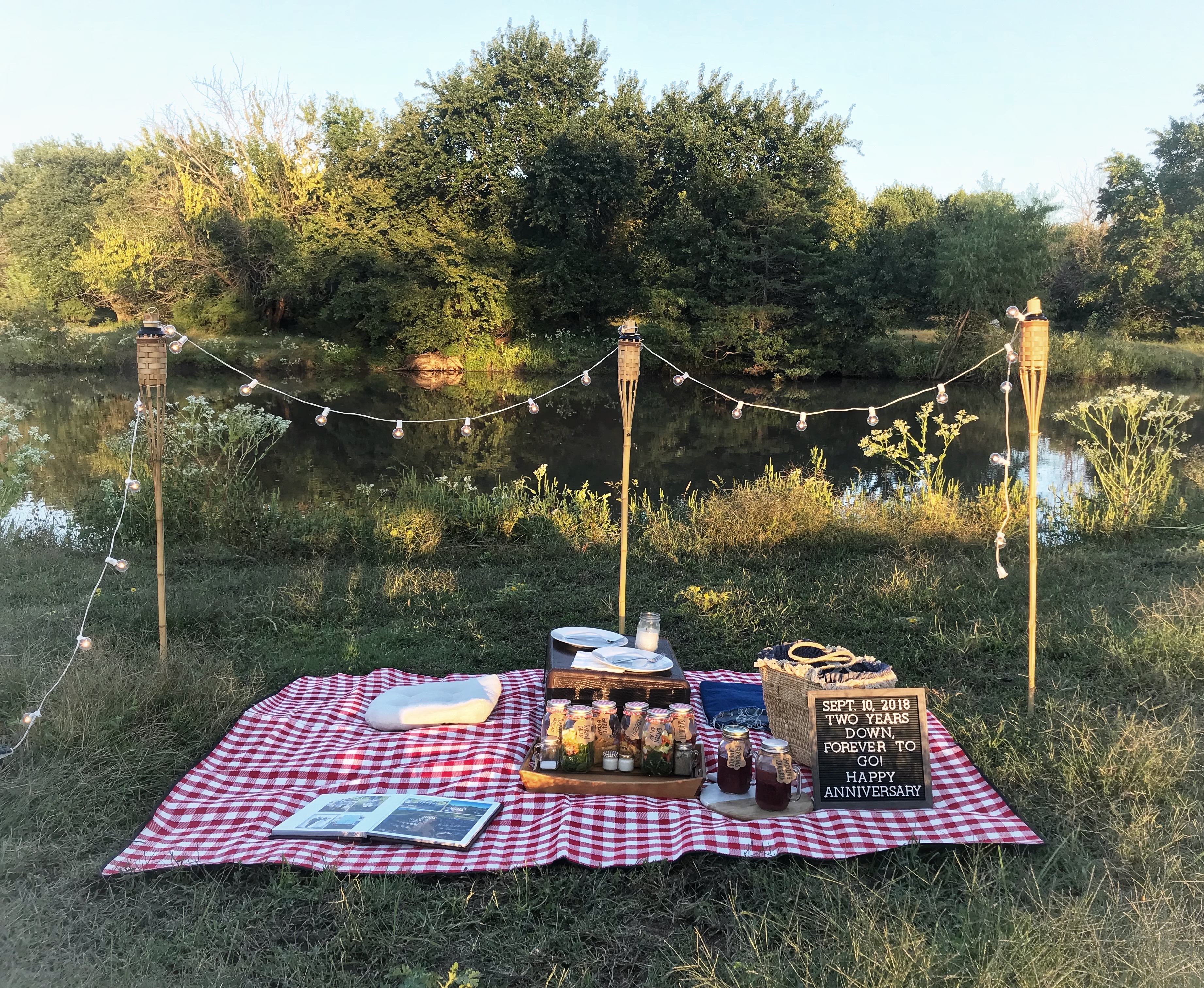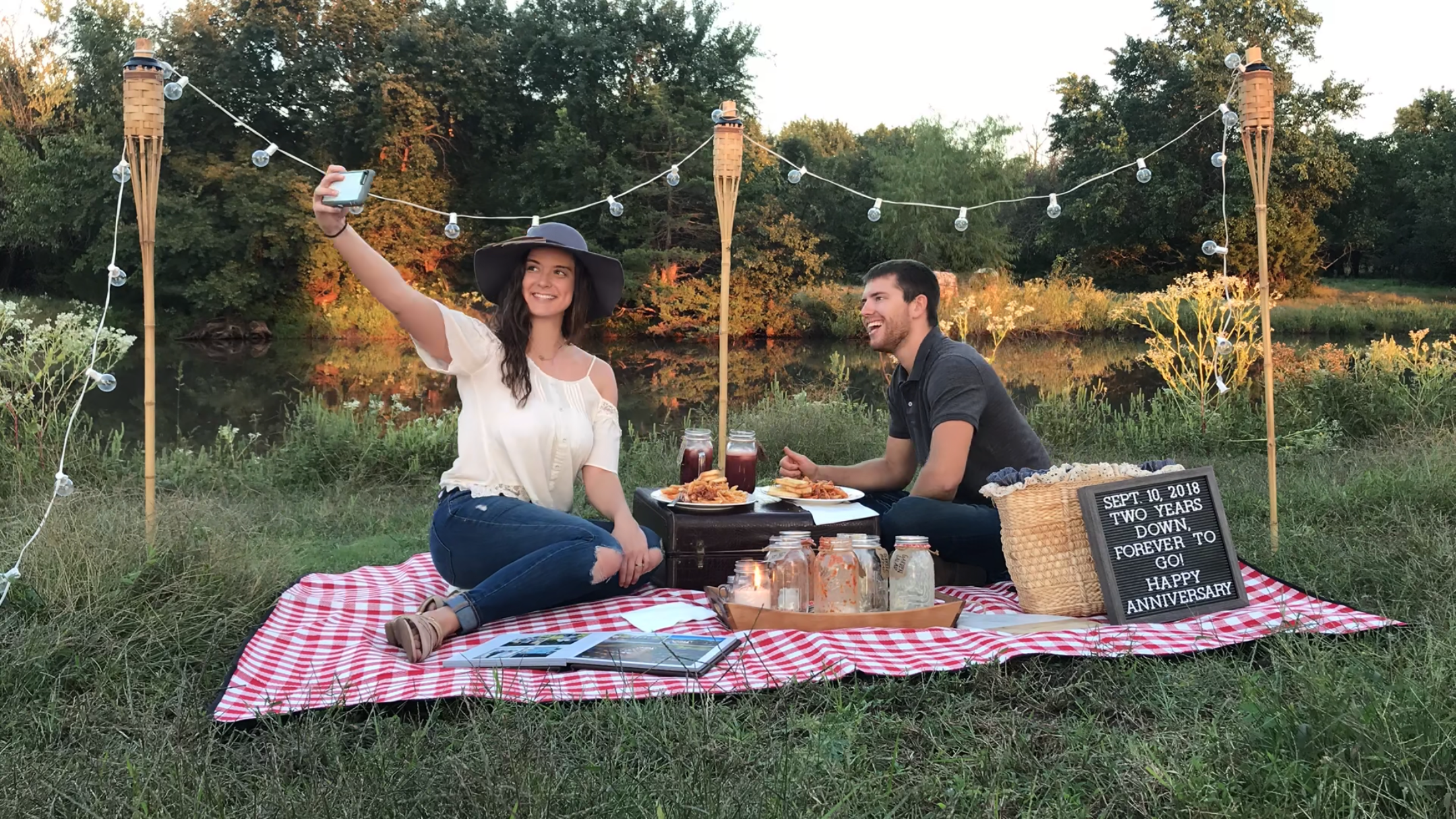 Sometimes a picnic in the backyard is the most romantic, and you certainly don't have to go far or haul a bunch of stuff somewhere to have an amazing time! It doesn't matter where you have it, as long as it is special to you and the person you are with!
---
3. Theme
The theme should go along with the occasion, but you want to plan out things like color scheme and decorations; the things that will really make it look like you put a lot of thought into it (because you did)!
Since this was an anniversary picnic, I chose to go with the red and white gingham print that I incorporated with the picnic blanket and mason jar lids. This blanket is great because it has a water proof layer underneath which is so genius, and it handle for easy transport. The mason jar lid tops are actually cupcake liners! This print is classic, and I can reuse these items for another occasion.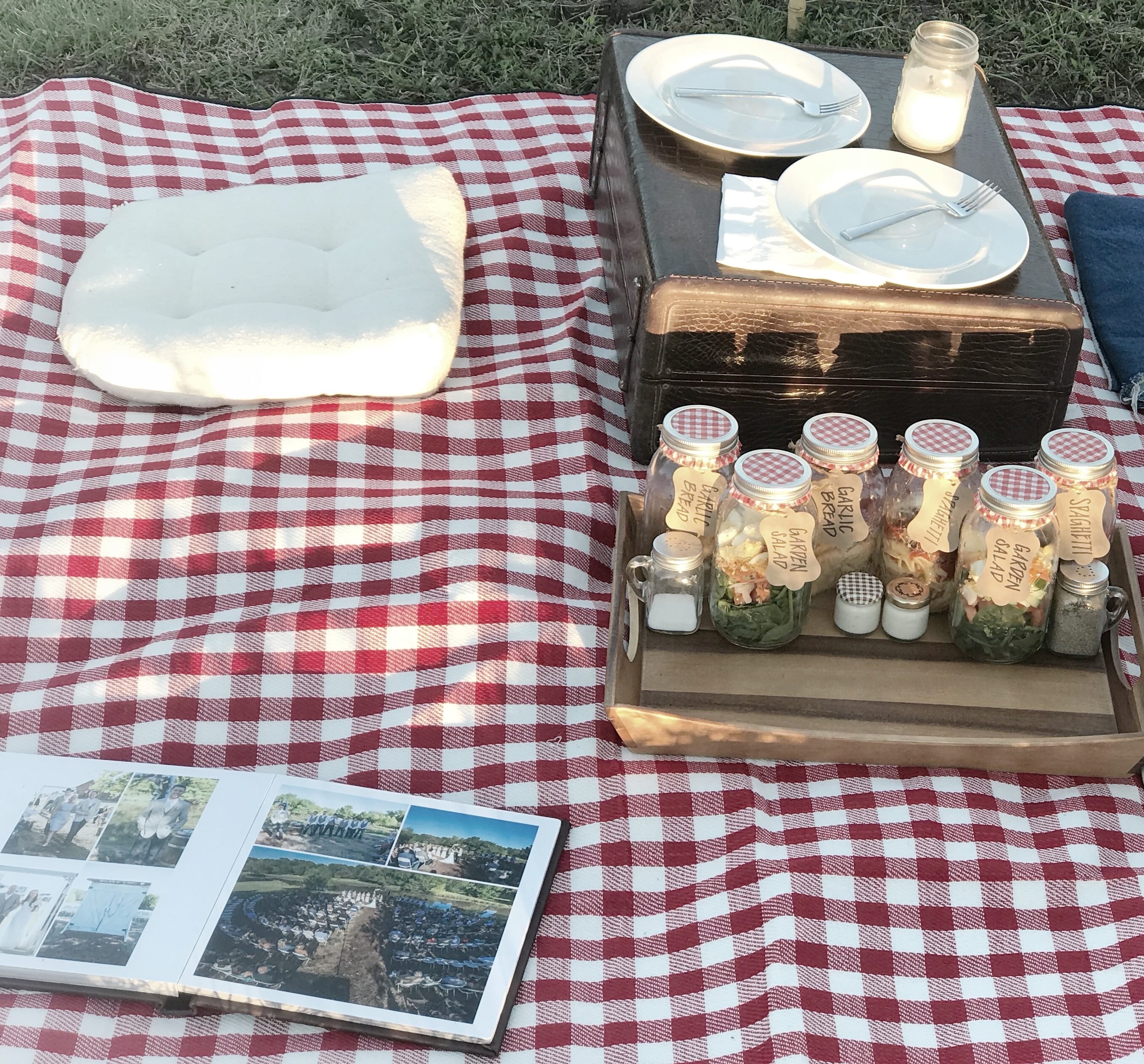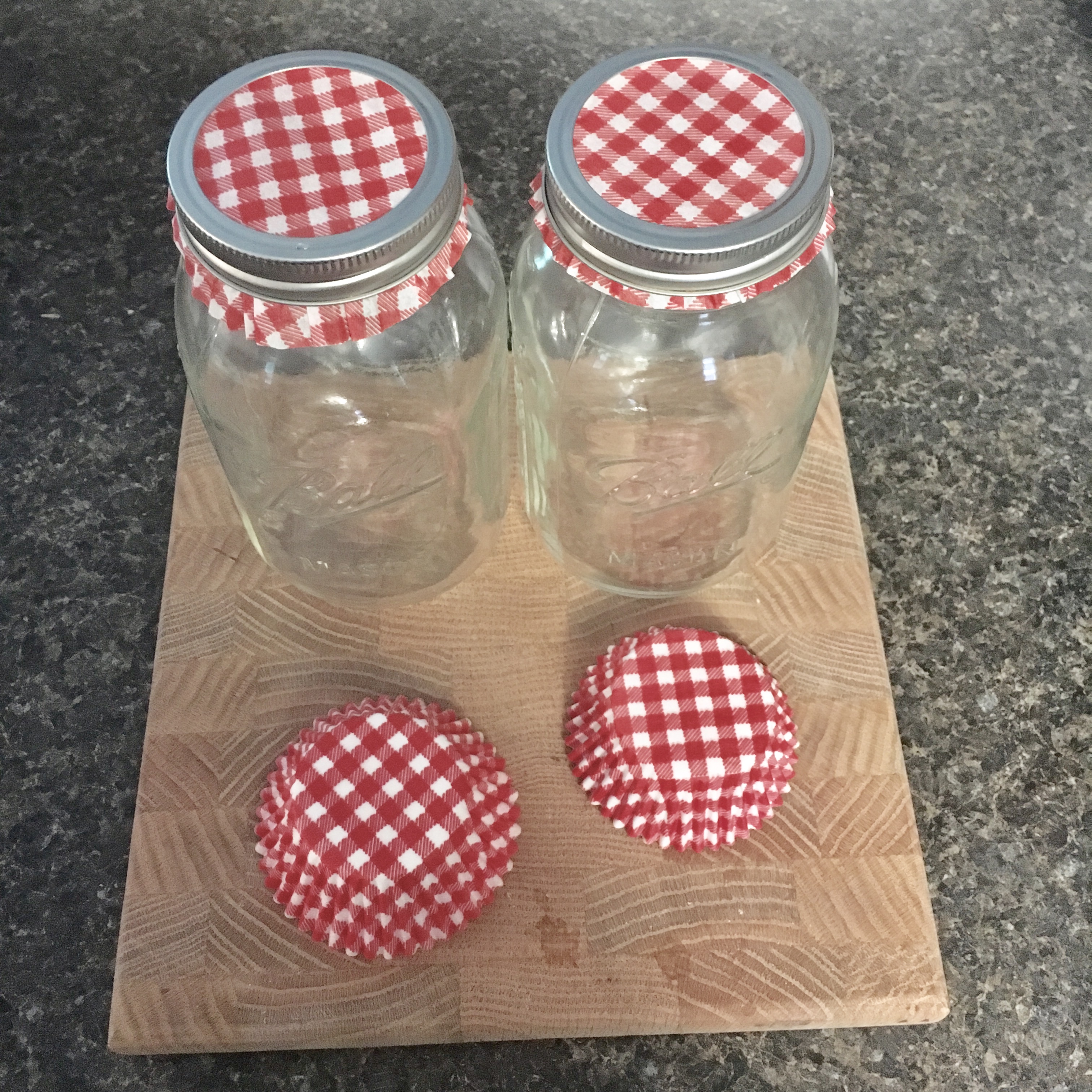 Another subtle theme I went with was mason jars. This was an idea I have had for a long time and thought this picnic would be perfect for it! From the food, drink cups, salt and pepper shakers, dressing, and candles, I found a way to use mason jars for all of it! This was a really fun challenge to keep with the theme and come up with new ways to use mason jars.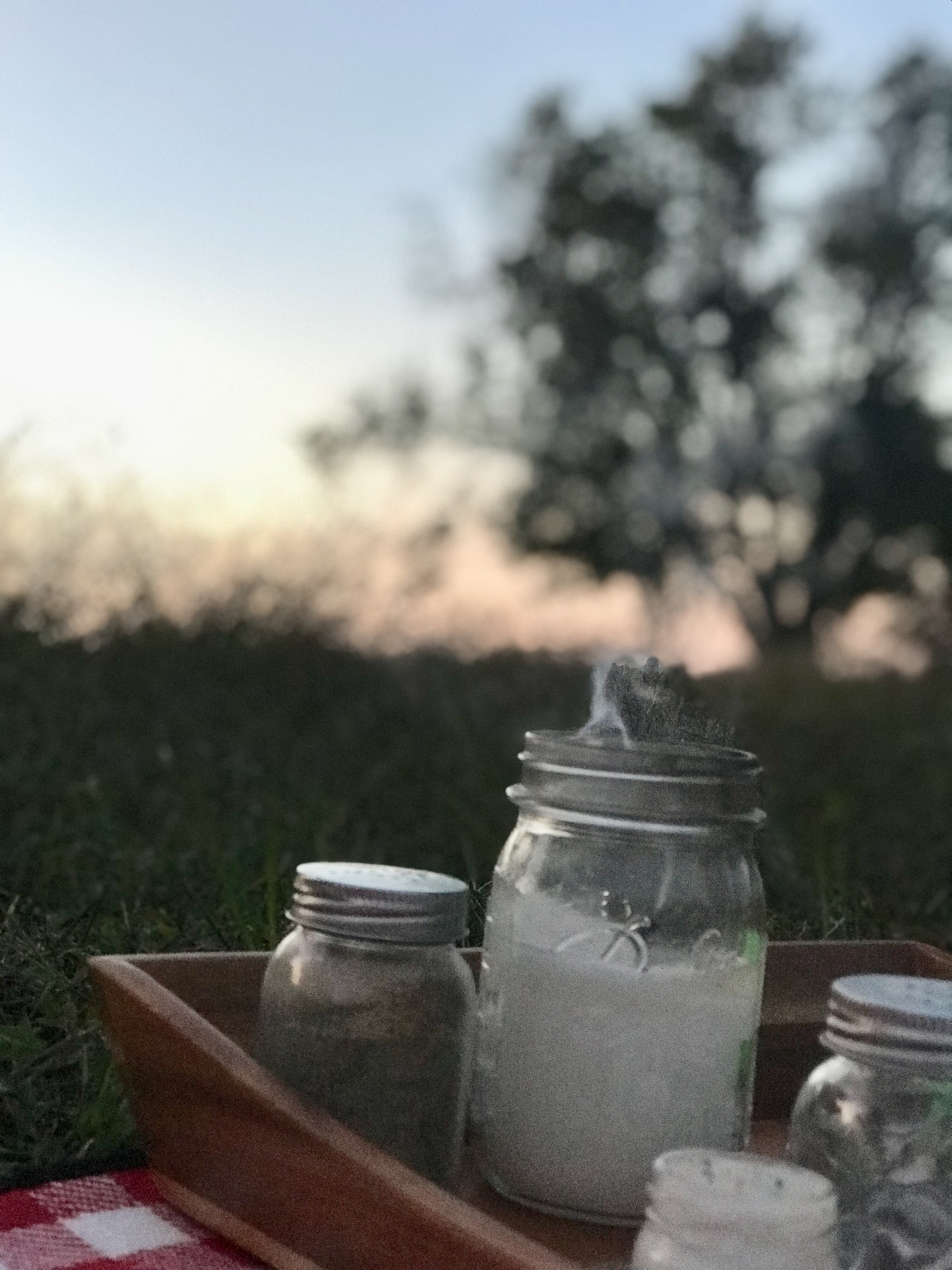 Your theme could have nothing to do with the occasion (like mason jars), but still somehow fit together with everything!
---
4. Good Eats
Of course, to plan the perfect picnic you have to have FOOD! To me, a homemade meal beats going out to eat any day. But planning a meal for a picnic takes a little more work because you have to pack some of the things you would normally have available at home; napkins, salt and pepper, ice, extra utensils, etc.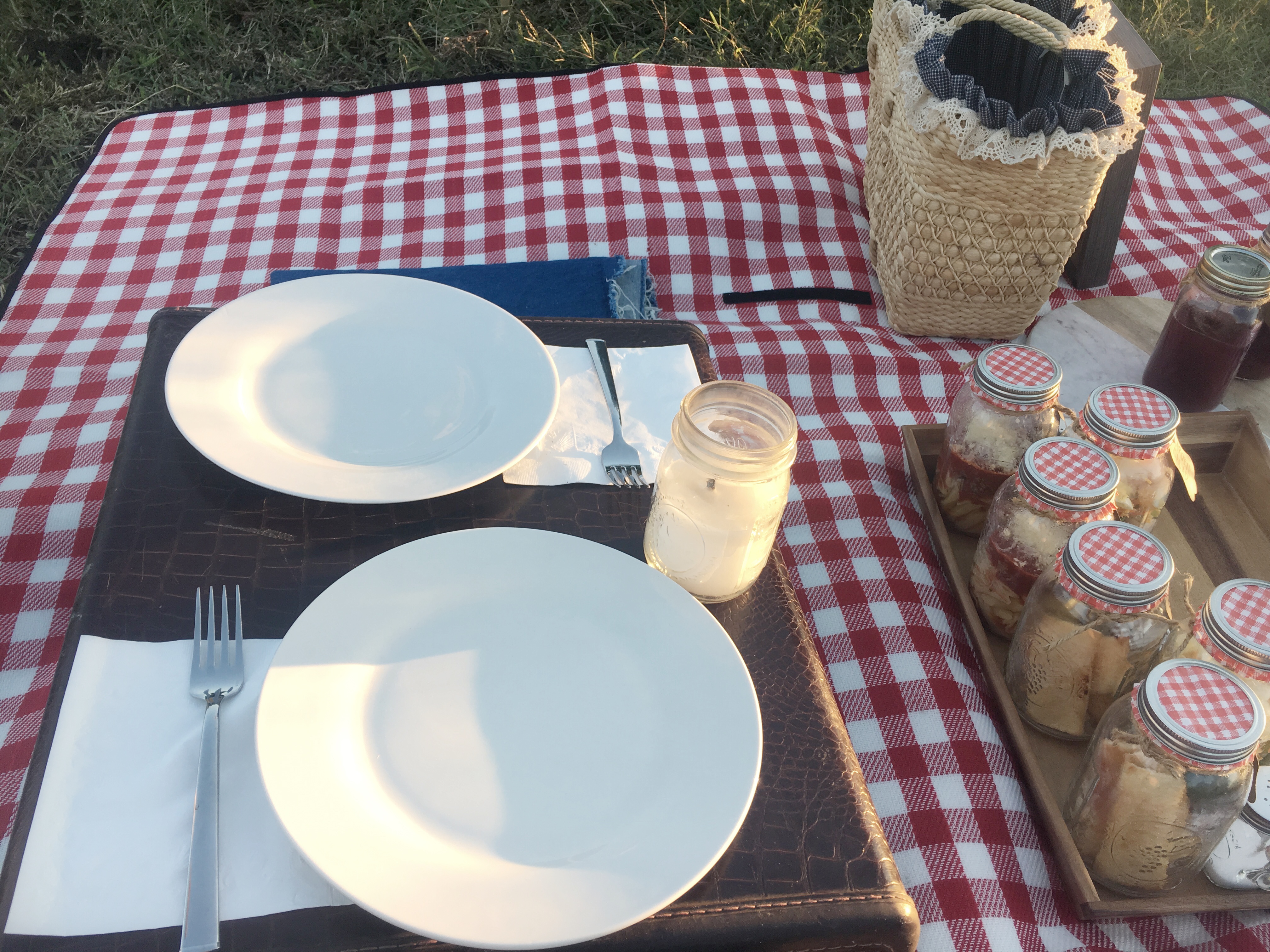 When planning the food, you want to consider, again, the occasion, but really just your preference and what YOU picture as the perfect picnic. For a casual picnic (sandwich, chips and drink) you can get away with using paper plates, plastic utensils and probably a single cooler. For a fancy picnic, (hot meal with sides, dessert, and drink) you will probably want to use real plates and silverware, and you'll need a couple coolers for hot food and cold food. This option is certainly more prep, but that extra work really takes it to the next level. Honestly, either option is great for any occasion!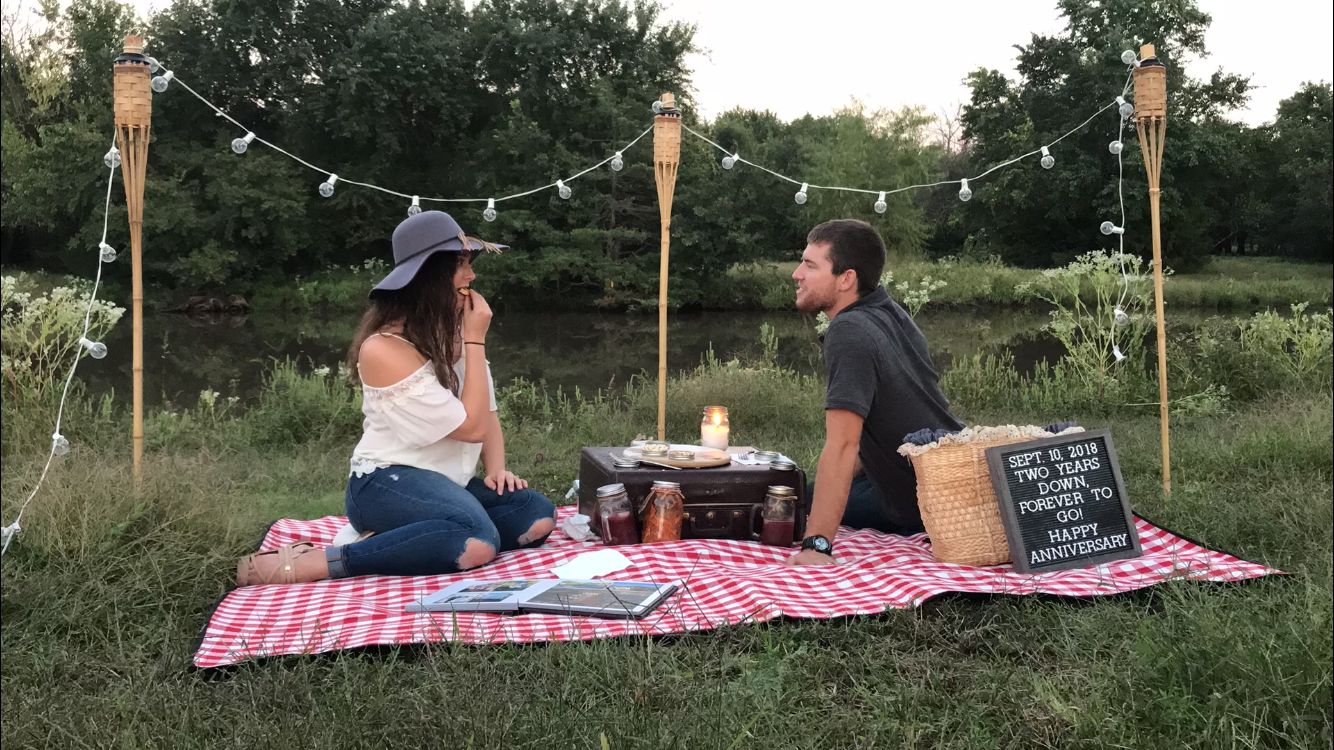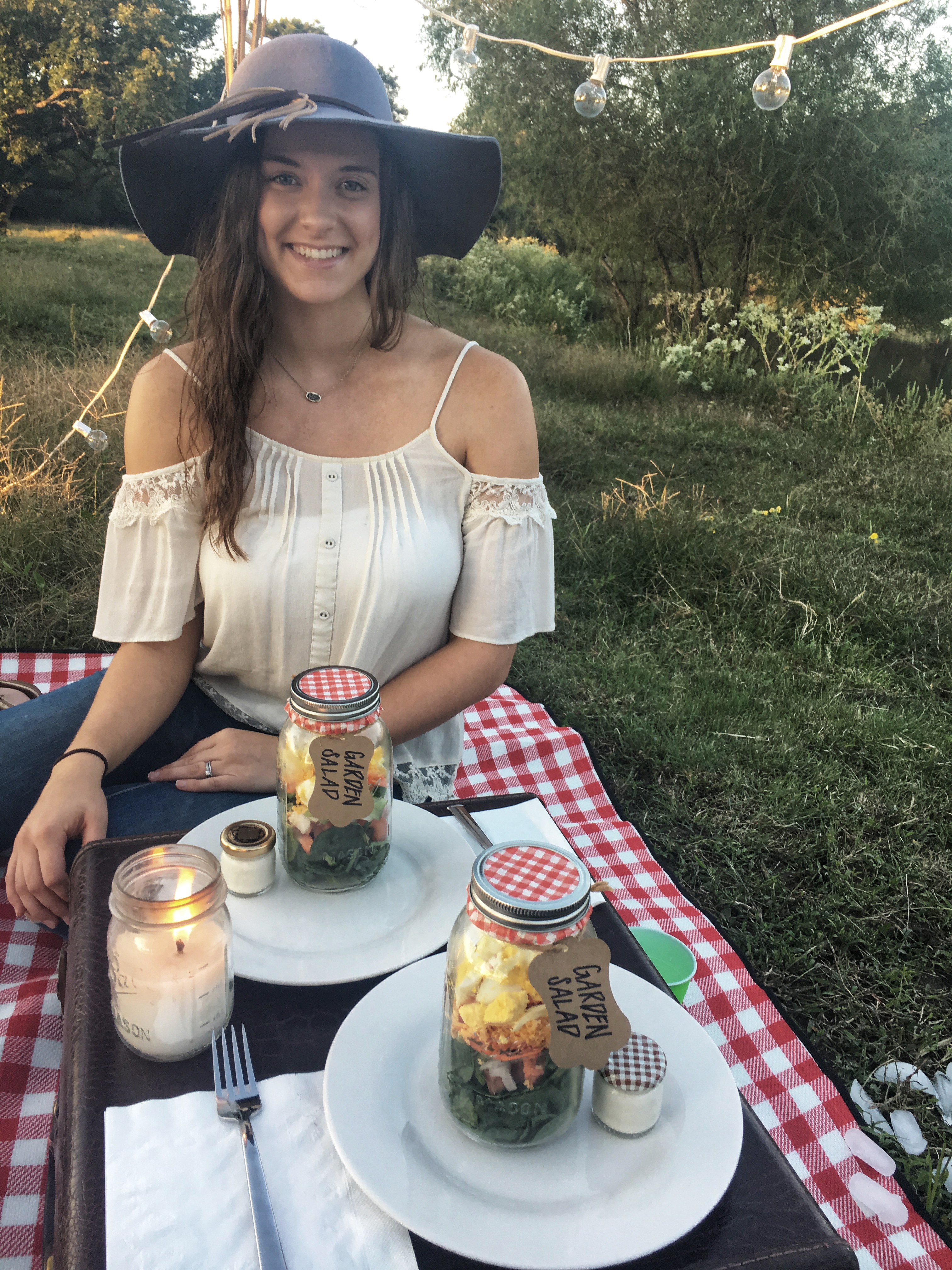 I really wanted this anniversary picnic to revolve around the food and a fancy, more romantic setting. I figured that sandwiches in a plastic bag just wouldn't have that vibe lol. I mentioned that I went with a mason jar theme, so I chose food that I thought would feel like a fancy sit down dinner, yet still work for a picnic in mason jars! I finished off the look by adding the cupcake liners on the lids and cute labels on each jar.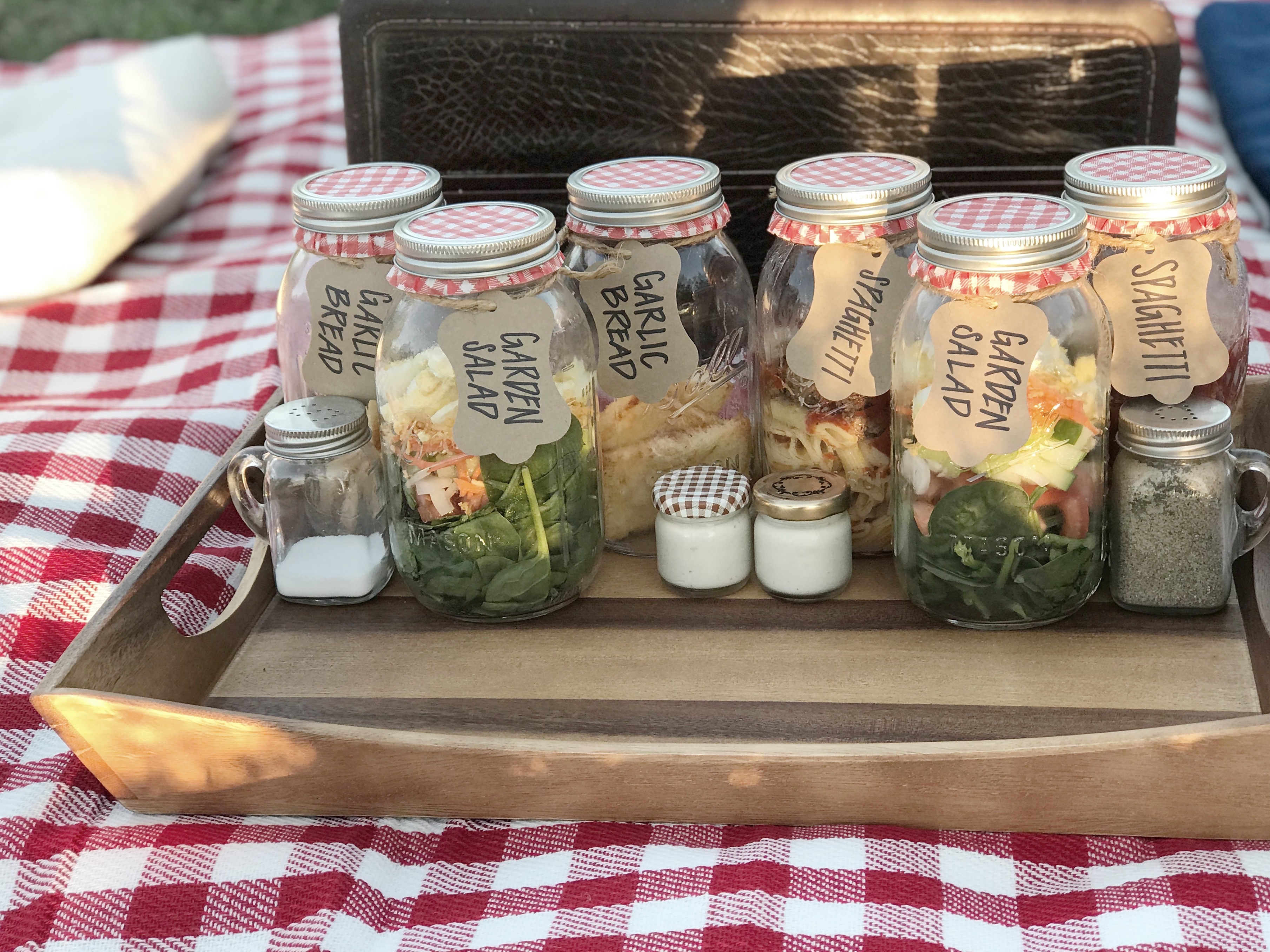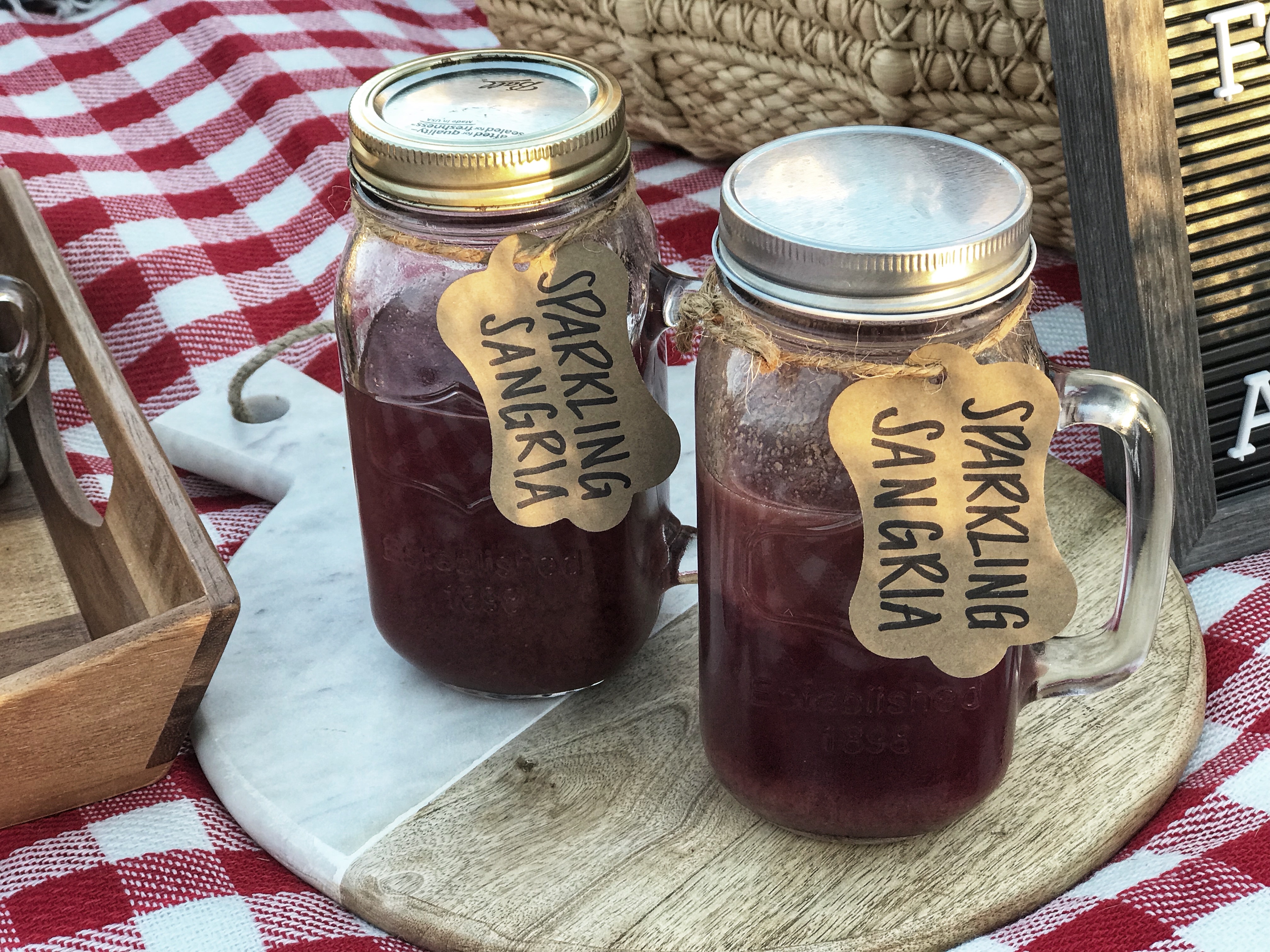 You definitely can't forget the dessert! These mason jar lid pies were so much fun to make and can I just say ADORABLE! They stayed with the mason jar theme, of course, and were a perfect addition to the menu.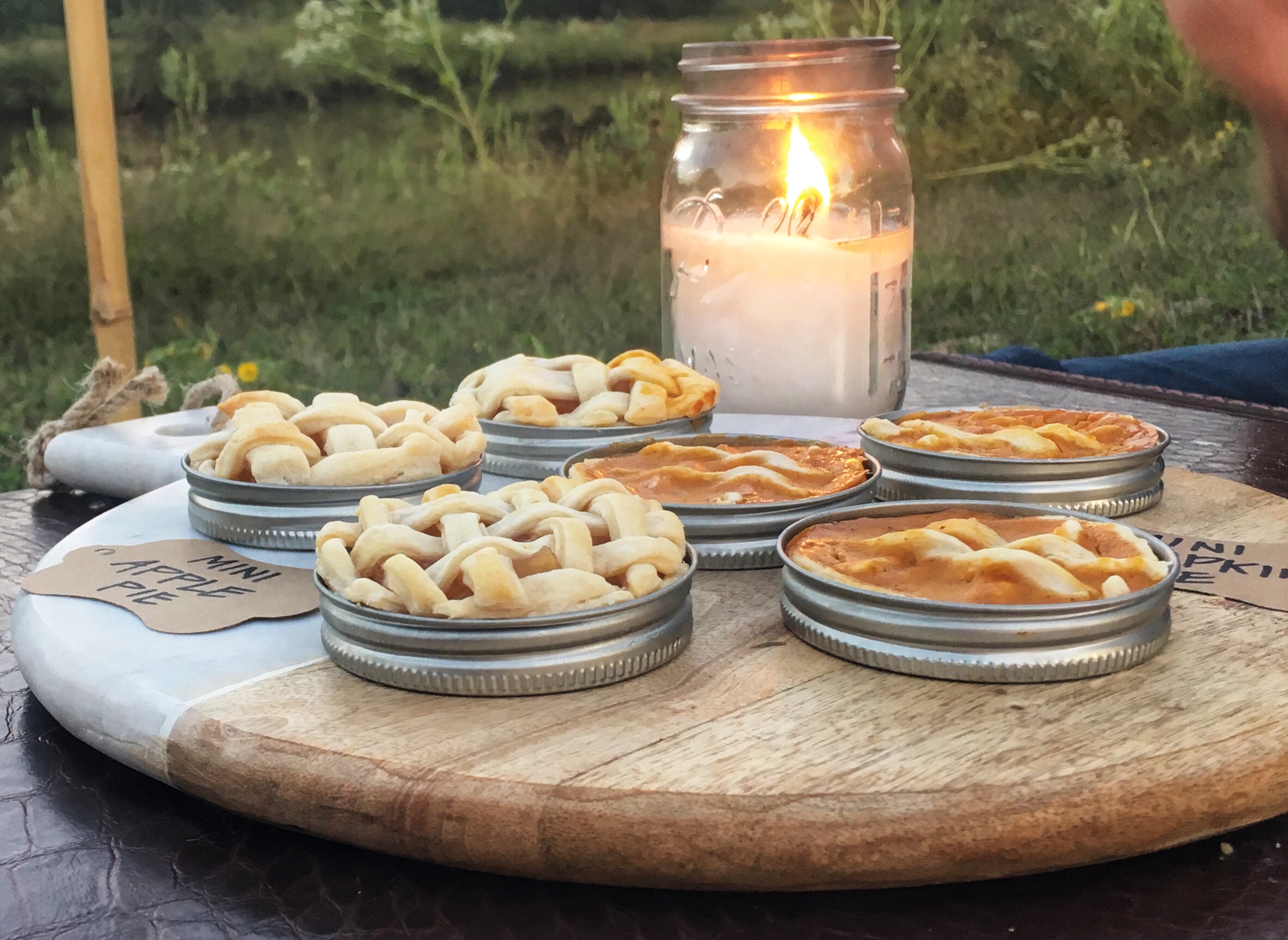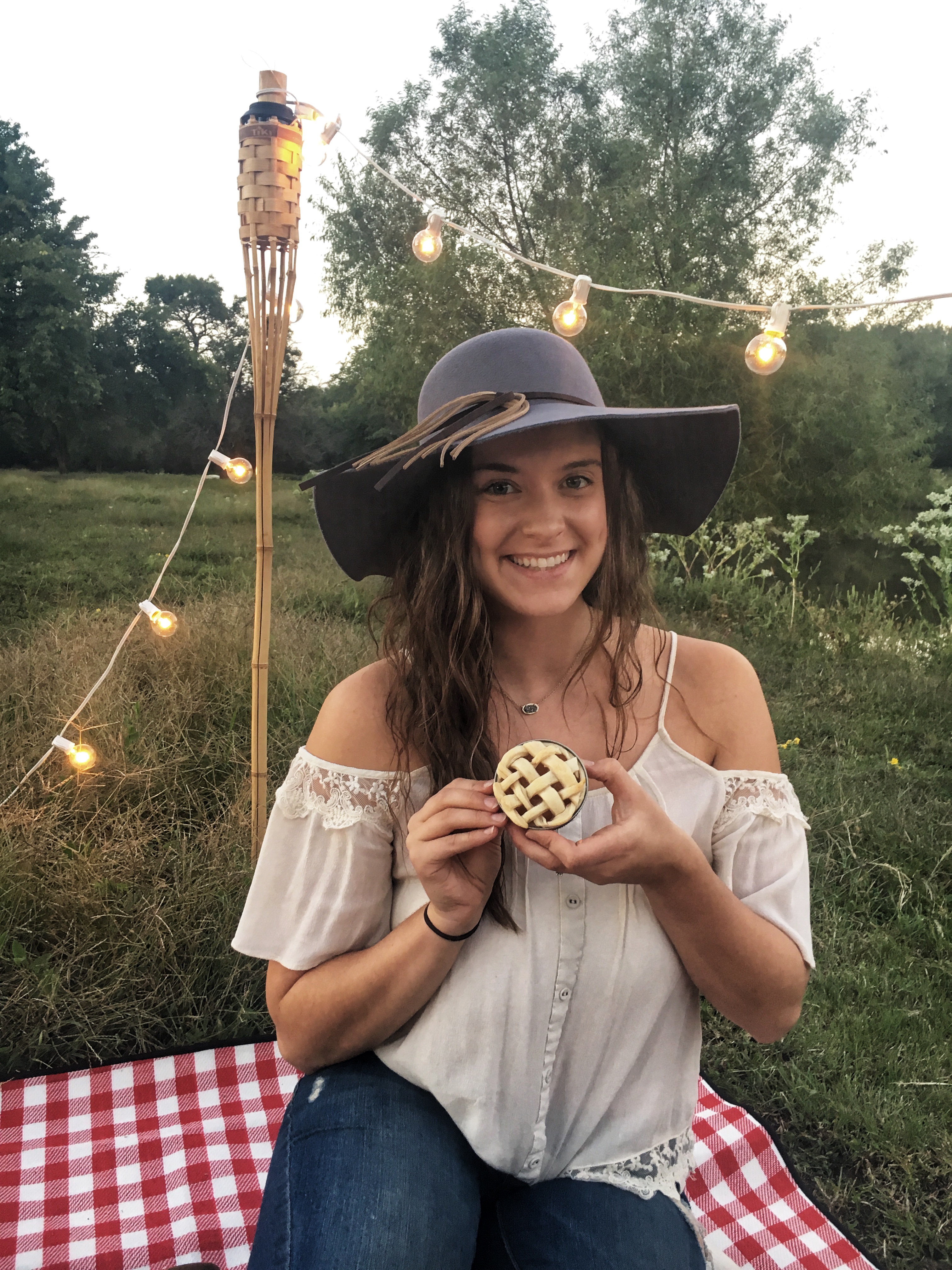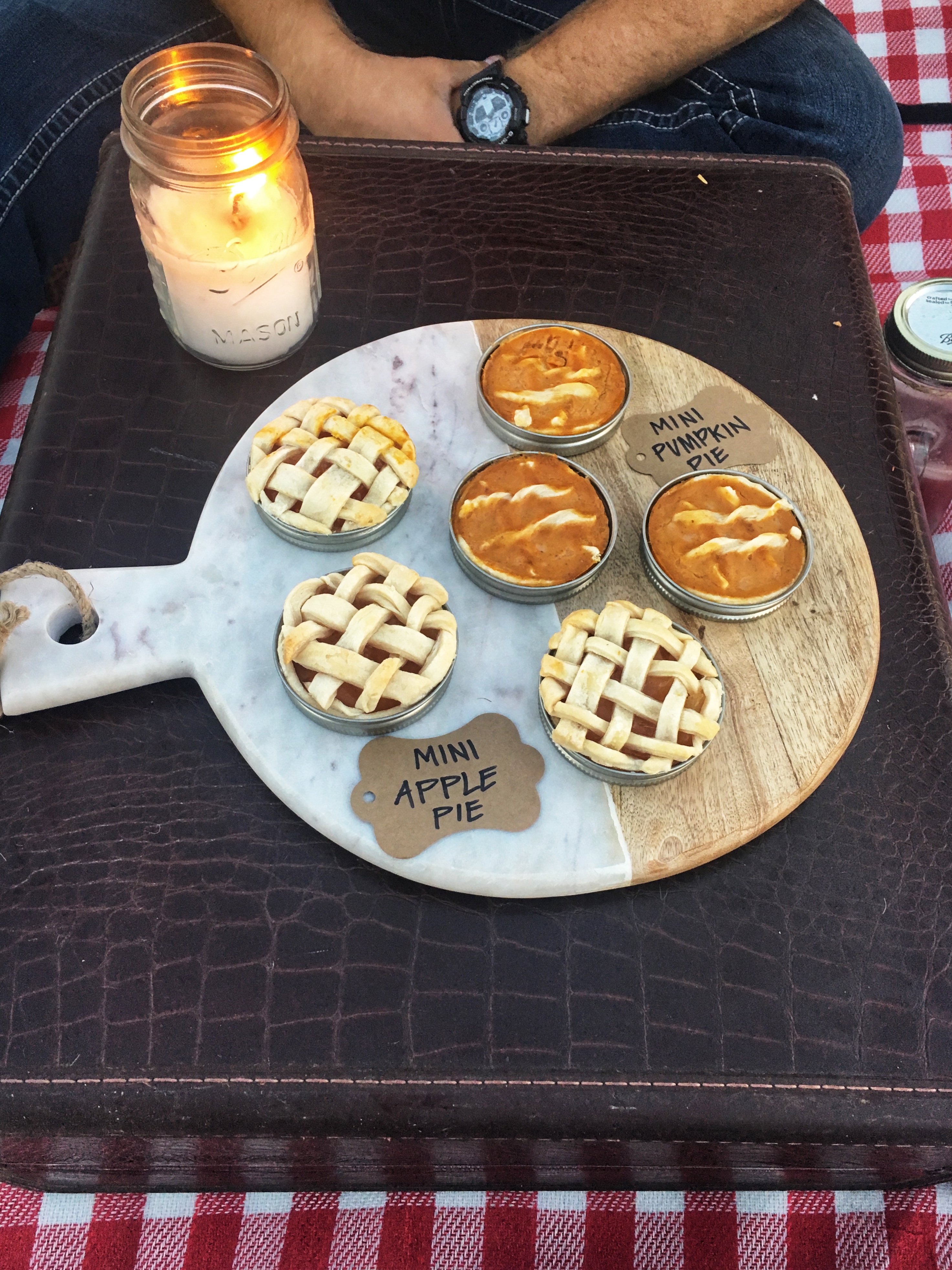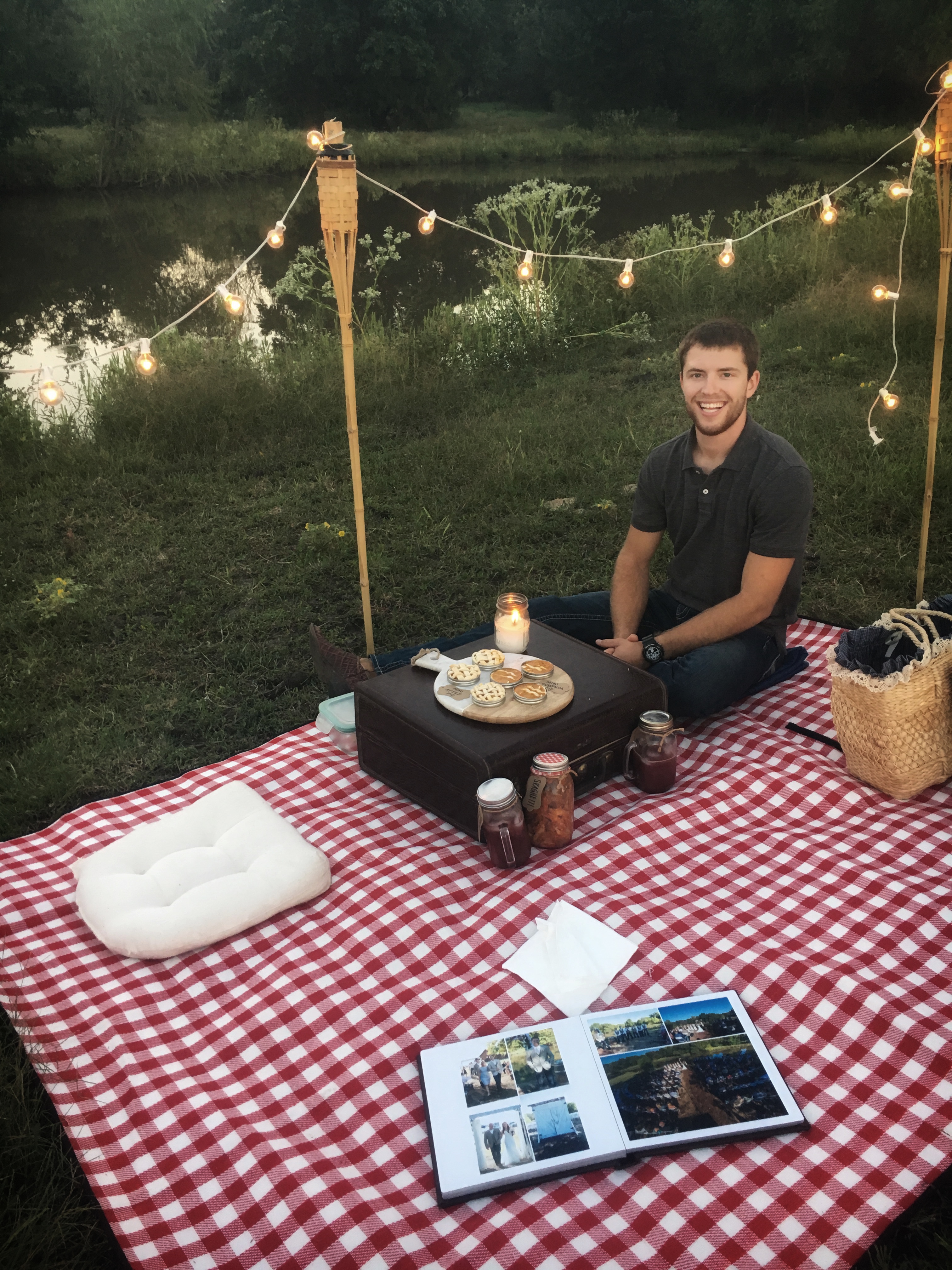 Anniversary Picnic Menu
Mason Jar Garden Salad w/ Ranch
2 cups of Spinach
1 Tomato Chopped
2 Hard Boiled Eggs Chopped
1/2 cup Shredded Carrots
1/2 cup Celery Chopped
1/2 cup Cucumber Chopped
1/4 cup Onion Chopped
1/2 cup Cheddar Cheese Shredded
*Layer ingredients in that order. Serve ranch on the side
*Makes two mason jar servings
Mason Jar Spaghetti
2 cups Penne Pasta
2 Tbsp Olive Oil
1/2 lb Hamburger Meat
Prego Meat Sauce (I'm fancy but not that fancy)
1/2 cup Mozzarella Cheese
1/4 cup Parmesan
*Cook pasta, adding the olive oil to boiling water. Cook hamburger meat. Layer ingredients in that order
*Makes two mason jar servings
Garlic Bread
1/4 Baguette cut in half
3 Tbsp Butter
3 cloves of Garlic Minced
2 tsp Garlic Powder
*Preheat oven to 350° and microwave butter, garlic, and garlic powder mixture 1 minute. Cut baguette into six pieces, and brush on the melted garlic butter. Bake 10 minutes. Place three in each mason jar
*Makes six pieces (two mason jar servings)
Sparkling Sangria
1 cup Decadent Saint Raspberry Sangria Mixer

3 cups club soda
*Serve in mason jar with ice. Makes two mason jar servings
Mason Jar Lid Mini Pies
Pumpkin Pie
*I followed the recipe on the back on the pumpkin puree can and portioned out enough for three mini pies. I used the rest for one regular sized pie, but you can certainly make more mini pies!
1 Rolled Dough Pie Crust
1 can Pumpkin Puree
3/4 cup Sugar
1/2 tsp Salt
1 tsp Cinnamon
1/2 tsp Ginger
2 Eggs
1 12oz can Evaporated Milk
Apple Pie
1 Rolled Dough Pie Crust (same one)
3/4 cup Apple Pie Filling
*Preheat oven to 350°. Cut pie crust into six small circles using a cup. Place crust into mason jar lids. Pour pumpkin pie mixture into three mason jar lids, and cut the apple slices into small pieces so the filling fits in the other three lids. Use a pizza cutter to cut strips of dough and weave enough to cover the surface of the three apple pies. Using the cup again, cut circles out of the weave and place on top of each apple pie, pinching the sides of the dough so they stick together. Butter the top of the apple pie weave and bake all six pies 20 minutes (separately from large pie).
*Makes six mason jar lid pies (and one regular sized pumpkin pie, lol)
---
5. Mood Setting
No matter what kind of celebration it is, you have to set the mood right, whether that means lights, music, gifts or what you wear!
Since I wanted this picnic to have a fancy, romantic feel, I lit some mason jar candles and strung outdoor lights on some tiki torches (which only worked half of the time, but hey, still looks cute lol). I dressed up in white (an anniversary tradition of mine), and decided not to have music playing so we could just talk and listen to the sound of nature. We exchanged gifts/cards and lots of laughs.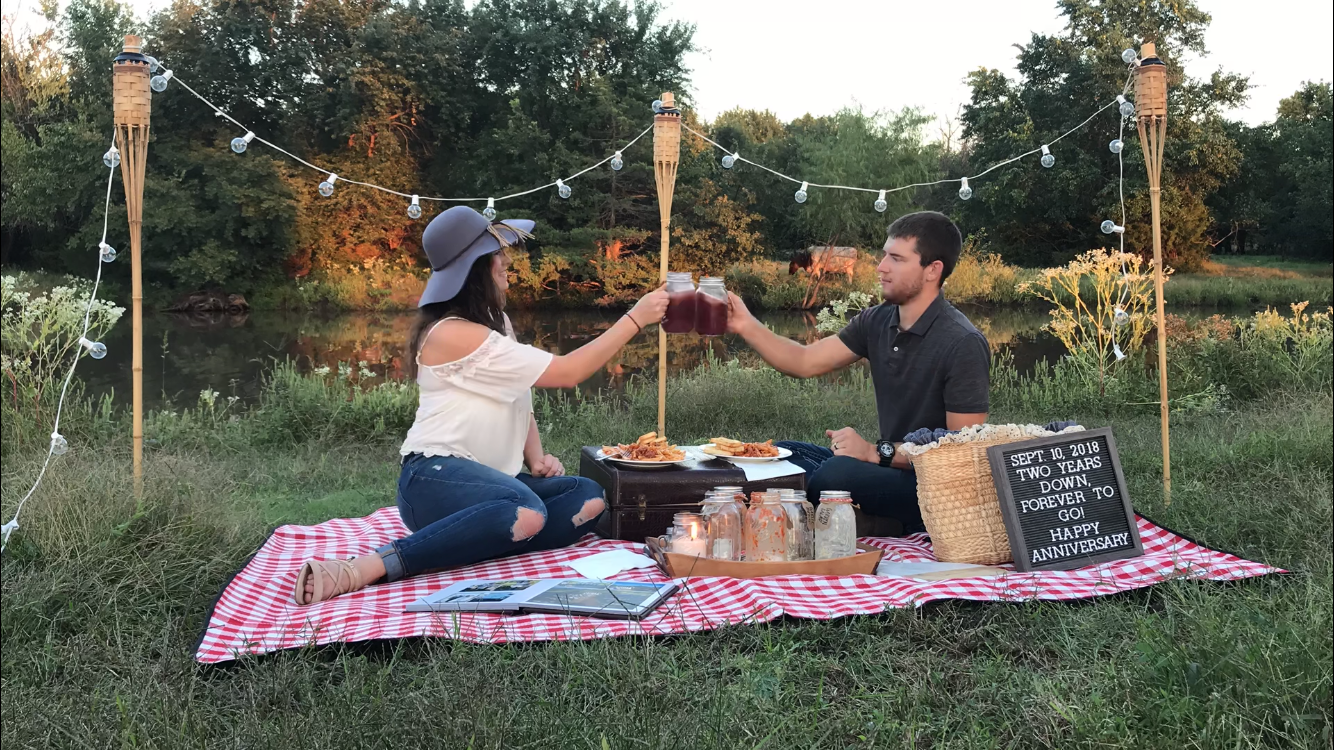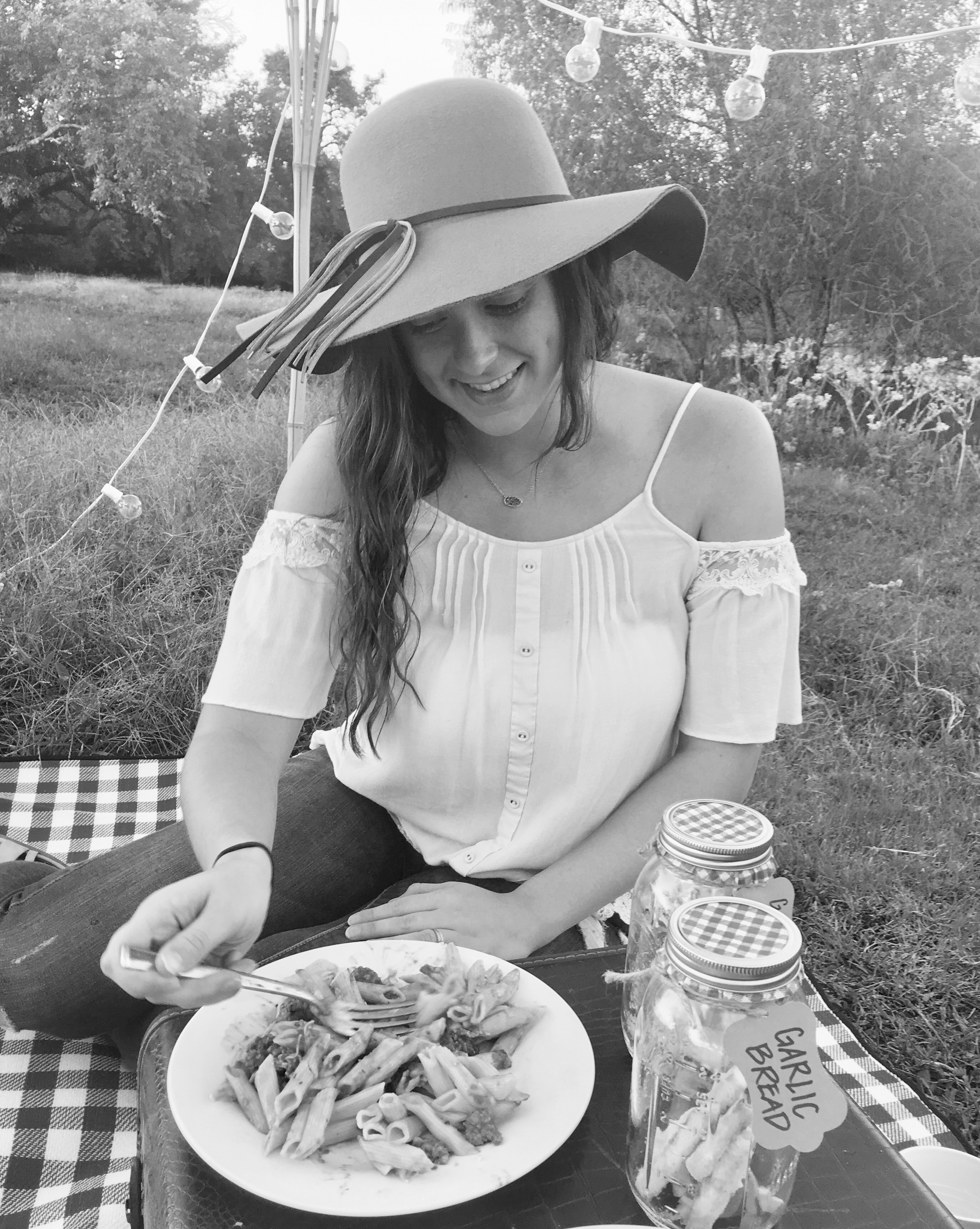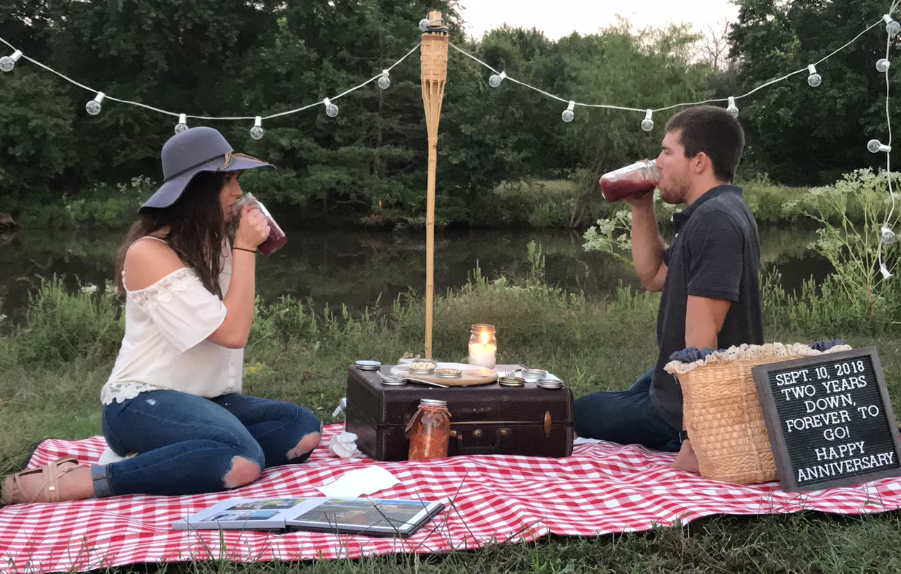 Again, you can set any kind of mood you want by any number of things, it really only matters what you like and what the occasion is! And don't forget to set up a camera to capture every moment!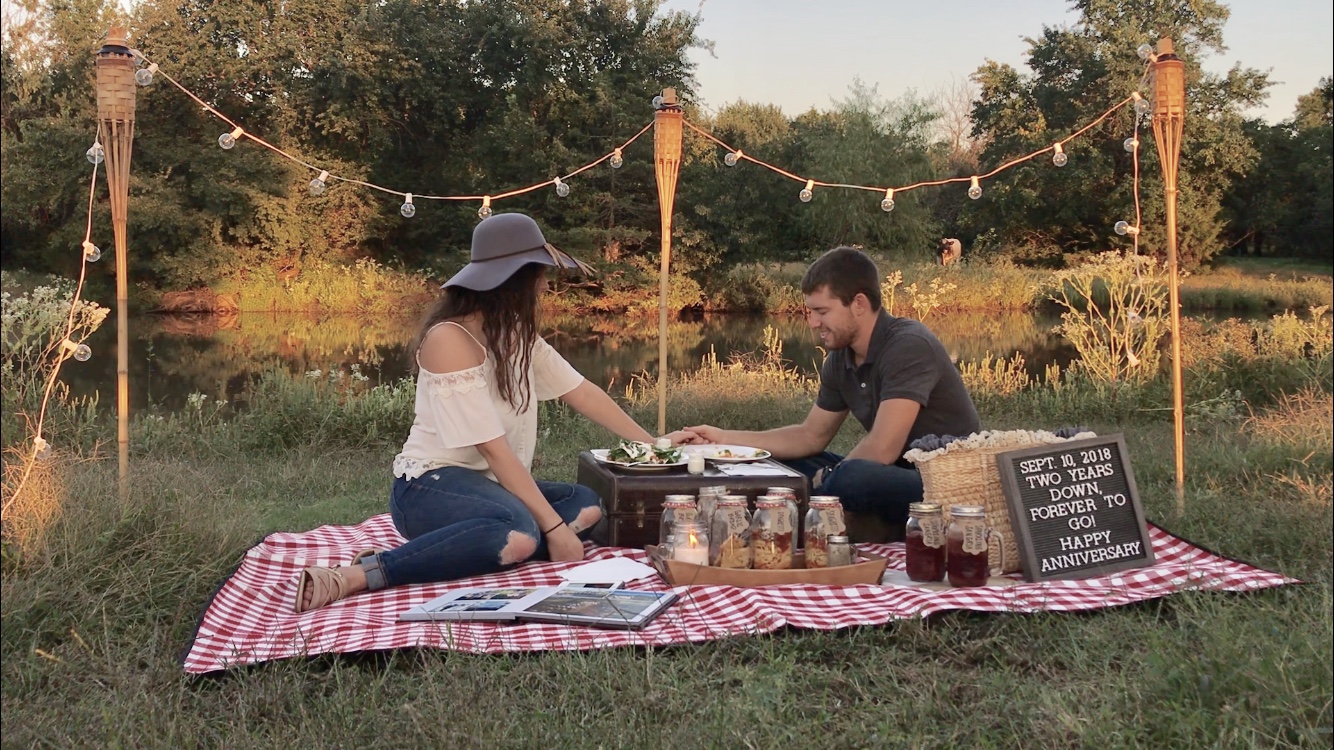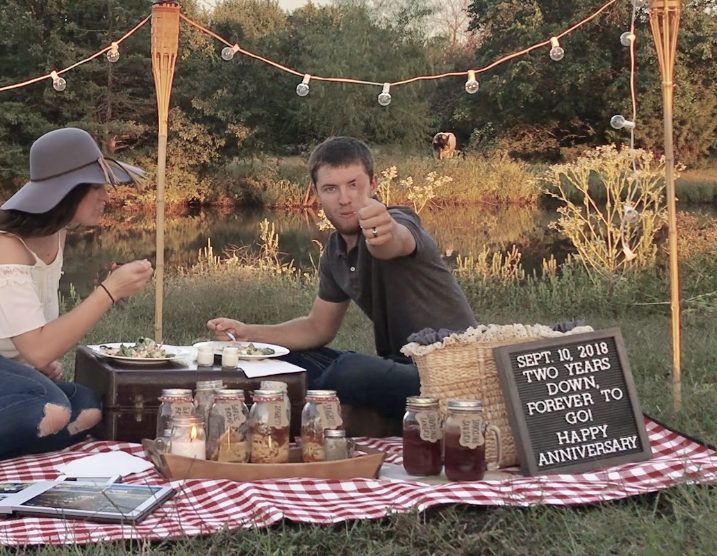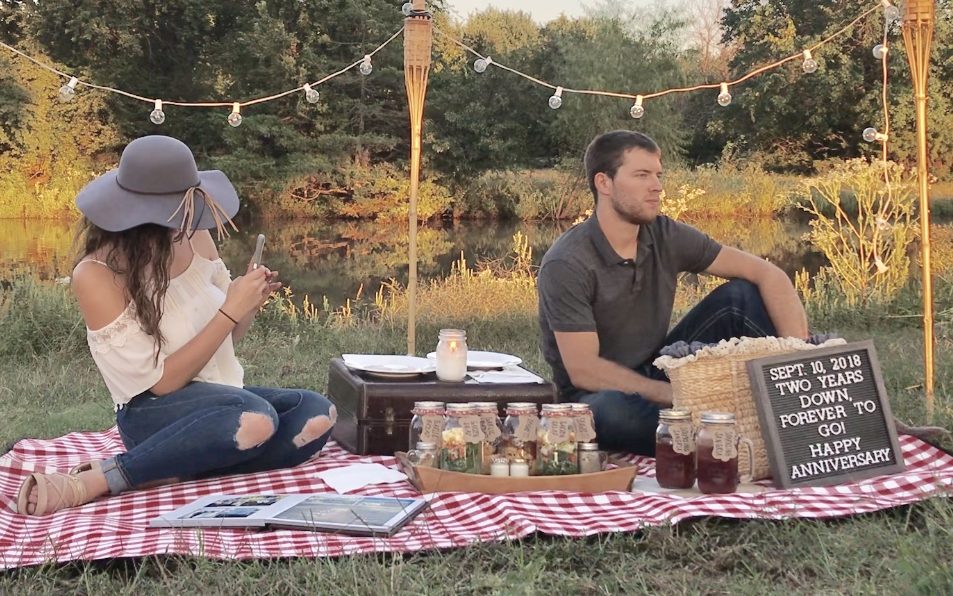 ---
6. Accessories
These are the finishing touches, the extras that really bring everything together and make it personal. It could be anything from personalized dishes, to pillows, baskets and trays. Whatever you use should go with your theme and reflect your personality and style, but still be practical.
I completed this anniversary picnic with a personalized letter board and our wedding photo album so we could look back on our special day. To add some practicality and style, I used an old suit case as our "table", and brought cushions to sit on. Along with a surface to eat on, we also needed somewhere to put our dirty dishes when we finished eating. I brought a wooden tray that was perfect for this! (If you have a less fancy setting all you need it a trash bag lol).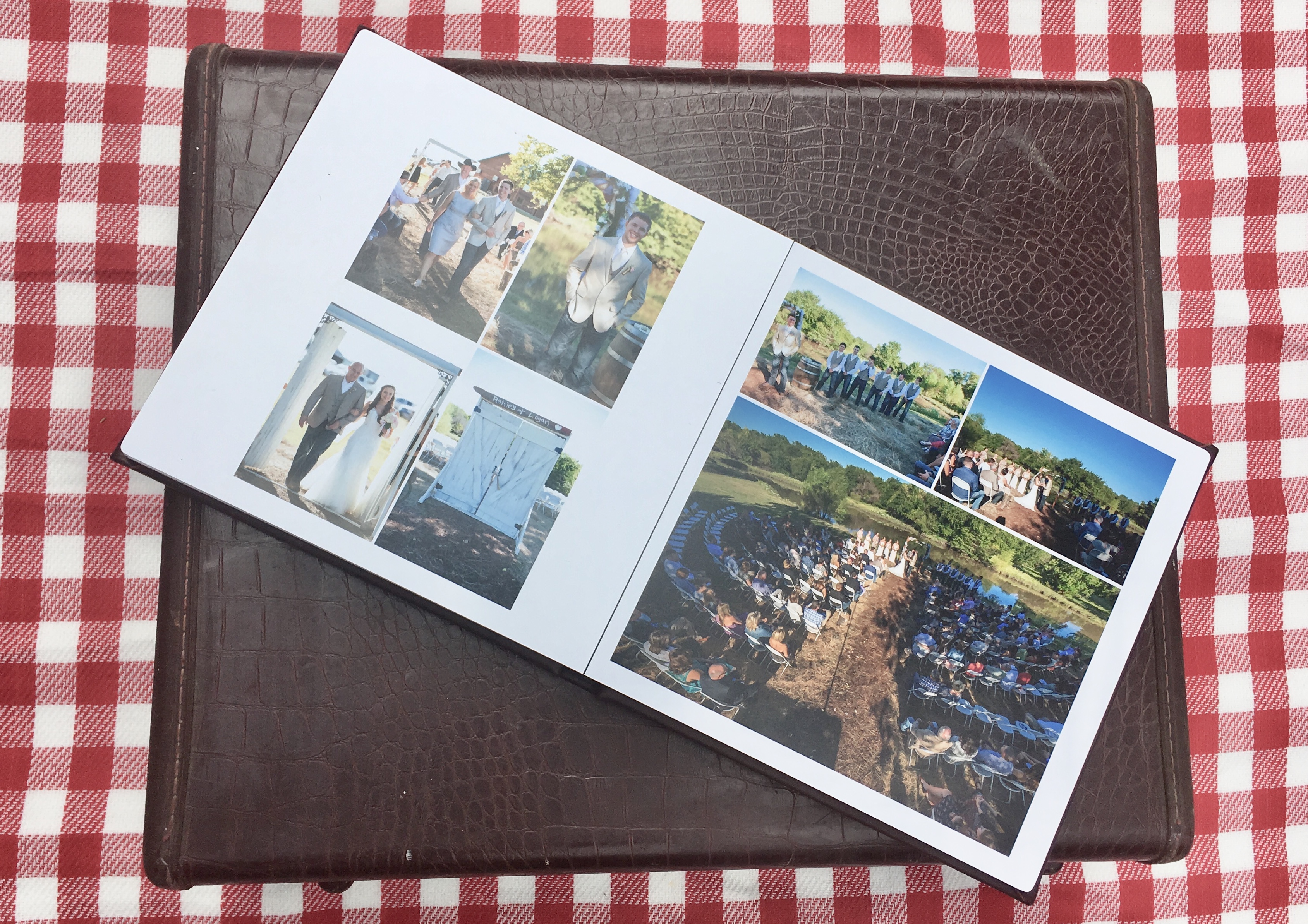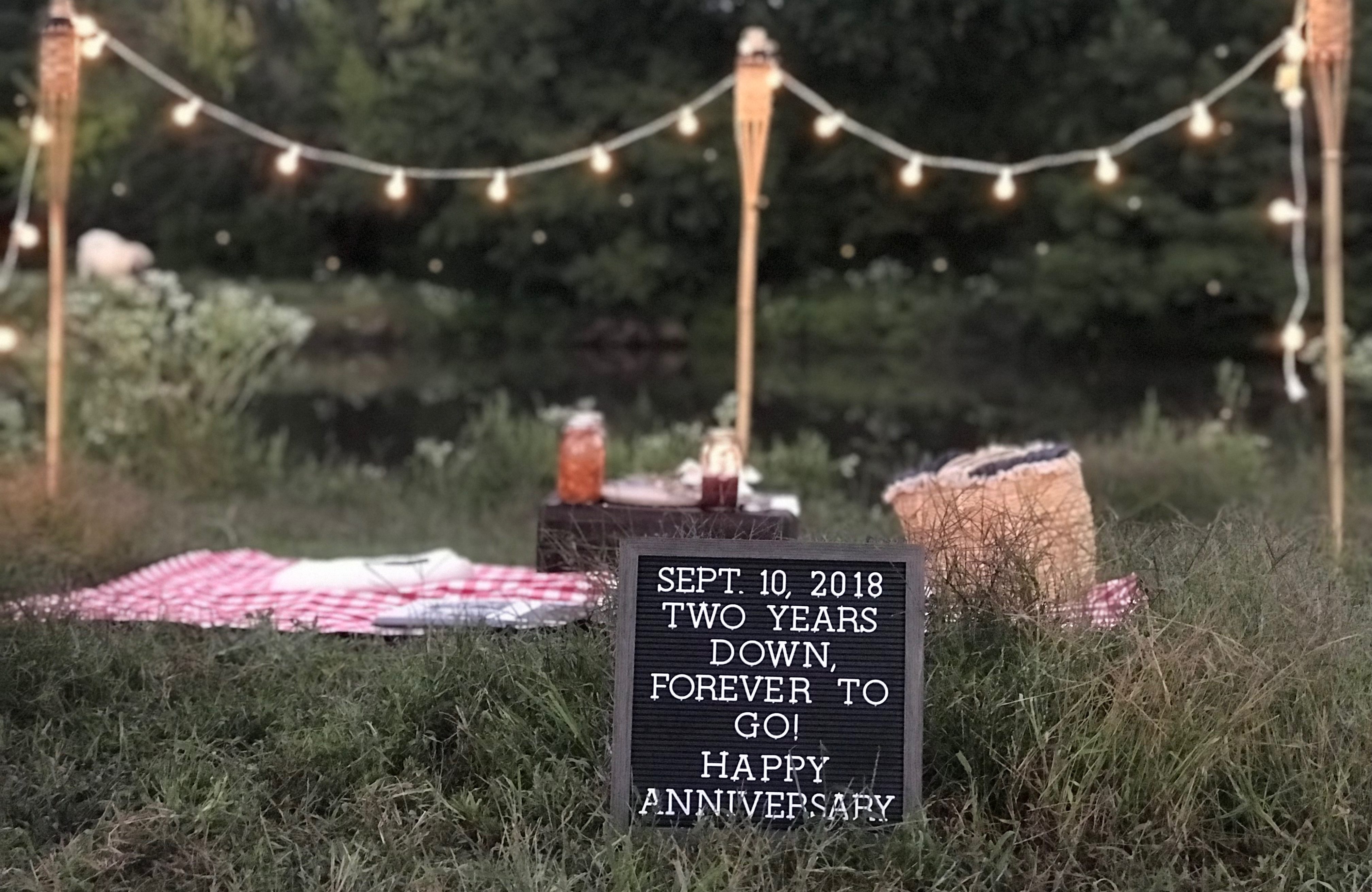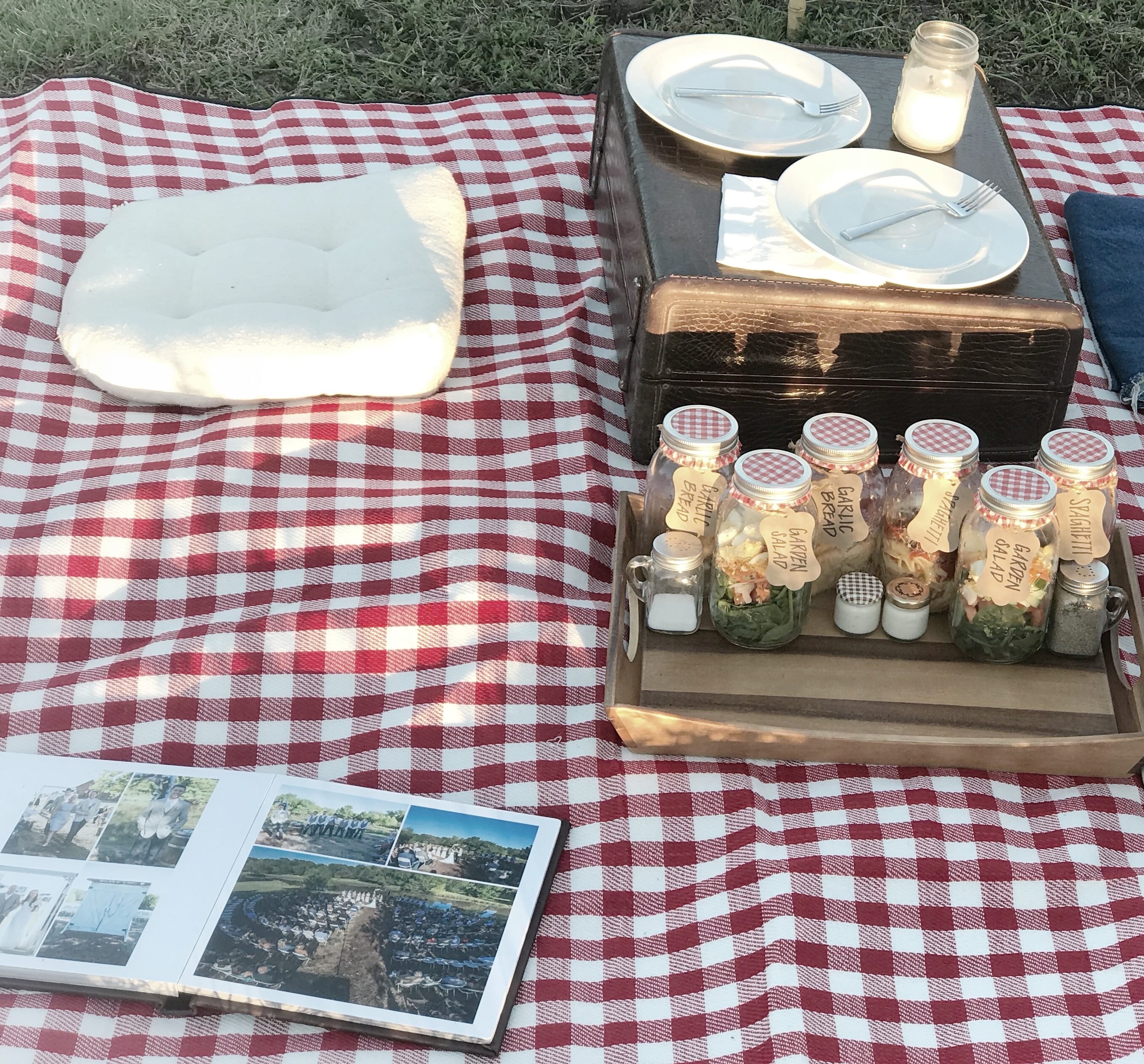 These accessories really made a difference in comfort, style and function, and overall made this the perfect picnic!
---
7. Staging
Everything up to this point has been part of the planning, now it's time to execute! Depending on where your picnic is going to be and how much stuff you are setting up, you may want to think about staging ahead of time. This is only important if the picnic is a surprise!
I prepared all the food and went out about a half hour before I wanted to start eating (I didn't want the food to get cold). I snagged my mother-in-law to help me carry stuff out to the picnic sight and set up the lights. Staging really didn't take much time at all because the planning was already done! I brought Logan a change of clothes (because he was already out there hunting dove), and told him I would pick him up in the four-wheeler for a surprise date, lol! (Not pictured unfortunately).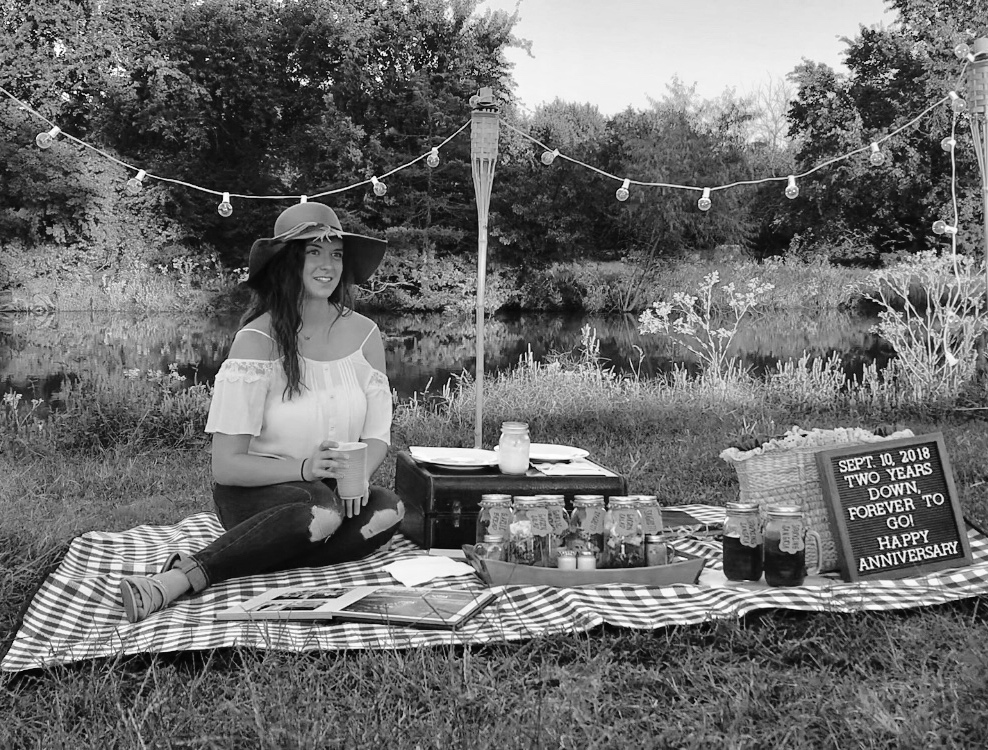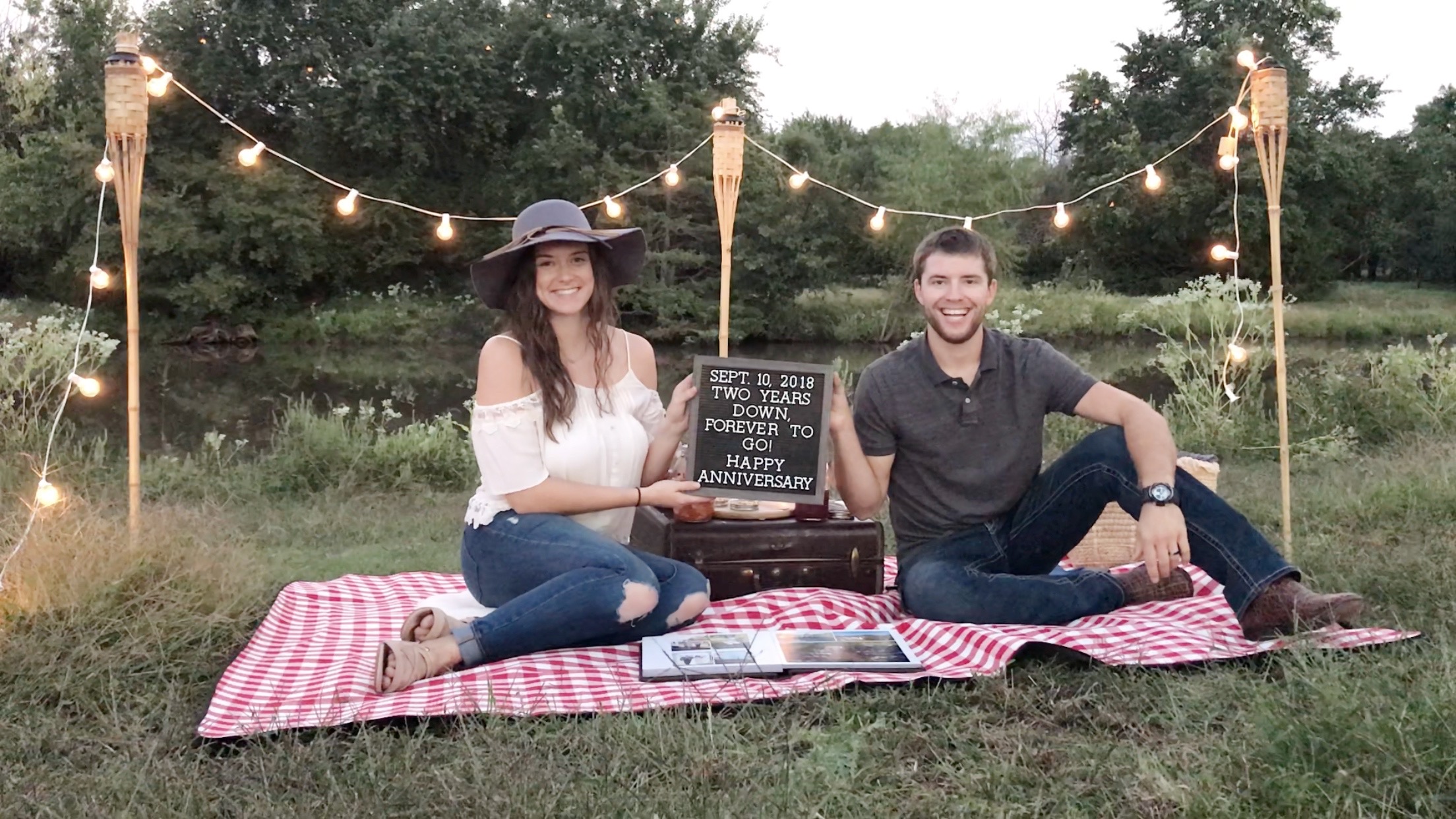 Besides the food, the only things I bought specifically for this picnic were the mason jars, picnic blanket, and cupcake liners. Everything else was either borrowed, or on hand already! I've included links to some of the exact items I used, and links to some similar items, if you wanted to recreate this picnic setting!
I'm so happy with how this evening turned out! The food was great, the decorations were beautiful, but the company was the best part! It was the perfect way to spend our anniversary together. (Notice the cow having her own picnic across the pond)!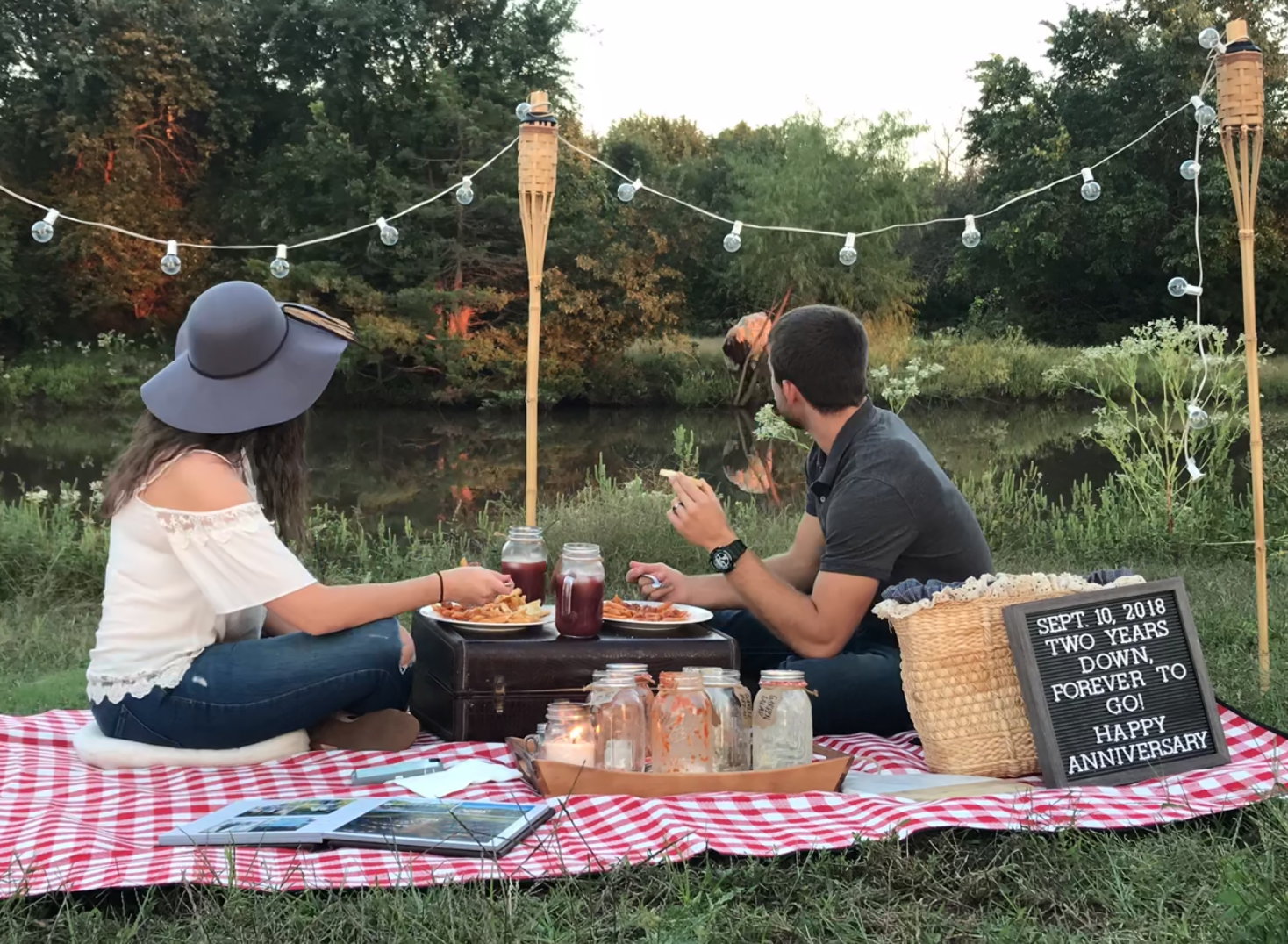 The thing is, you don't have to go out and buy a bunch of fancy stuff. Use what you have, or borrow some stuff, and maybe purchase a few things to tie it all together! This is really about what you would like to incorporate, however extravagant that is. Remember, you are doing this for someone you love, and it is going to make them feel so special no matter what!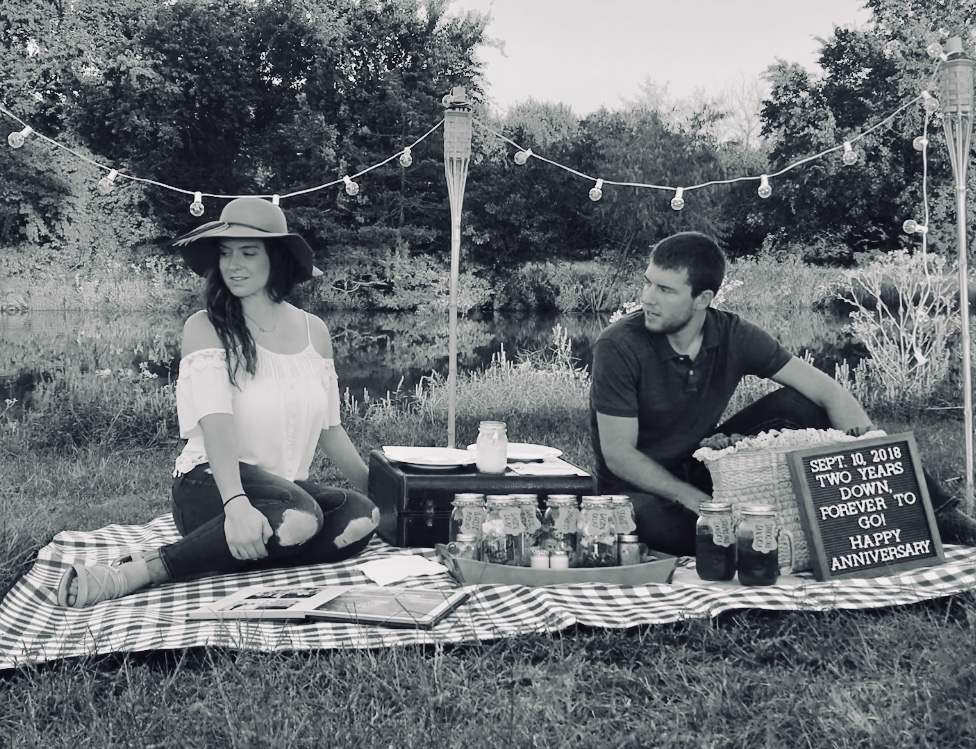 I hope these 7 tips were helpful, and got you thinking about throwing a picnic celebration of your own! With a bit of planning and preparation, you can have a picture-perfect picnic for any and every occasion. Thanks for reading, God bless!
XOXO
ASHLEY DIANN
---
Products Used for this Project:
DISCLOSURE: This post contains affiliate links, which means I may receive a small commission from something purchased through the link. This is at no extra cost to you. All items are products that I have or would purchase for myself.