Valentine's Day might be cliché, but I love any excuse to decorate and make Logan feel special! This Valentine's Day we hosted some good friends for dinner, and I had so much fun putting together the table decorations and planning the menu.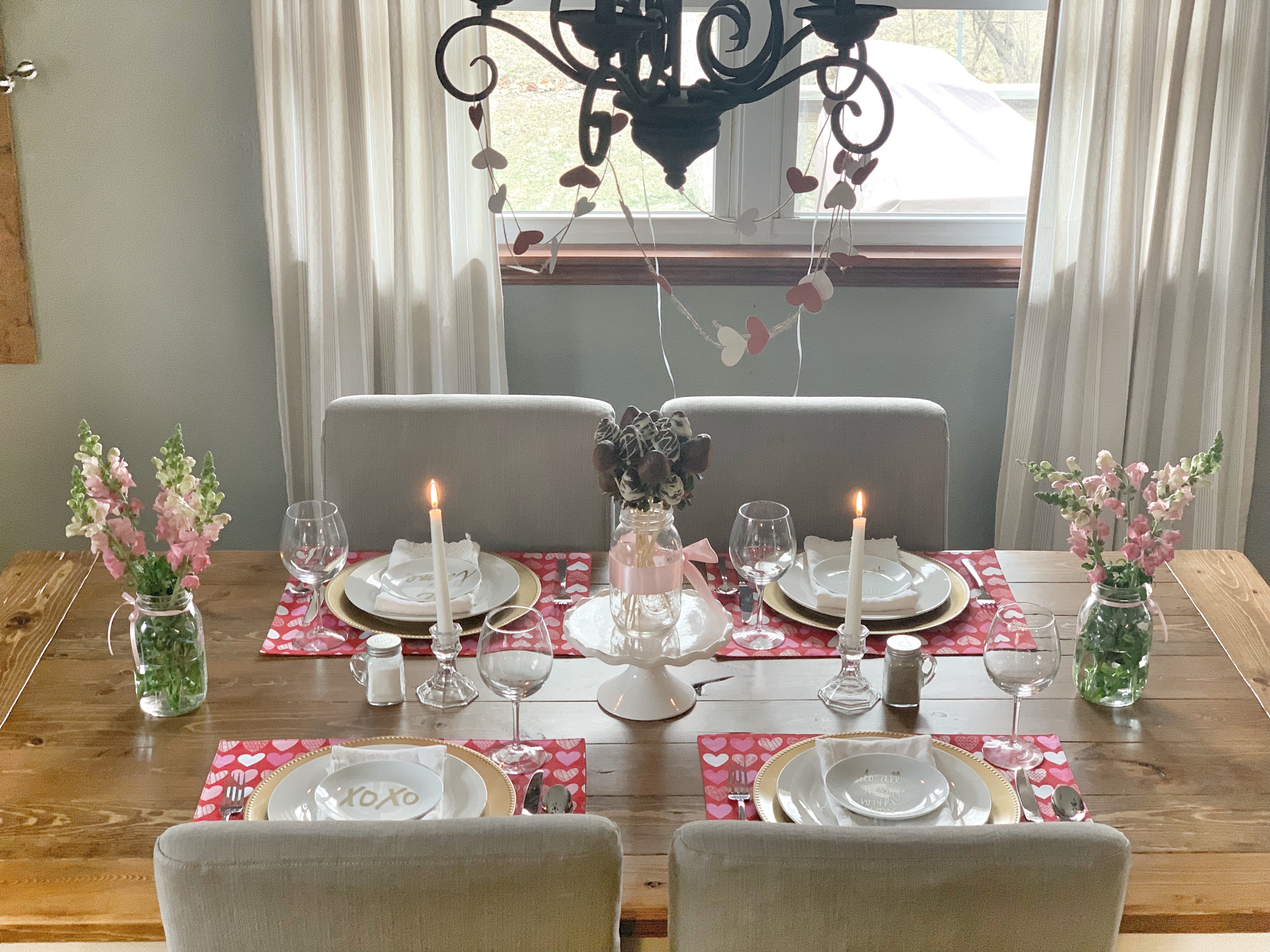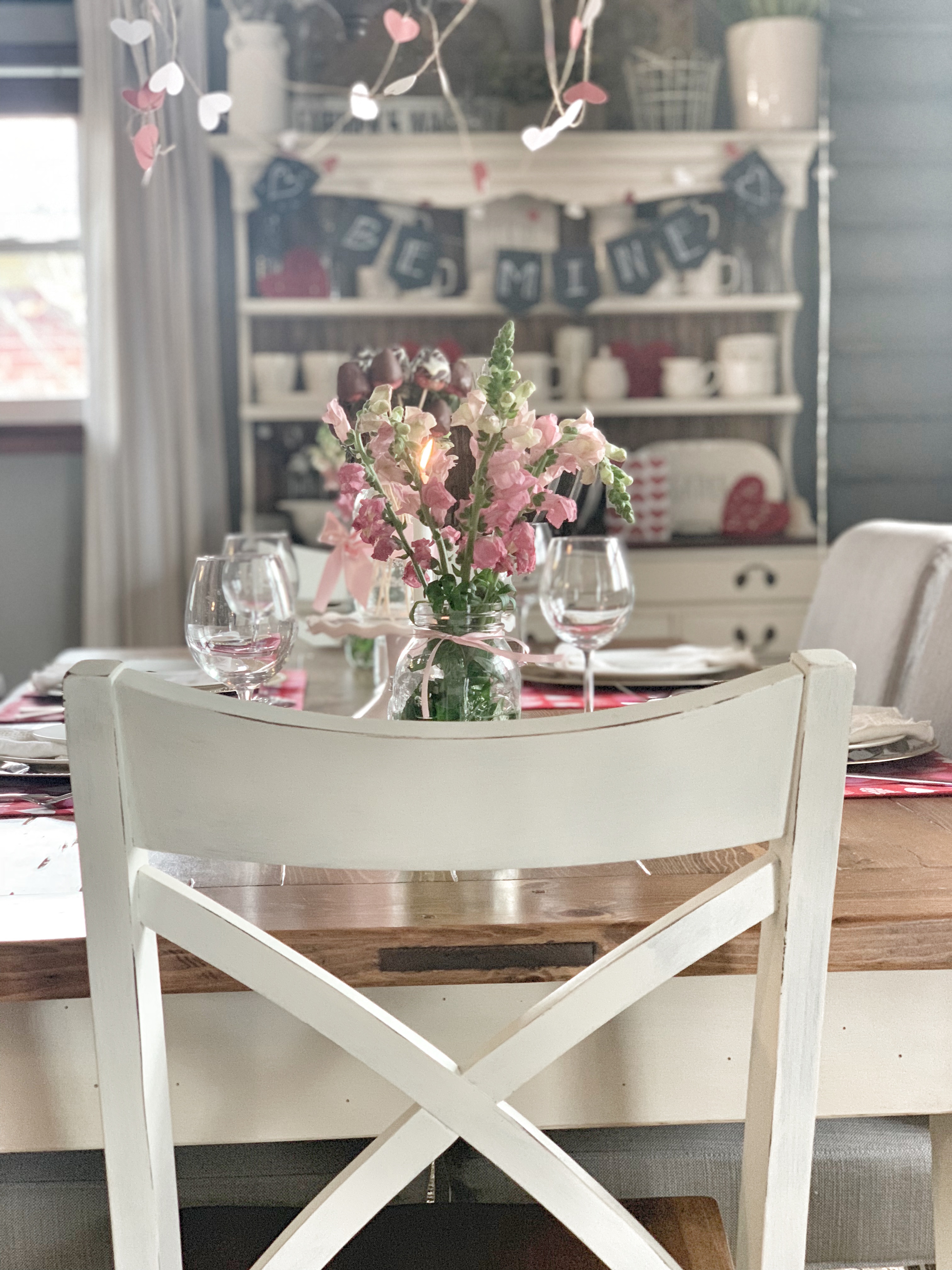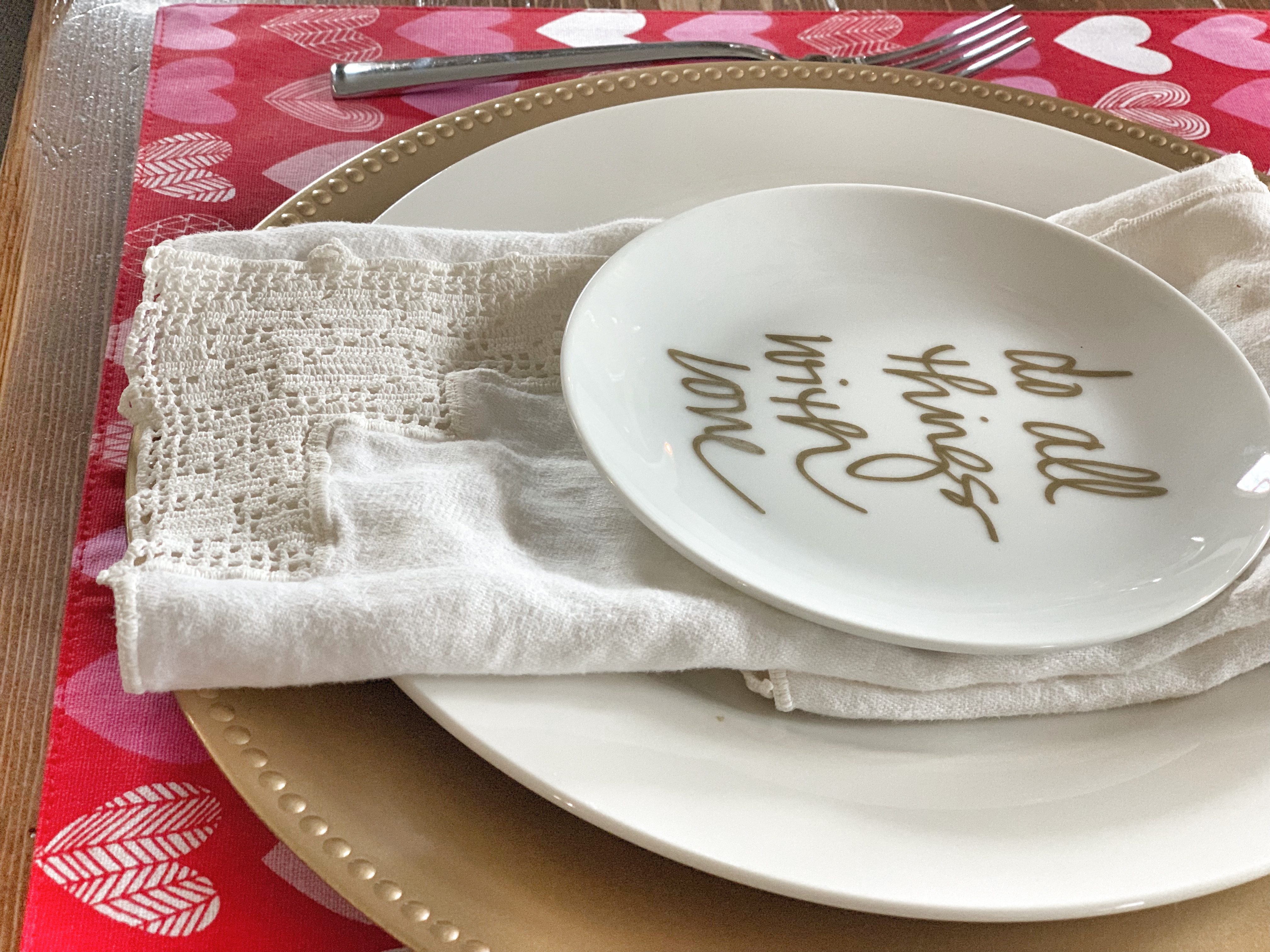 This tablescape was an eclectic mix of new, old, and handmade items. I didn't want to spend a bunch of money buying decorations that could only be used for this one holiday. Most of the items I have purchased over time to be able to use for many occasions. In fact, they have already been used for Mother's Day, Christmas, birthdays, and more.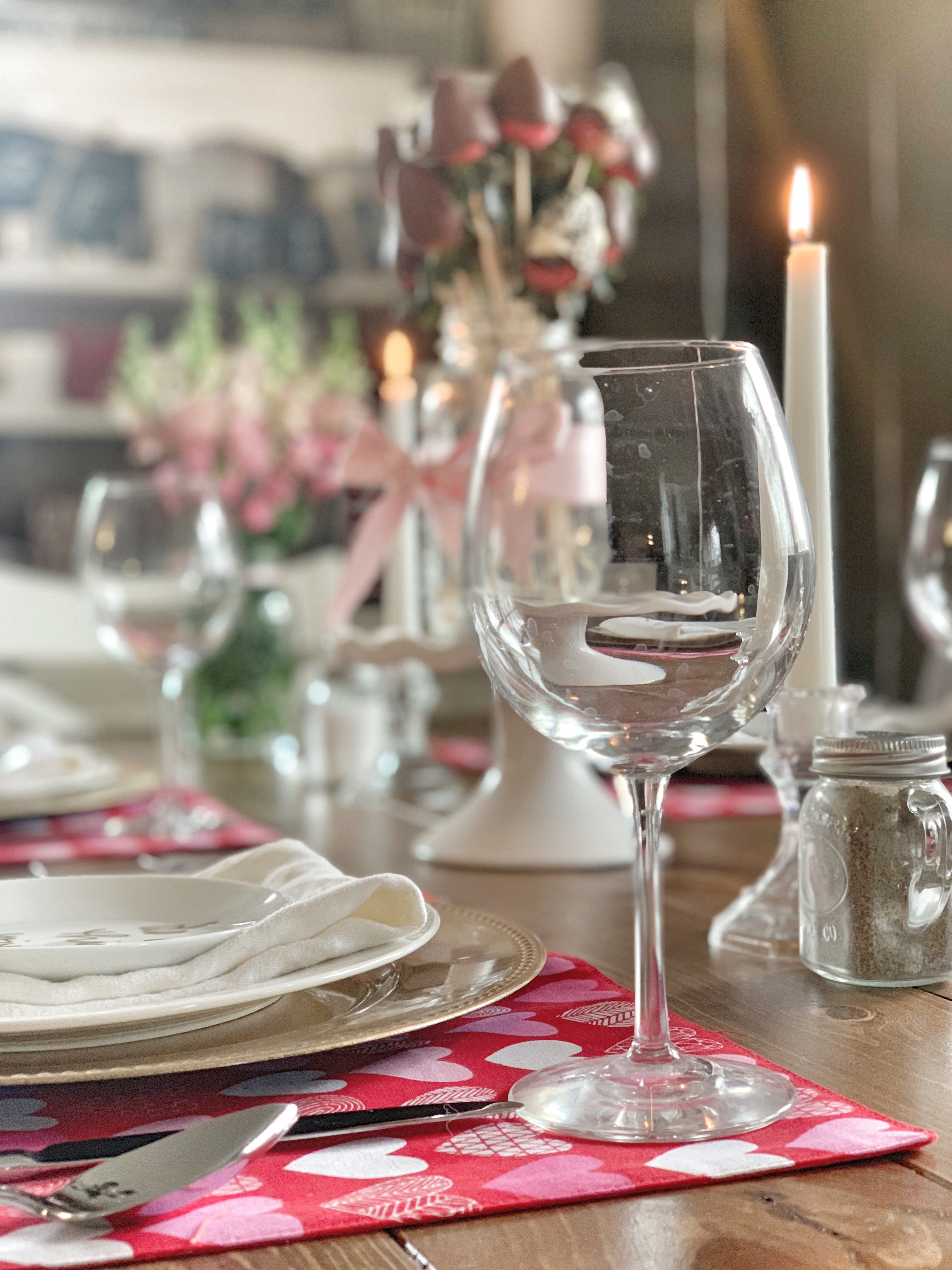 The gold chargers and white plates are from The Dollar Tree, as are the candles and candle holders.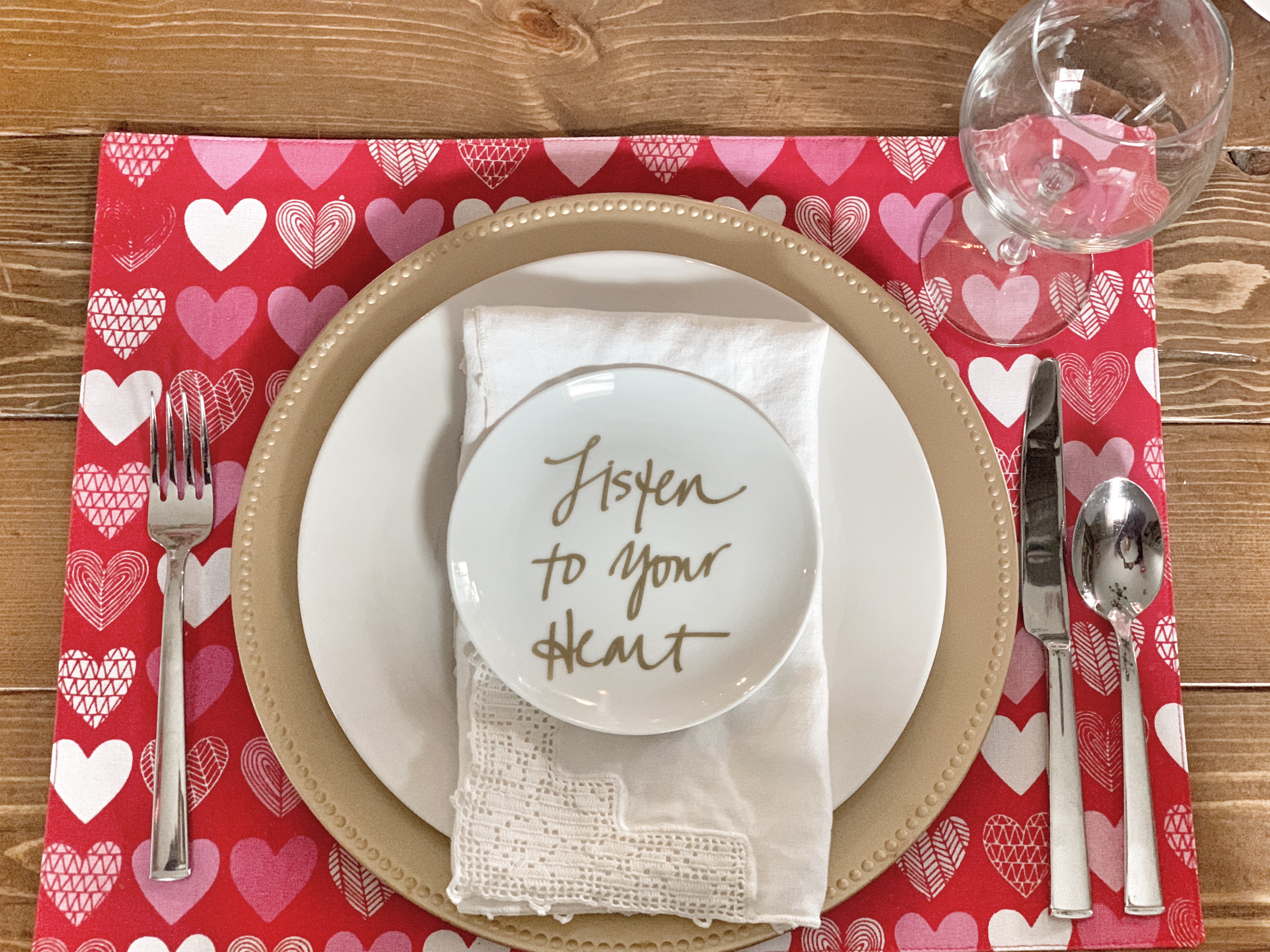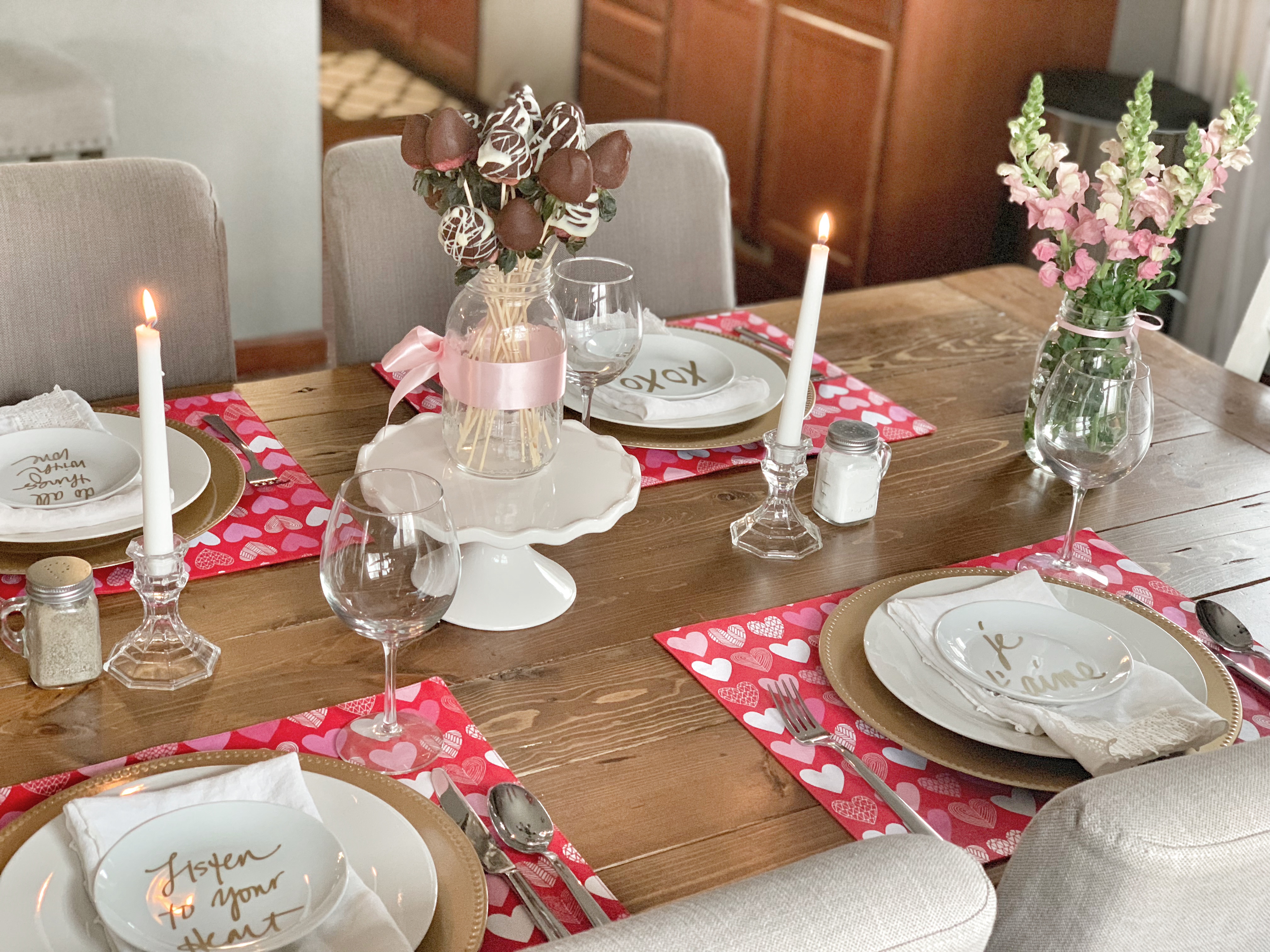 The heart placemats and white cake stand are from the $5 and under bins at Target. I received the small white plates with gold letters as a wedding gift, and I believe they are from Hobby Lobby! The white cloth napkins were a steal at an estate sale I went to (8 napkins and matching table cloth for $6).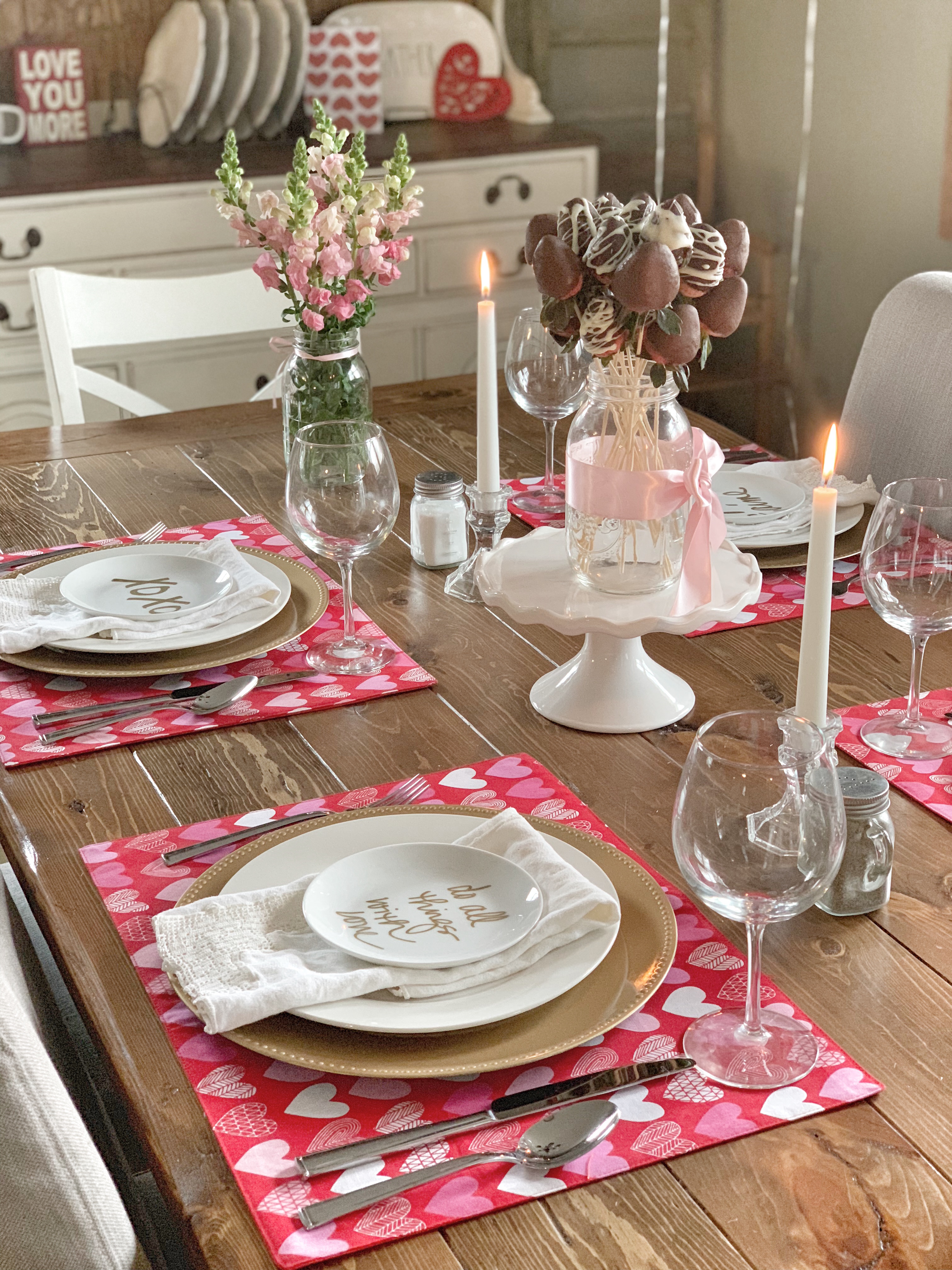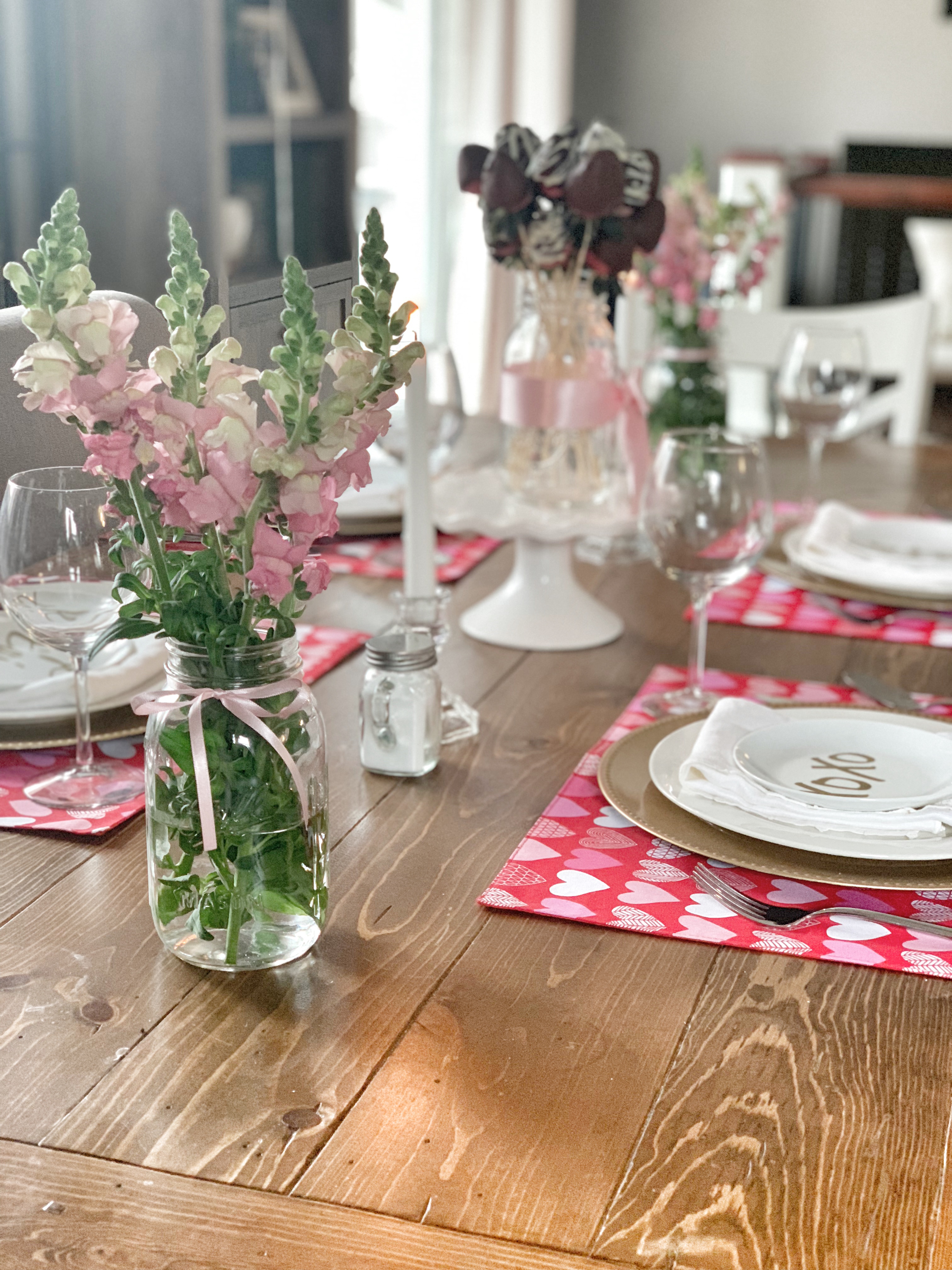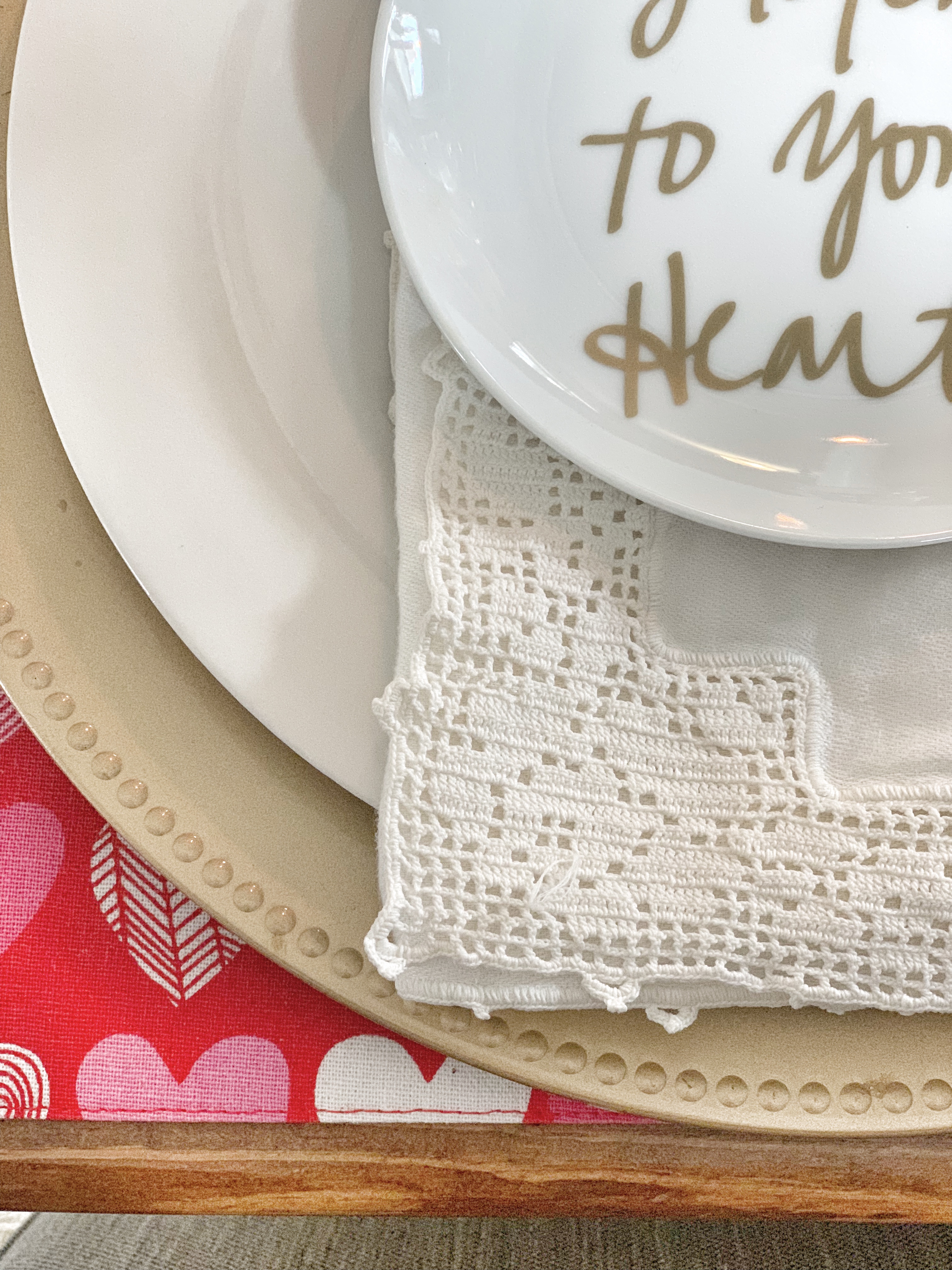 I made the heart garland myself using my silhouette cameo to cut out the hearts, and then glued them to some twine. Super easy and cute DIY to add some Valentine's Day themed decor without spending money! I strung it on my chandelier and also on my china hutch above the "Be Mine" banner.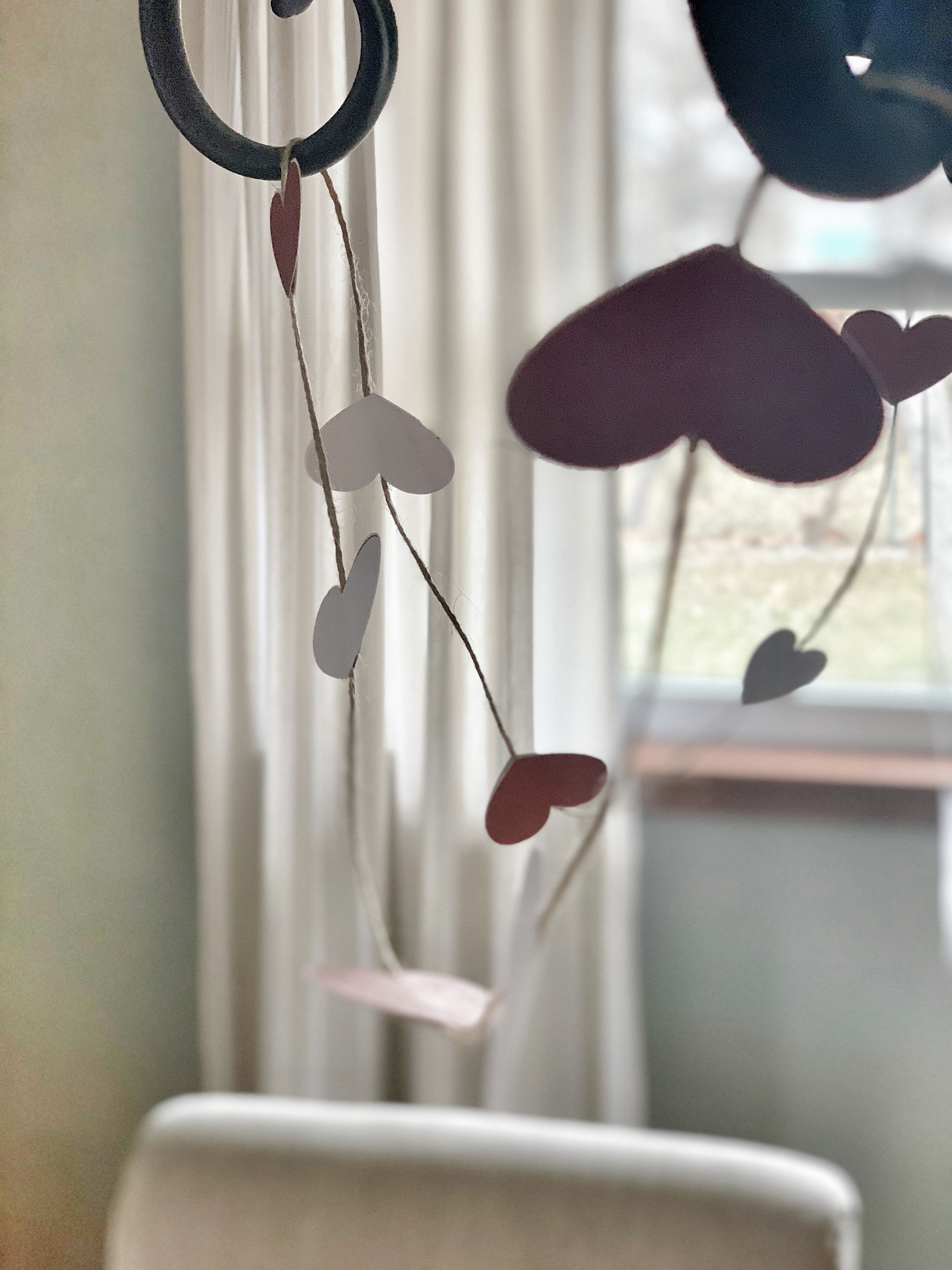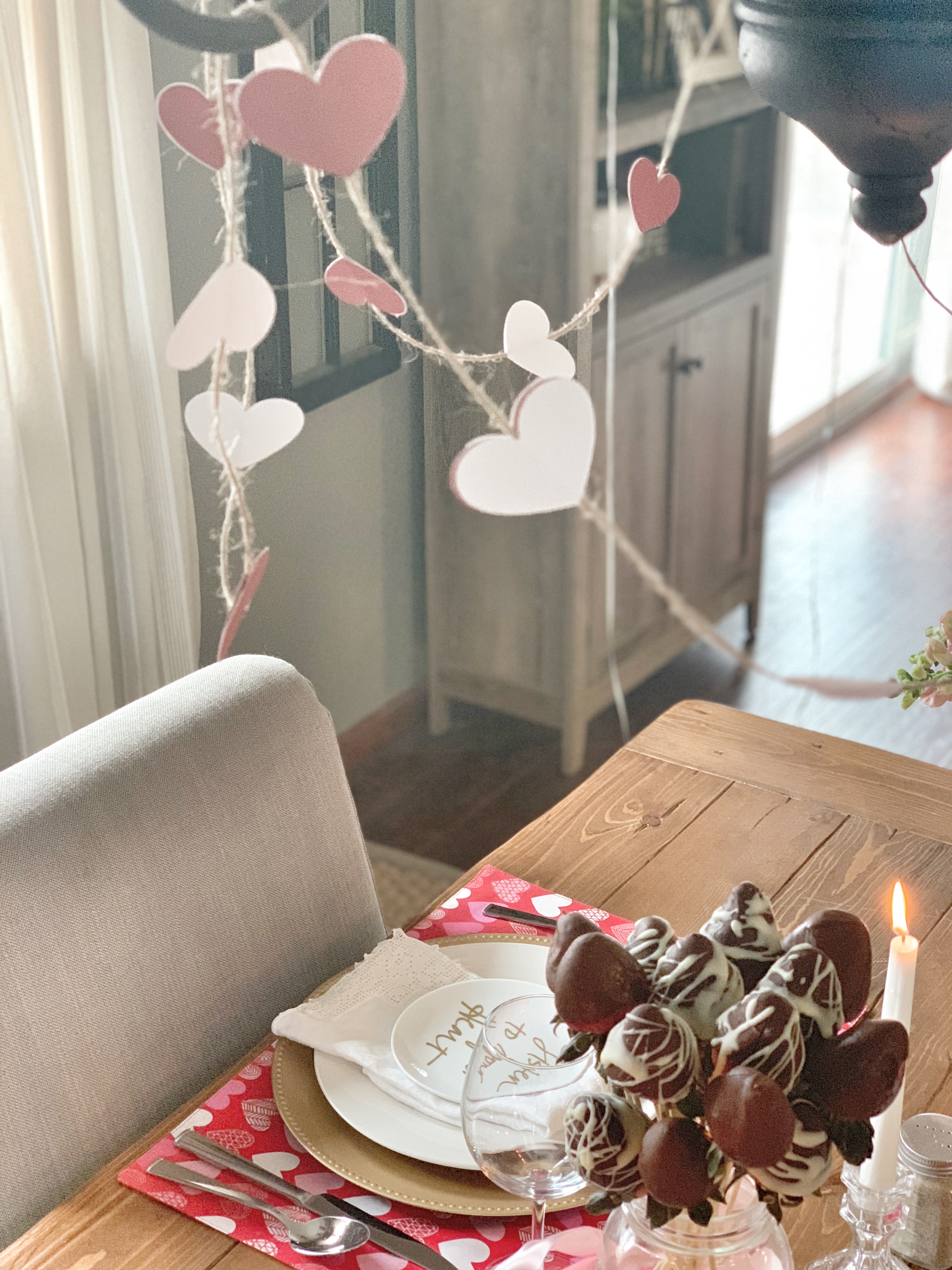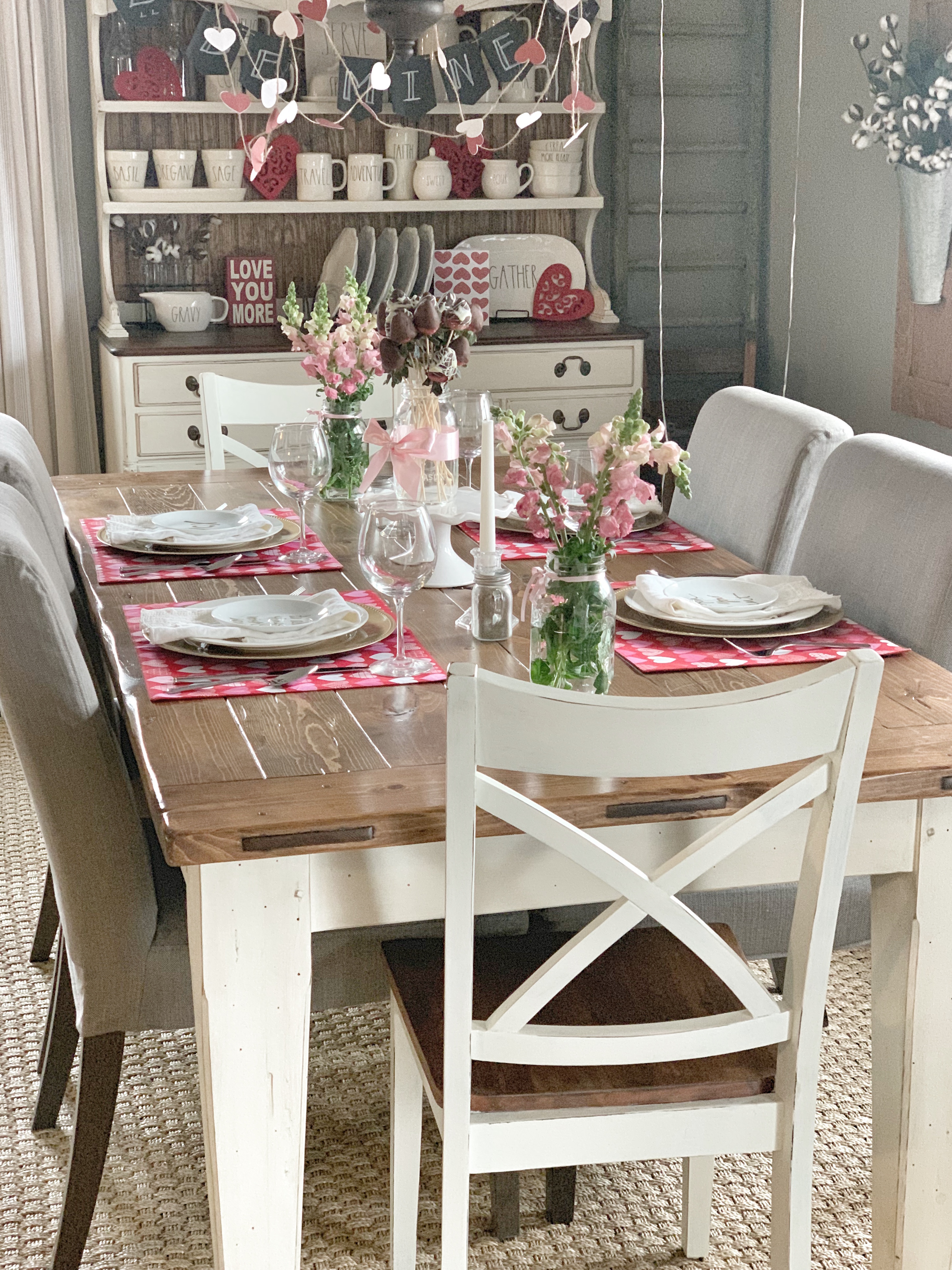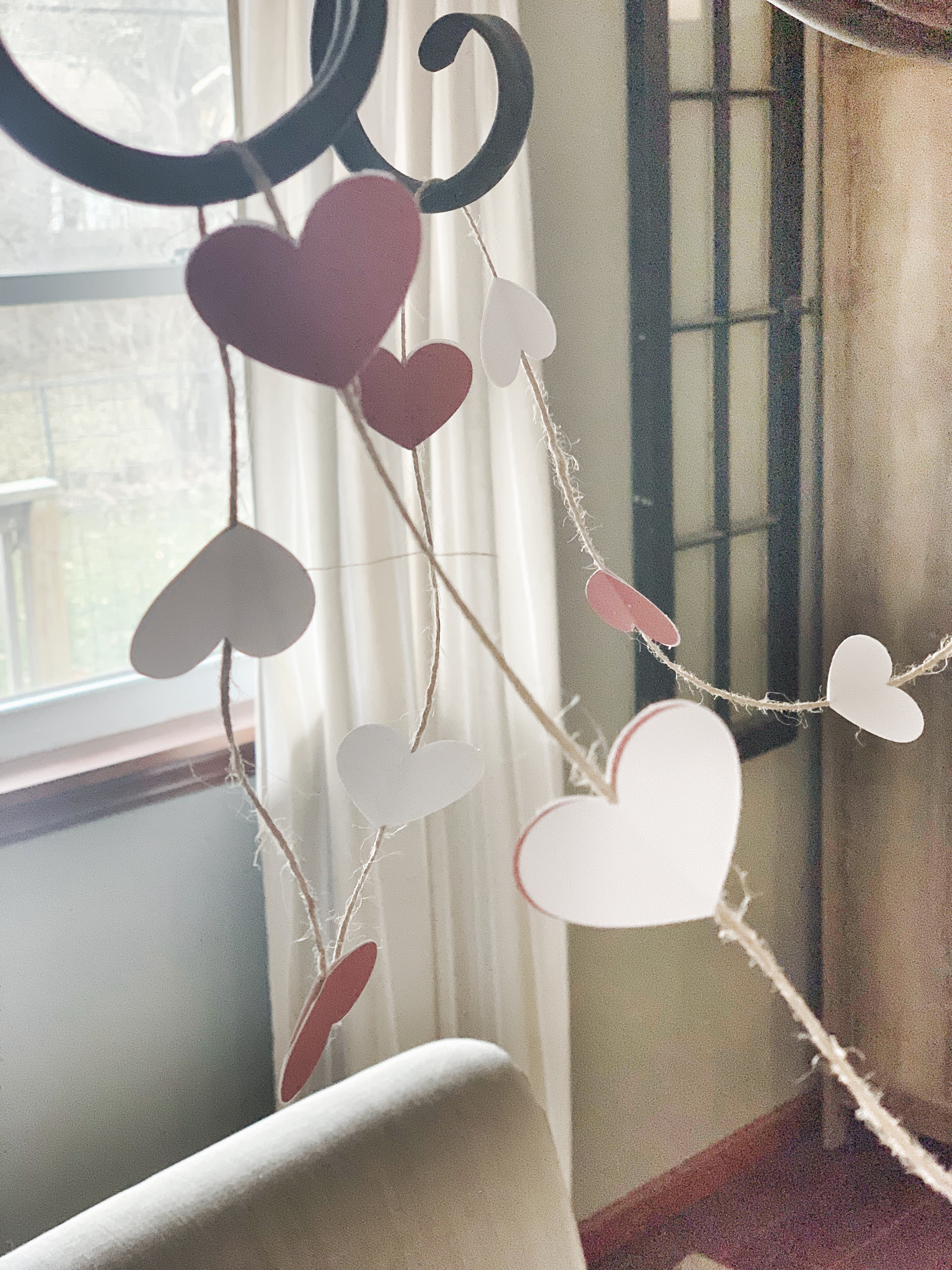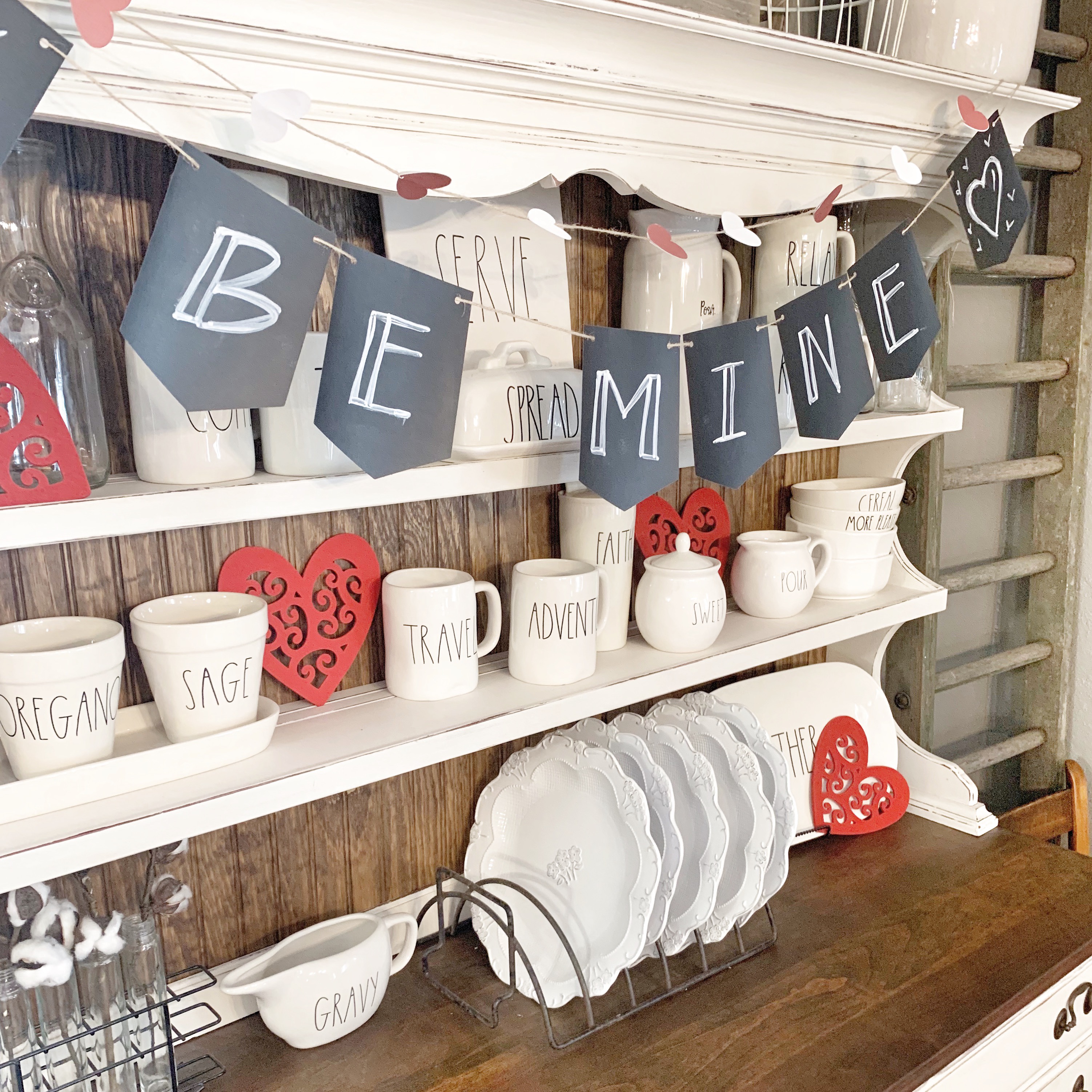 I had this banner leftover from my wedding, but these blank banners can be purchased at almost any craft store, which is great to personalize for any occasion. They can also easily be reused!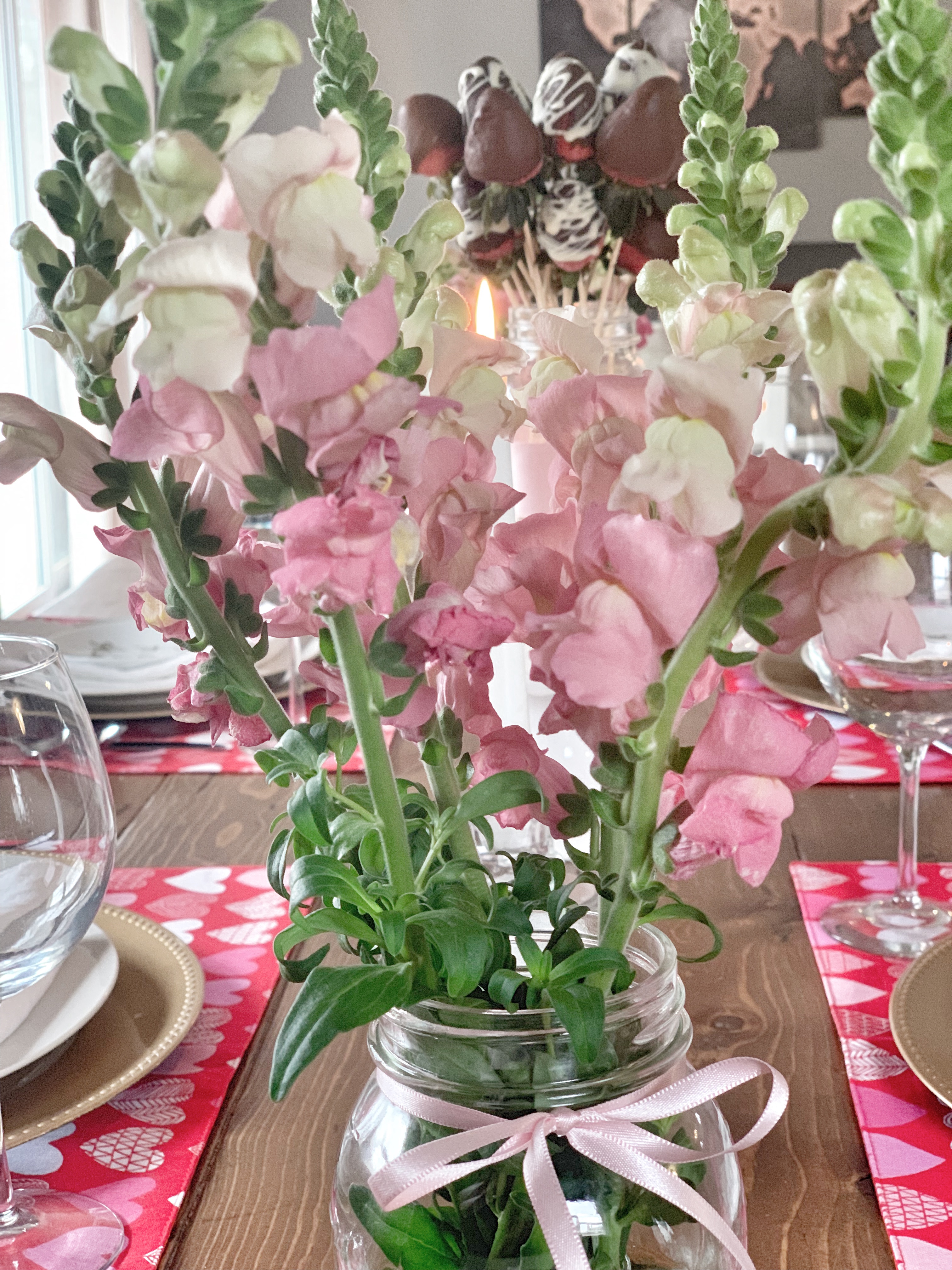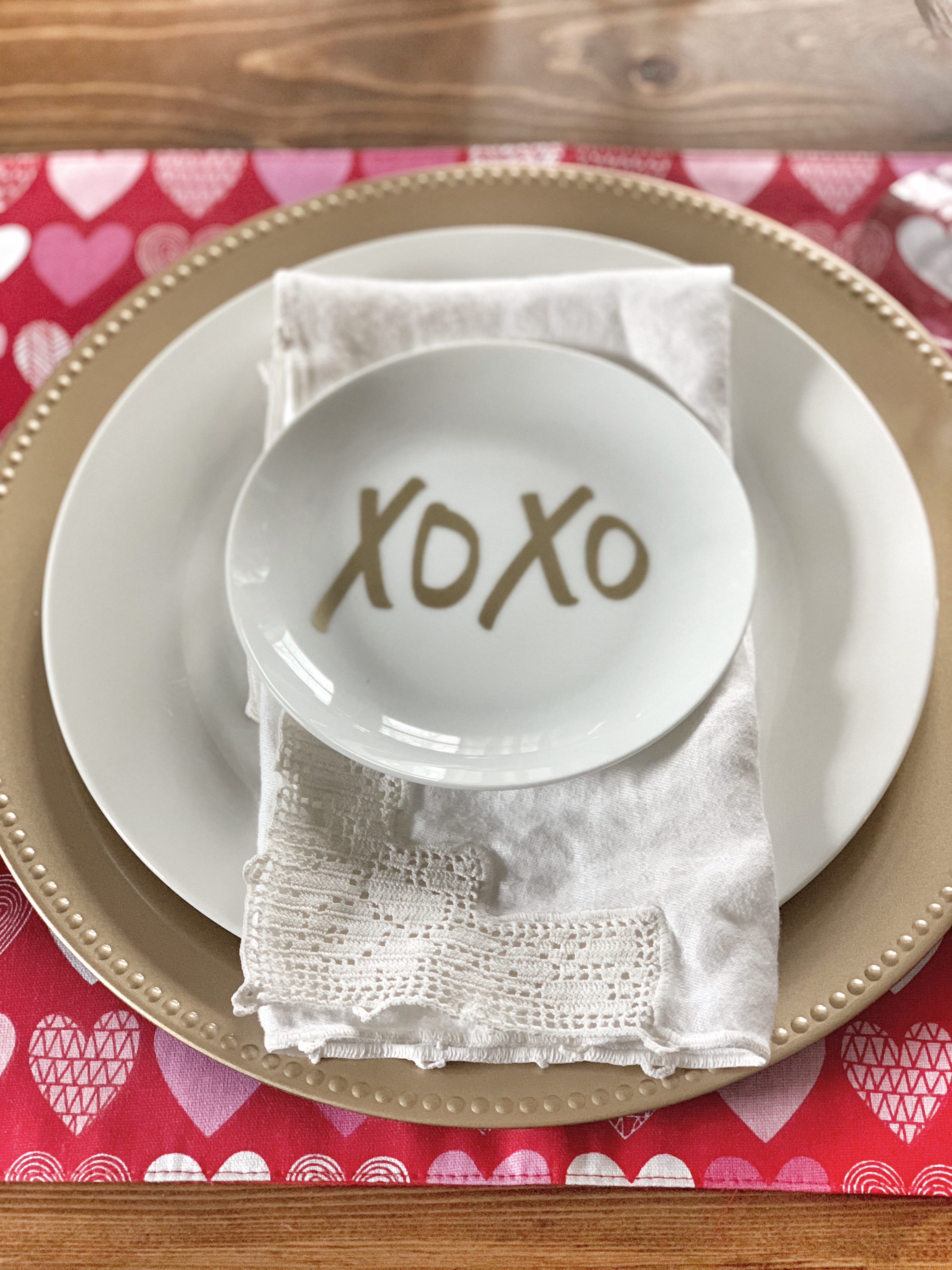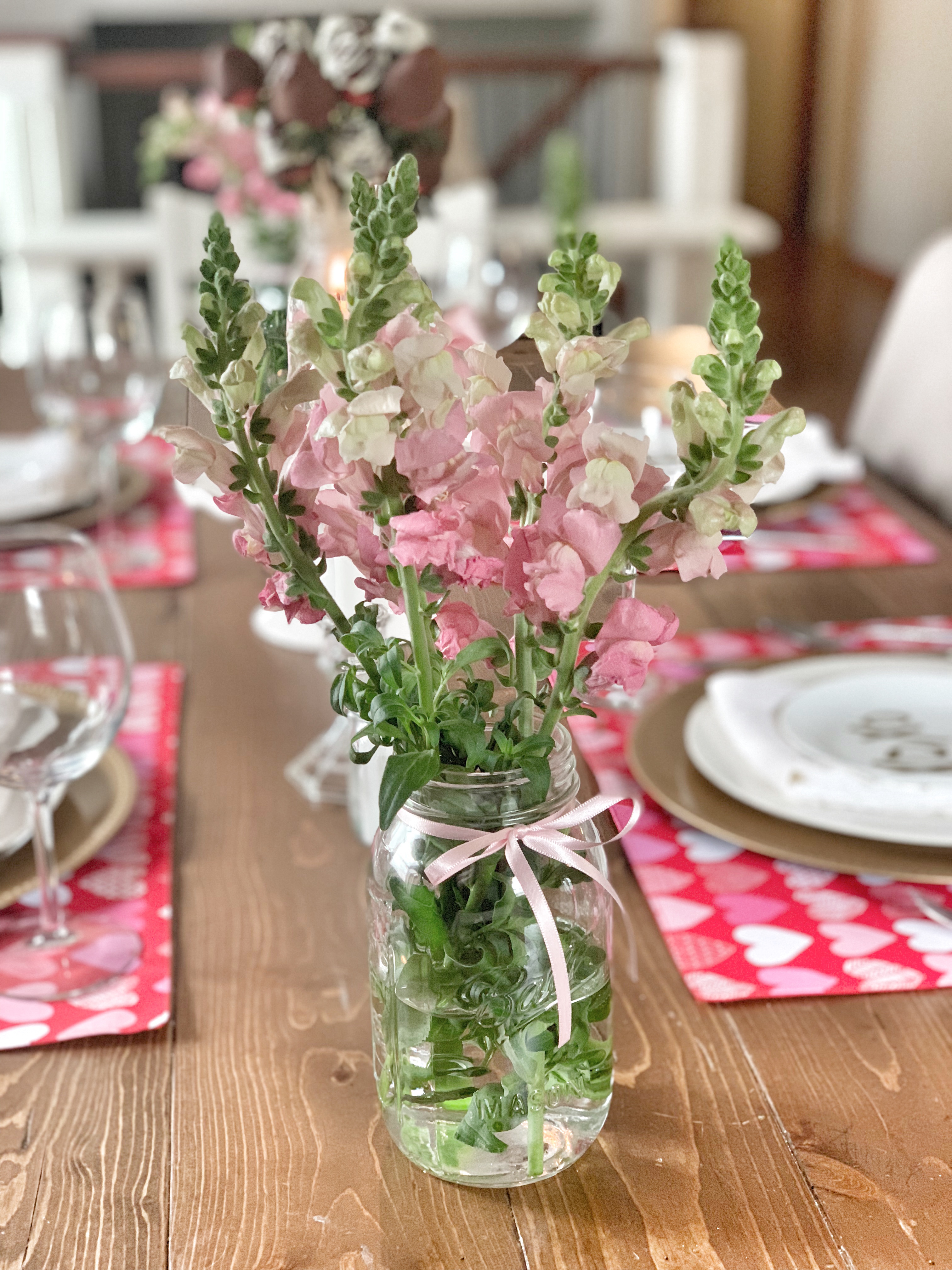 I knew I wanted fresh flowers for the table, but again, I didn't want to get those expensive flower arrangements. I went to the grocery store and I purchased two bundles of these flowers for $5 a piece.
*Tip: Buy flowers on sale the day after Valentine's day.
I stuck them in mason jars and tied pink ribbon around them (also left over from my wedding), and had more expensive looking flower arrangements for less! I saw some just like this at the store, already with the mason jars and ribbon for $25 a piece.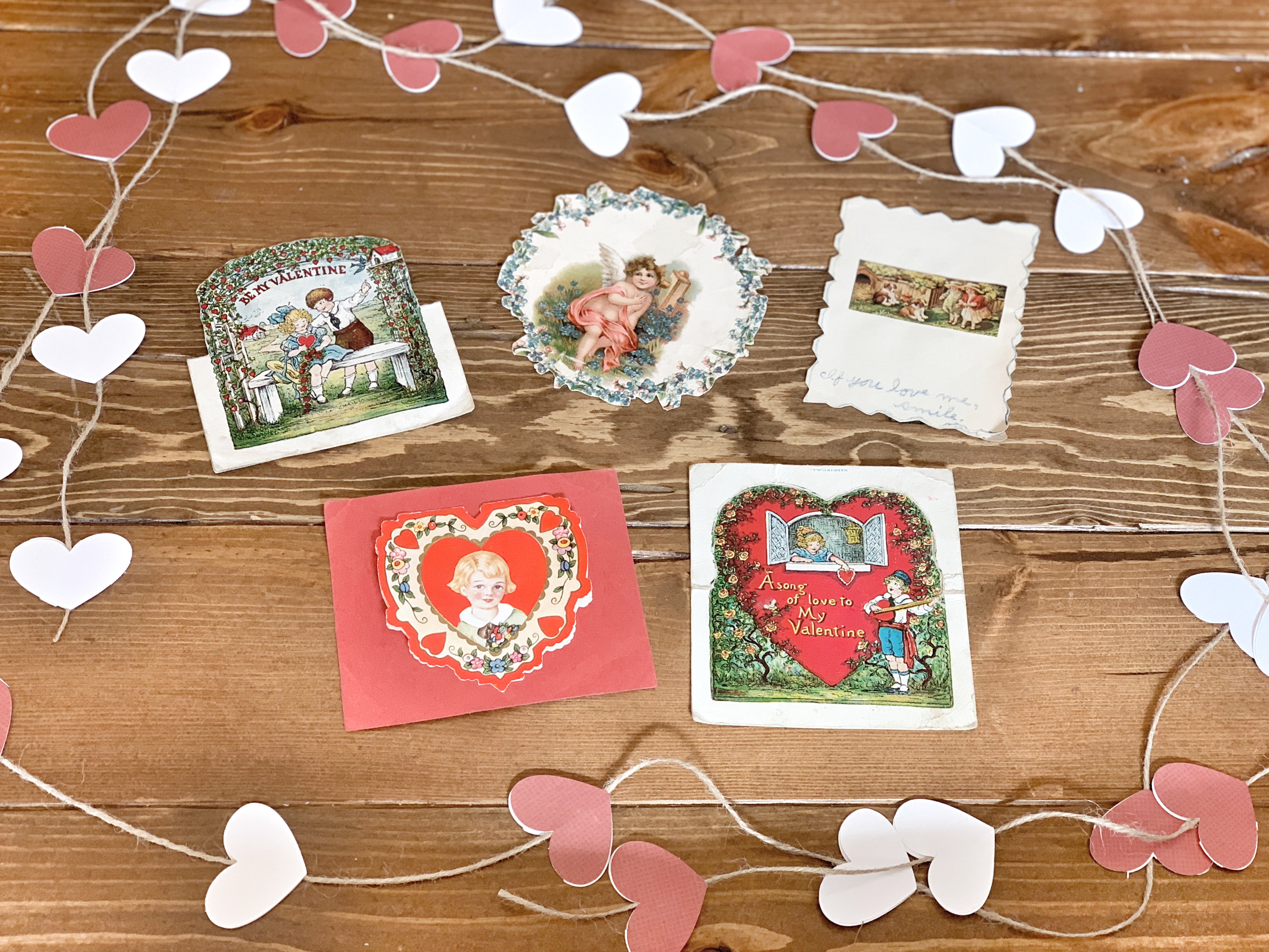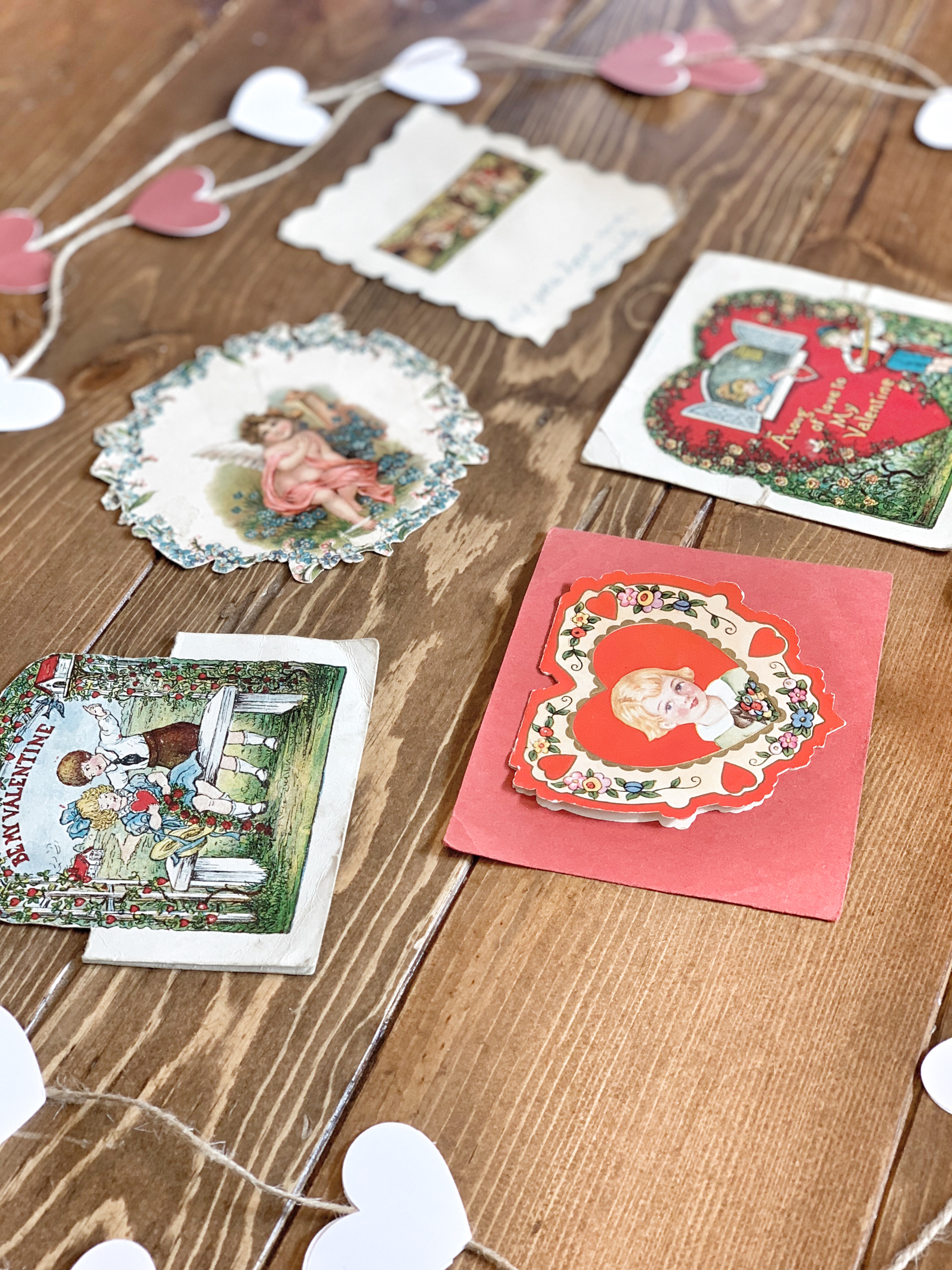 And how cute are these vintage Valentine's cards?! I found these at an estate sale for 25¢ and I just had to have them! Some of them even have handwritten love notes in them. I love adding a little bit of vintage especially if it's something that has a story. These were such a sweet addition to the china hutch display.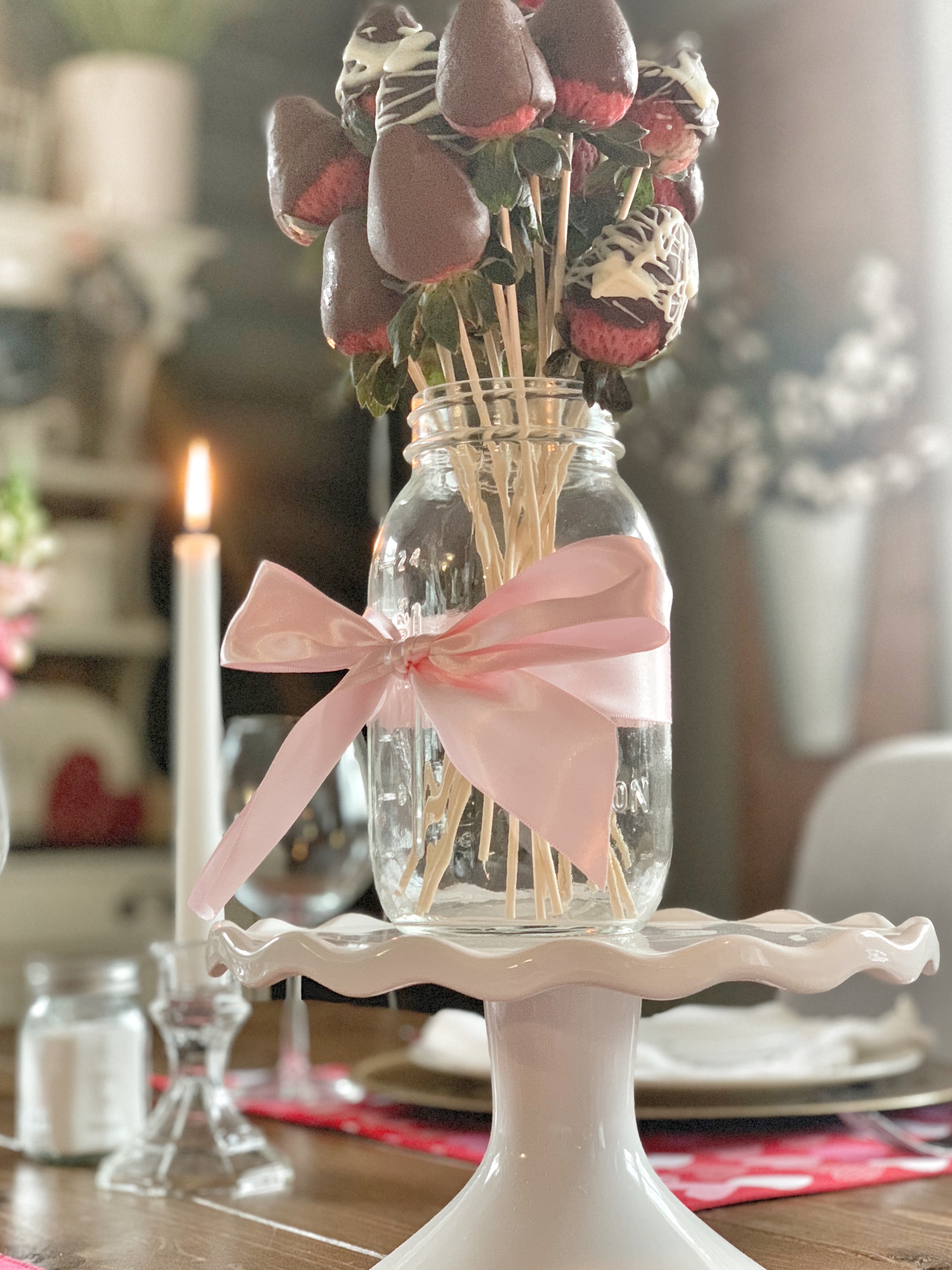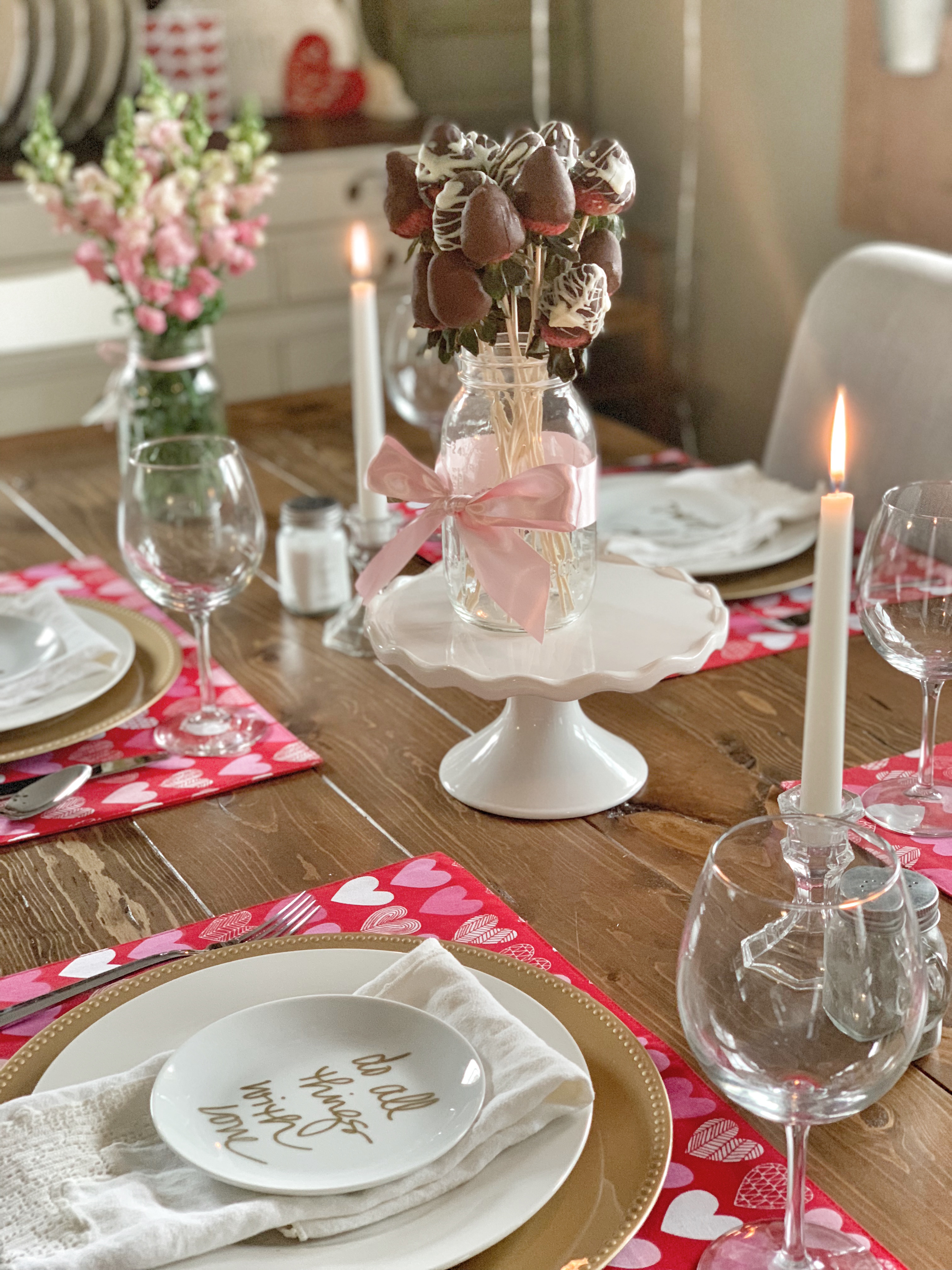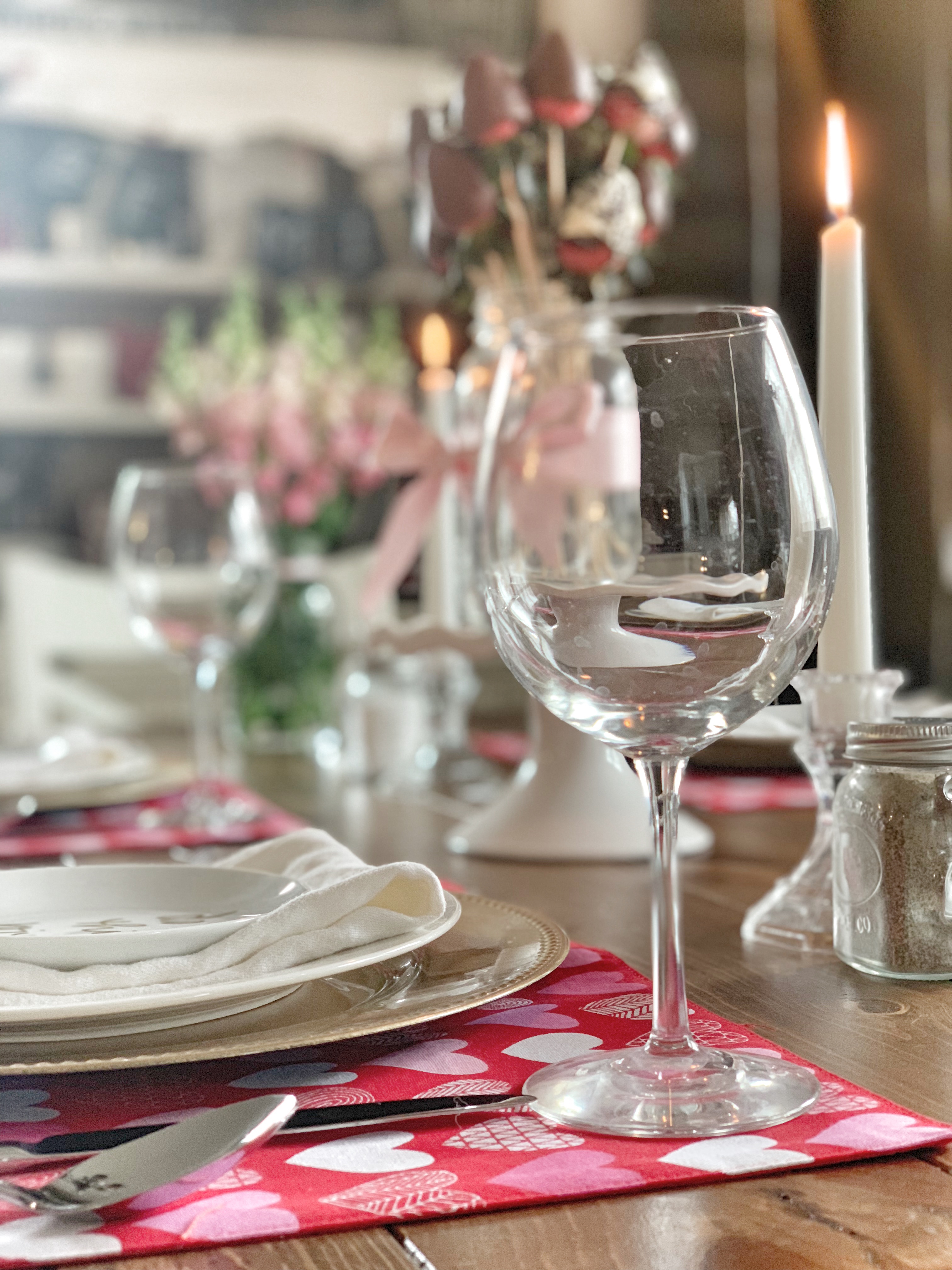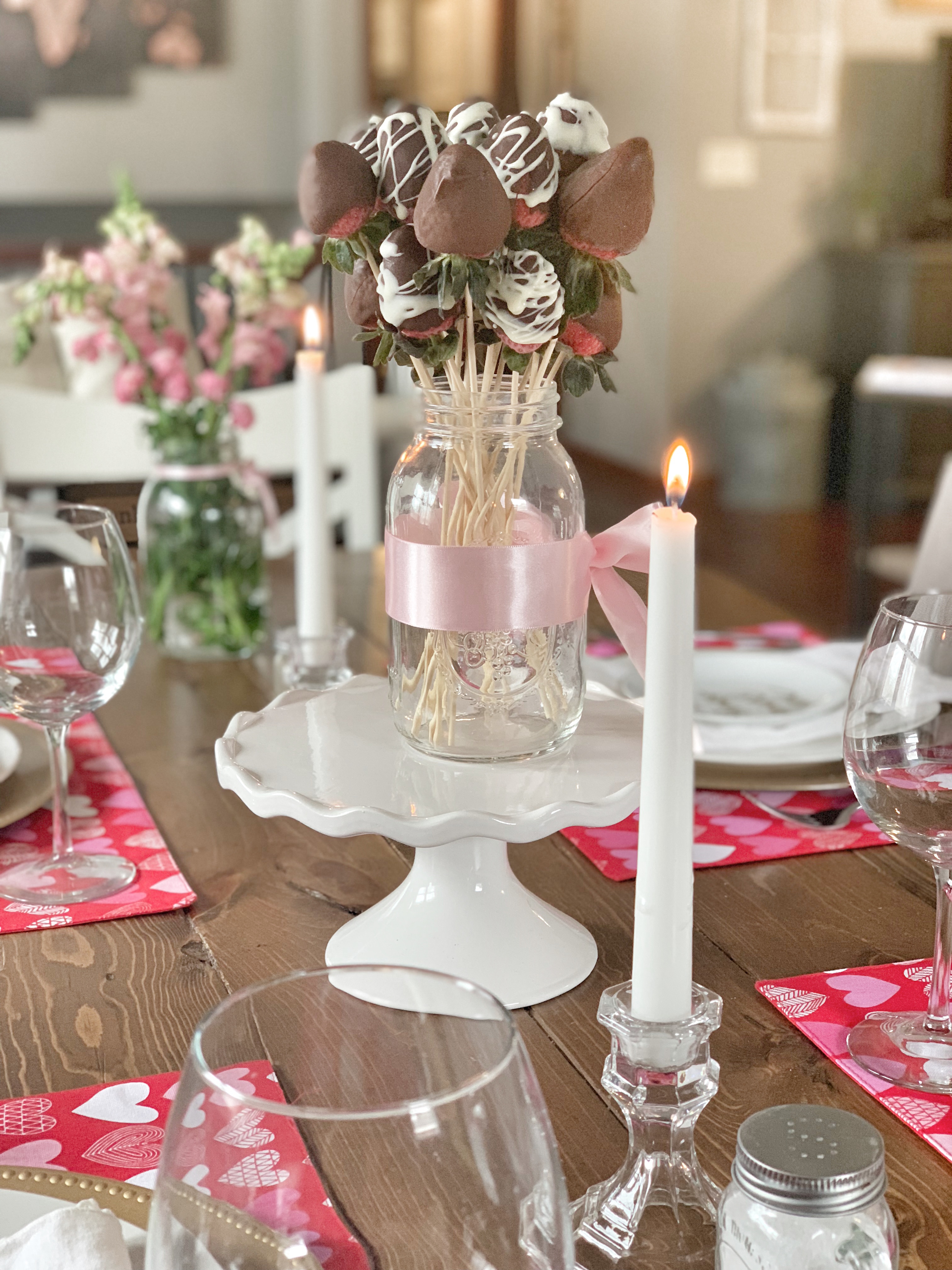 The center piece was a chocolate covered strawberry bouquet which I had a lot of fun making! I just put the skewers in a mason jar and tied a thick pink ribbon around it. I'm not even sure how much an edible arrangement like this costs, but I'm sure it's a lot more than what I spent to make this simple, beautiful center piece to finish off my Valentine's Table!!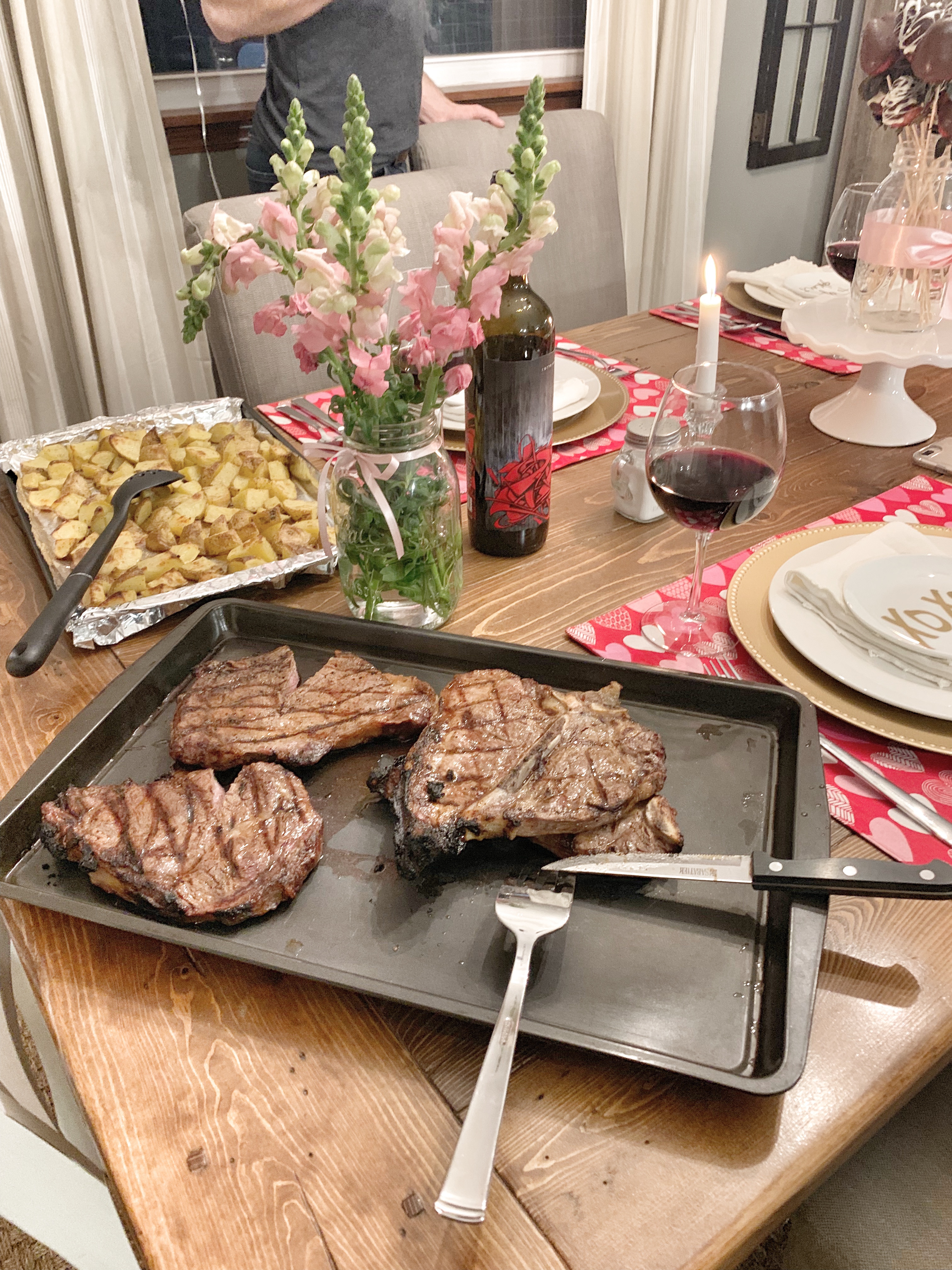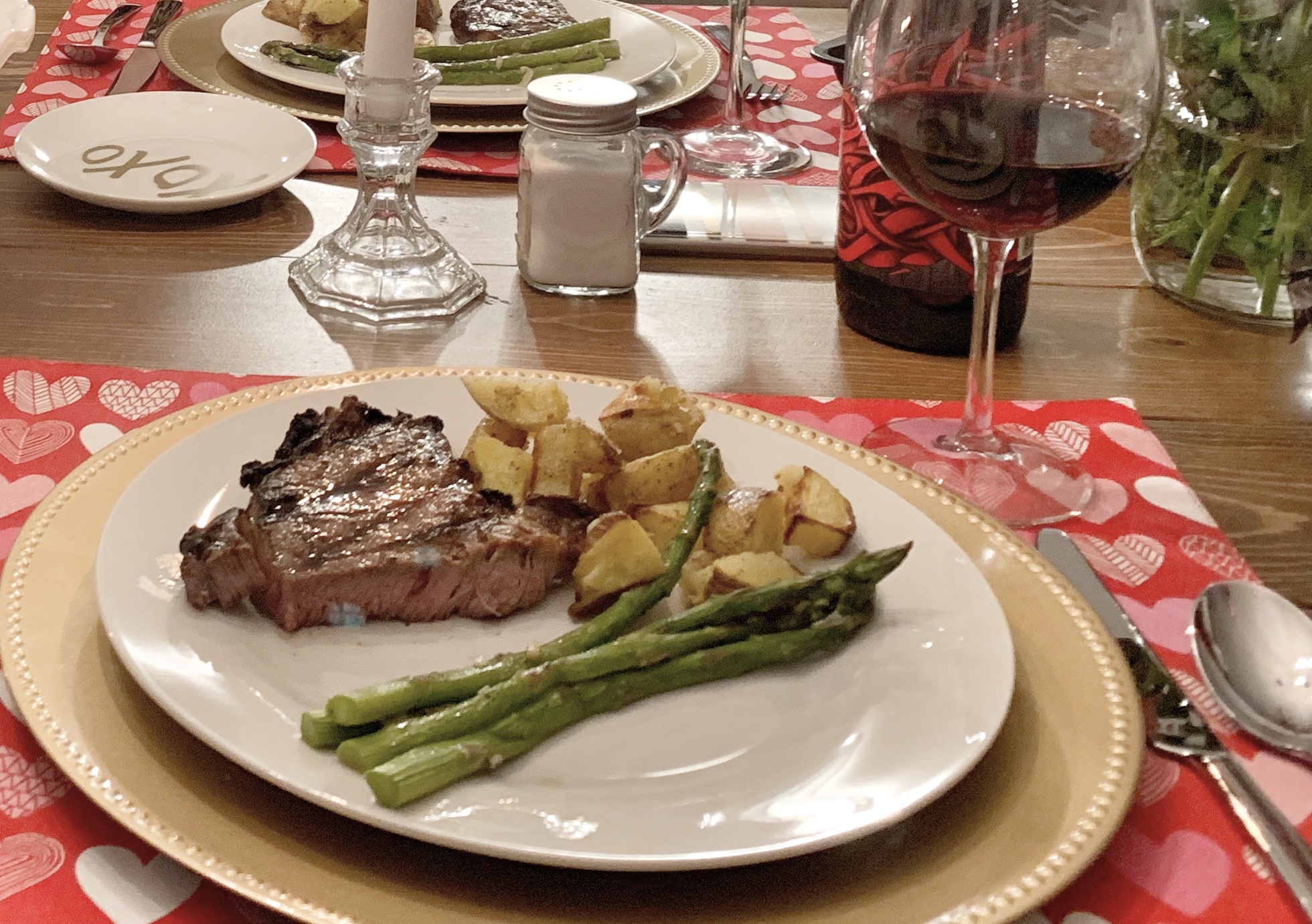 On the menu was our home-raised beef ribeye steaks, garlic parmesan potato wedges, and garlic parmesan asparagus. For dessert, my lovely friend brought some red velvet mixed berry cheesecake and hot fudge topping.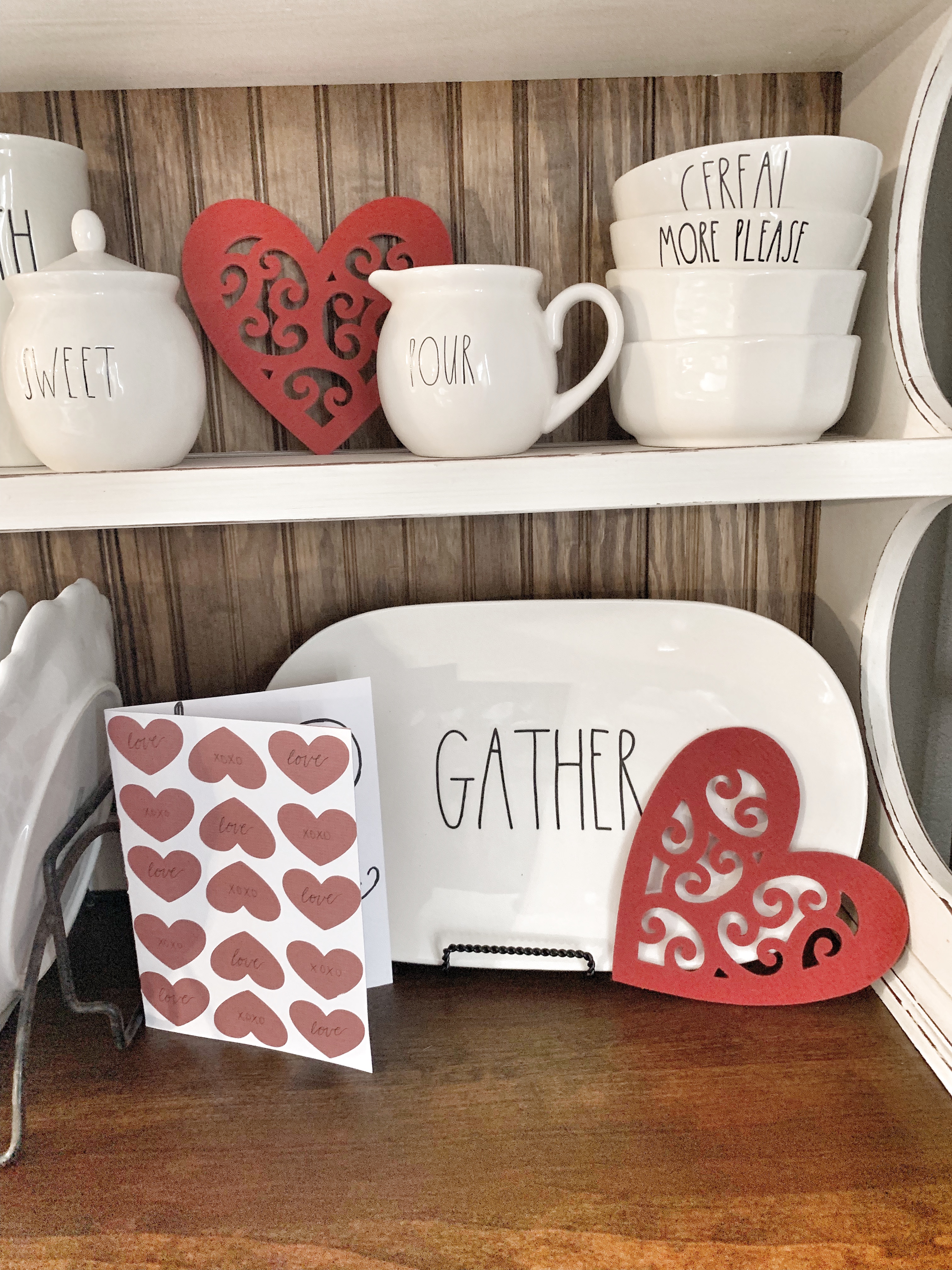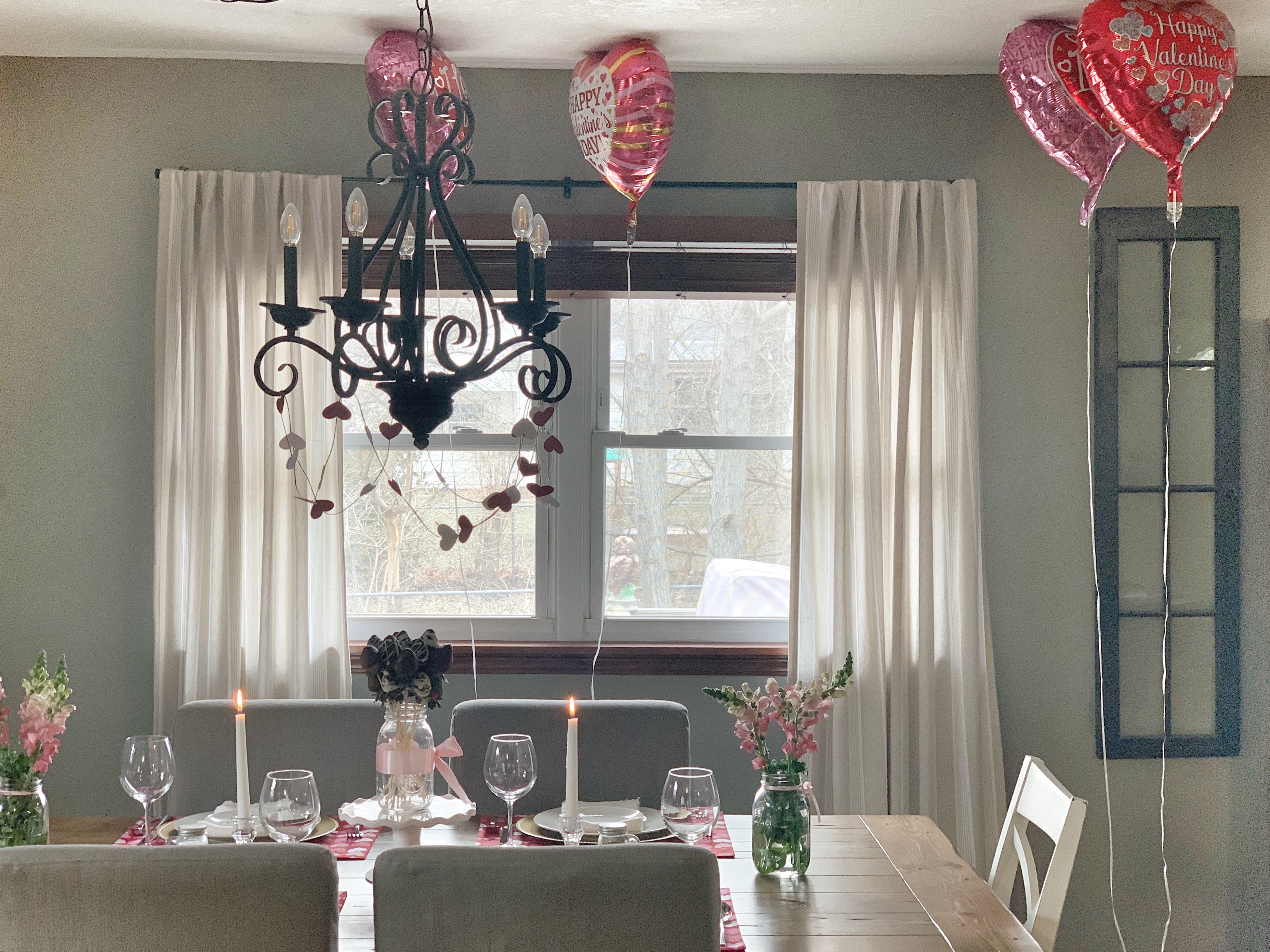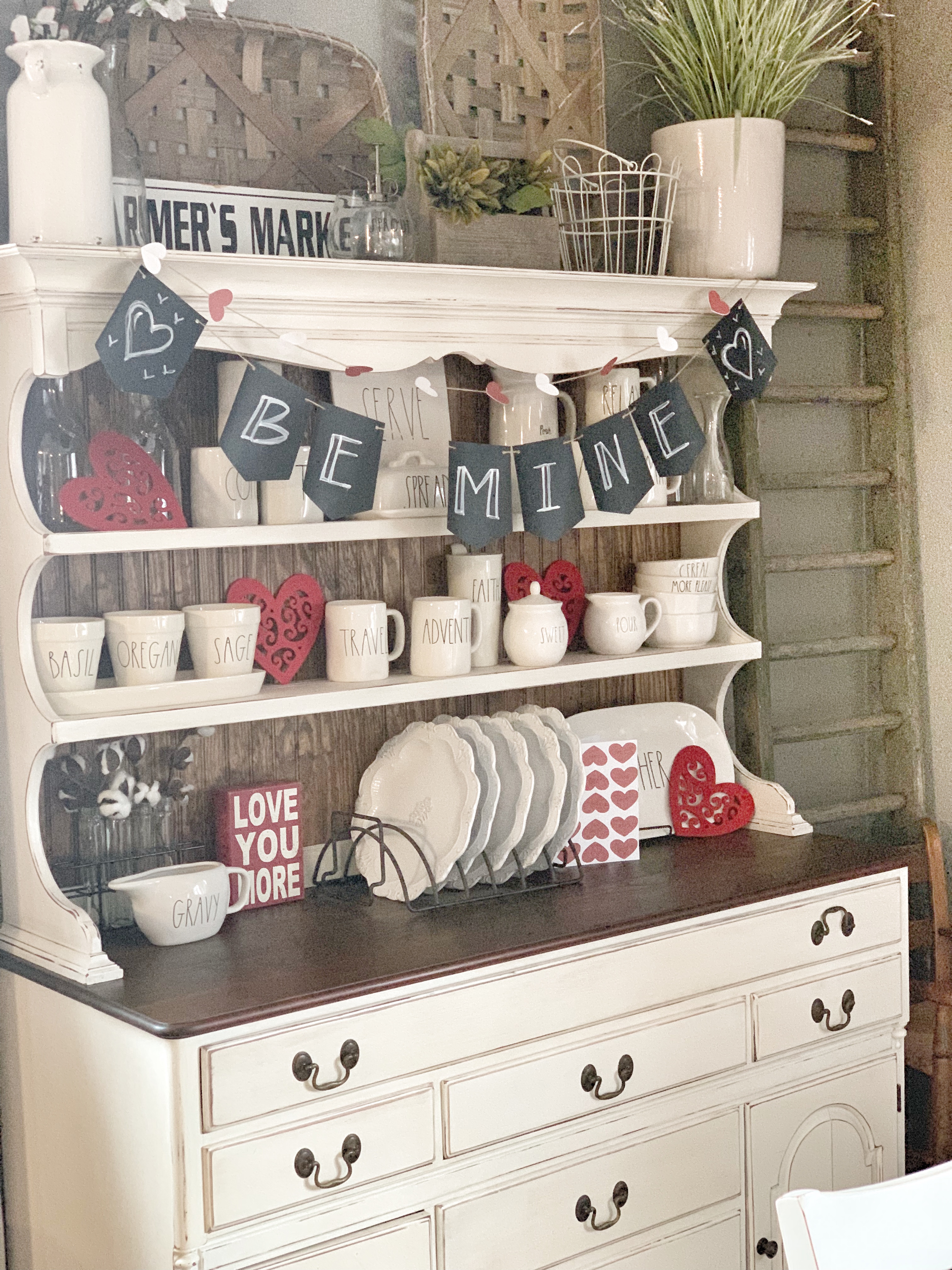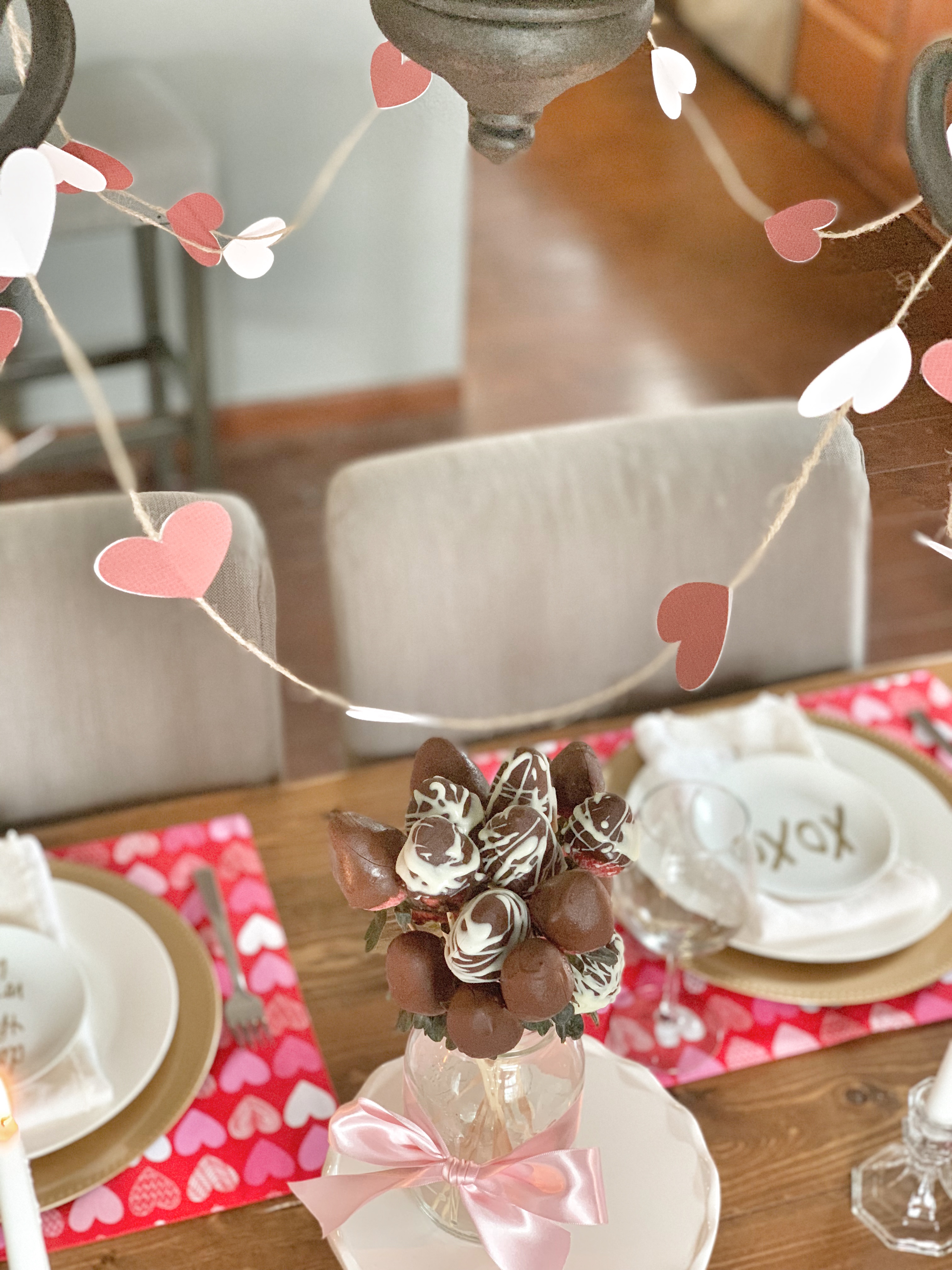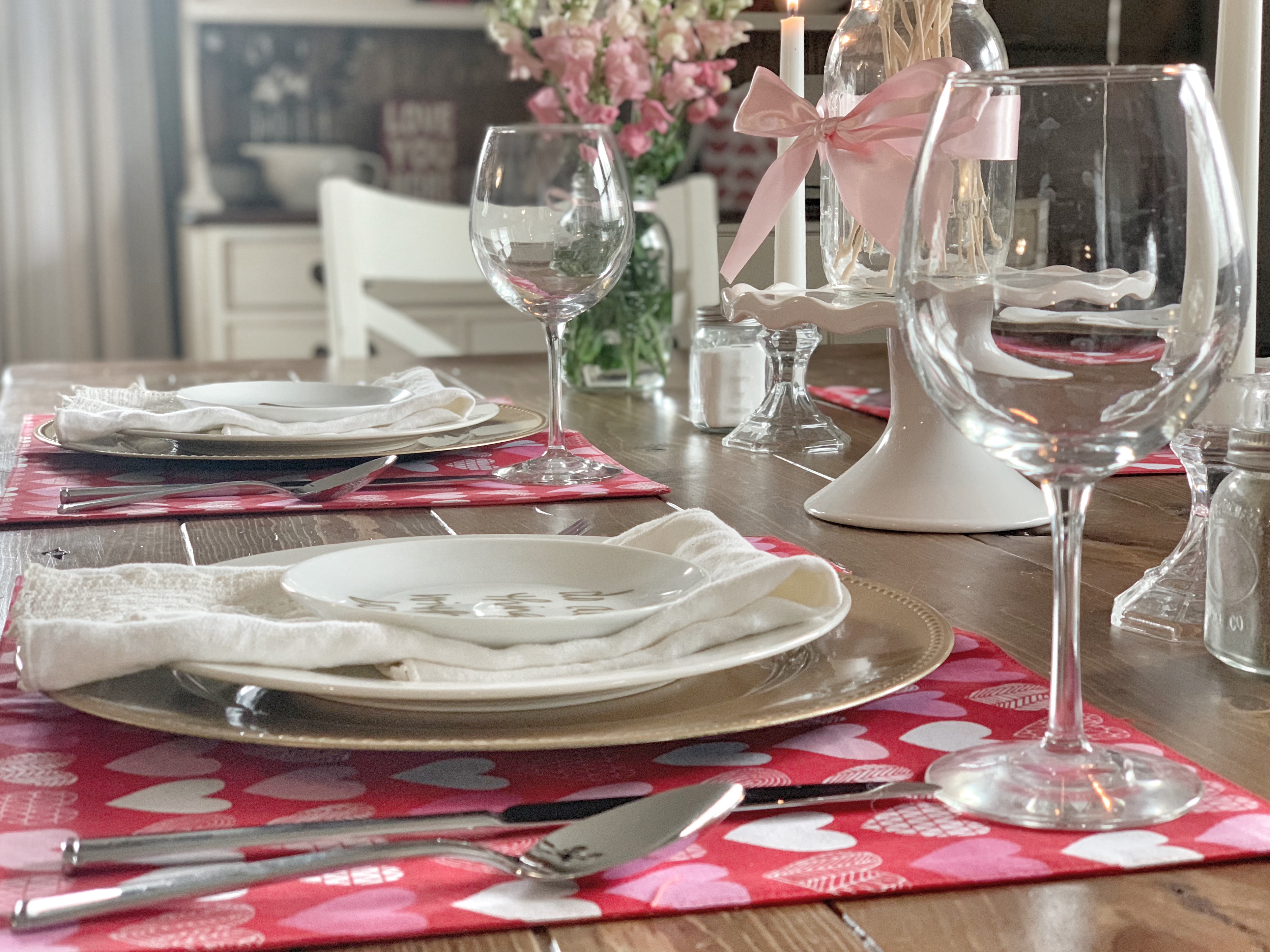 The table was beautiful, the food was delicious, and the company was amazing! I absolutely loved hosting this special Valentine's dinner and I hope this sparks some ideas for you to create a simply beautiful table setting for less! Adding different layers and textures really makes the table setting look more expensive! The trick is to find items that can be mixed and used for more than one occasion, and add in small themed or colored items to pull it together for that special holiday! Thanks so much for reading, and God bless!
XOXO
ASHLEY DIANN