Do you have a piece of furniture you want to refinish, but you're not sure what to do with it? Maybe it's a family heirloom, or something you picked up at a thrift store. If you're anything like me, you change your mind a lot! My original plans for this cabinet completely changed even after I started working on it…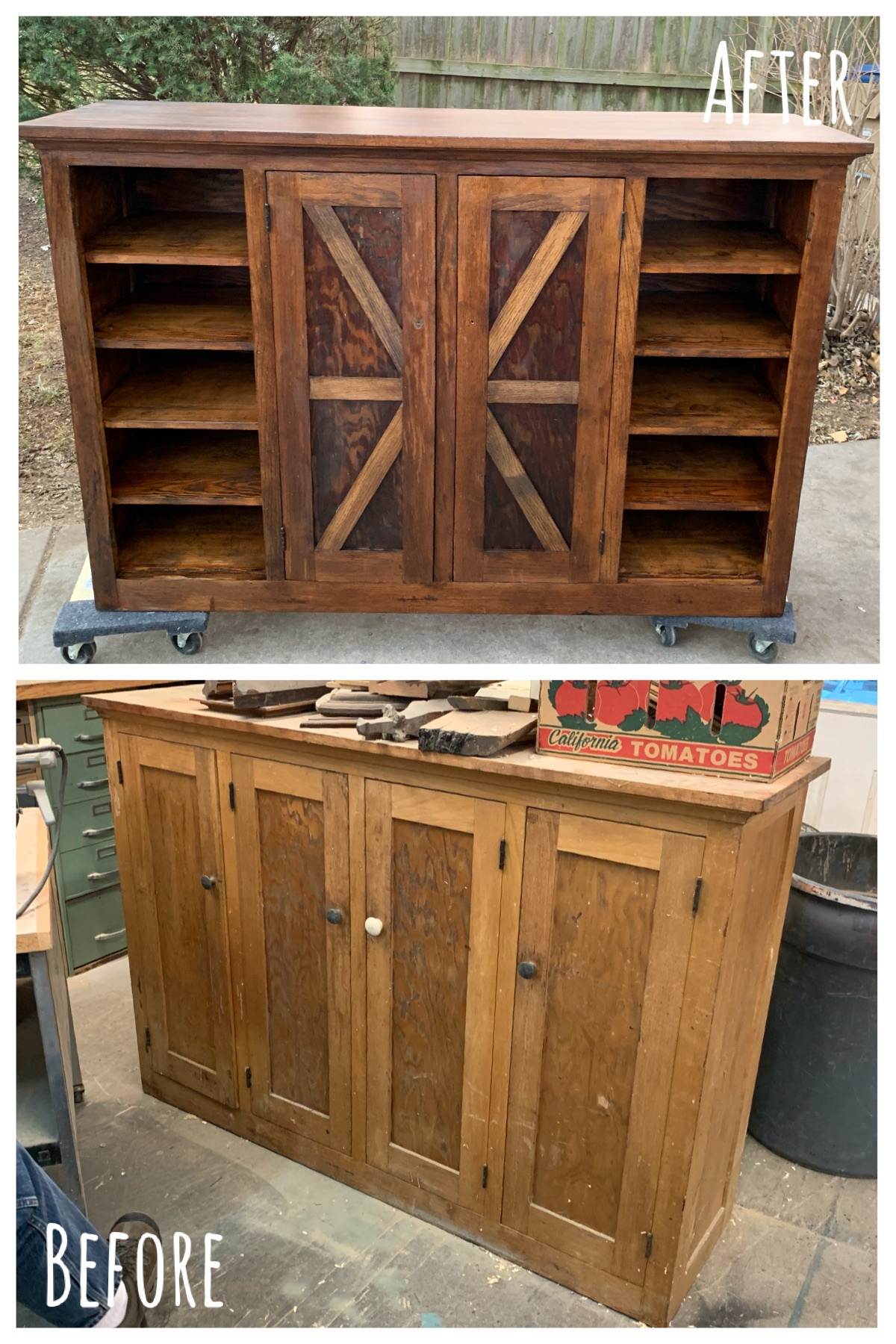 This piece is an antique and came from an estate sale. My dad actually purchased it for himself and then changed his mind. After weeks of seeing it in his house, I finally decided it needed to come live with me!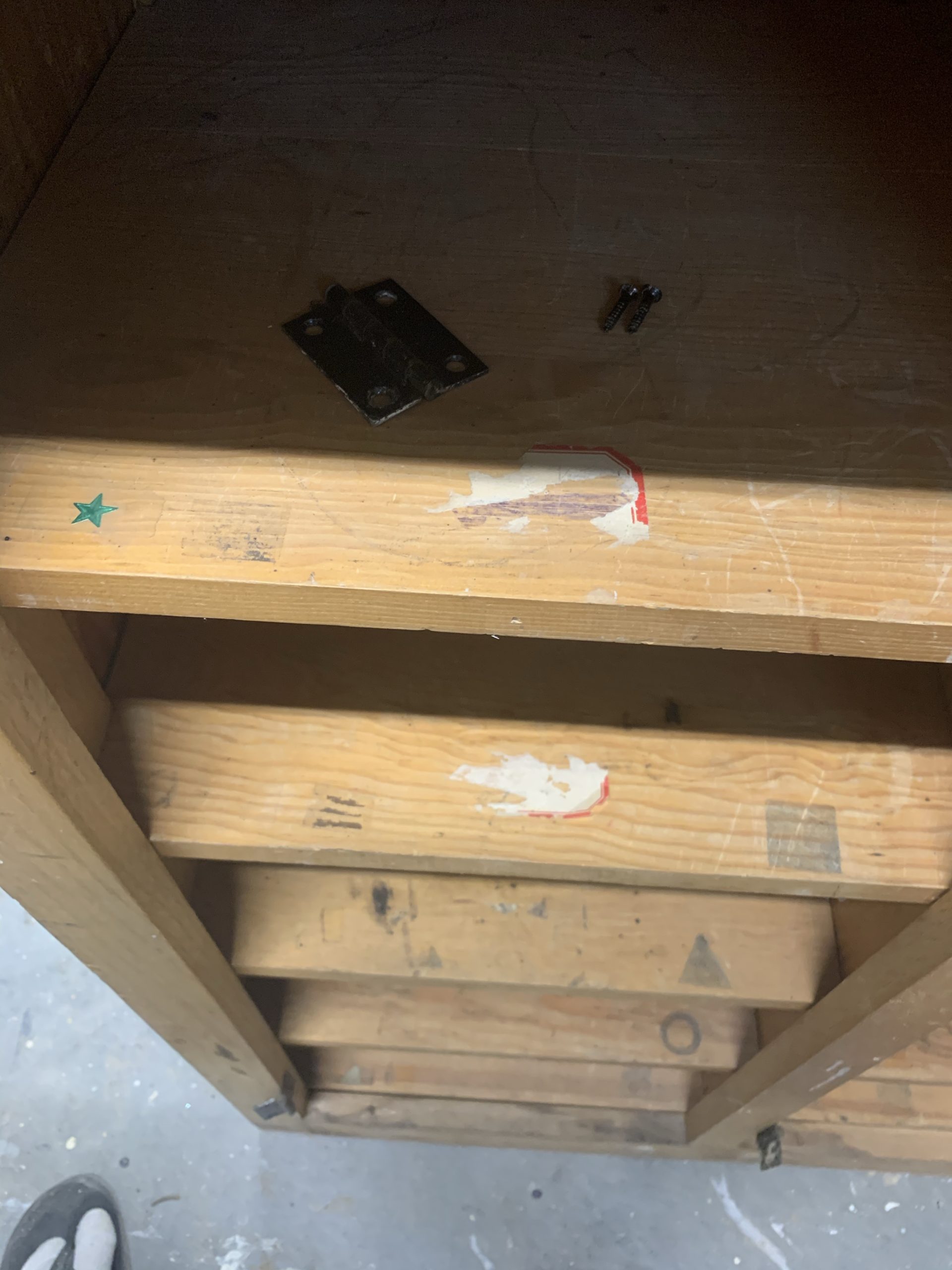 I bought it from him for $125, (which is more than I would normally pay if I was going to flip and sell something). Since I planned on keeping it for myself, however, I spent a little more.
Most people would have overlooked it, honestly. But I saw the potential! The whole thing (even the backing) is solid oak. The cubby shelves are all fixed and the doors are inset, making this a rare find as far as quality and construction! It also didn't have a finish, which makes it super easy to refurbish.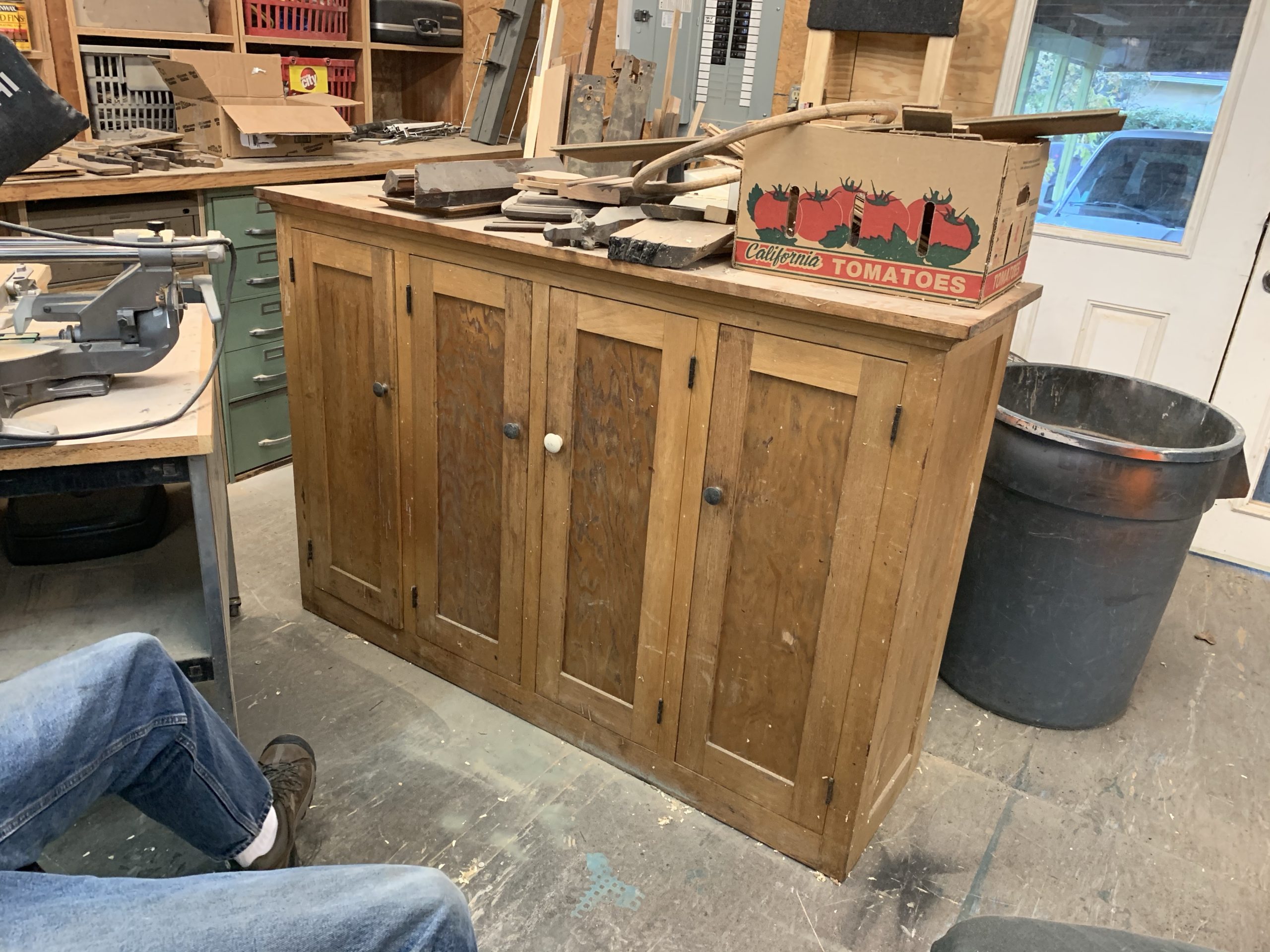 Someone had apparently turned this nice cabinet into garage storage. It was in decent shape, but needed some TLC.
My original plan was to paint it and use it as a tv stand in our basement. I loved the look of having open shelving on the sides so much that I decided to go a completely different direction and stain the whole thing, and use it somewhere else…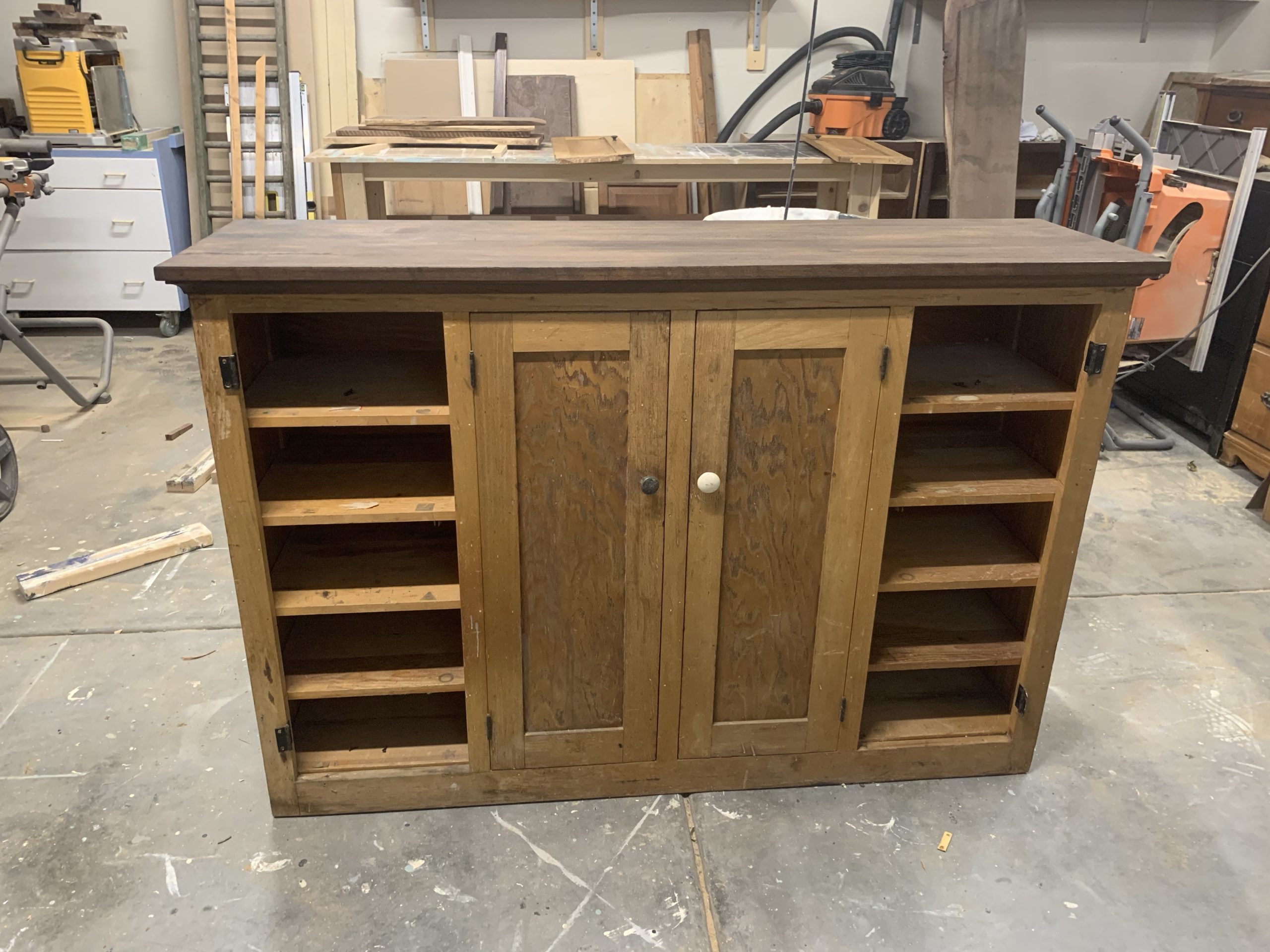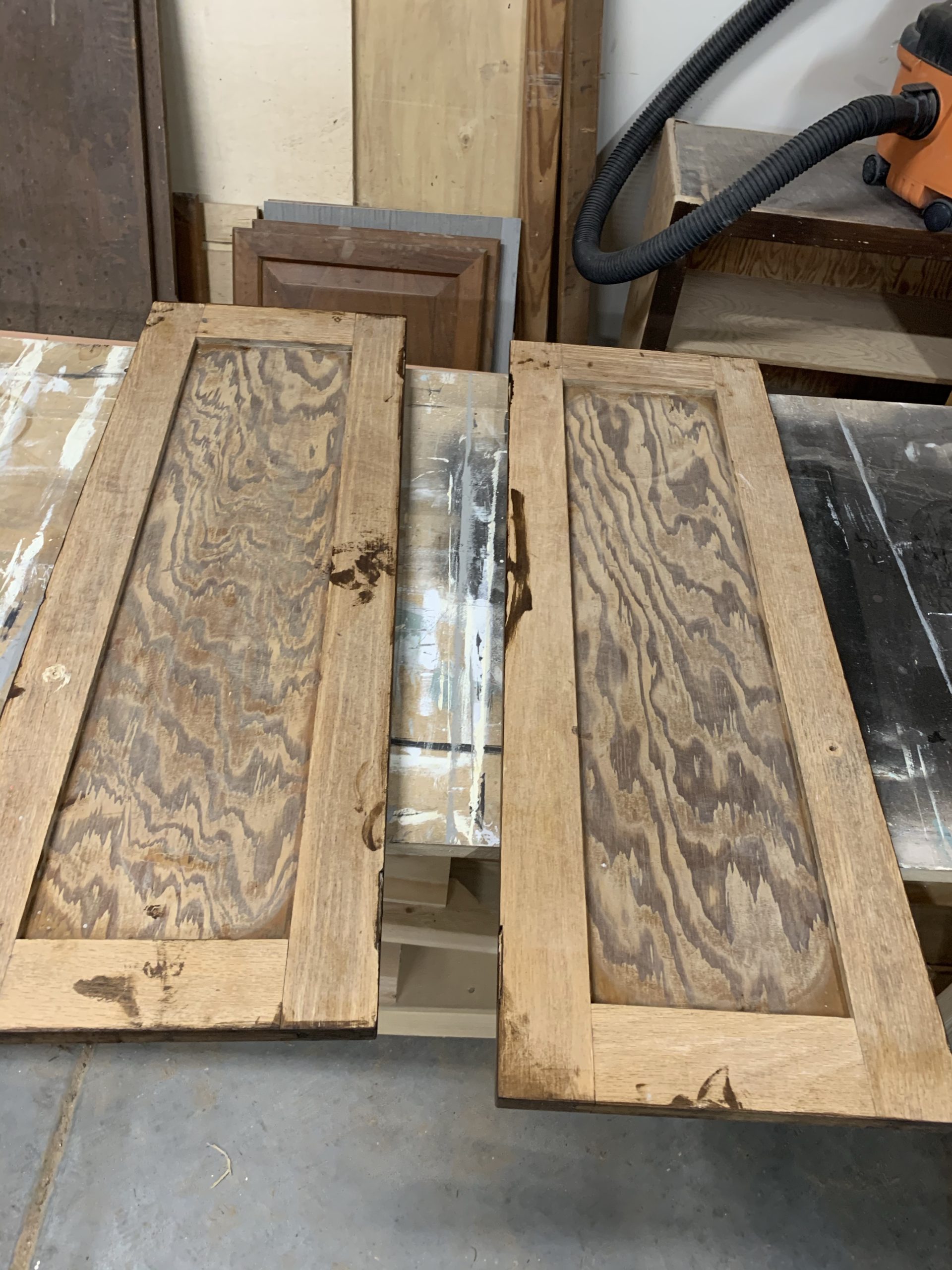 I have wanted a coffee/wine bar for a long time, but I hadn't found the right piece yet (until now)… this cabinet was perfect, or rather it would be when I was finished with it!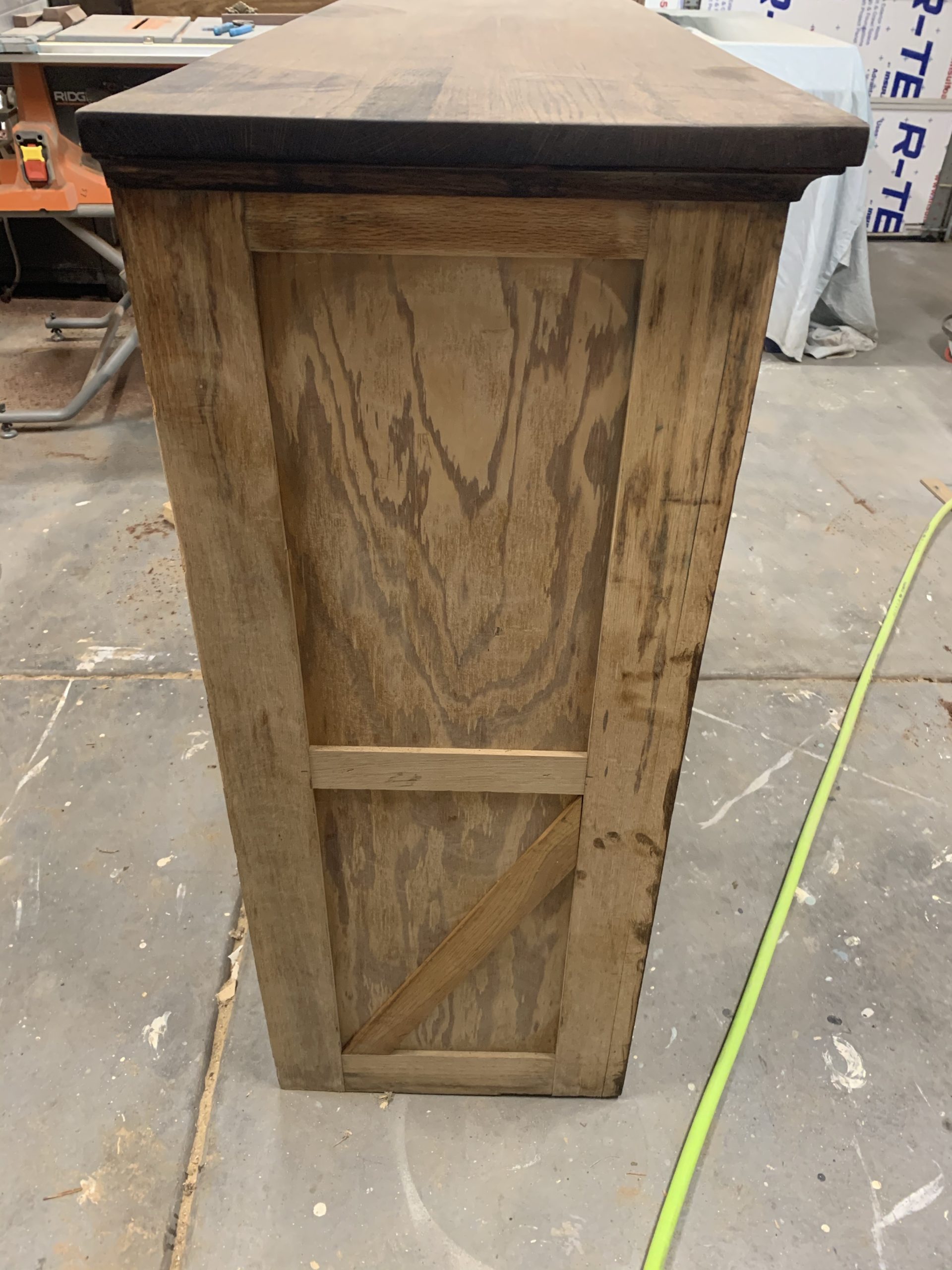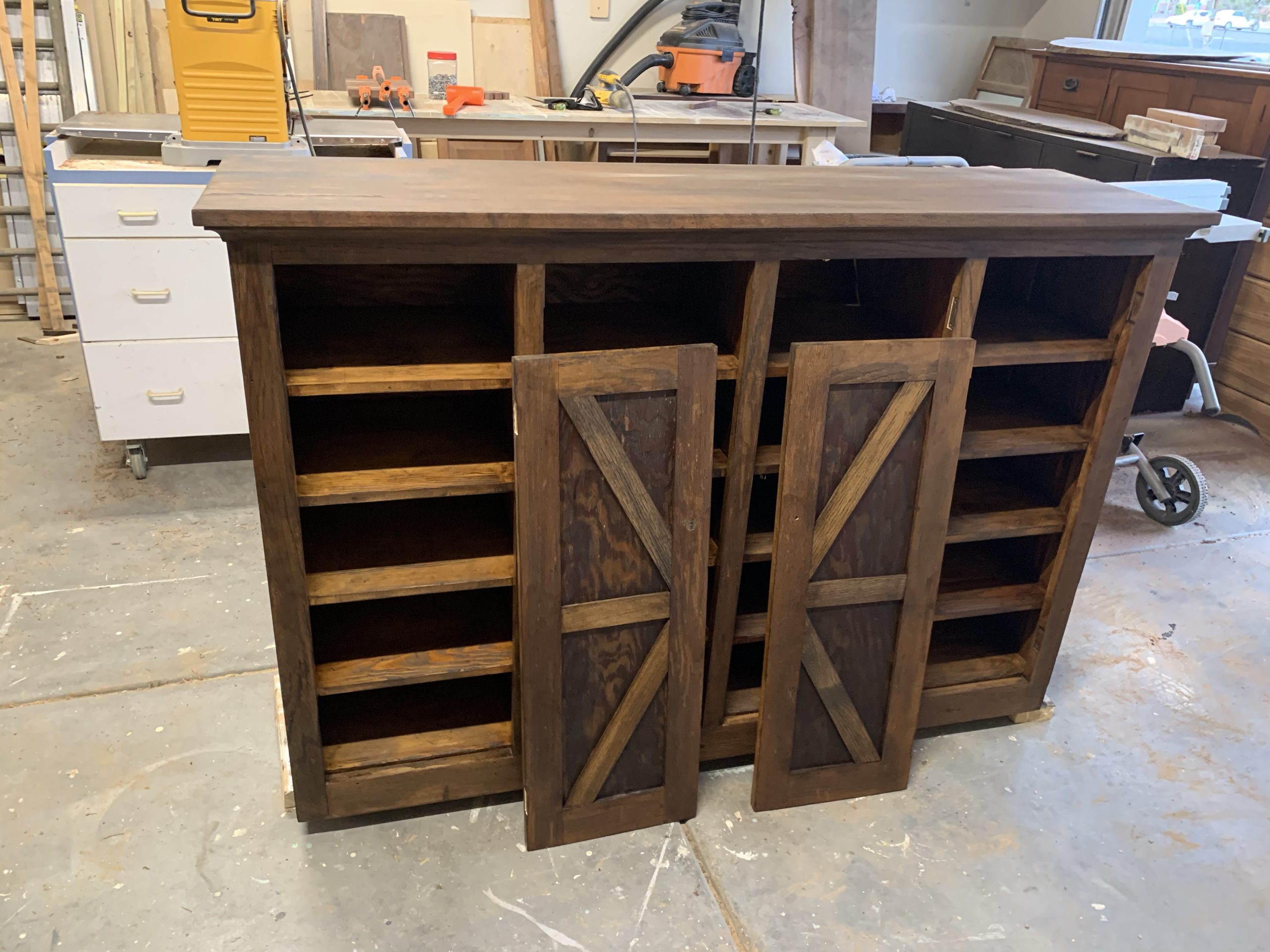 I removed the doors on the far left and right, then added the barn door detail to the middle doors and sides of the cabinet. I stained everything, including the inside of all the cubbies (yes it took forever, but totally worth it)! I sealed everything with satin polycrylic, and added new hardware.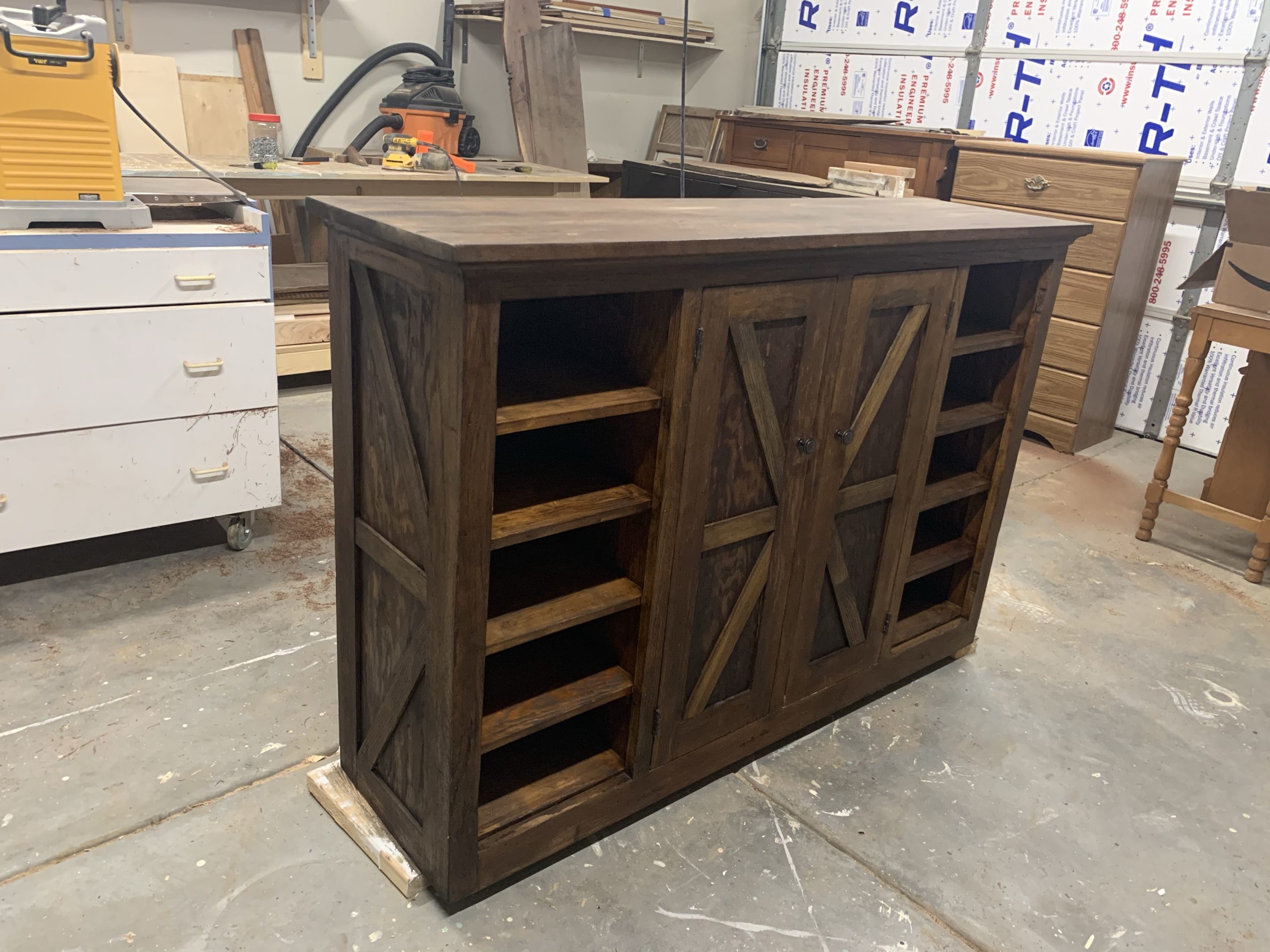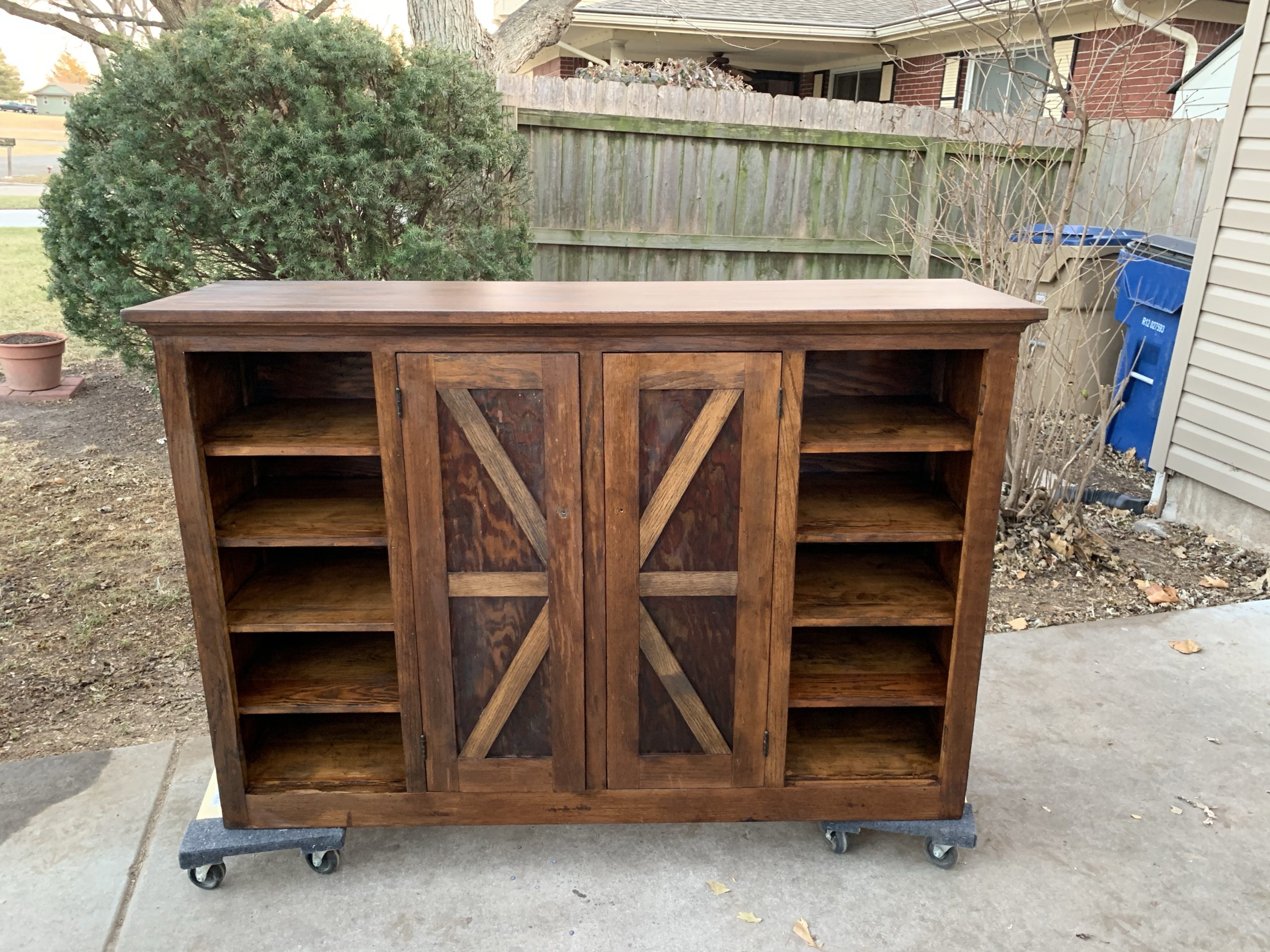 I bought some wooden crates to go in some of the cubbies, and I stained them to match. These are perfect to hide my K-cups, tea bags, and I even use one as a trash bin.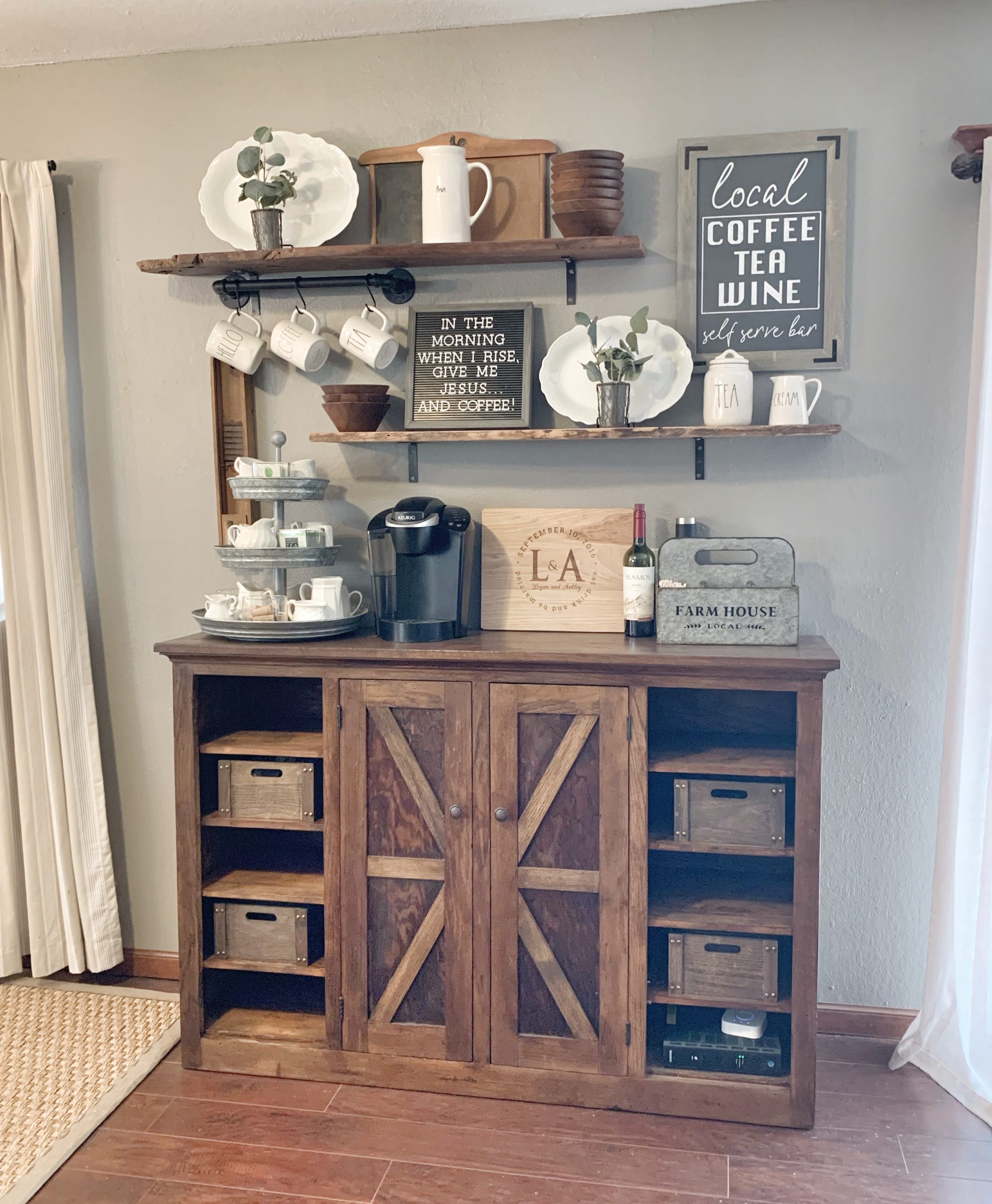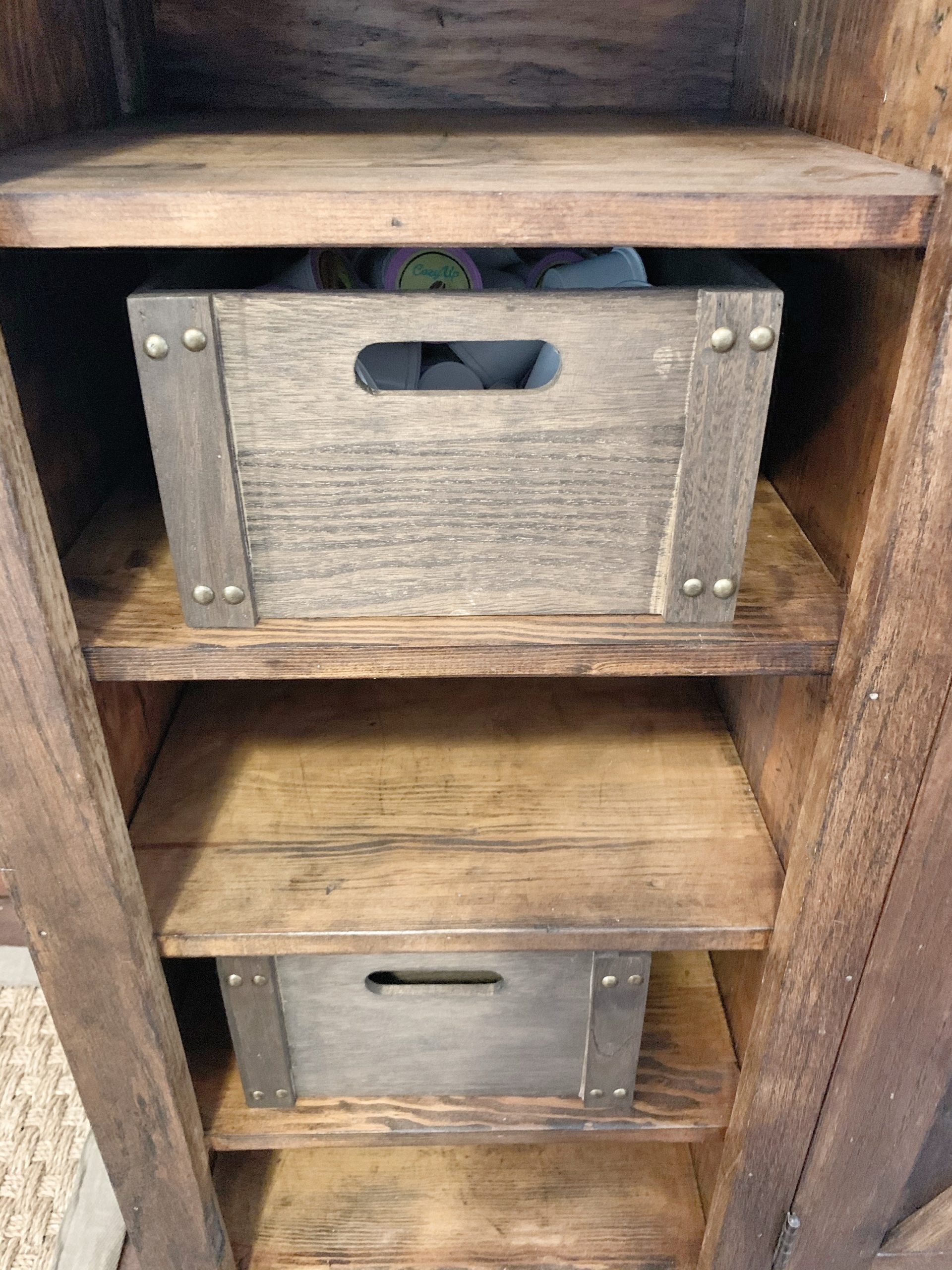 In the other open cubbies, I plan to grow my wine collection (; and probably build custom wine bottle storage (that's for another post).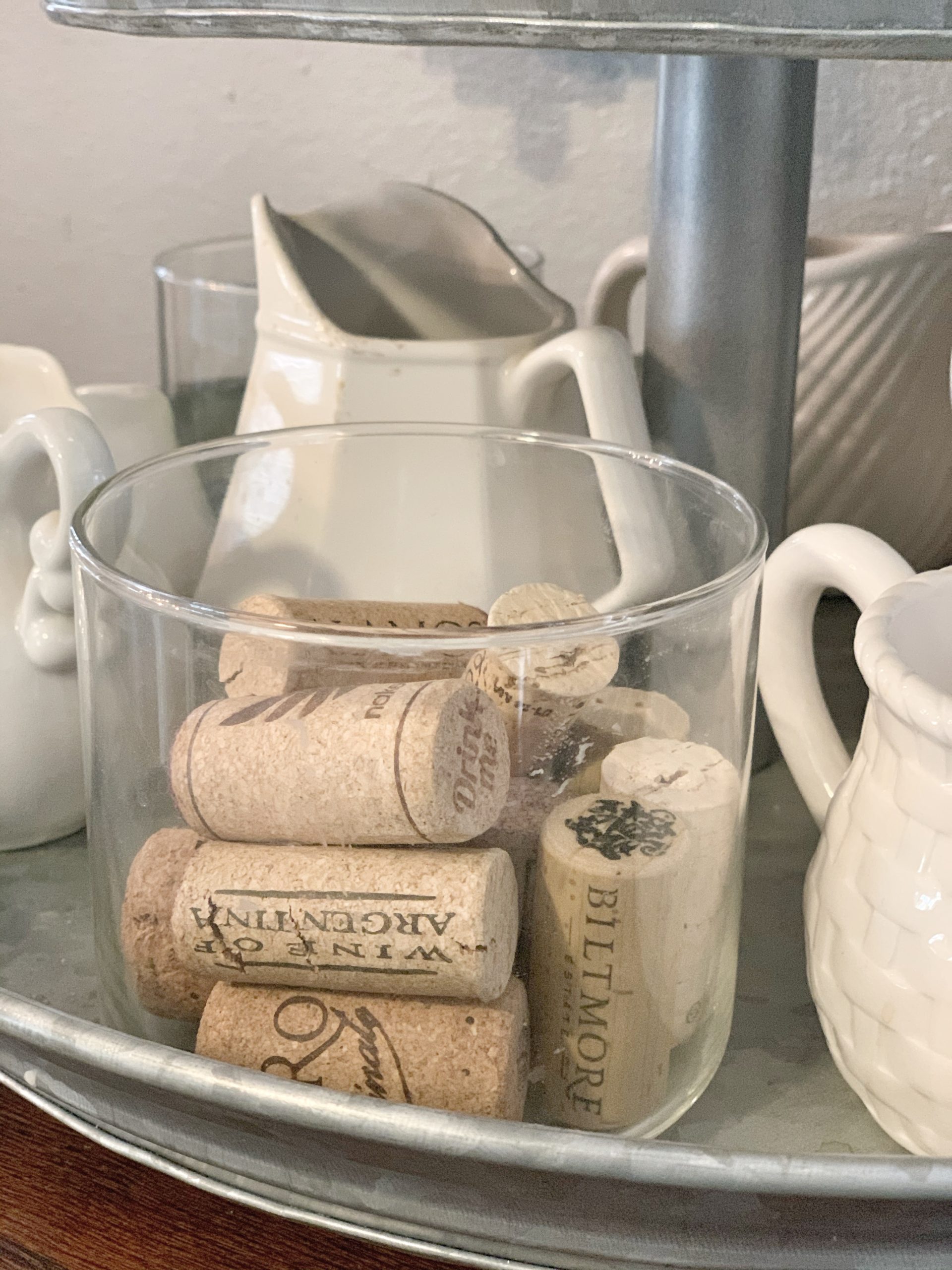 The inside of the cabinet is excellent storage for our coffee mugs, wine glasses and other items that I want to stay hidden.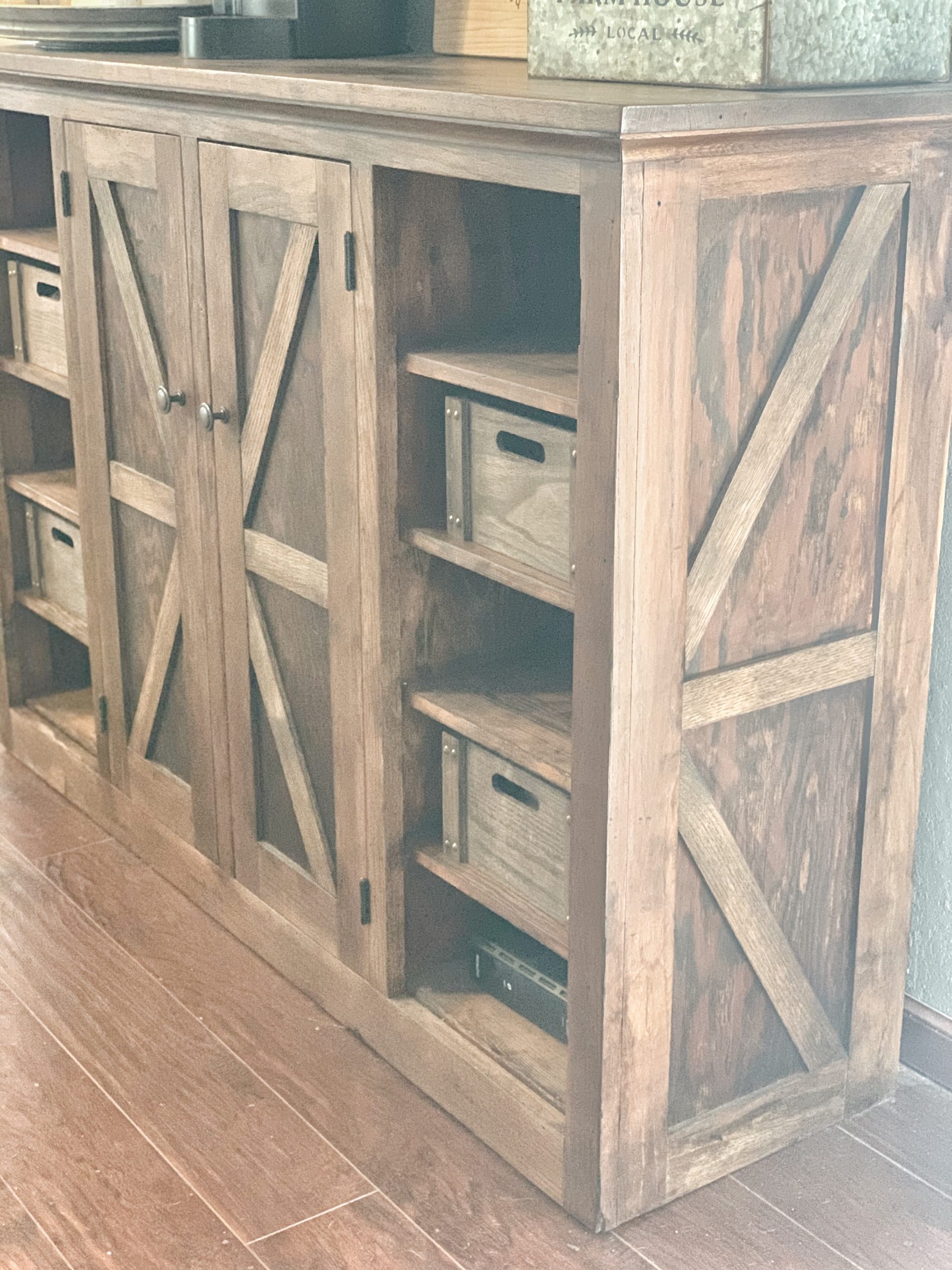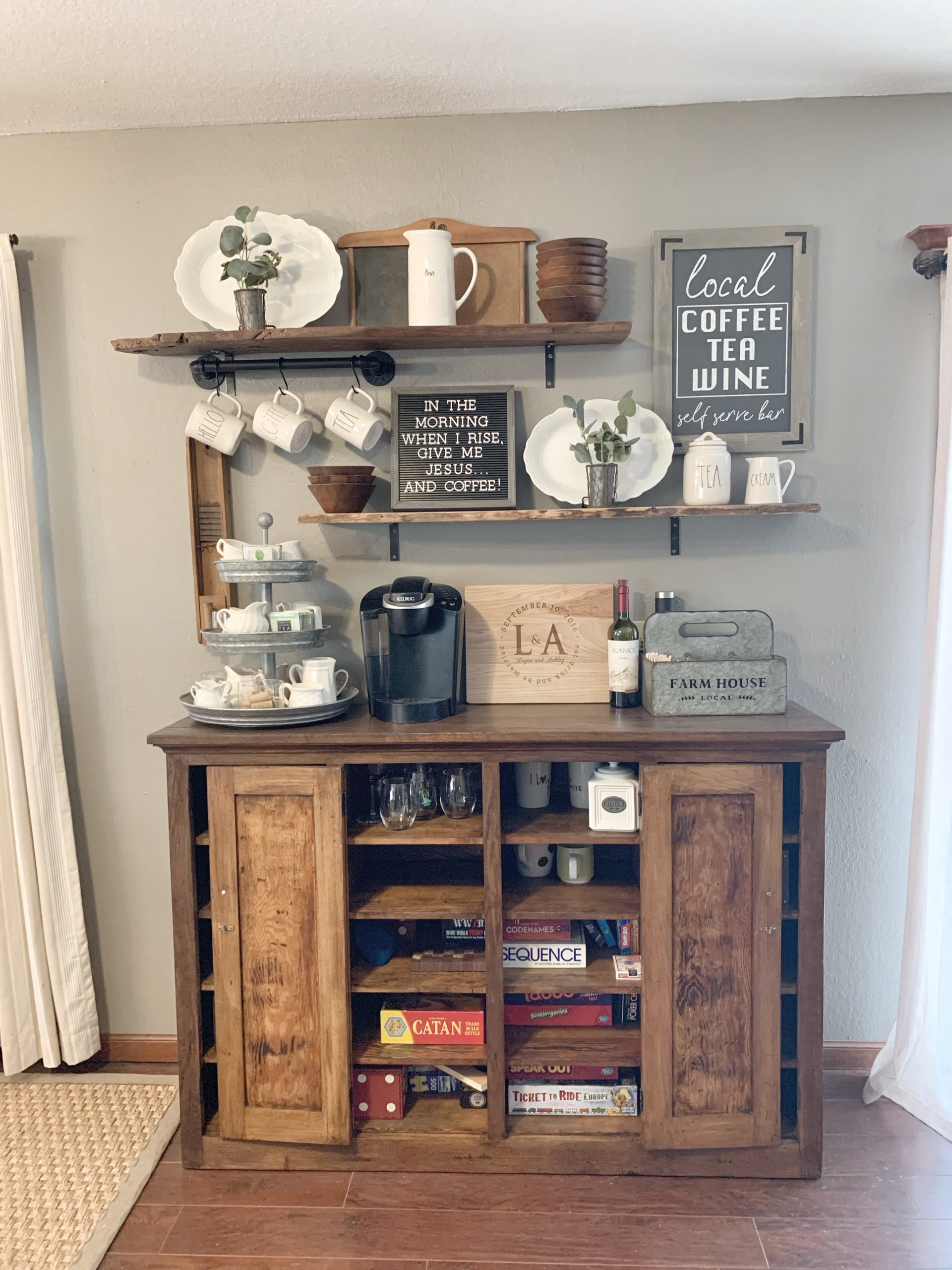 Last but not least, we used some live-edge walnut we had as shelves to go above it. Logan had the idea to off-set the shelves, and I think it adds a lot of visual interest! I custom-made the "coffee/tea/wine" sign, and aside from that, the decor is mostly stuff I've picked up from estate sales or gifts that we got for our wedding.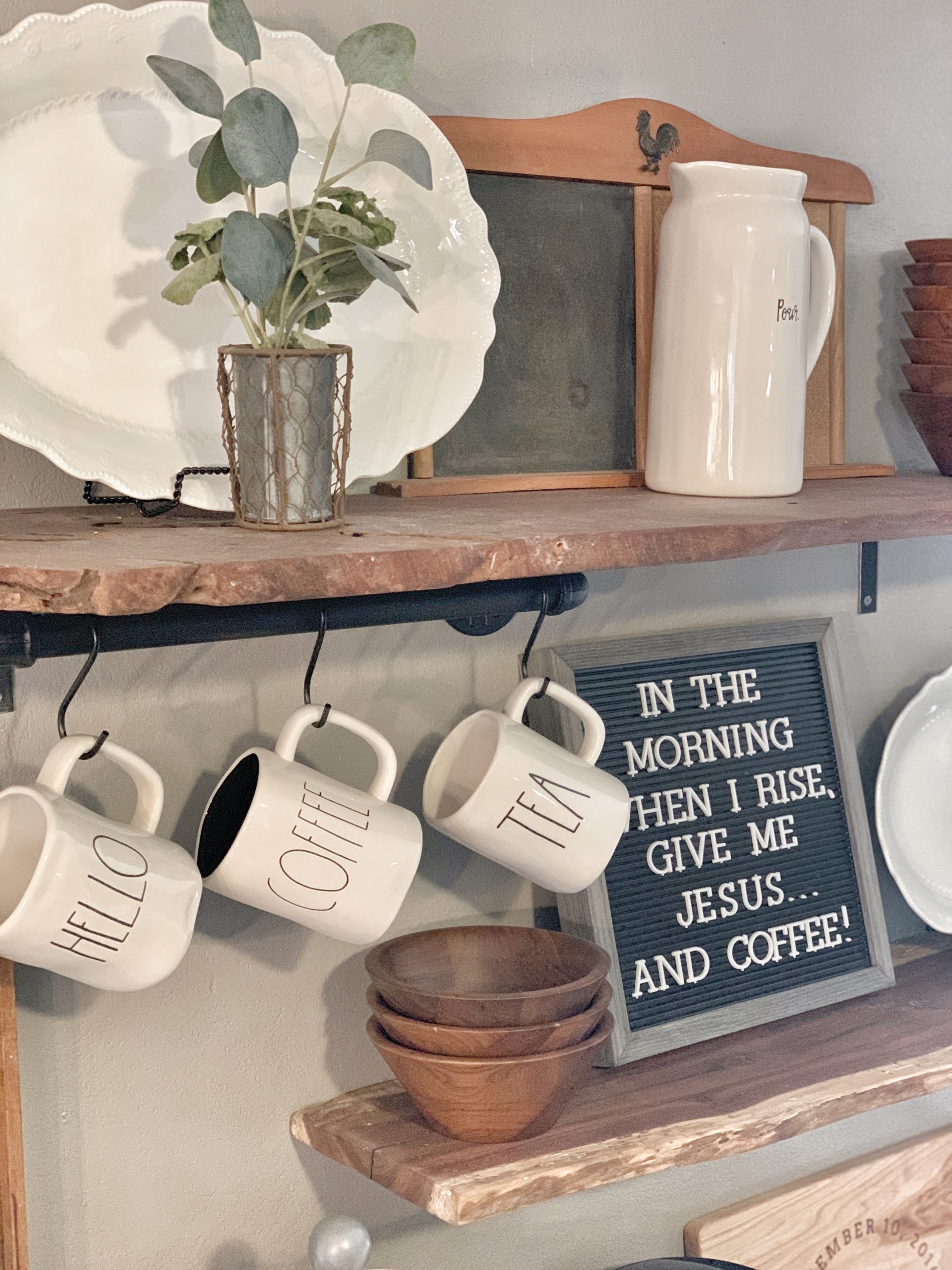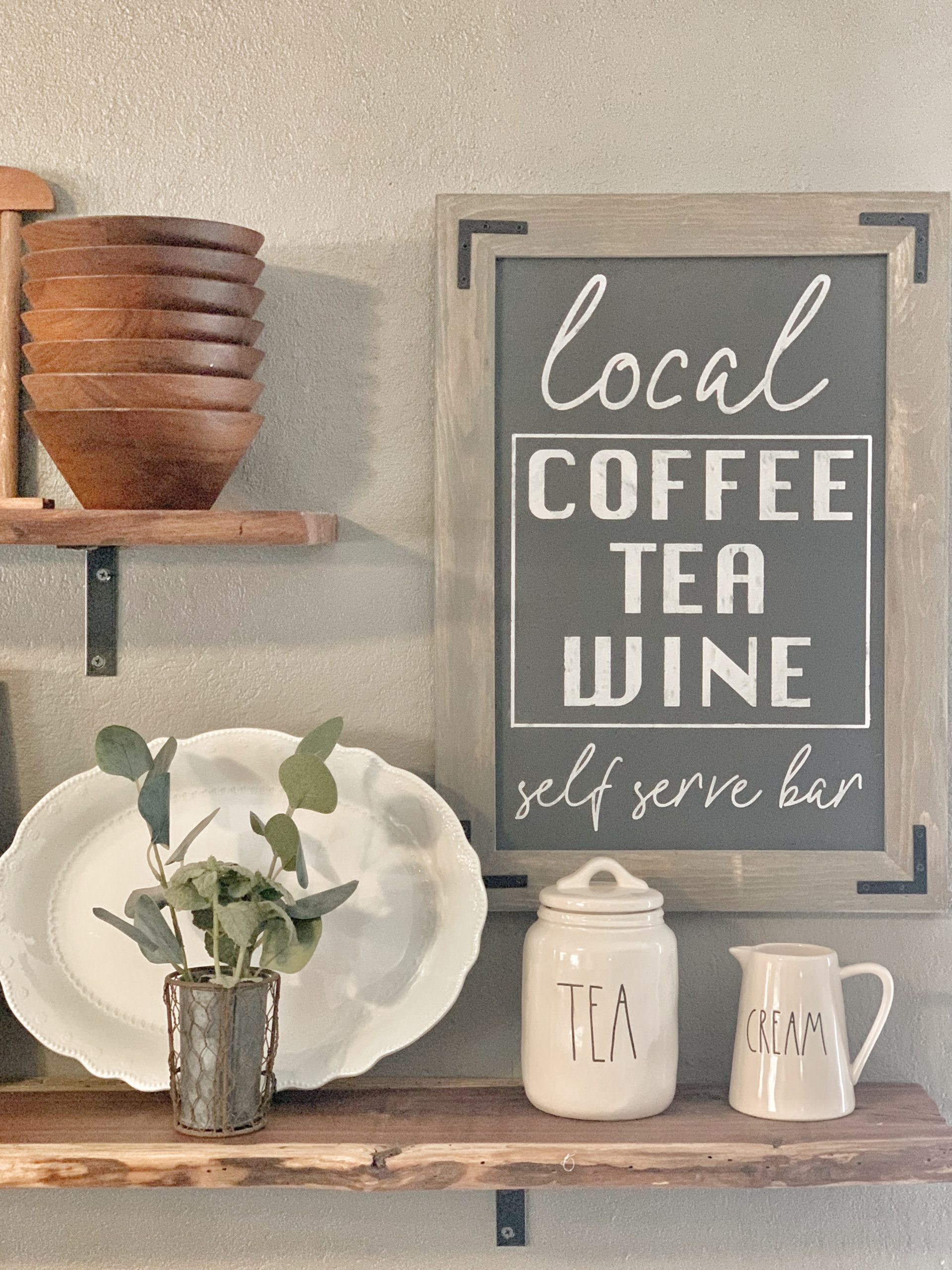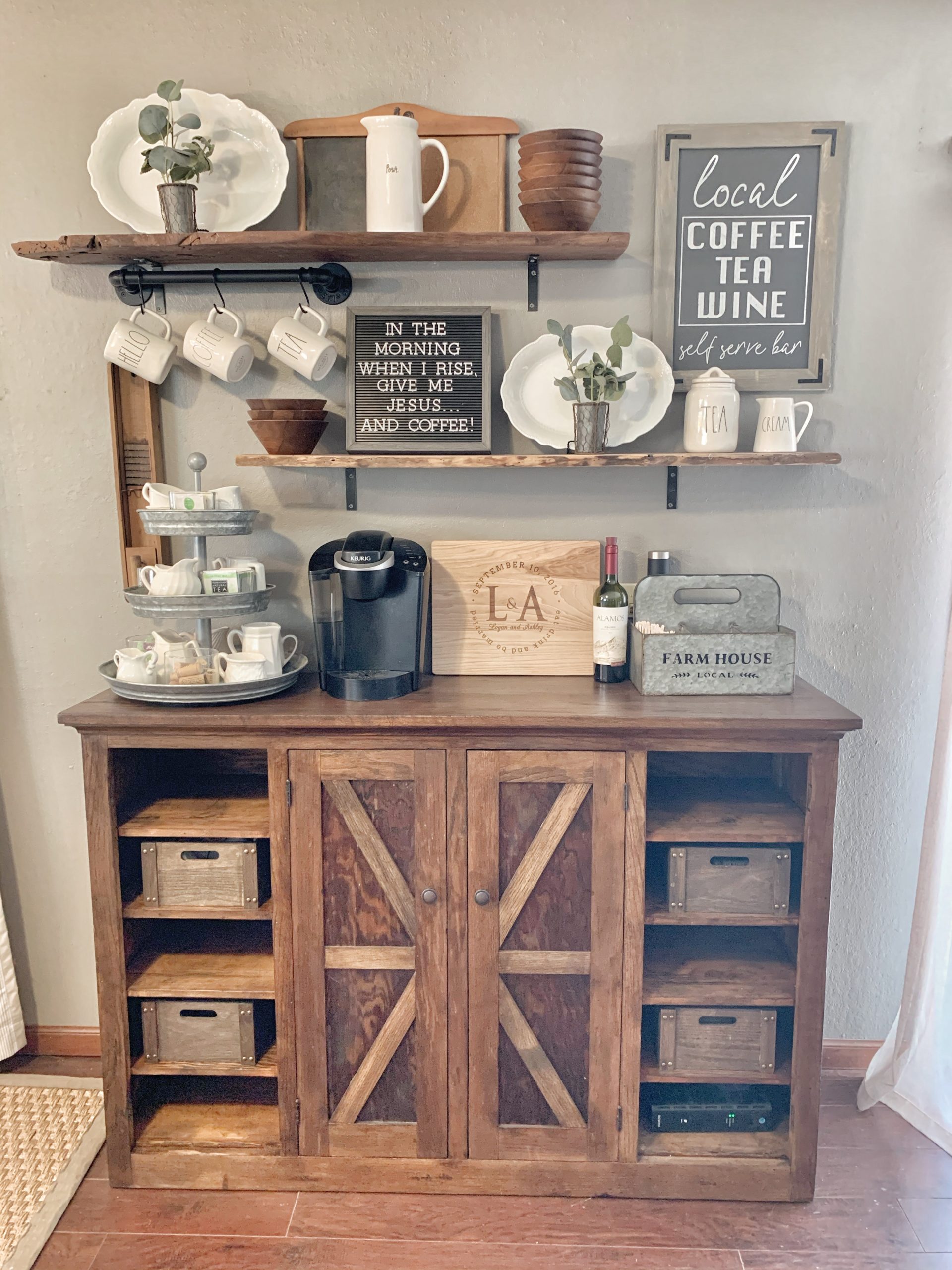 I just love how everything came together with the coffee/wine station. Even though this is not what I originally envisioned for this piece, it's so practical, and turned out even better than I expected!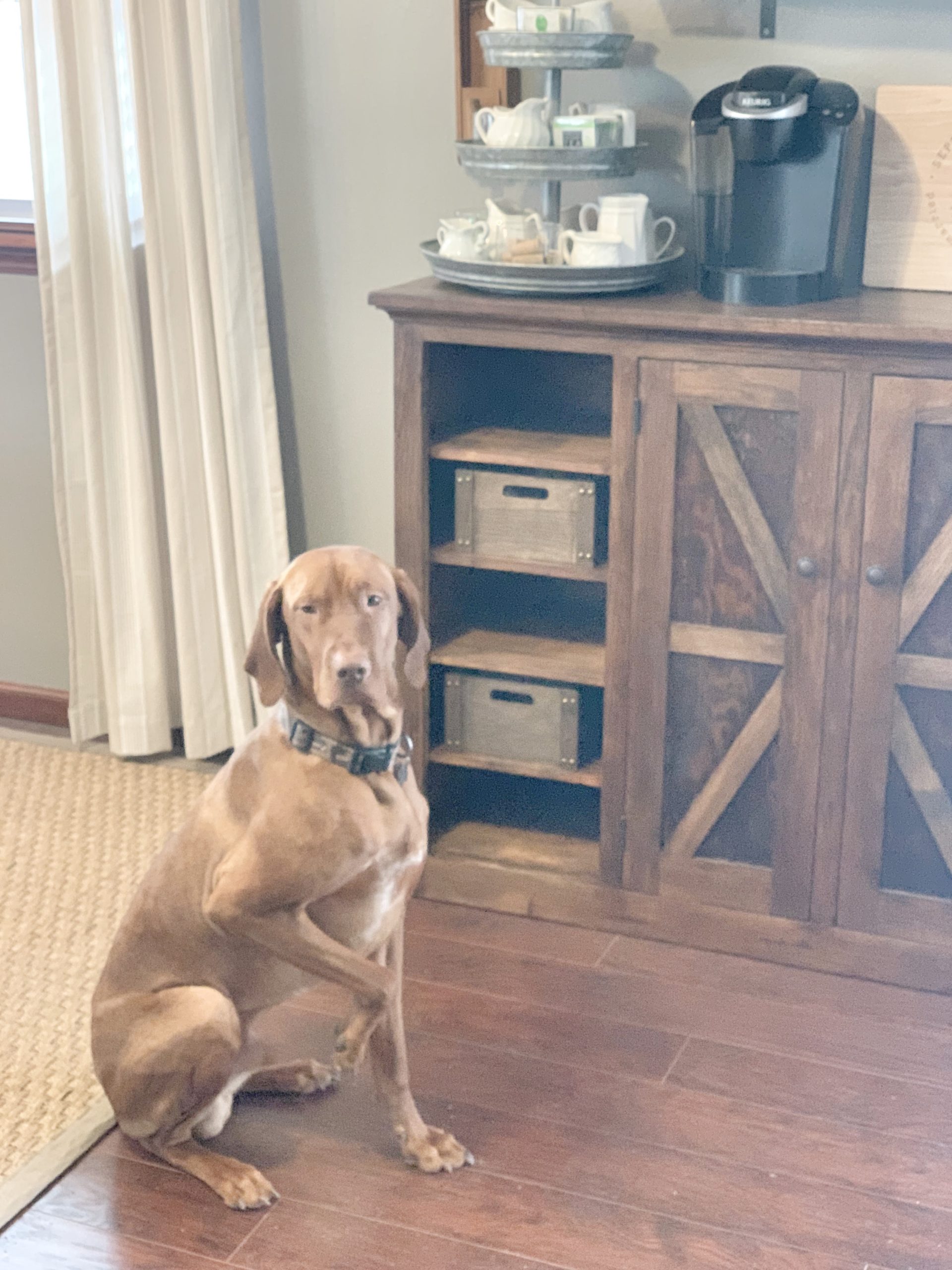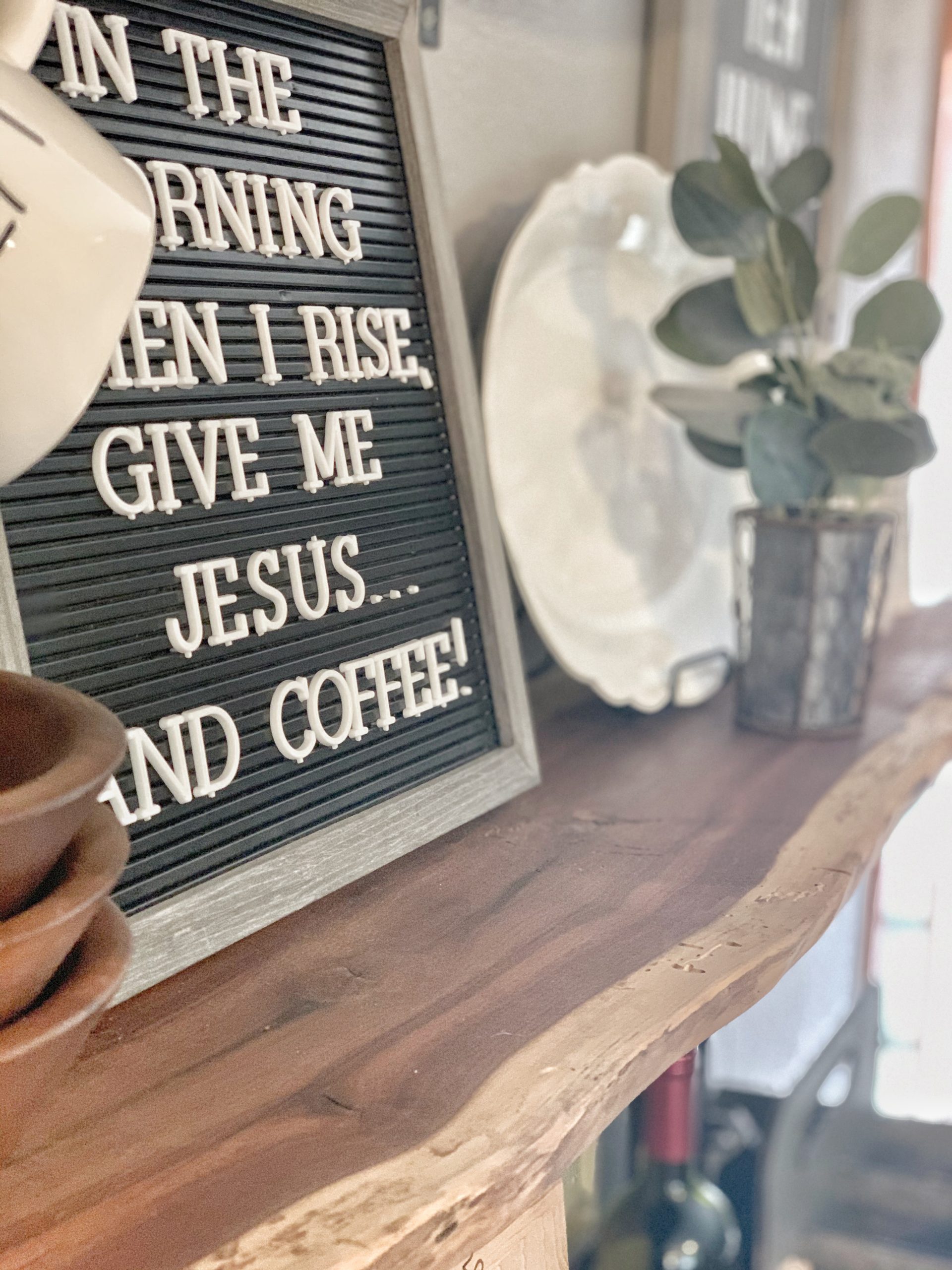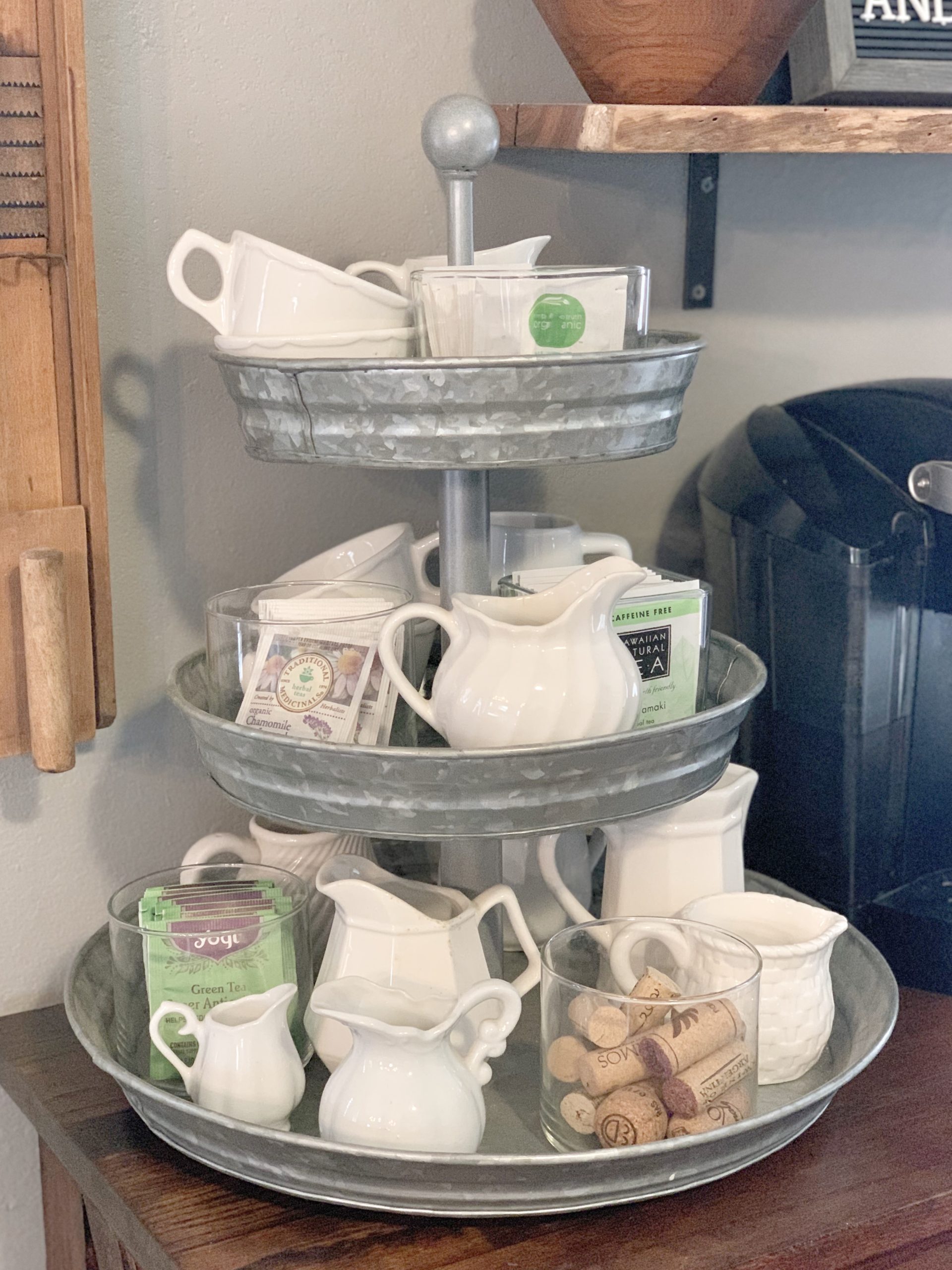 Don't just let that project piece collect dust in your garage! Consider taking some time this weekend, think outside the box, take the doors off, paint it a different color, or add some trim detail. Who knows, you might even surprise yourself with what you come up with! Thanks so much for reading, God bless!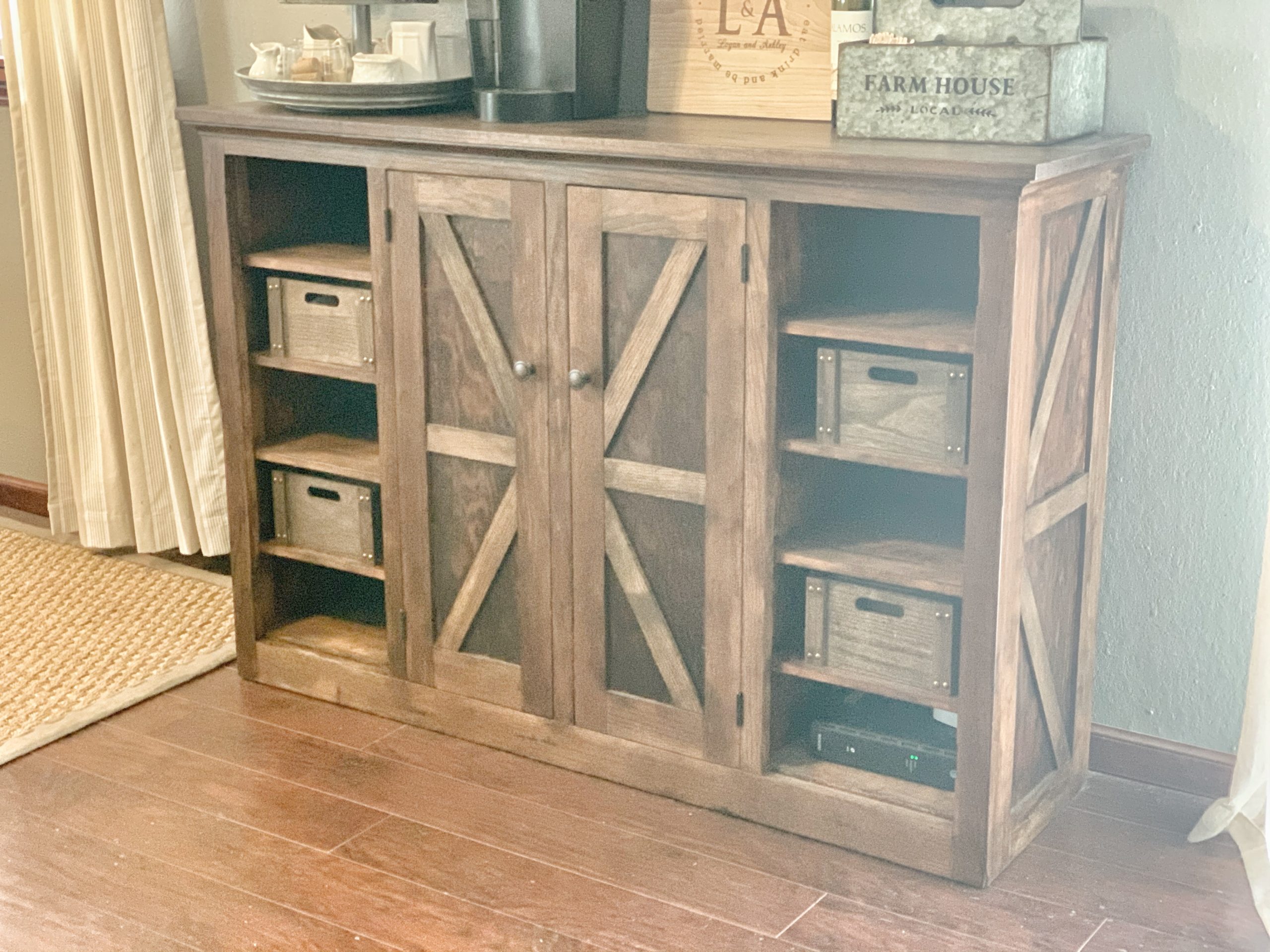 XOXO
ASHLEY DIANN