We have officially lived in our home for ONE YEAR (November 1st), and I feel very blessed! Countless memories have been made with friends and family, and I wouldn't trade those for anything! I've been reflecting on all the projects we have tackled this last year to make this house our home, and I look forward to the ones we will take on next year.
In fact, I didn't even wait until next year to start! One project I have been wanting to do since we moved in is refurbish our entertainment center/fireplace combo. This piece of furniture came with our house, and I was pretty excited about it when we moved in! Even though it wasn't a real fireplace (something I've always wanted), it was the closest thing I have ever had to one, and it also functions as our entertainment center!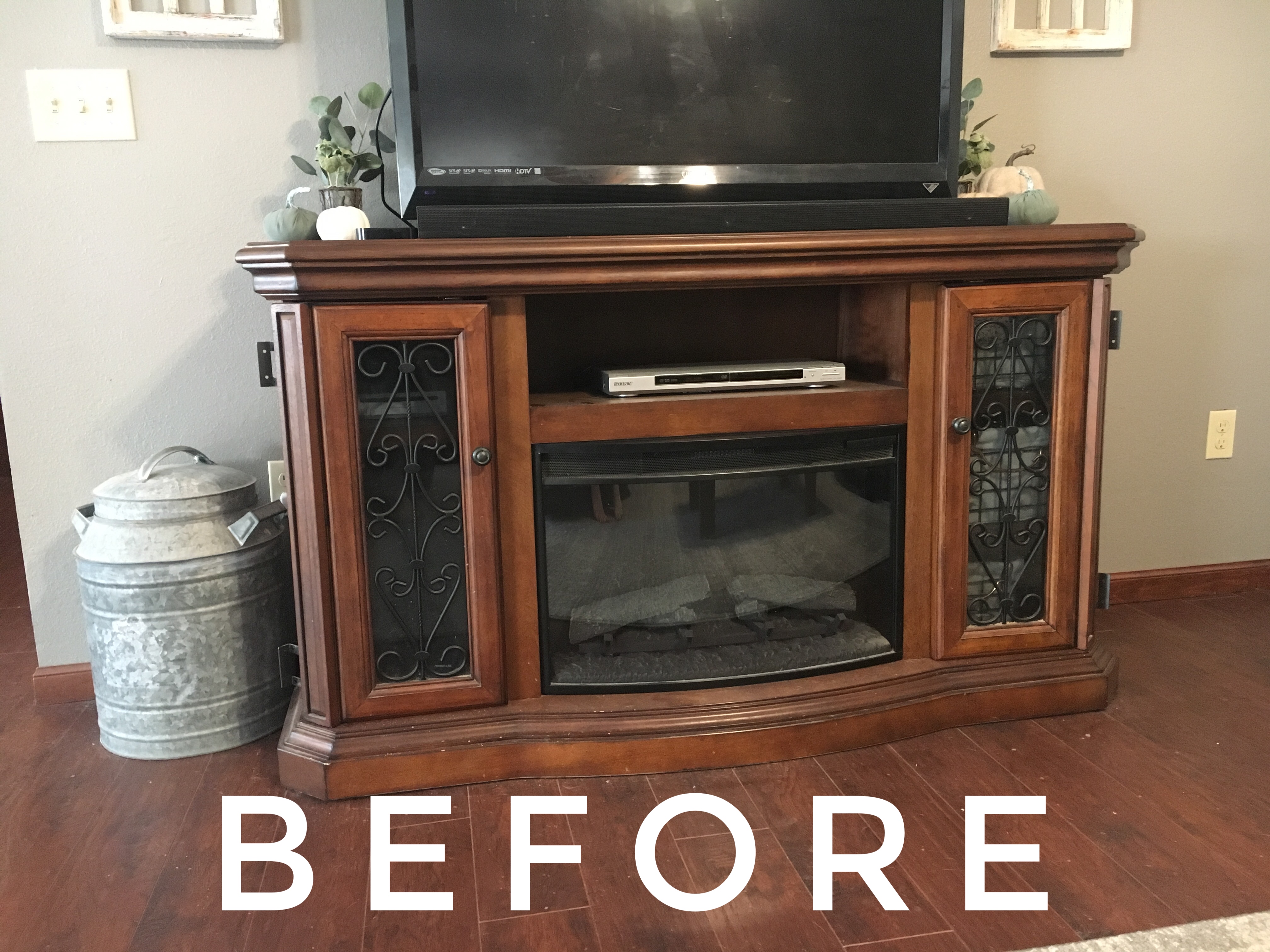 Whoever picked this out did not skip on the quality, it is a very solid cabinet, and I knew we would use the electric "fireplace" all the time. However, I wasn't crazy about the style from the git-go. The color, although stained in a beautiful dark finish, didn't have enough contrast from the floor and trim. I also was not a fan of the smoked glass and wrought iron cabinet doors. Again, this is a very nice piece of furniture that I'm grateful to have, but it was the one thing that didn't quite fit in to the farmhouse style of the rest of our home.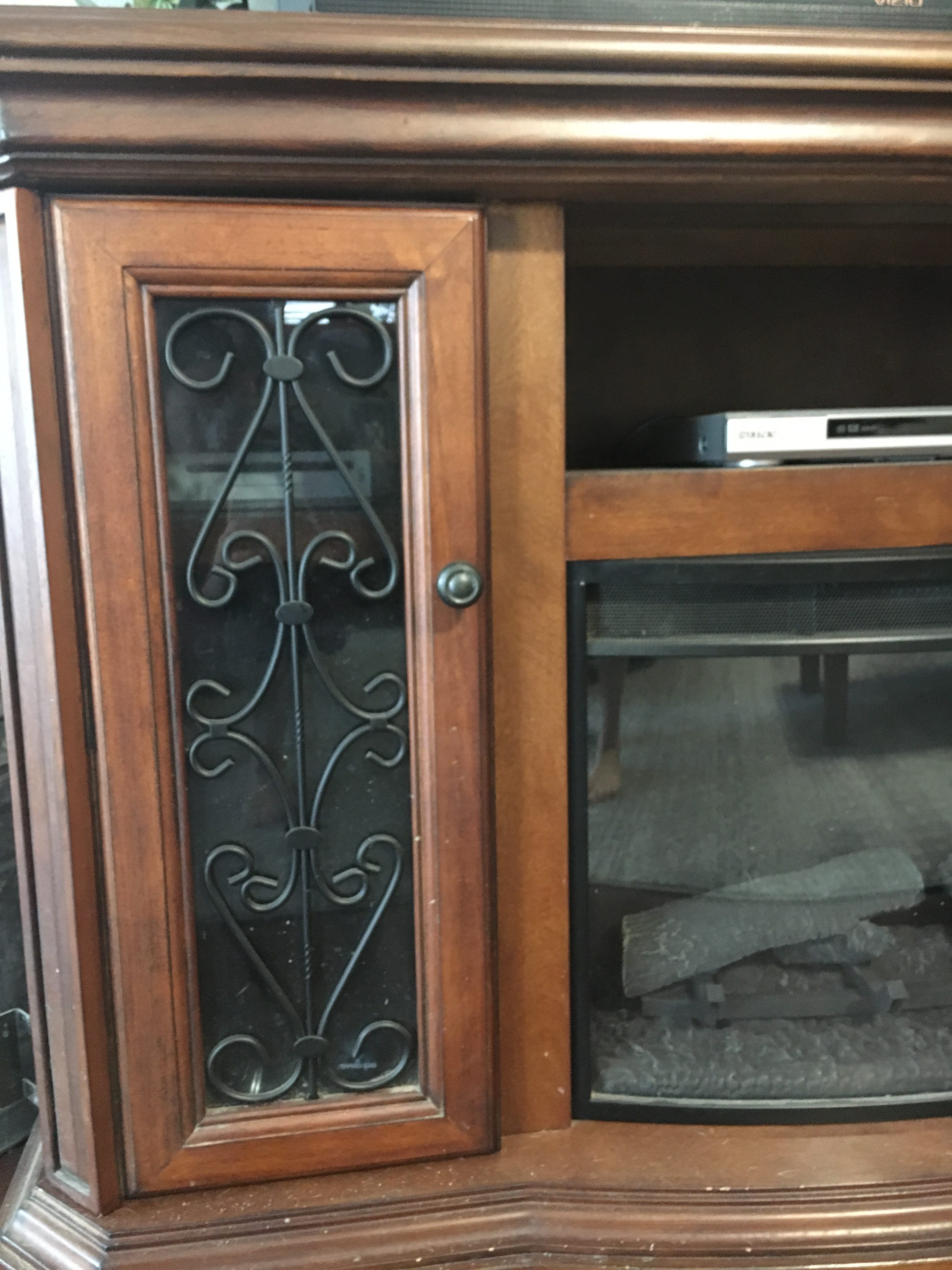 I had plans to change up the look when we first moved in, but I could never really decide on a color to paint it until now.
*Tip: If you can't decide on a color for something right away, give it some time (a year if you have to lol), see how you use it, wait to evaluate other things that go into the space, and then decide. I probably changed my mind six times before deciding on a color! Also, look at it as a piece of furniture, not a fixed object. Meaning, if you paint it to match a specific room or decor, you may find that you have to repaint it when you decide to move it into another room or change your decor someday. This is why I typically go with neutral colors.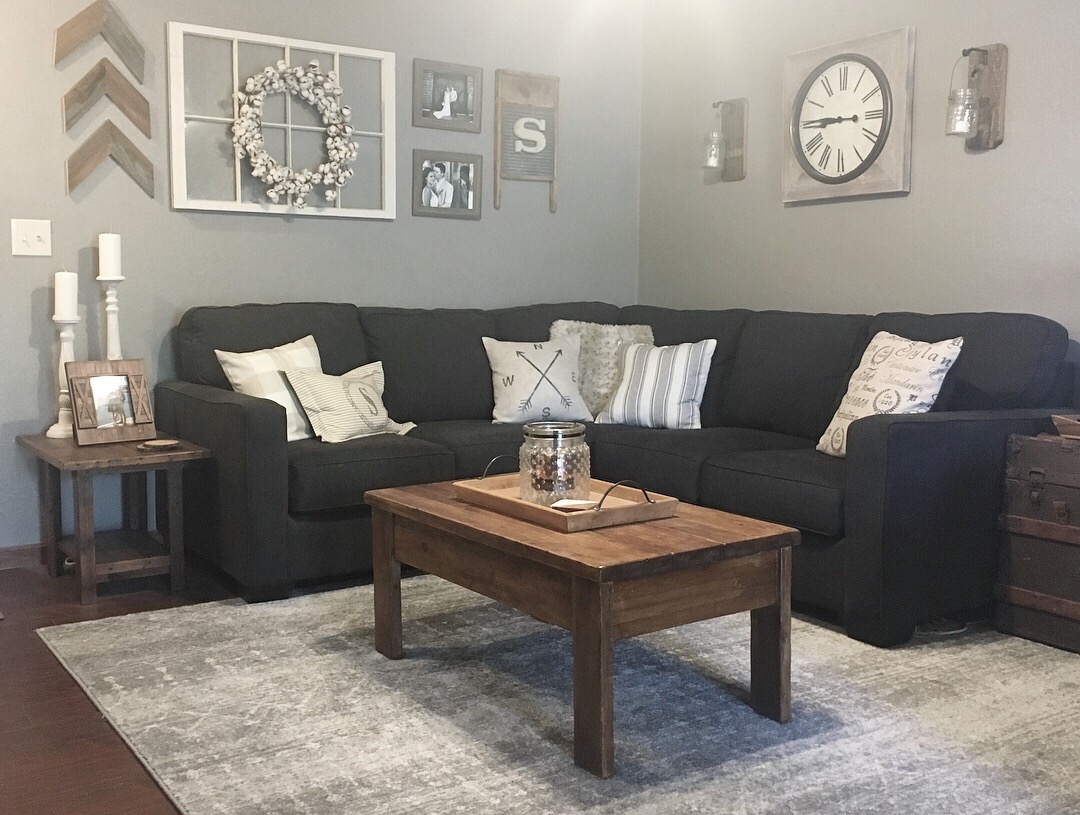 I got to thinking about the color scheme in our living room, and the dark charcoal gray couch was outweighing one side of the room, so I chose to paint the entertainment center charcoal gray to balance everything. It's neutral (so I'm not breaking my own rule lol), and it's aesthetically pleasing for this space!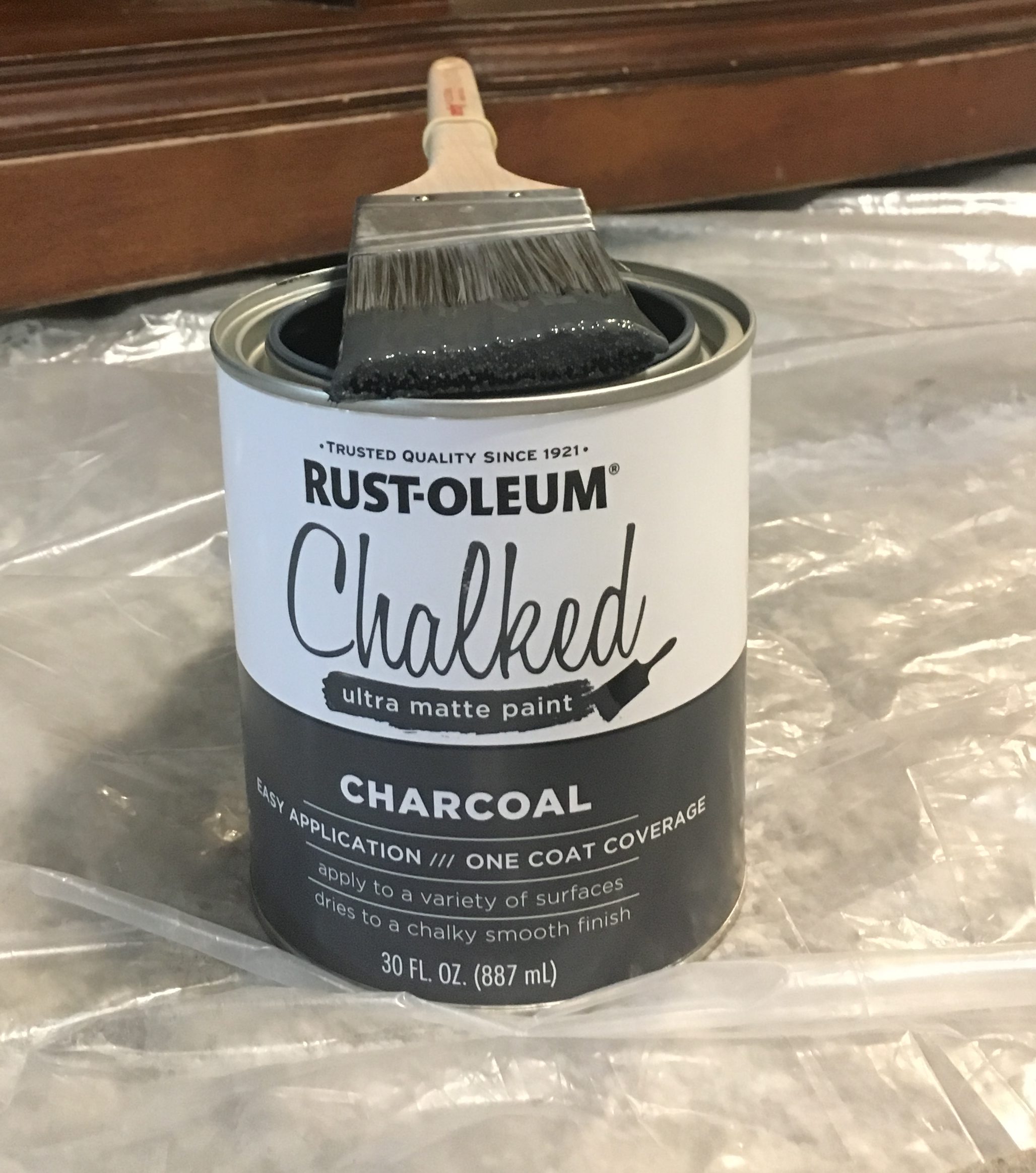 I used Rustoleum "Chalked" paint in charcoal. Before I painted, I took out the glass panels and the wrought iron inserts, and put in solid panels with angled trim to look like barn doors.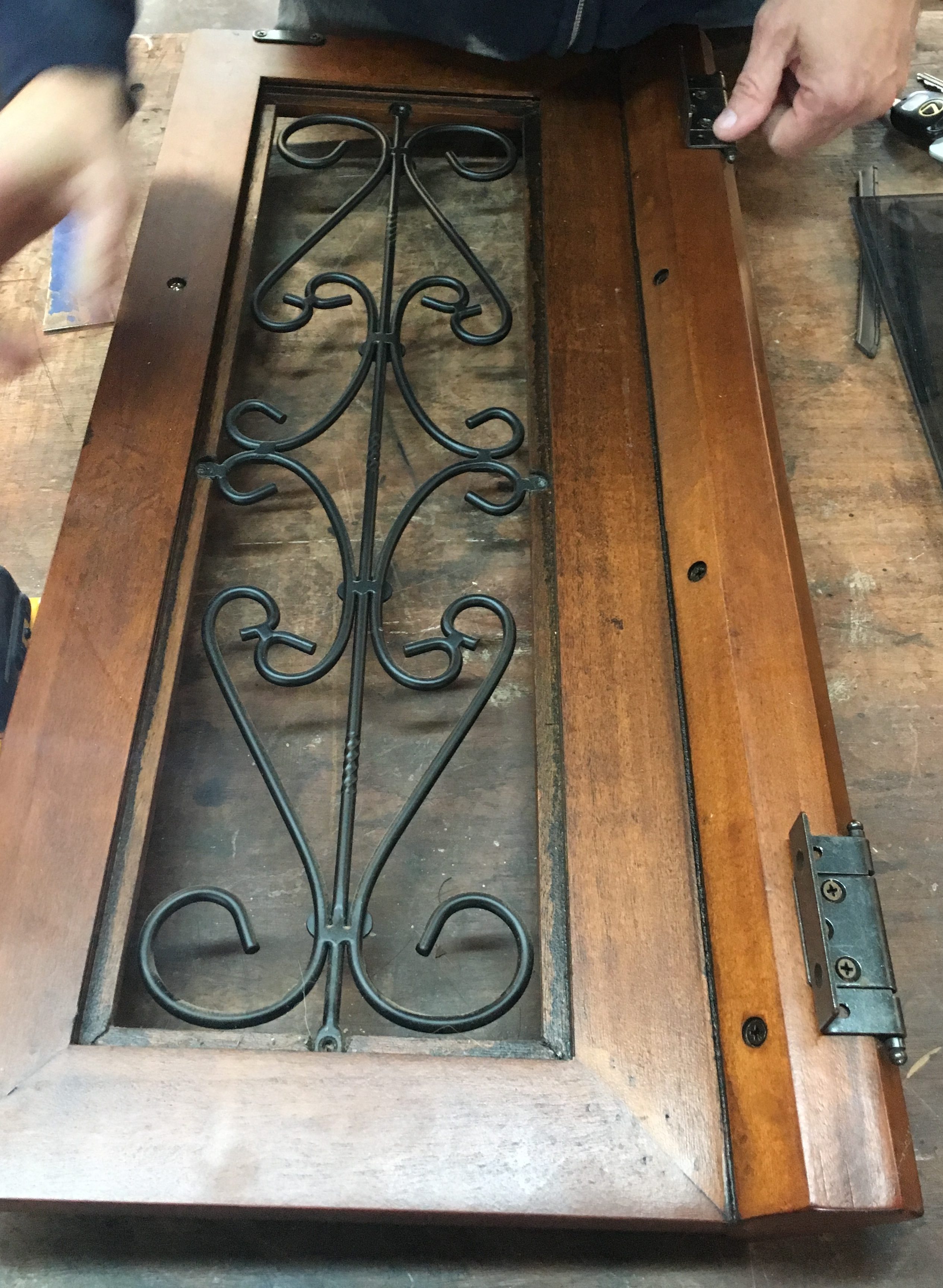 We had to fill some holes where the inserts were, but these were getting painted so we just used wood filler.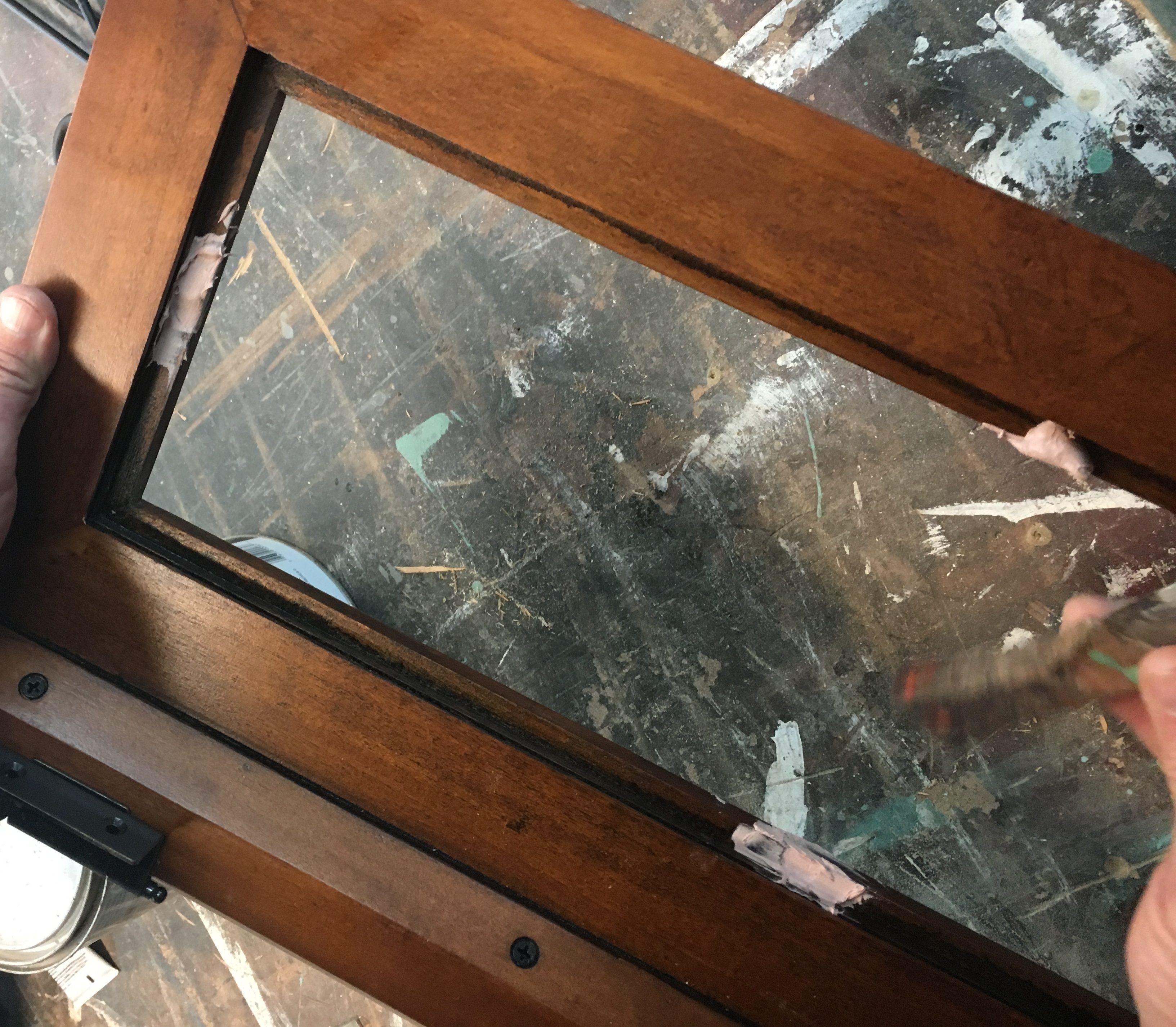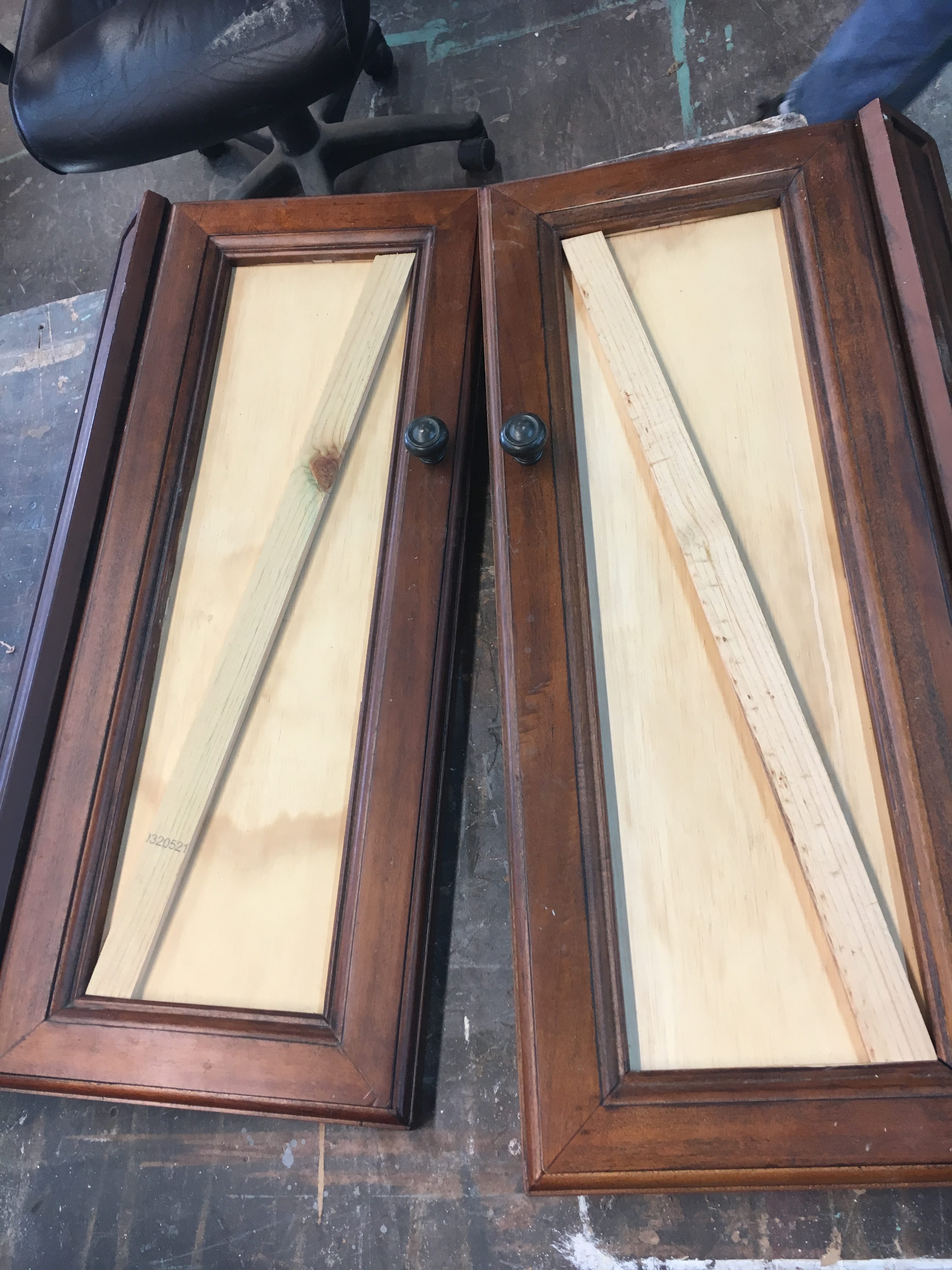 I lightly sanded to get the sheen off, then cleaned the surface with a rag. This only took about one coat of paint since it's a darker color, but I did have to touch up in a few places where there were brush strokes. I didn't paint the shelves, but I did decide to paint the insides of all the openings even though you only see the top one, because I have plans to repurpose this again for something different someday…(that's for another blog post though)!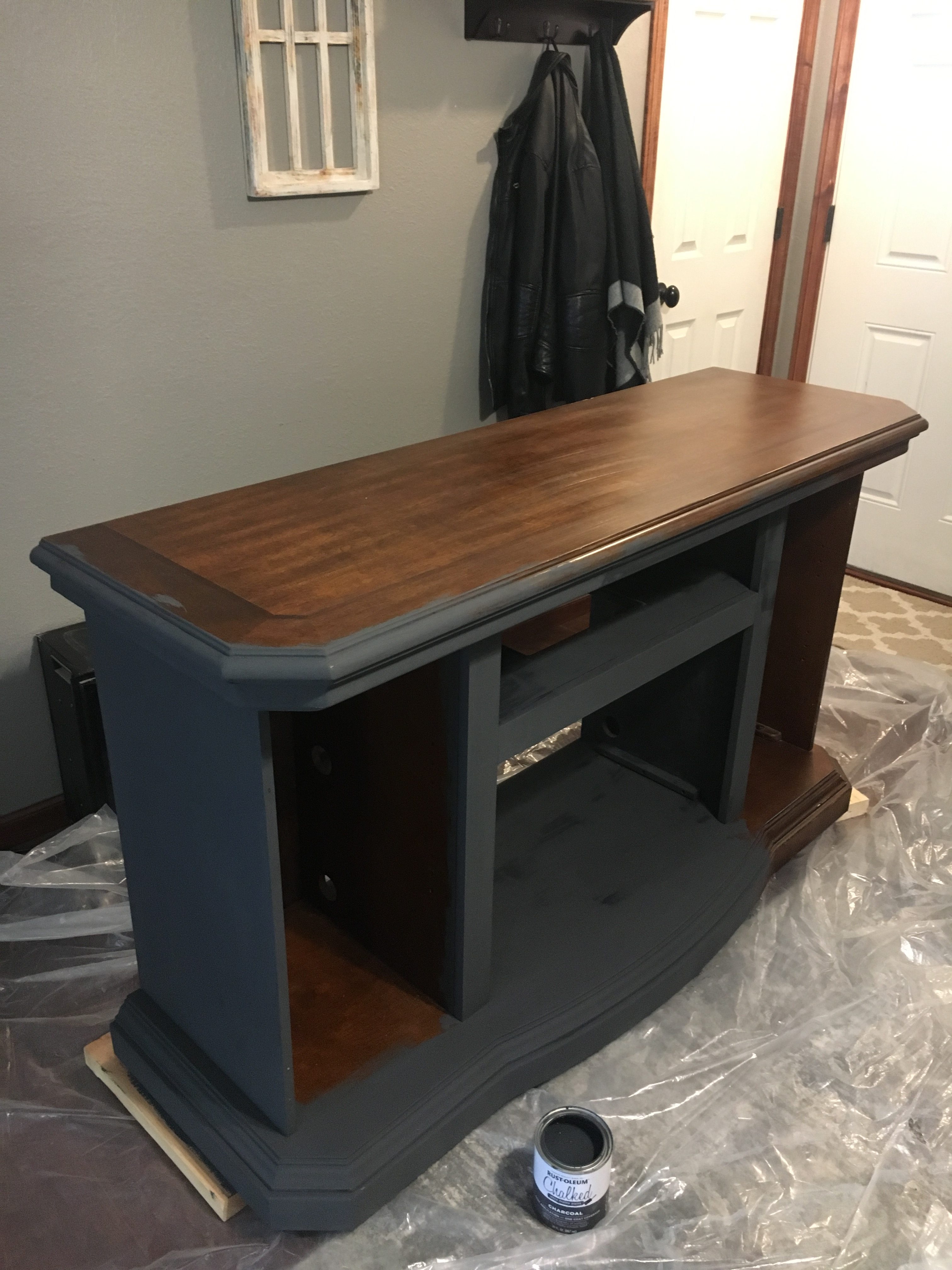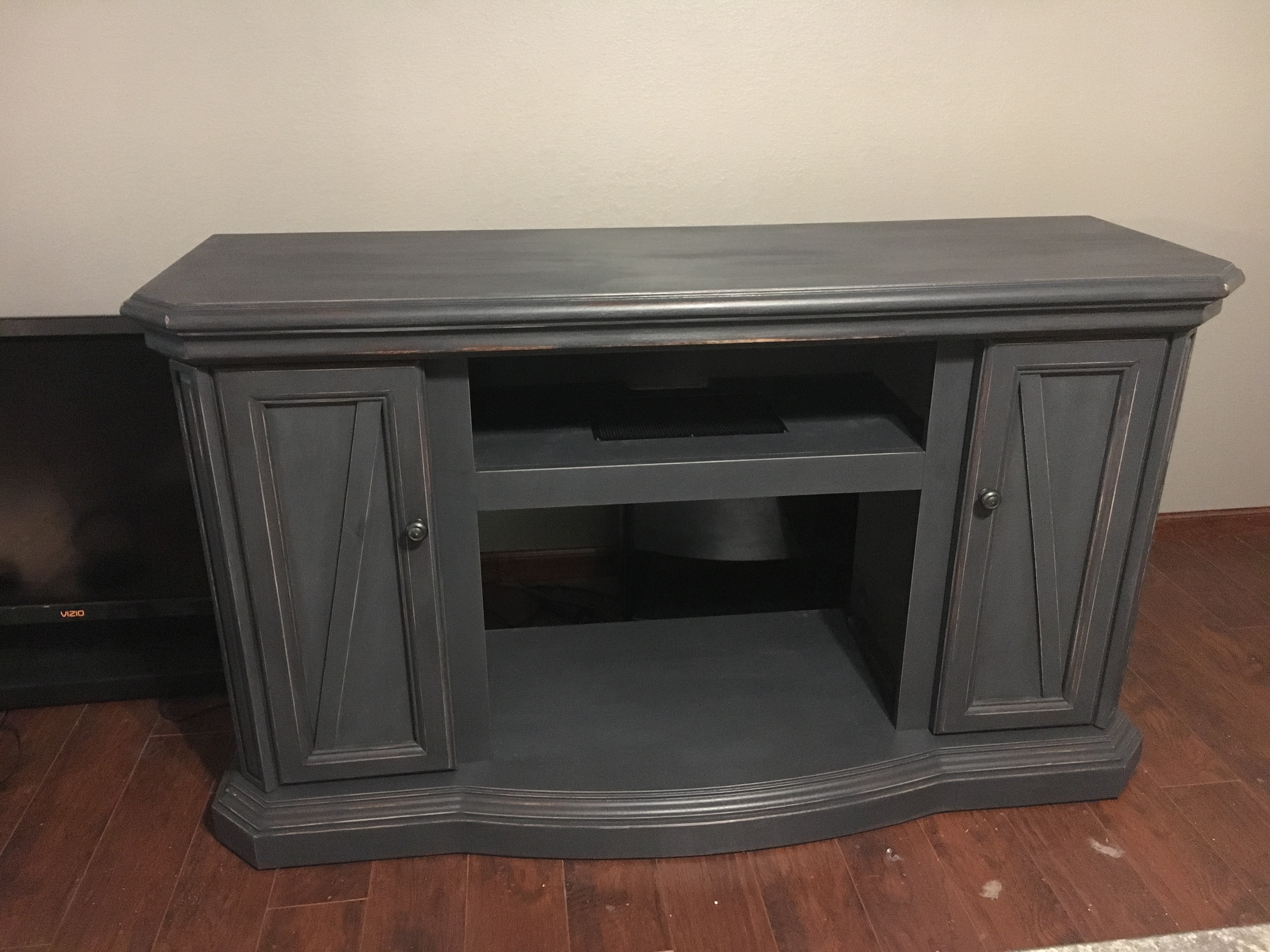 I distressed the edges, applied the top coat, and reattached the doors and hardware. It's like we have a brand new, custom-made piece of furniture for our home, and it hardly took any time or money! I can't believe the difference that a $16 can of paint and scrap wood can make. This quality piece of furniture that once didn't go with our style, is now one of my favorite pieces in our home! This brings balance to the room, contrasts with the dark wood floor, and coordinates with our other farmhouse furniture without "matching."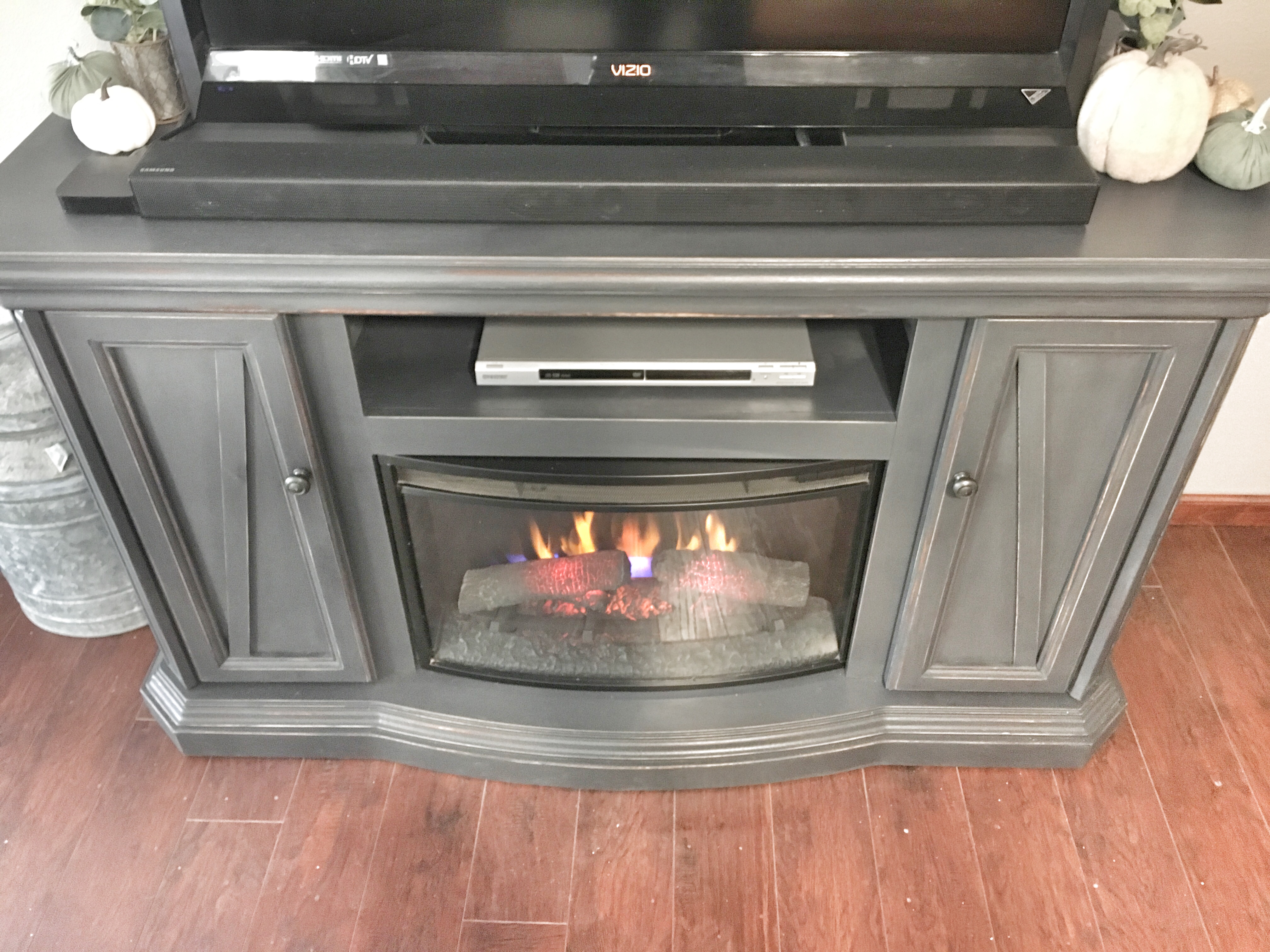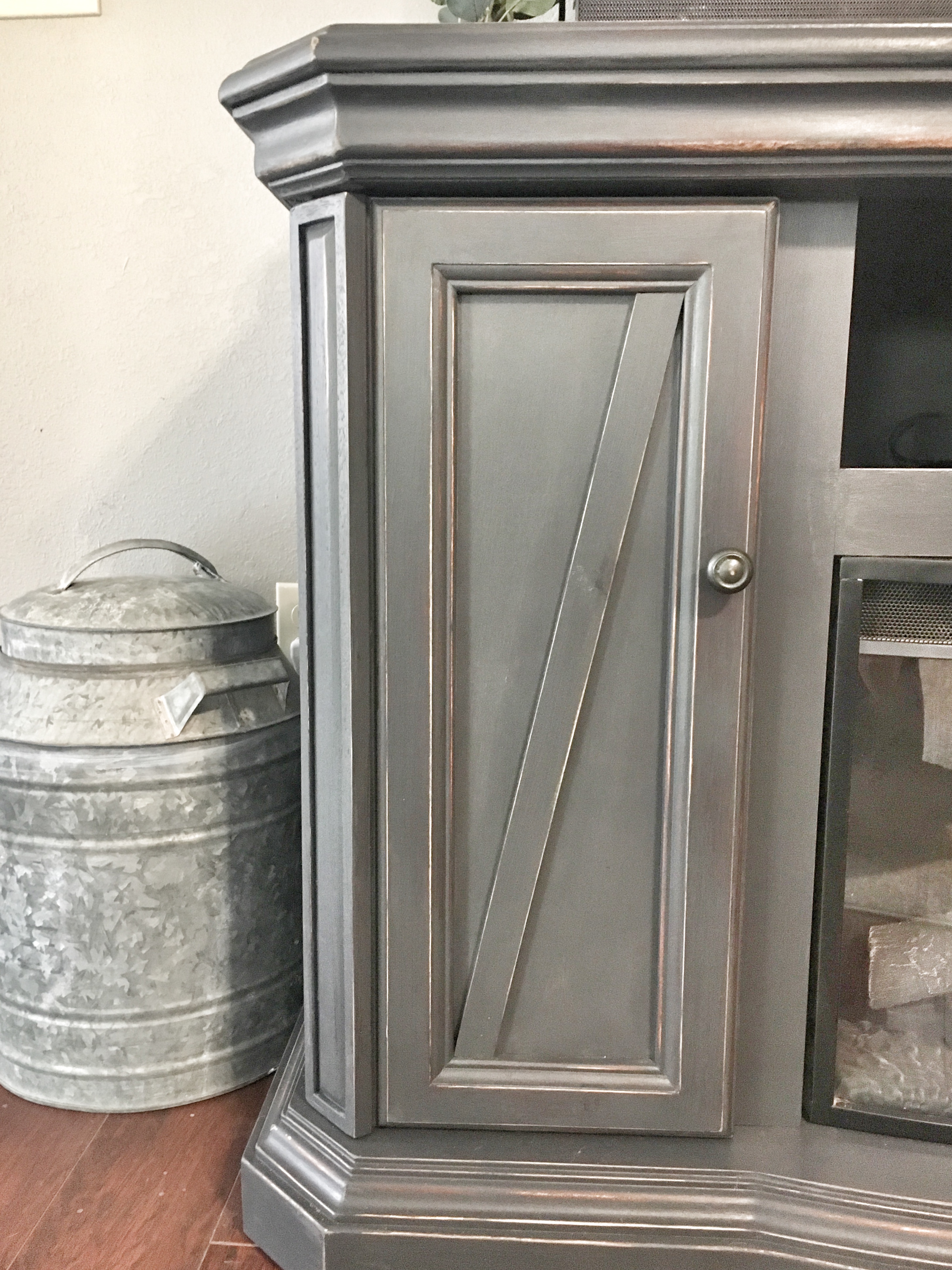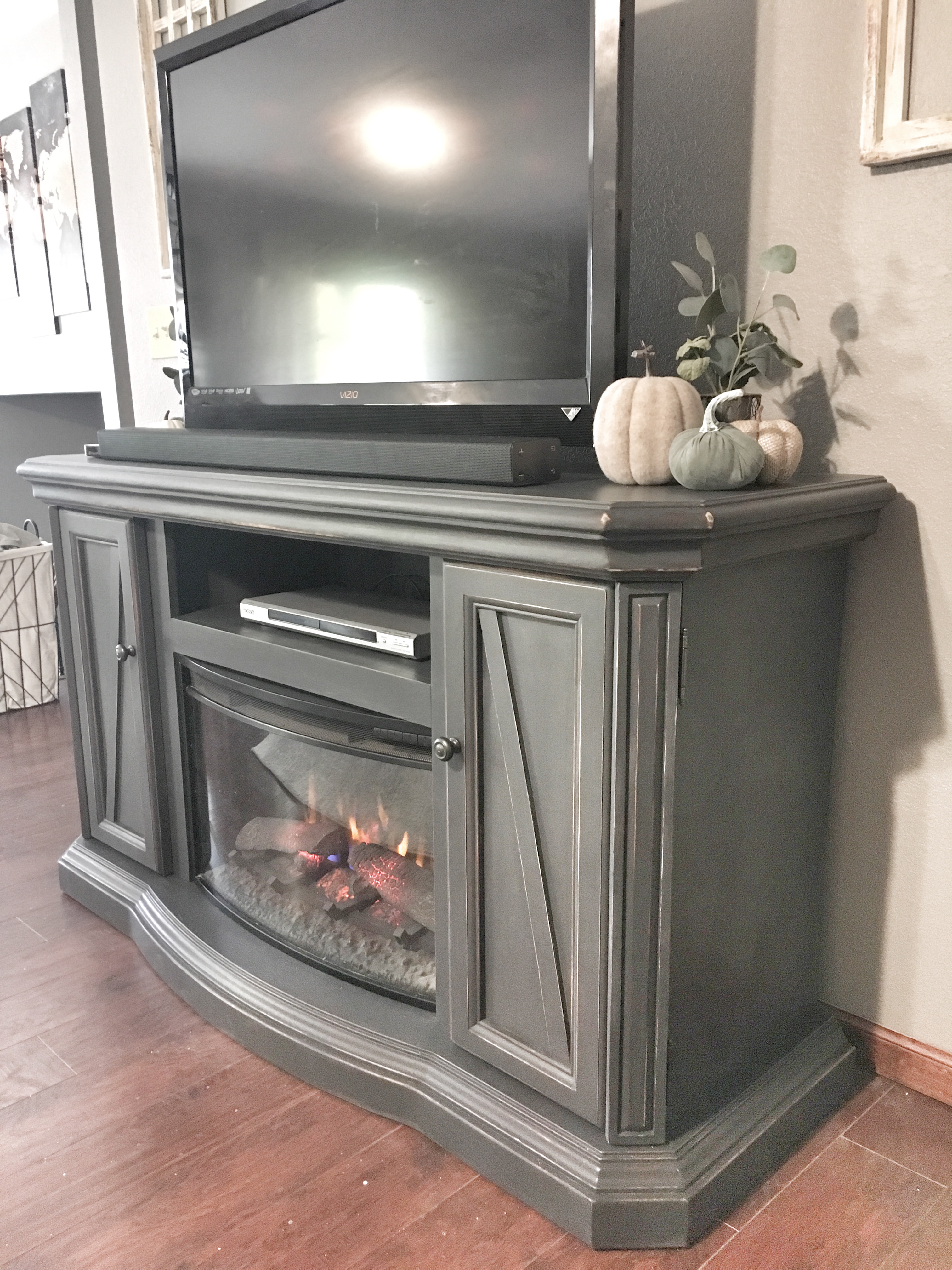 The goal was to make this a neutral, stand-alone piece that could work in multiple rooms in our home. Stay tuned to see the plans I have for this piece later on, and where I end up putting it! For now, it's looking amazing in our living room as a fireplace/entertainment center that makes a statement as soon as you walk in our front door!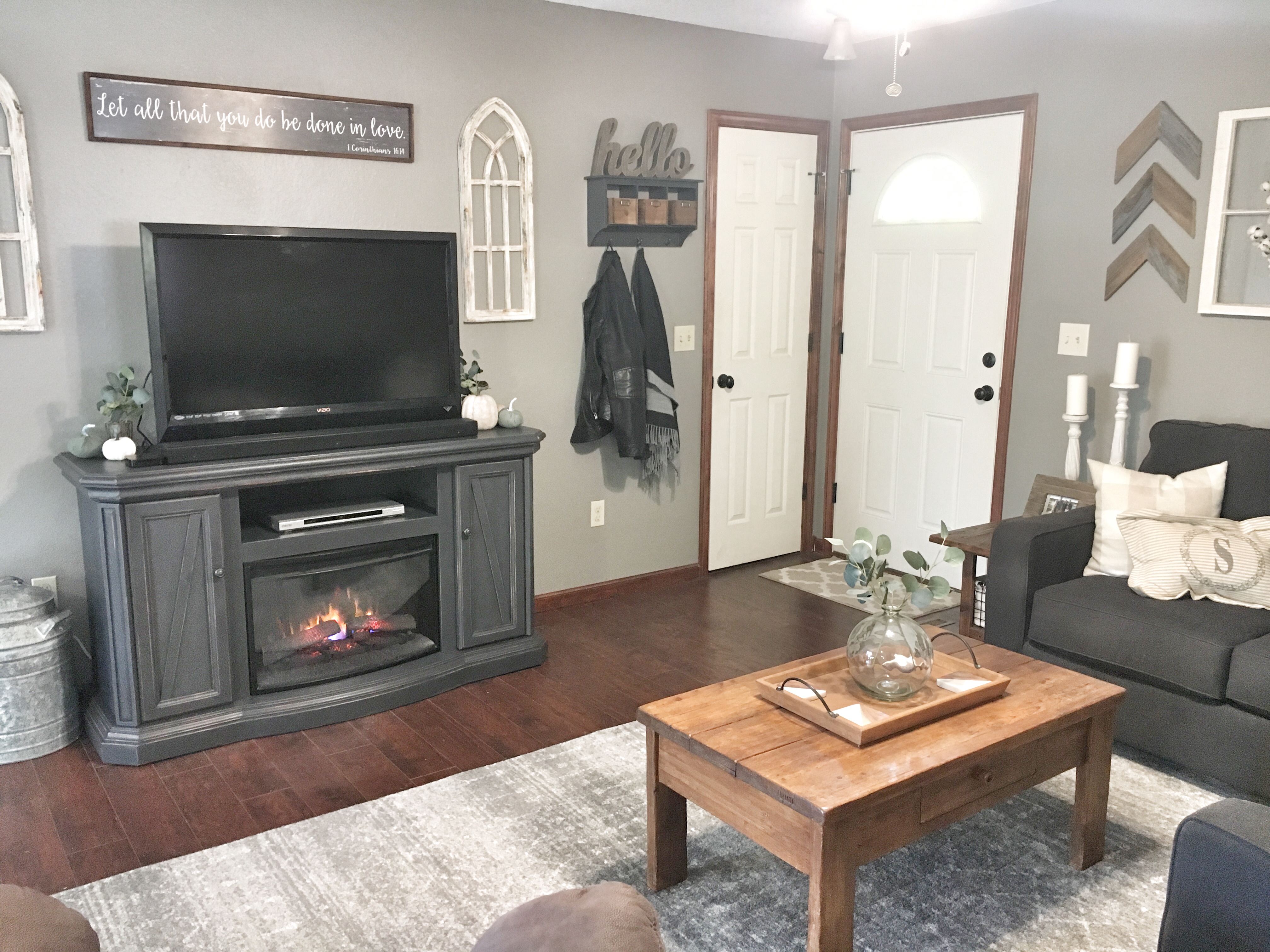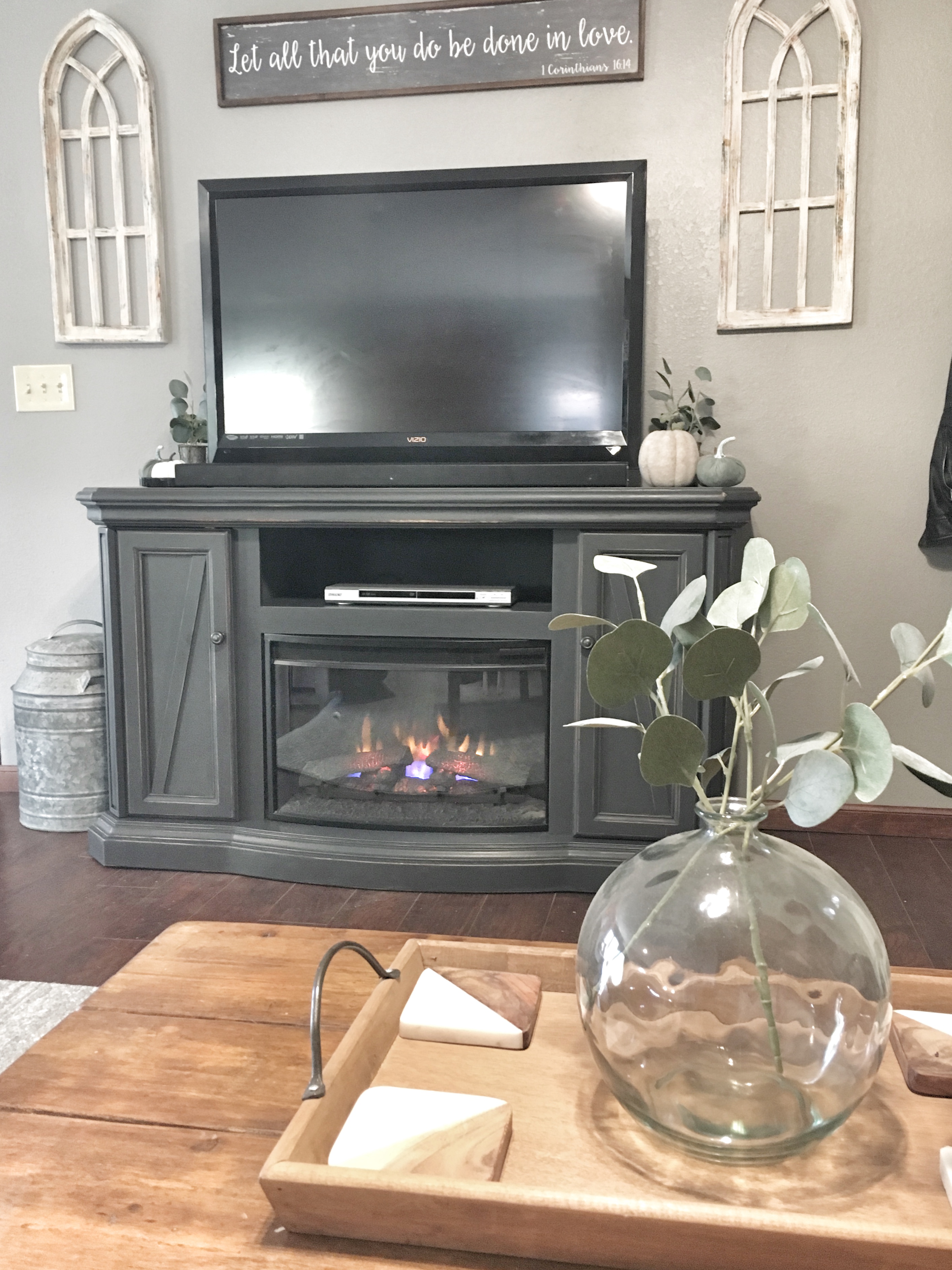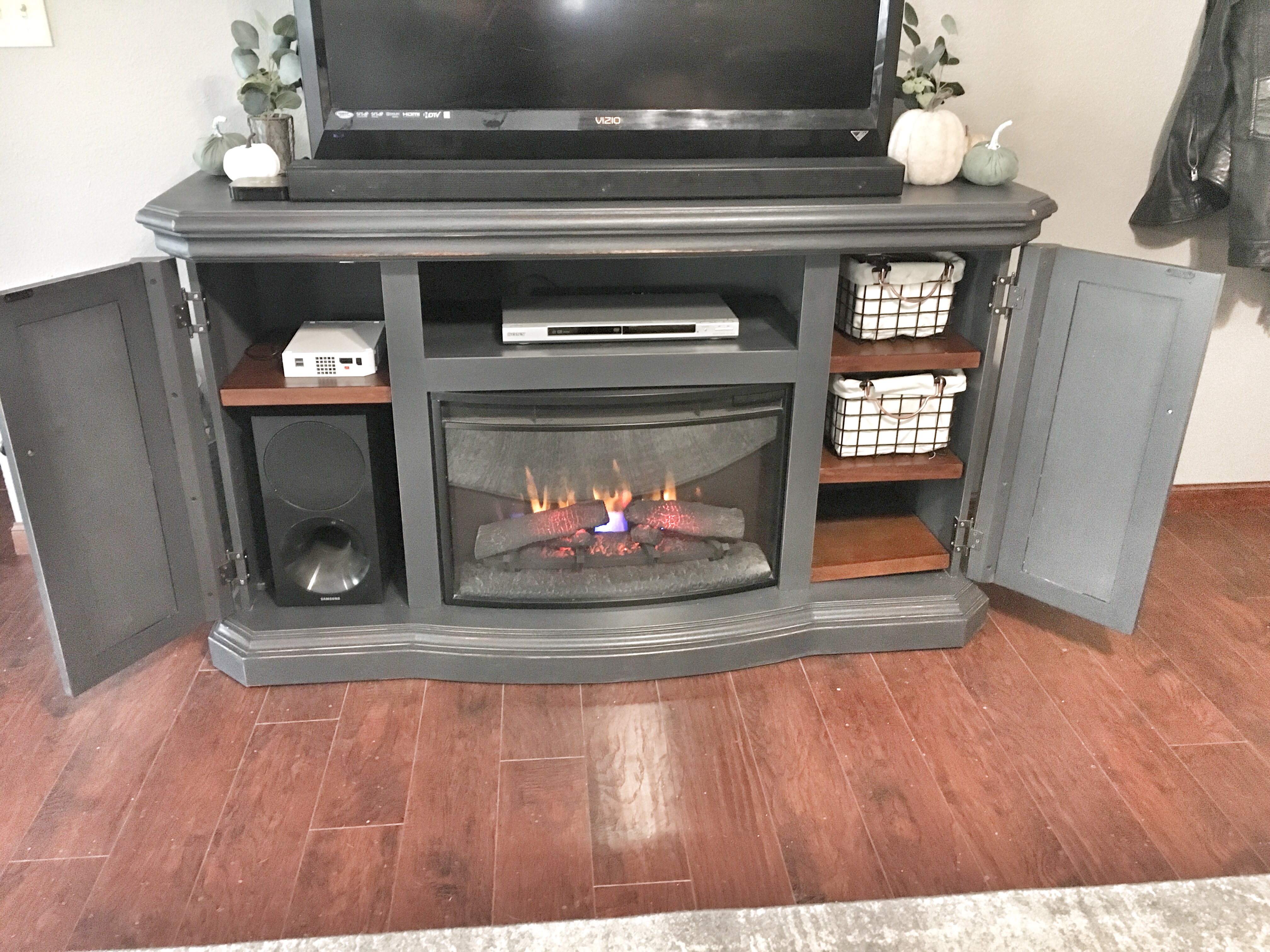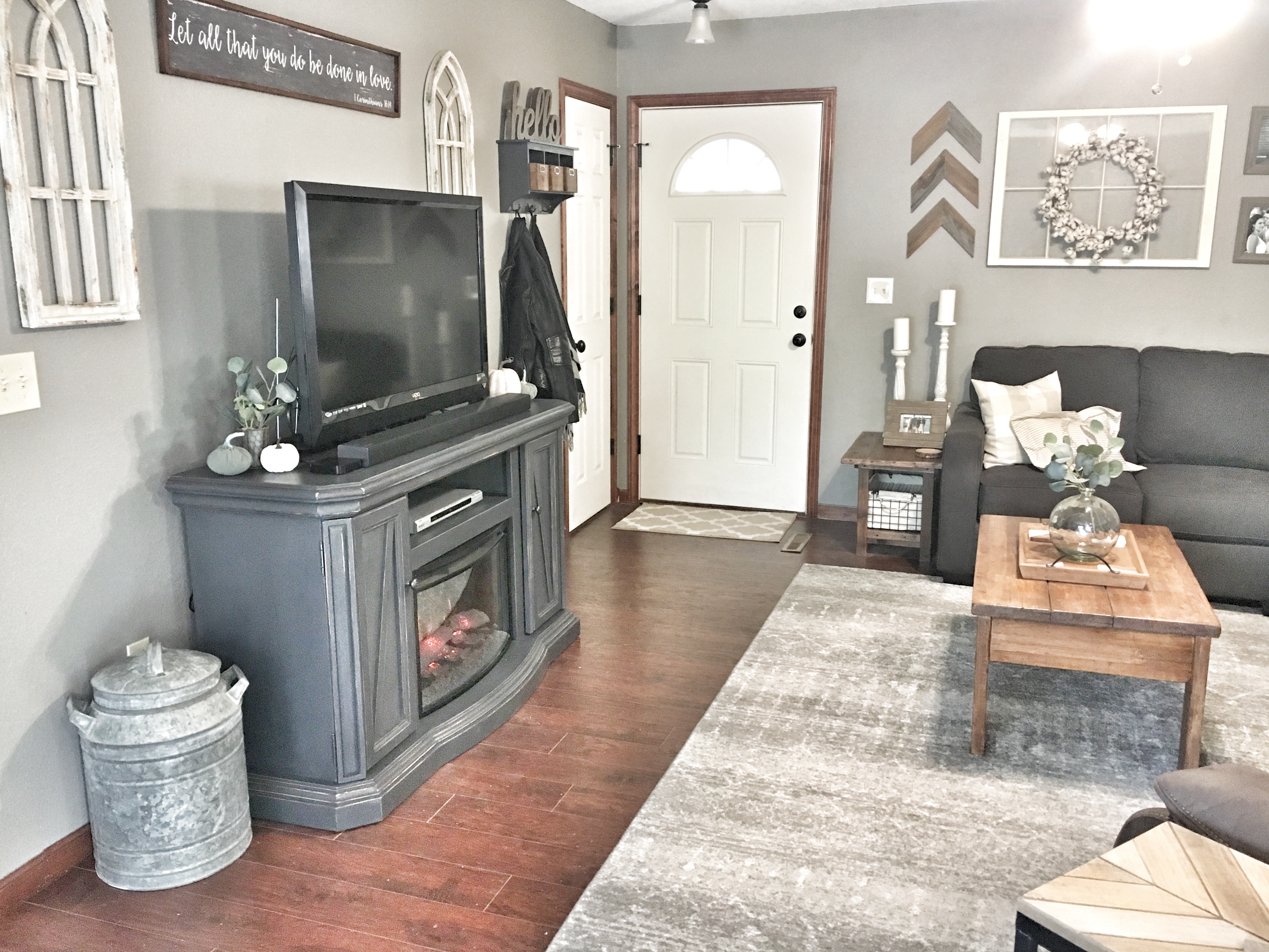 If you have a piece of furniture that just doesn't go with your style, don't be afraid to experiment and think outside the box! Painting, adding trim, or changing the hardware does so much to customize a piece and change the overall look. I hope this inspires you to think about your space and what you can do to add more of your style to the furniture you already own! Thanks for reading, God bless!
XOXO
ASHLEY DIANN
---
Products Used for this Project:
DISCLOSURE: This post contains affiliate links, which means I may receive a small commission from something purchased through the link. This is at no extra cost to you. All items are products that I have or would purchase for myself.