Master Bedroom Makeover (Part Three)
I like to say I specialize in designing custom furniture that solves problems. Whether it's something unique for a weird layout, or something multifunctional to make the most of a small space, it gets me thinking outside the box and challenges me! I'm so intrigued with tiny house living, and although we don't live in a "tiny house," the same creative, space-saving concepts can apply anywhere! (See part one and two of this makeover: dresser refurbish and farmhouse storage bed).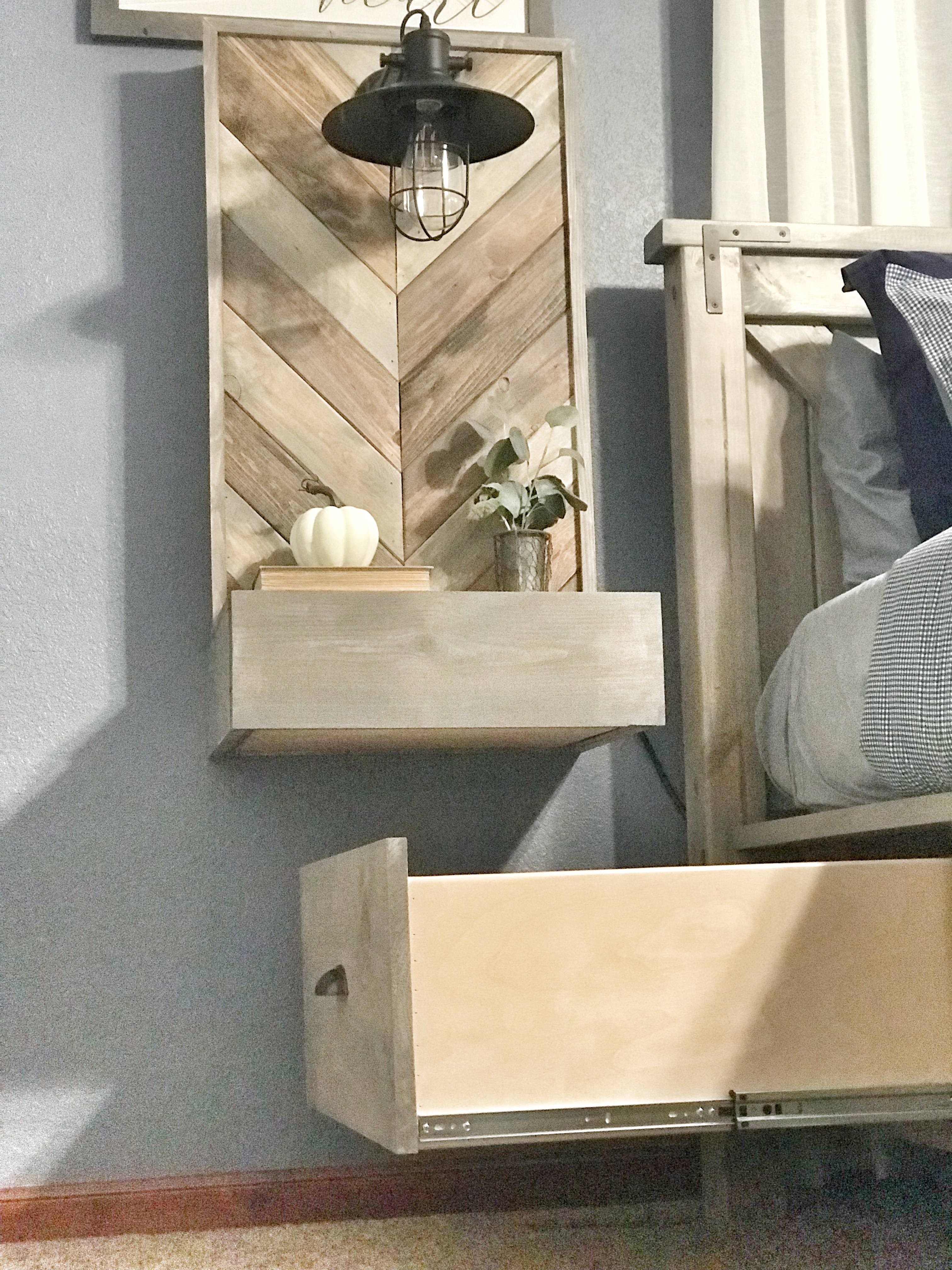 When we were building our farmhouse storage bed, I knew I wanted to build custom nightstands that matched. However, since there are drawers under our bed, a traditional nightstand wouldn't be the best option unless we opted to not have easy access to the drawers at the head of the bed. I knew I would need to get creative to solve this problem!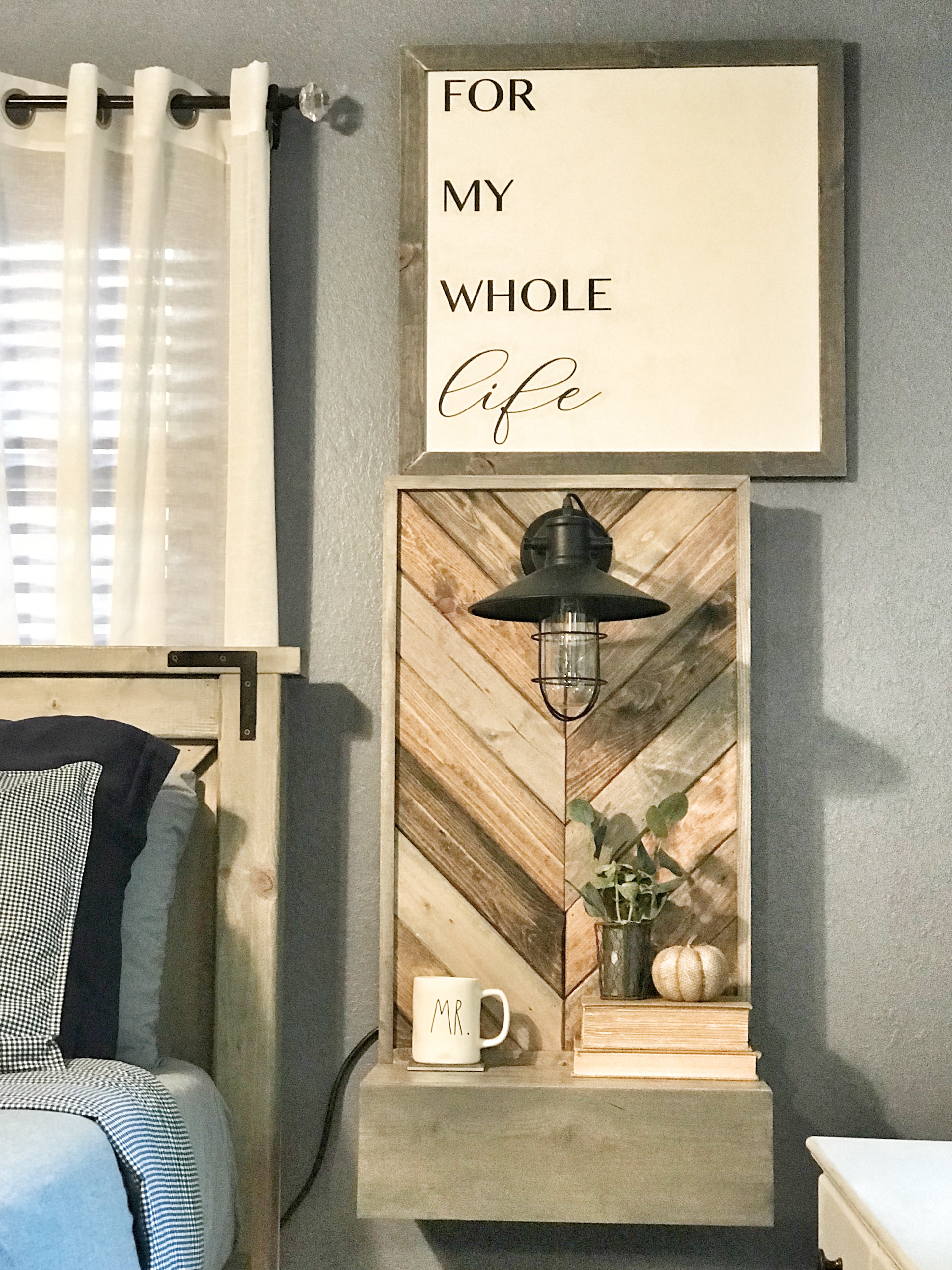 I wanted a unique, space-saving solution that didn't make us compromise access to the drawers, and still functioned like a "traditional nightstand." That's when I thought of doing floating nightstands! This isn't a new concept, however, I had never really seen any that I absolutely loved. Most of the time they are too modern for my taste, or too small and impractical for what we were needing. But since I'm a self-proclaimed designer and DIY enthusiast, I designed our floating nightstands to be multifunctional and rustic!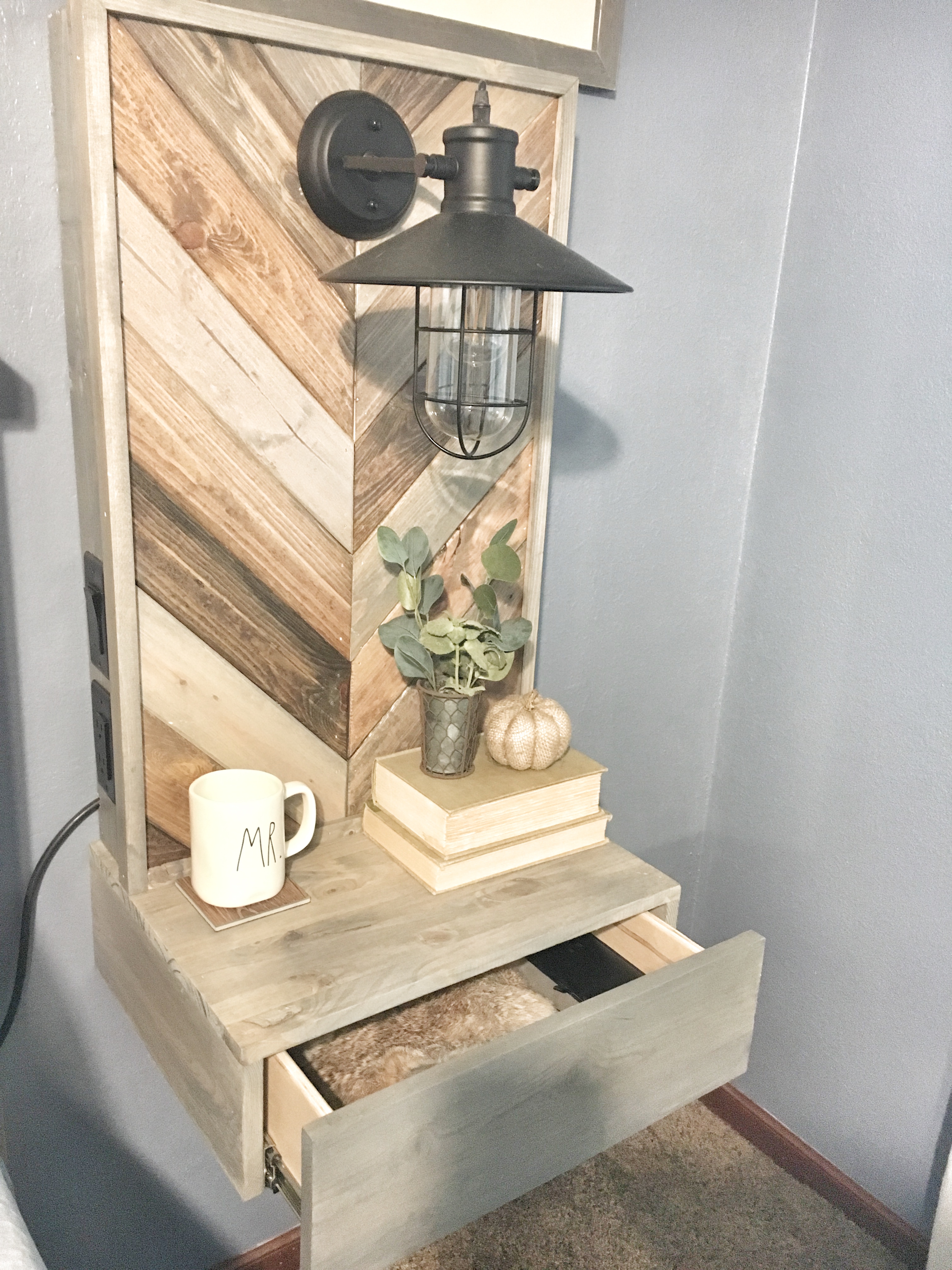 They are kind of a four-in-one design concept, and have made our lives easier in a few simple ways. These wouldn't make sense for everyone, but here's some reasons behind the design and why they work so perfectly for us!
Surface Area and Drawer: Like I said before, we are still able to easily access the drawers under the bed, and we also have a drawer in our nightstands to store smaller things. The surface is just the right size to still hold whatever you would need to set on it. I decided not to put hardware on the drawers, and instead just pull to open from the bottom
Built-in Lighting: We don't have a lamp taking up any space on the table top; instead we have a rustic-looking sconce attached to the panel that is more practical! We purchased these wall sconces for $25 each. They add a rustic/industrial look, and I seriously am in LOVE
Charging Station:

These nightstands are wired in the back, and that's why they stick out from the wall a little bit. So we took advantage of the thickness and put a light switch and outlets on the side so we can have a charging station! I love this feature because our room has a total of three power outlets; all of which are behind heavy pieces of furniture (of course). We had extension chords everywhere! They weren't pretty, and they are were kind of a pain. Now, the nightstands plug into the wall behind our bed and provide more outlets that are easily accessible and look really good

!
Visual Interest:

My favorite part of this design is the "barn wood" panel. This functions to hide the wires in the back, but it's also so. dang. PRETTY!!!!! We used three different stain colors to make them look like barn wood, and mixed them up on the boards. This

just

brings another level of interest to the whole room. If you're going to hang nightstands on the wall, why not make them look like a piece of art??



I have never seen something exactly like this for a floating nightstand, so when I thought of doing the angled pattern, I had no idea how it would turn out, or if I would even like it. These were totally an experiment (especially the construction and wiring), but I'm happy that they turned out so great! We completed them in just a few days, and we mostly used scrap wood leftover from building our bed and other projects. We bought the lights and wiring… that's about it! They were so much fun and fairly easy to make! We hung these using angled cleats that we made, and this only required us to put a few screws in the wall!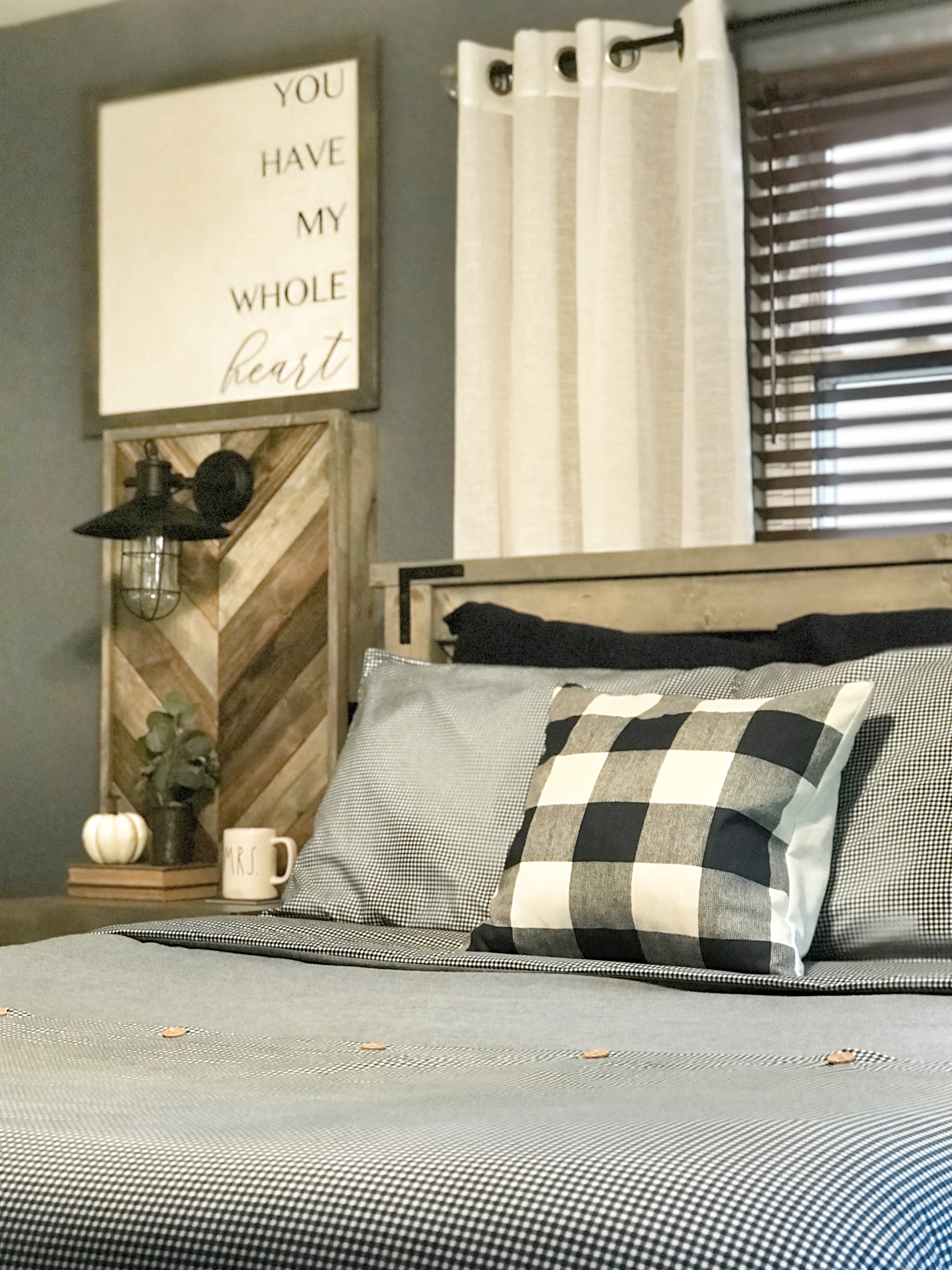 If you don't have drawers under your bed, these would still be great to put a trash can, hamper, or even a dog bed underneath; anything to save space and add practicality! Did I mention they look really cool too? These were designed with our farmhouse storage bed in mind, but aside from that, they are a statement piece on their own and would work with any kind of bed! (They might even be my favorite part of our room makeover)!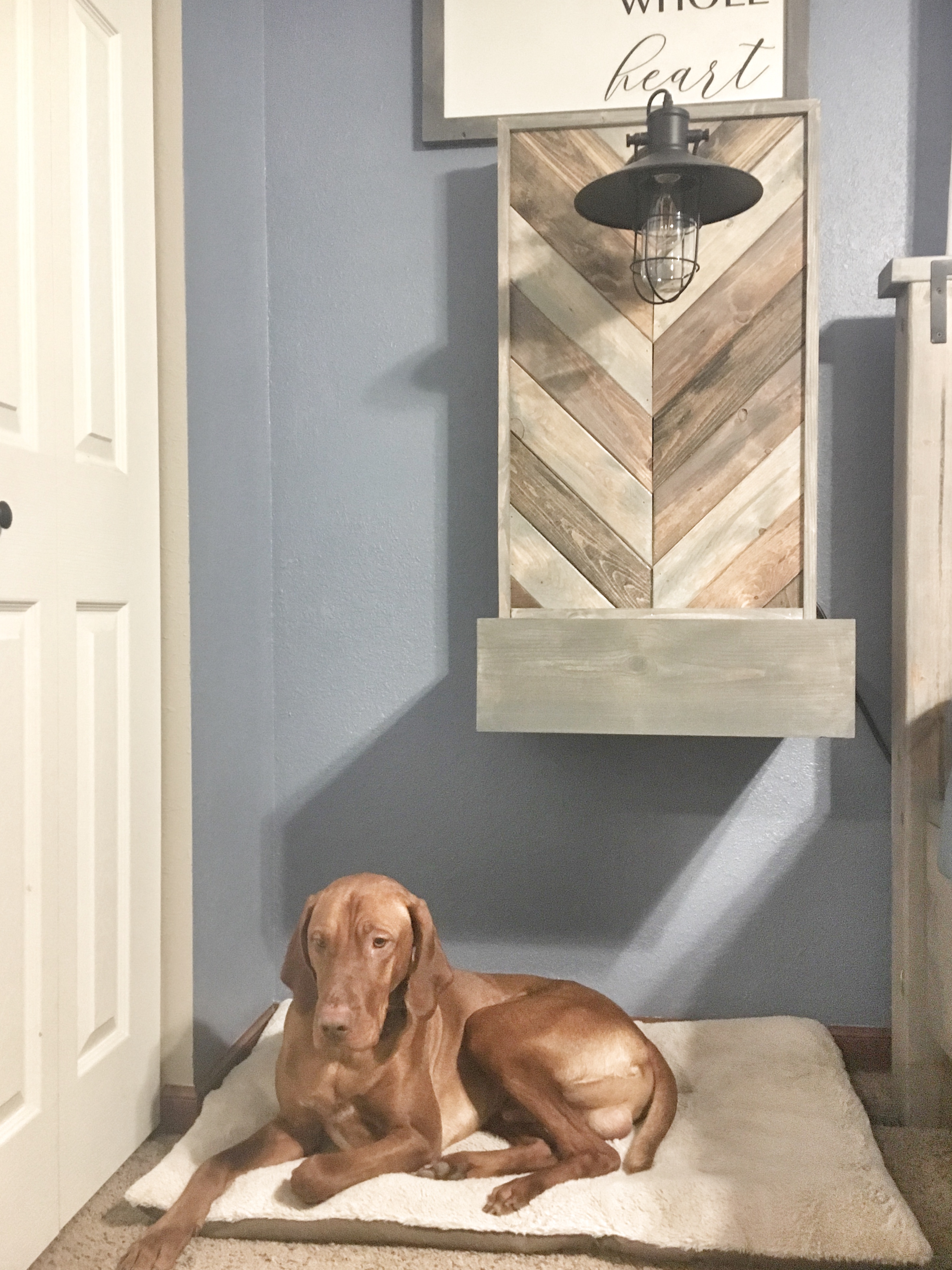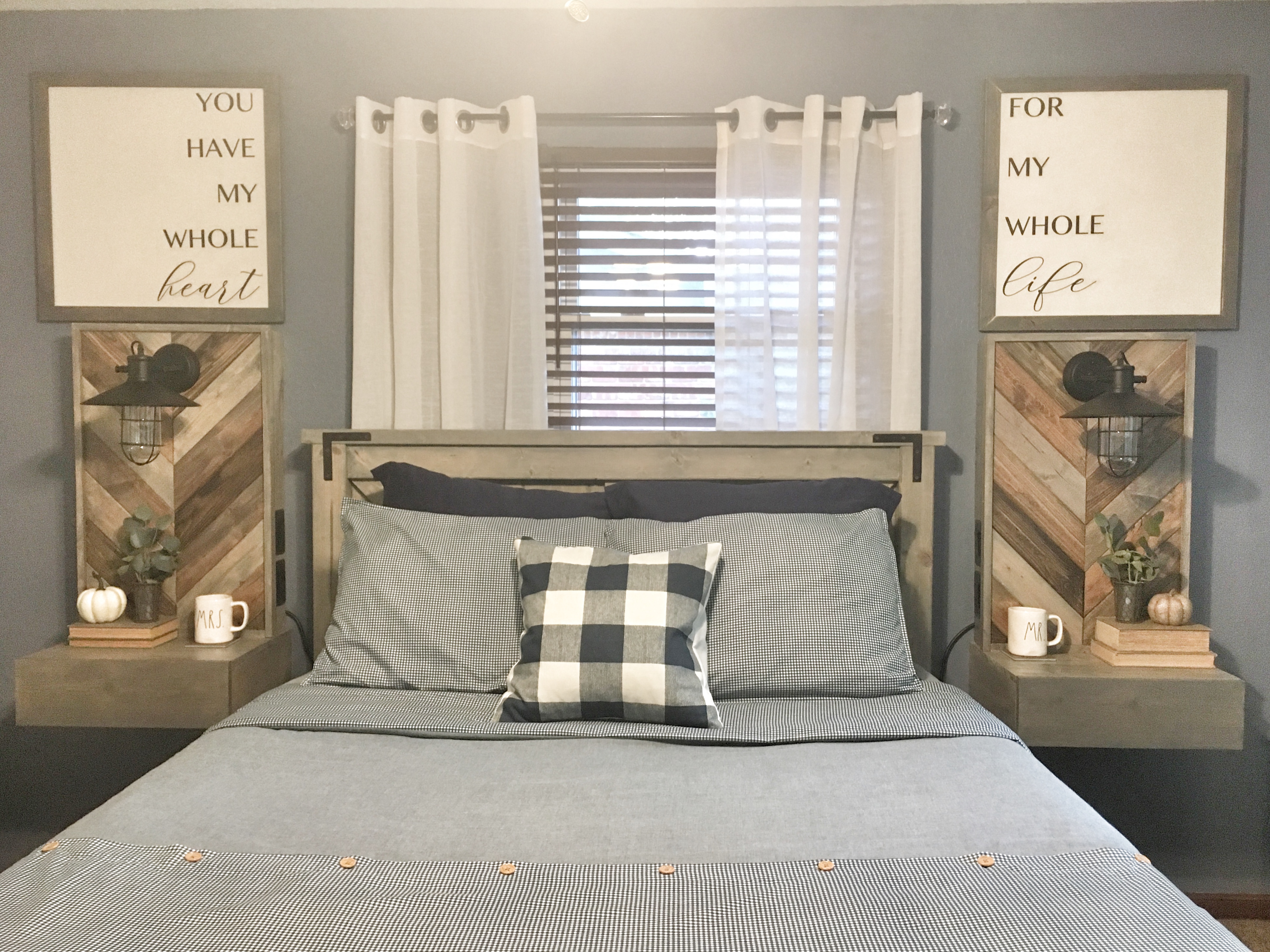 I also couldn't help myself… I just had to make cute signs to go above our nightstands! I've always loved this saying, and I thought it was fitting to have custom-made signs to go with everything else we made in our room! This sign pair is available to purchase in my Etsy shop, The Framed Farmhouse. I also do custom sizes, colors, fonts, and messages!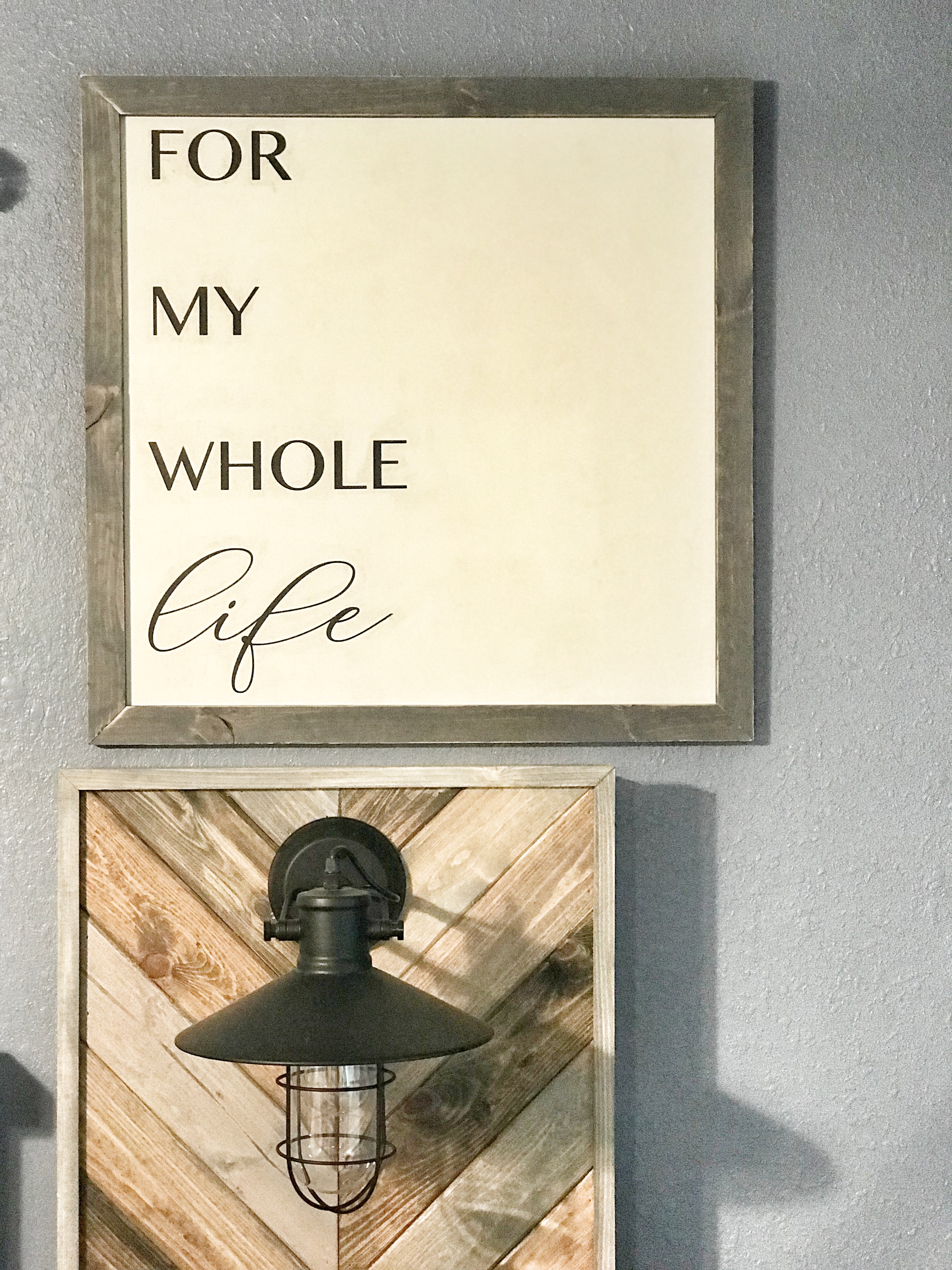 It's so amazing seeing my designs come to life, and knowing that we created something one-of-a-kind! I will be sharing the plans to our floating nightstands in a separate post if you want to build them too, so stay tuned!! Thanks for reading, God bless!!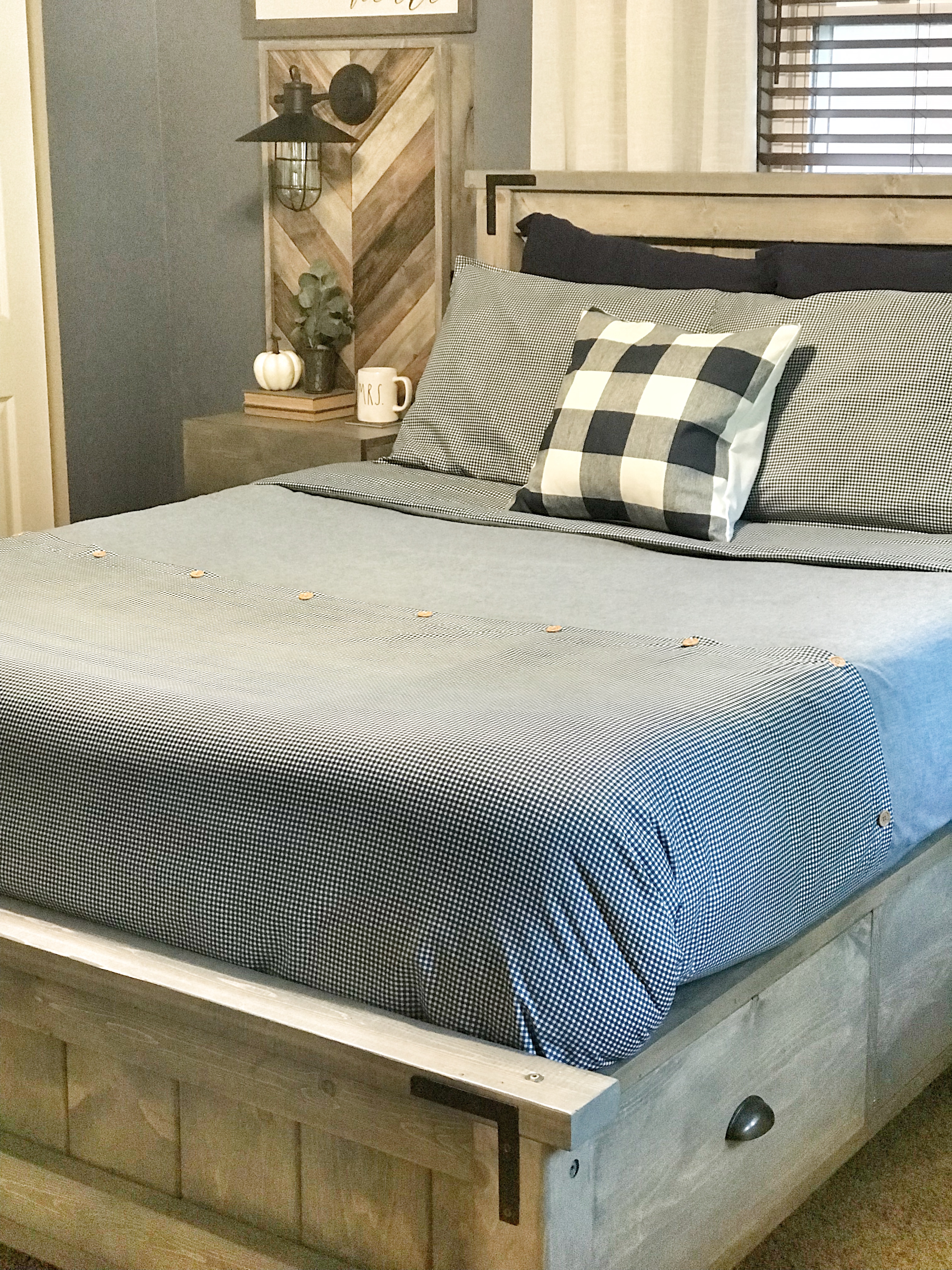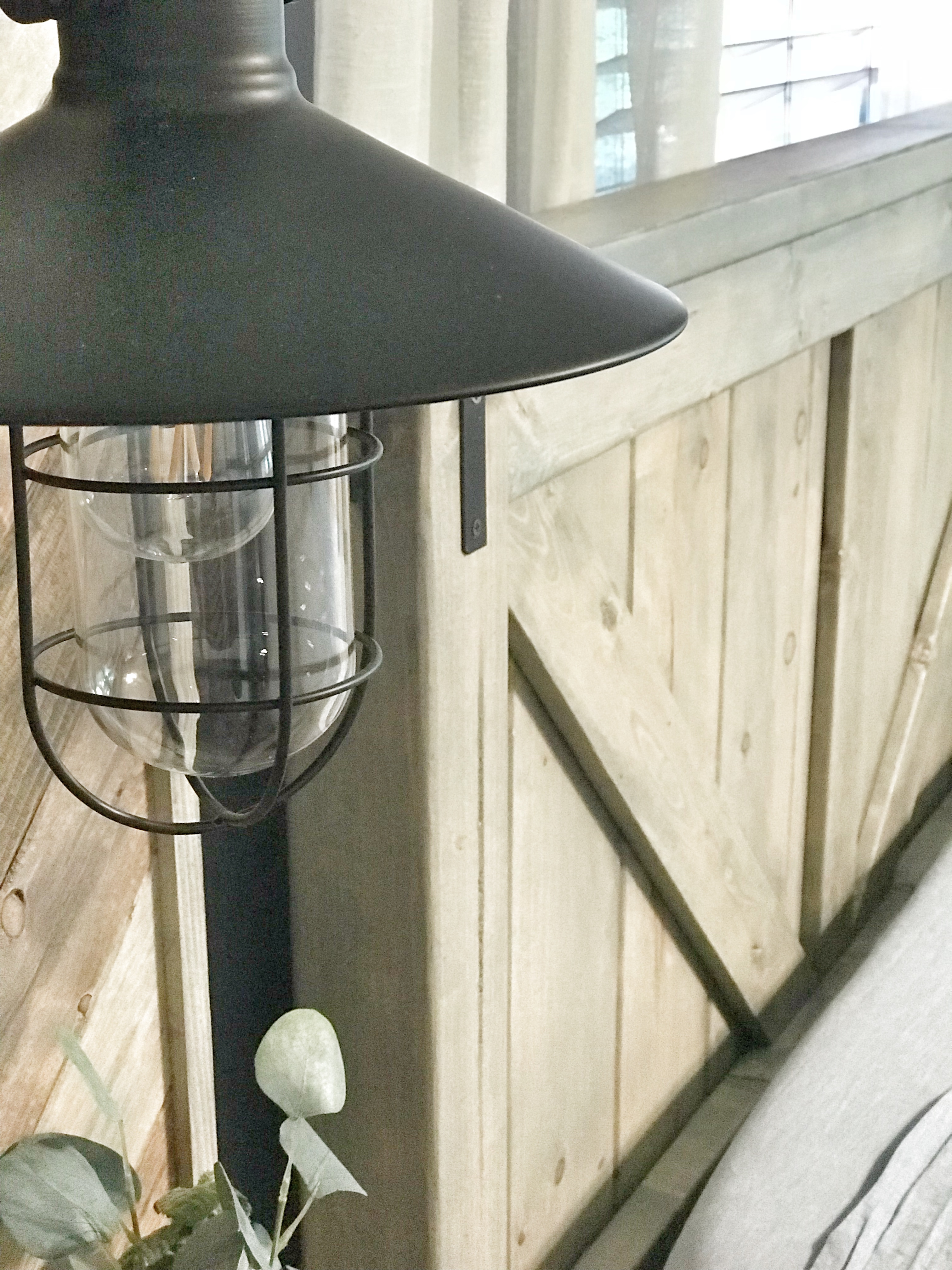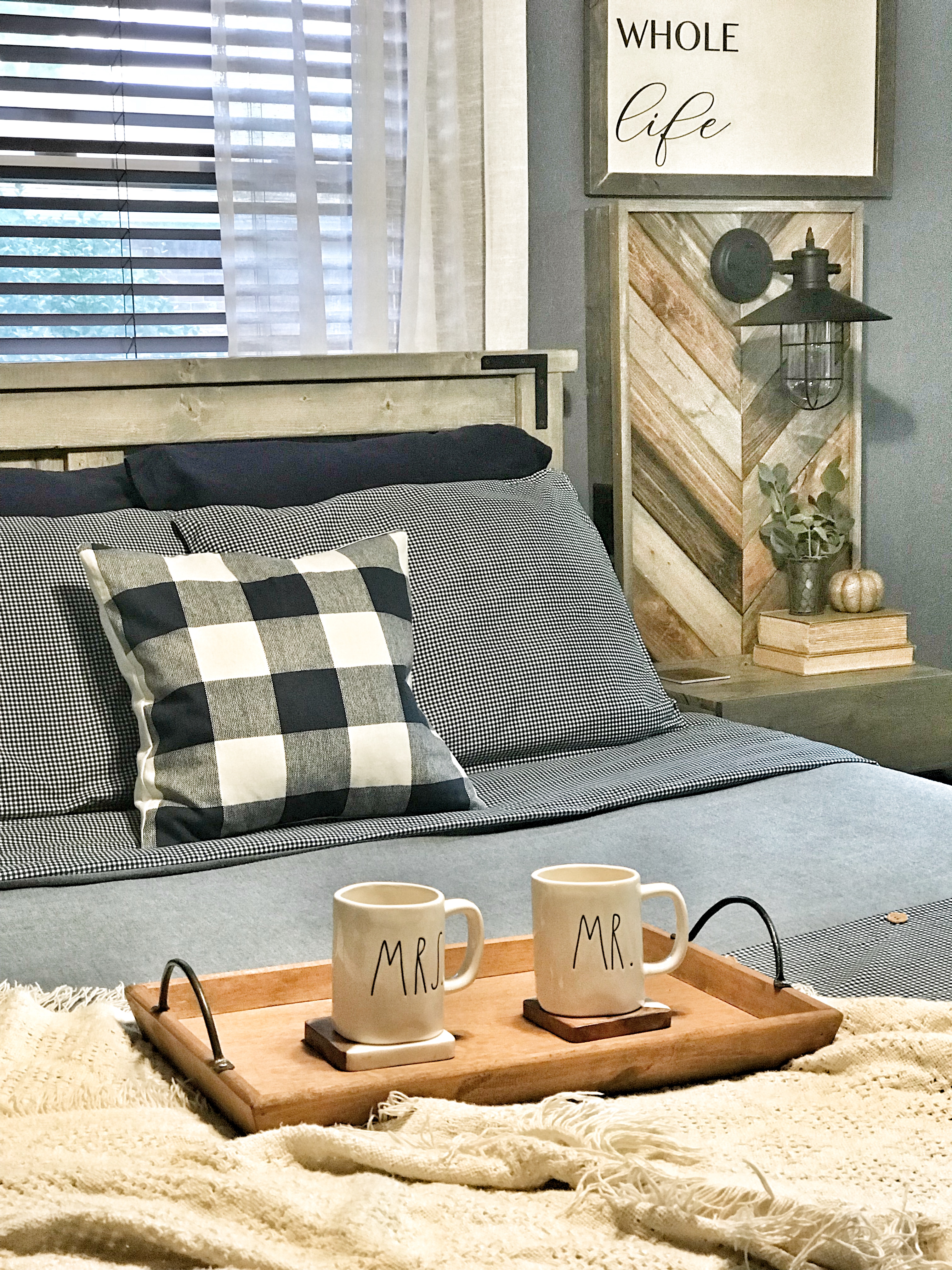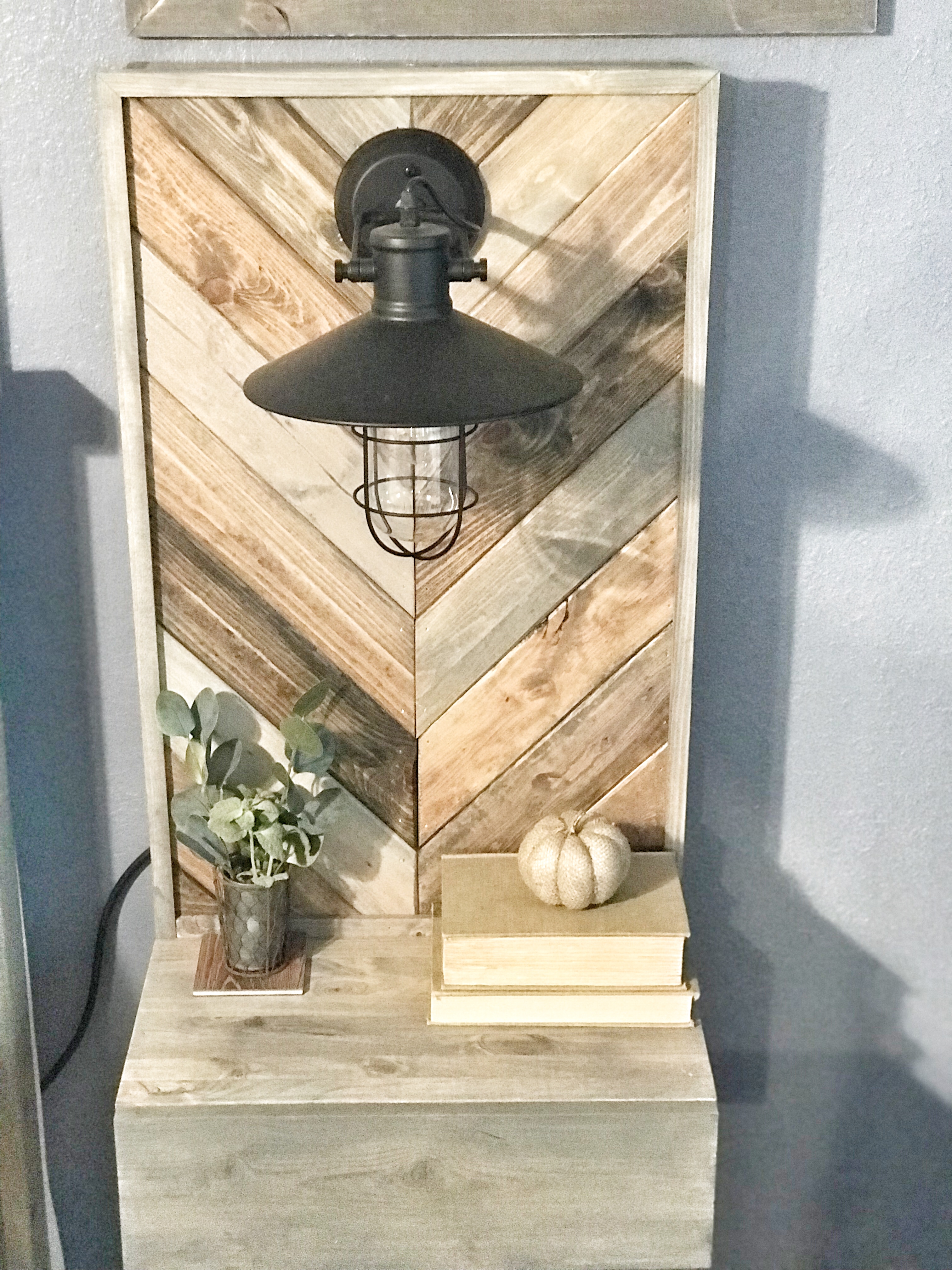 XOXO
ASHLEY DIANN
---
Products Used for this Project:
DISCLOSURE: This post contains affiliate links, which means I may receive a small commission from something purchased through the link. This is at no extra cost to you. All items are products that I have or would purchase for myself.